Best Bluetooth Headset 2023: Comfy, Hands-Free Calling
We find the best Bluetooth Headset and go through what needs to be considered before final purchase
Updated: Jan 3, 2023 3:53 pm
Whether you're taking a hands-free call in the car or at the office, it never really works that well on loudspeaker. Of course, it can be down to a poor-quality phone speaker or surrounding ambient noise, but either way, it can be a struggle to hear things clearly. There is an easy way to combat this and keep those hands-free while you work – the Bluetooth headset. Bluetooth has been around for some time now, so it has never been easier to find the best Bluetooth headset for your money.
In this article, we are going to be looking at our five best Bluetooth headset recommendations, what you should look out for, and assist you in making that all-important choice.
---
01
The best of the best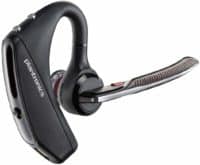 02
The best Bluetooth headset for gaming
SteelSeries Arctis Nova Pro wireless gaming headset
03
The best budget Bluetooth headset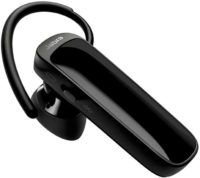 ---
How we test
We've become very familiar with audio tech over here at WePC. We've seen the best gaming headsets, the best DACs, and the best gaming speakers, too. Over the course of all this, we've become skilled at differentiating the garbage from the gold. We mostly do this via a mixture of hands-on experience, consumer research, and seeing how products stack up in a variety of editorial outlets like ourselves. After this stuff is done, we collate all the factors together and produce the lists.
Things to consider when picking the best Bluetooth headset
Given that the name of the game here is Bluetooth. The normal criteria for picking wireless headsets remain, but with a few key differences. This time there is a larger than usual emphasis on battery life, portability, and controls. Let's have a look at this stuff before we choose our champions.
Audio fidelity
The nature of Bluetooth headsets explains why we've opted for the word 'fidelity' instead of 'quality'. We don't need a big bass response or crip mids. We need pure clarity and ease of listening. This means a driver large enough to cover a decent frequency range with the ability to produce enough volume to be audible in loud environments, like a commute or mall.
Wireless reliability
When it comes to wireless audio, there are always chances of a connection loss midway through something important. It's a cold hard reality. But the equivalent is being plugged into your phone/laptop/PC all the time and we aren't cavemen so this is not an option. This means we need reliable, preferably long-range wireless performance.
Comfort
This one speaks for itself but annoyingly it still isn't ubiquitous, even in the best Bluetooth headsets. There are no set rules for defining the comfort of a headset because everyone is different, with differently shaped ears. That being said, there are a few common denominators that frequently show up in the most comfortable headsets.
First up is weight. Given that most Bluetooth headsets are asymmetrical in design, hanging on to just one ear, an excess of weight could become super annoying within minutes of use, not to mention make the headset far more likely to take a tumble at the worst possible moment.
Secondly, we have the fit. luckily, most Bluetooth headsets these days come with a few different ear tips sizes that you can swap out to find the perfect fit. Too small and the headset will wrestle itself free within minutes, too large and your ear will ache, or the headset won't fit in there at all, again making a break for freedom at the turn of the head.
Bluetooth version
Bluetooth as a wireless connection protocol continues to update and improve. With each subsequent update bringing better range, more reliable connection, or less compressed audio. Luckily, Bluetooth continues to be backward compatible, so if your phone isn't equipped with Bluetooth 5.0, for example, you can still use a Bluetooth 5.0-enabled headset, you'll just be missing out on the new features. This means the version will never result in returning a non-functioning headset, just a slight reduction in the overall feature set.
The best Bluetooth headsets 2023
With all that nerdy stuff over and done with, let's take a look at this year's contenders.
---
Plantronics Voyager 5200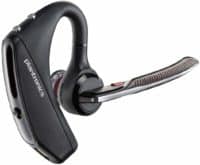 Caller ID

Sweatproof

Alexa built-in

Good noise & mic cancellation
The Plantronics Voyager 5200 is one of the best Bluetooth headsets on the market. Aside from being from one of the more reputable Bluetooth headset manufacturers, this has a lot of features and stellar build quality.
The Voyager 5200 is supremely comfortable, and it can easily be worn for extended amounts of time. Furthermore, being sweat-proof only impresses us further, leaving you comfy and dry, ready to take those calls.
The caller ID function on this is a great little feature; when you take a call, the headset will announce the name. Adding to this headset's hands-free capabilities, you can simply answer a call by saying "answer," and if you need to do anything else, you can always get Amazon assistant Alexa involved too.
Noise cancellation is important with a Bluetooth headset as you will most likely be in areas with high amounts of ambient noise or on a busy motorway. The performance of the noise cancellation from the Voyager 5200s is excellent, and it goes a long way to ensure you have the best quality call you can have.
A great Bluetooth headset to pick up.
---
Sennheiser Presence Grey UC
Easy switching

Universal communication

Advanced own-voice detection technology

Enhanced voice clarity
The Sennheiser Presence UC is a high-quality Bluetooth headset that can connect to multiple devices at the same time, making switching very easy. This "UC" version means this is good for unified communication and includes a USB dongle so you can get this working on your PC too.
The build quality is excellent, which is to be expected from Sennheiser. However, the comfort is a little off the mark. While the comfort may not be the best, this Bluetooth headset comes from one of the best audio companies out there, and this will go a long way to making your hands-free experience the best it can be.
This features dual connectivity, advanced own-voice detection, optimized speech clarity, and a plethora of extras, making this one feature-packed headset.
The audio and voice quality from this headset is superb, but if you are looking for a headset you can wear all day, you may prefer the Plantronics or Jabra.
---
Best haptic Bluetooth headset
Razer Kaira Pro Haptic headset
Up to 20 hours (with lighting/haptics, Up to 50 hours (without lighting/haptics)
PS5/PS4, PC, Devices with Bluetooth audio capacity
Superb haptic feedback

Gorgeous visual design

Great mic
Chances are the color scheme wont match your TV setup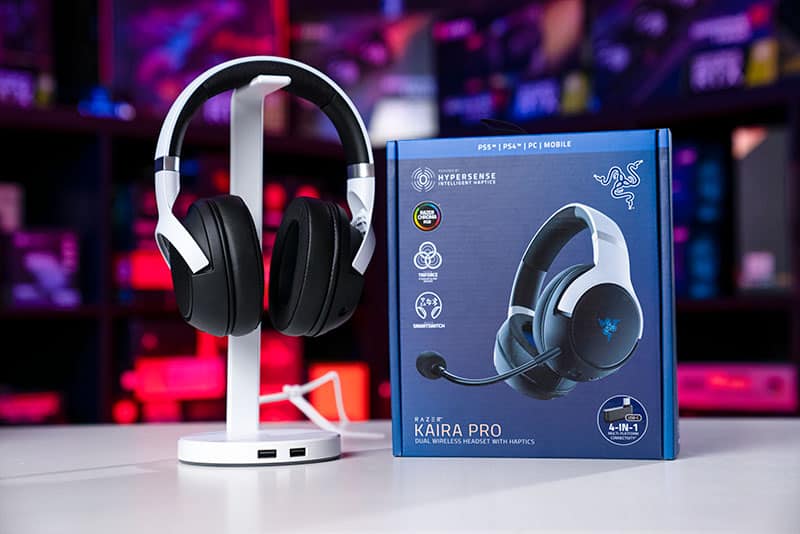 When the Razer Kaira Pro headset landed in the office we weren't sure what to expect from the much-hyped haptic drivers. We were pleasantly surprised as they added far more depth to the overall sound profile than we could have ever expected. This won't help the clarity of phone calls. But in those rare occasions where you get enough time to use your Bluetooth headset for general, more enjoyable content consumption, the haptics will improve your experience by a considerable margin.
We also have to shout out the overall comfort, weight, and striking design of the Kaira Pro headset. If you aren't averse to looking a little spiffy on the commute, these could make a nice change to the utilitarian and inarguably dull design of most Bluetooth headsets.
Of course, this being WePC. We would be remiss in our duty if we didn't mention how great these are for gaming, with the haptics providing a physically bassy thump to explosions, gunshots, and any other aspect of gaming audio that lives in the lower end of the frequency spectrum.
---
Best Bluetooth gaming headset
SteelSeries Arctis Nova Pro wireless gaming headset
USB, 2.4GHz, Bluetooth 5.0
PC, PS5, PS4, Nintendo Switch
Hot-swap battery system

Convenient DAC

Fully retractable mic
Very expensive, out of most people's price range.
Our gaming pick is a pair of over-ear SteelSeries Arctis Nova Pros. This wireless headset can work with almost any device and is one of the best wireless gaming headsets on the market.
Of course, seeing as this is the best Bluetooth headset page, this pair easily fits the bill and can be used with your console, PC, and mobile. The out of the box sound quality on these is superb, and they feature a battery life similar to our single-sided headset options in this article.
This headset comes with two batteries, allowing you to charge one while using the other and also essentially doubling your talk time. The microphone is detachable, meaning you can use these to listen to music around the house or on your daily commute.
With high-quality materials, crystal clear audio, and a decent amount of controls, the Arctis Nova Pro wireless headset is one of the best Bluetooth headsets out there.
---
Best Bluetooth headset for the office
Plantronics CS540/HL10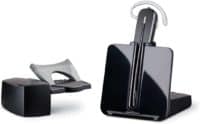 Comes with lifter

sleek design

Great audio quality

Comfortable
The Plantronics CS540 Bluetooth headset and HL10 lifter are the perfect combinations for hands-free office calls. The lightweight, sleek headset offers a great balance of quality and style.
This Bluetooth headset features one-touch controls but, the hands-free lifter means you can automatically answer phone calls. The battery on the Plantronics isn't as good as others on the list (7 hours) but, the features ensure this brings something else to the table.
Plantronics offers some of the best quality Bluetooth headsets on the market and, the CS540 is certainly up there.
---
Best budget Bluetooth headset
Jabra Talk 25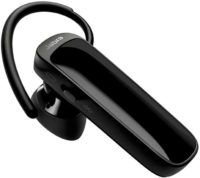 Great value

Omnidirectional mic

Voice assistant technology

Enhanced voice clarity
The Jabra Talk 25 offers a hands-free headset option for a very affordable price. While this may be a budget option, it still feels like a premium product, with a build quality to match.
The Jabra Talk 25 Bluetooth headset comes with HD sound and an omnidirectional microphone. The 11mm speaker brings superb audio quality and 30 meters of range, making this excellent value for money.
This headset is very comfortable and ships with three gel earpieces to ensure comfort at all times, regardless of your ear shape. Furthermore, this doesn't weigh a lot at all (9 grams), making it great for those long calls.
With eight hours of talk time, a battery check feature, and a text-message reader, you are all set with the Jabra Talk 25.
---
Final Word
There you have our five best Bluetooth headset selections. Each model offers its own pros and cons but overall every selection is going to be a great option for hands-free calls. For the best on-the-go Bluetooth headset the Plantronics Voyager 5200 offers an unrivaled level of quality. For the best audio and gaming experience and versatility, the Arctis Pro Wireless headset is the best way to go. For a no-frills, fully functional, and affordable Bluetooth headset, the Jabra Talk 25 is one of the best value for money models out there.
Whichever you go for you can rest assured that each of these is manufactured from very reliable brands and have audio and microphone quality high on their list of priorities.
---