Best capture card for Streaming 2023
The best capture cards you can buy right now !
Updated: Jan 3, 2023 3:53 pm
A Good capture card forms the foundation of any Twitch streaming setup and today we're going to show you the best of the best today.
It's the part that allows you to actually display the game to your viewers while being able to play without any additional latency.
So read on for the best capture card you can buy right now to improve the quality of your twitch streams.
READ MORE: Best stream deck to pair with your capture card
---
Elgato Game Capture 4K60 Pro MK.2
Max passthrough frame rate
Low profile design

Wide compatibility with consoles

Lag-free pass through
Elgato has managed to create an impressively broad streaming ecosystem. and their current top dog internal capture cart is none other than the Elgato Game Capture 4K60 Pro MK.2.
As the name and the specs suggest, it's capable of recording at full 4K resolution at 60FPS. This means your viewers won't miss any of your gameplay.
Neither will you, in fact, as the Elgato Game Capture 4K60 Pro MK.2 has a zero-lag passthrough that can still allow you to play at up to 240Hz refresh rate. So if you're a pro Valorant or CS:GO player, your performance won't be compromised by the use of this capture card.
---
Captures 1080p at up to 240fps

4K capture at 60fps

Easy to use
Needs to be installed into a PC

Runs hot
The AverMedia Live Gamer 4K capture card is the Elgato 4K60's main competition with 4K capture and HDR compatibility.
The card features 4K recording at 60fps, 1440p recording at 144fps and 1080p recording at 240fps if your PC can manage this. A decent computer will be needed to take full advantage of this capture card if you want to record in high detail.
The card comes with 2 x HDMI ports, one for input and a second for a passthrough. Codecs are supported on this one which can sway a few to it as it will be less intensive on your PC.
For the content creators, you are getting a solid reliable card here that doesn't have any lag. The device is good to go straight out of the box and there are enough recording options to keep many happy, especially if you love high frame rates.
This is quite a pricey capture card but overall it ticks the boxes and doesn't compromise on performance. If you take your streaming and recording seriously then you can't go wrong with this 4K capture card!
---
Elgato Game Capture HD60S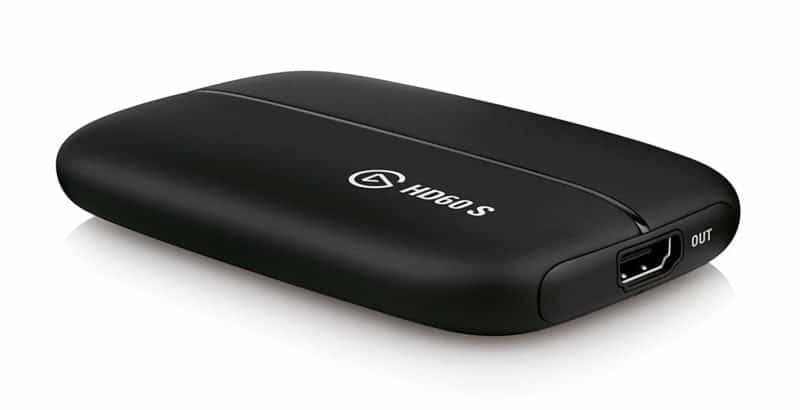 Works with PC, MAC, PS4, XboxOne, Xbox 360, Nintendo Switch

Good value

Easy to use
Software can be frustrating
Elgato is a household name when it comes to capture cards and this is largely down to the great value they offer in their products. Most looking at buying a capture card will be using it for streaming games on Twitch or YouTube and the Elgato HD60S is a solid choice for these tasks.
The Capture HD60S is an easy device to set up and use, you simply plug it into your gaming device (PS4, Xbox One, PC) and into your television/ monitor and it does the rest for you.
This device is very simplistic looking with a curved sleek design. It's lightweight and easy to take anywhere. Unfortunately, there are a limited amount of ports on this device with it featuring an HDMI in and out. The HD60S also has a USB port to connect to your PC and an audio jack for commentary.
The software featured on the HD60S isn't the easiest but once you get used to it it feels relatively user-friendly. It allows you to alter the audio and streaming configurations however the editing in the software leaves a great deal to be desired.
This is a great card for sharing your gaming clips and when you add in the low latency USB 3.0 you are getting a more seamless experience. Elgato is a big brand in this area and for anyone new looking into capture cards, the Elgato Game Capture HD60S is a great choice.
AverMedia Live Gamer Portable 2 Plus
Works with PC, MAC, PS4, XboxOne, Xbox 360, Nintendo Switch

4K pass-through

Good value

Easy to use
Unlike the Elgato capture card, the AverMedia Portable 2 is not a subtle-looking gadget but it is highly simple to use and makes switching between your PC and console feel seamless.
This loud-looking device will give you a sharp 60fps with 1080p recording. It doesn't capture in 4K however the card features a 4K passthrough allowing you to still play your games in 4K whilst you record.
What's great about this capture card is the fact it doesn't require the PC to capture at 60fps making it a great option for console players who don't have their PC on at all times while playing.
You also get RECentral which is AverMedia's player and it does a good job in assisting you with recording, overlaying text and other tweaks. RECentral also allows for PS4 party chat to be recorded without the need for an extra cable as other capture cards do.
The device supports USB 3.0 and is, of course, compatible with all your major platforms. Despite its loud appearance, this capture card is an impressive little device with the option to record straight onto a Micro SD card.
Overall this flexible little card comes with a decent amount of features and is particularly great for recording or streaming on the go as it will work straight out of the box.
READ MORE: The best PC to stream with
Best capture card for streaming: Final word
Ultimately, you can't go wrong with any of these options.
Additionally, there's a fair chance that some of the best capture cards on this page will be far above what you'll need, meaning that you can choose one of our lower-cost alternatives.
This will allow you to spend the money elsewhere to otherwise improve your stream, like a better mic for streaming.
Of course, we have to recommend the Elgato Game Capture 4K60 Pro Mk.2 for its sleek design, unparalleled performance, and integration with Streamlabs, Xsplit, and more.
---