Best gaming mouse for aiming & precision in 2023
Struggling with accuracy? Here's the best gaming mouse for aiming & precision in 2023
Updated: Feb 1, 2023 9:20 am
Today, we're finding the best gaming mouse for aiming and precision, as these characteristics are important in any game, though they are particularly vital in FPS games, specifically competitive FPS like Valorant and CS:GO.
Aiming & precision are sort of vague terms, with different interpretations, however, we do know what aspects of a gaming mouse lead to them, so we can at least talk about that.
What is a mouse sensor?
First up is the sensor, which uses some kind of complicated science and engineering to translate your mouse's physical movements to the on-screen cursor movement. While we miss unscrewing the underside of a rolling ball mouse to launch the eponymous ball at our friends, these mice really weren't very precise.
Luckily, laser mice took over from these, which would mess with your friends in a much more permanent way, we then moved to optical sensors, which is where we are now. The technology is still fundamentally the same as it used to be, but not all optical sensors were born equal. Pixart is generally considered to be the best, which is why Logitech partnered with them to create the HERO 25K.
Best gaming mouse for aiming & precision: Logitech G Pro X Superlight
So, given that Pixart make the best sensor technology, and this lead to the best sensor, the Logitech HERO 25K, we have no choice but to opt for the Logitech G Pro X Superlight
Logitech G PRO X Superlight
Size (H x W x D) mm
125 x 63.5 x 40
Aside from the sensor stuff, the G Pro X Superlight's other characteristics also help it in terms of aiming and precision. The shape specifically is symmetrical and has a sort of glossy, sort of mat coating that keeps it firmly in hand.
Best ergonomic gaming mouse for aiming & precision: Logitech G502 X Plus
So, we know the best sensor, but what if you like a weightier, more ergonomic option? Well, in that case, you can't go wrong with the latest iteration of the G502 shape, the Logitech G502 X Plus.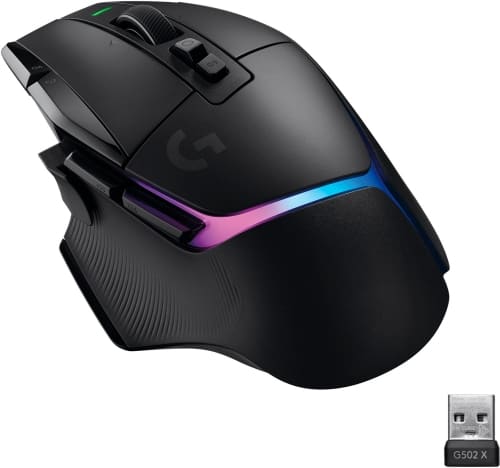 It's comfortable, accurate, and, unlike the G Pro X Superlight, you get some creature comforts, like an infinity scroll, a DPI shift, and of course a load of additional buttons.
---