Phanteks Eclipse P600s PC Case Review
Taking a closer look at one of Phanteks premier flagship PC cases.
Updated: Mar 11, 2022 10:16 am
Phanteks product list and reputation have gone through the roof over the last few years, with the brand releasing a wide selection of cases for a variety of budgets and all without compromising on features or quality. I may look at Phanteks PC cases through rose-tinted glasses but that is largely because of how impressive every model I've reviewed or built in thus far. The Enthoo 719 was an unbelievable full-tower but Phanteks main strengths appear to be in the mid-tower market.
Today we are going to be reviewing the Phanteks P600s, the brand's latest flagship model in their Eclipse range. This case has been out for well over a year now yet still feels incredibly current, with excellent airflow, aesthetics, soundproofing, and modularity capabilities.
Let's take a look.

Phanteks Eclipse P600S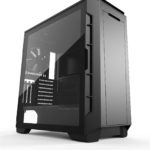 Motherboard Support
E-ATX, ATX, mATX, Mini-ITX
Dimensions
240mm x 520mm x 510mm
Tech Specs
Motherboard Support
E-ATX, ATX, mATX, Mini-ITX
Dimensions
240mm x 520mm x 510mm
Materials
Steel, Tempered Glass
Case Drive Bays
10 x Internal 3.5", 3 x Internal 2.5"
Radiator Compatibility
Up to 420mm
PROS
Two interchangeable modes (Silent & Performance)
Sound dampening on panels
Spacious layout & quality materials used
Feature packed

Main Features
Two interchangeable modes – Silent & Performance
Sound dampening materials
High-airflow fabric
USB Type-C Gen2
Excellent cable management
Integrated fill & drain ports
Included anti-sag bracket
Included vertical GPU mount bracket
Dual system support
The Outside
The P600s is a stealthy case with attitude. There are angles and vents in all the right places, making this look very futuristic. At first appearances, the front looks as though it is all one solid panel, with an angular grill towards the top and ventilation gaps at either side. The design is flawless but what is most impressive about the Phanteks P600s is its modularity and ability to transform from one configuration to another.
The main feature of the P600s is its interchangeable modes, from acoustic bliss to high-performance airflow. The stock configuration is in silent mode and to change this you need to remove the magnetic center panel at the front. If you have small fingers this comes off without any fuss but I had to flip up the I/O cover, which I'll talk more about a little later on. Once removed, the next major feature in Phanteks repertoire is revealed, their fabric mesh. This mesh is highly breathable nylon and allows for even more airflow when compared to traditional mesh filters. It appears as though there is a double layer of the nylon mesh that is then further supported by a magnetic dust filter at the back, which works in tandem to restrict the amount of dirt going into the system.
Of course, if you are all about airflow you may want to consider the P500A rather than spend the extra on this feature but it is one I love and I have to say hats off to Phanteks for including so many options. The removable center panel at the front, like the rest of the panels, features high-quality sound dampening materials that do a seriously good job for those that prefer acoustic performance.
As previously mentioned, the front is where we see the I/O, which are hidden by a flip-down panel to keep the overall aesthetics consistent. The reality is that you will likely flip this up and leave it for life but it does look cool.
The I/O consists of:
Reset Button
2 x USB 3.0 Gen1 Type-A
1 x USB 3.1 Gen2 Type-C
1 x Audio Jack
1 x Microphone Jack
You'll notice there is no power button at the front as this sits front and center at the top of the case.
The Rear
The rear isn't quite as basic as other cases around this price point and that is firstly down to the dual-system functionality. At the top you will see a removable panel that makes way for the ITX bracket that Phanteks sell separately.
Below the ITX slot is space for a 120 or 140mm fan, of which you get a pre-installed 140mm high-airflow fan. You also get 7+3 PCIe slots here too and while vertical mounting at this price point is something of a normality, three slots are another nice touch from this spacious case. Phanteks includes the bracket needed to secure the GPU on top of the shroud but you will have to purchase the riser cable separately if you plan on a vertical mount.
The hinges for both side panels are out the back and it is a design I prefer as I find this is the simplest way of removing a panel. The exposed hinges allow the doors to swing open more than 180 degrees and allow each panel to be lifted off.
The Side
The component side of the case features a full-length tempered glass panel, of which, Phanteks has included an opaque border that always adds extra aesthetical points in my book. The glass panel has a slight tint that aids in the visual look of your finished build while still allowing you to see little extras like modded cables.
Both side panels are completely tool-free and secure to the case with four strong magnets. A nice touch with said magnets is the use of a thin rubber layer on top of each meaning the panels close with a satisfying dull noise rather than a clatter. These side panels make everything from building to upgrading very easy and as previously mentioned, it is my go-to choice for side panel design.
The back panel is solid and features the same sound dampening materials as the top and front of the case. You can tell from the weight alone that these are going to do an excellent job of eliminating noise from your system. Another nice touch is the use of rubber strips around the border of each side panel, which not only aids with acoustic performance but predominantly creates a seal, giving you better airflow too.
The Top
The top of the case features another removable center panel just like the front and also comes with sound dampening materials. The removable top is part of their dual-mode design, meaning when things get too hot or if you install a radiator, you can get the airflow you need.
The top of the P600s has space for three 120mm fans or two 140mm, with up to 360mm and 280mm radiator support. The top can be removed easily with the use of thumbscrews at the rear of the case and underneath sits a removable mounting bracket that makes installation a walk in the park. Alternatively, you may opt to use the cases dual-system support, there is space for an ITX motherboard in the top back corner of the P600s and they also provide you with a magnetic cover to fill up an unused slot when using smaller rads.
The top also is where you are going to find your power button and just shows you how much thought Phanteks puts into their premium cases, with the P600s packed from head to toe with useful build features.
The Inside
If you are familiar with the Evolv, the P600s and its spacious interior is going to feel great. This is a bit taller than a few other mid-tower options but that extra room goes a long way, especially when building. The layout inside is logical and everything is exactly where it needs to be.
Towards the front, we have space for three 120mm or 140mm fans, of which you get two pre-installed 140mm fans. The fans included do an excellent job for airflow out of the box but adding another is only going to bolster that further. There is a cut-out on the PSU shroud to allow for room with beefy radiators or, of course, a reservoir. You can mount a front rad up to 360 or 280mm at the front, giving you plenty of options inside for an elaborate custom loop.
At the bottom, we have one of the best PSU shrouds going, it's solid metal and ties in with the overall color scheme nicely. There is a little bit of branding that looks superb towards the font of the shroud and there is a cutout where the PSU sits to cater for those of you that are going to be grabbing a model with a display or RGB lighting.
At the top is where you are going to have the space to mount your dual-system motherboard. The bracket for this is sold separately and will attach to the mounting bracket on the P600s.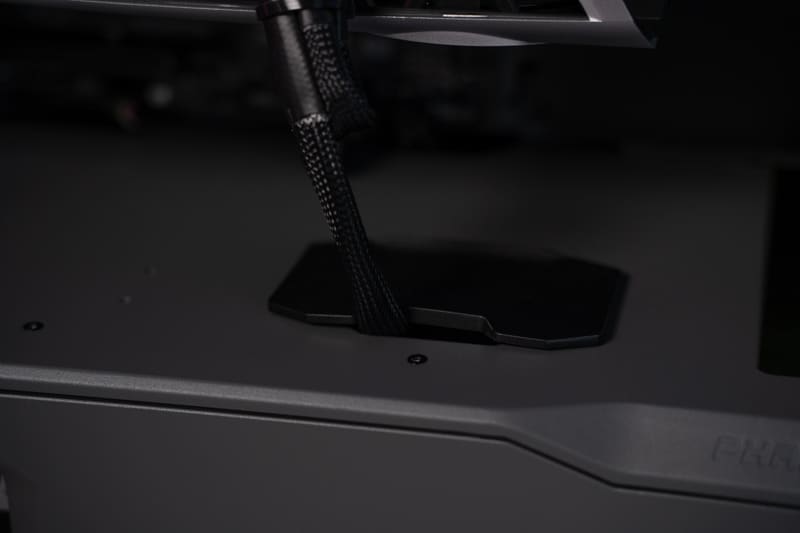 The only real criticism I can think of to this case is the cable management clips that Phanteks go with. They include this in most of their cases but it is a feature that doesn't need to be as outlandish as these are. They work well enough and the color scheme looks great but a simple cable bar or rubber grommets would have been a better choice in my opinion.
The Back Panel
Phanteks feature their double strap cable management system, a set of simple velcro straps strategically placed to make cable managing your PC extremely easy. The straps and clasps can all be removed with a screwdriver meaning you can do more elaborate management if you need.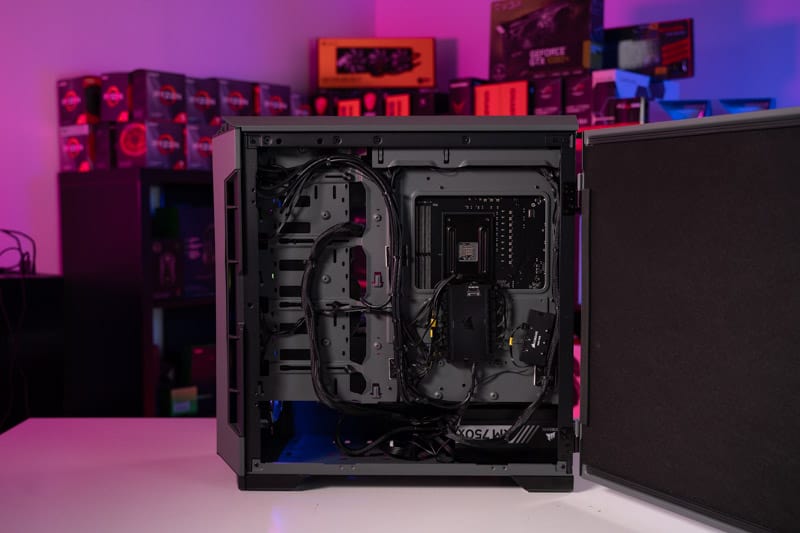 Towards the top of the P600s sits the included fan hub that has enough room for more fans if you kit it out and the pre-installed fans already run to the hub.
You also get three SSD mounting trays on the back, something which I removed to make way for my chosen AIOs fan hub. You also get four HDD drive trays in your accessory pack that can be stacked and slotted into the basement, giving you a large number of storage options.
Final Word
Overall, the Phanteks Eclipse P600s is one of the best cases on the market. While I still lean towards the Corsair 5000-series, Phanteks are still high up on my list. The P600s excels in thermal performance when configured correctly and the option to have my system as a stealthy silent beast is one I favor.
For raw airflow performance, there are alternatives that would save you a bit of money, like the Phtankes P500a, however, this case is feature-packed, making it not only a premium option but one of superior value against the competition.

Phanteks Eclipse P600S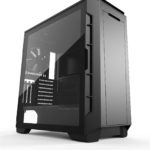 Motherboard Support
E-ATX, ATX, mATX, Mini-ITX
Dimensions
240mm x 520mm x 510mm
---