If you're already familiar with Nvidia's graphics cards, then you'll know that Nvidia's GTX-series cards don't include that heavily sought after RT and Tensor hardware which allows for more smooth and efficient 4K gaming.
That was, until, the GTX 1060 and the GTX 1660 Ti were developed by Nvidia! Featuring the groundbreaking Turing architecture, these two cards offer advanced possibilities at a more affordable price point, so both are an excellent choice to consider if you're looking for a mid-range graphics card.  
However, if you're asking yourself, "What's the difference between the two?" – we're here to lend a helping hand. Today, we're going to be taking a look at both to help you decide which one is right for you. 
The resolution, cooling, and VRAM capabilities are just a few of the specifications we've covered within this article to discover which one comes out on top. Whether you're looking to upgrade or purchase your very first PC gaming card, this guide will help you make an informed choice. Read on!
ASUS ROG Strix GeForce GTX 1660 Ti Advanced Edition
MSI GeForce GTX 1060 Gaming X 6G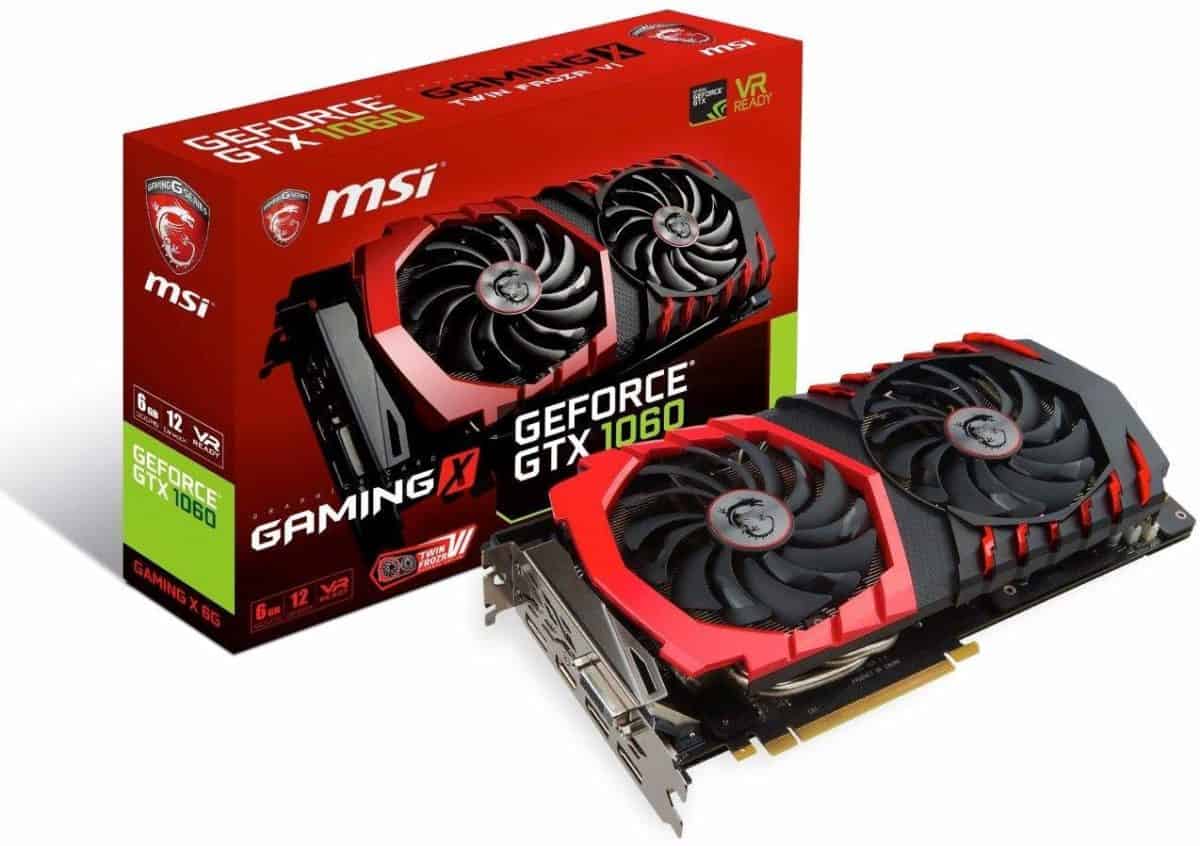 The first specification we're going to be taking a look at is the architecture of both cards. Both graphics cards feature Nvidia's groundbreaking Turing architecture, which makes them great mid-range cards that bridge the gap between Nvidia's more advanced RTX graphics cards.
By introducing Turing architecture to their 16-series cards, gamers are given the opportunity to enjoy an enhanced performance at a lower cost, albeit free from ray-trace enabling and DLSS (more on that later). Turing architecture helps to achieve more advanced AI-enhanced graphics than ever before, as well as a more 'smooth' gaming experience.
In addition to that, the Turing architecture also ensures that you'll get a performance boost of up to 6x that of older-generation cards, particularly those that are made with Pascal architecture many GTX cards have.
If you're planning on sticking to 1440p or 1080p games, then both of these cards stack up pretty well. The slightly older, Nvidia GeForce GTX 1060 won't require you to have to change the graphics settings (like you would with older GTX cards, such as the 1050) in order to achieve a smooth and enjoyable gaming experience in full HD.
Playing at a resolution of around 1440p, this card should be able to operate at around 60fps without becoming overburdened. In contrast, as the predecessor, the Nvidia GeForce GTX 1660 Ti offers a slight performance uplift, averaging at around 73 fps for 1080p games, making it an overall faster and more efficient card than 1060.
However, if you are planning on playing on a 4K monitor, or you're planning to make the switch soon, you may want to consider purchasing a card more suited to handling the demands of 4K, such as a card from Nvidia's RTX-series.
Both the GTX 1060 and GTX 1660 Ti are capable of ray-tracing due to the Turing architecture, and the fact that Nvidia has created an update to allow 16-series GPU cards to be suitable for ray-trace enabling. However, you're going to find that the ray-tracing of these cards are only suitable for games up to 1080p. This isn't such a bad thing, however, as there aren't too many games currently on the market that are solely 4K.
Despite both cards featuring Turing architecture, it is the 1660 Ti that takes the lead over the older, 1060. While the lack of RT and Tensor cores mean that RTX and DLSS are off the table, other Turing features that don't rely on this dedicated hardware have made it in. Playing at 1080p, you'll be able to enjoy a more powerful and efficient performance in heavy workload games such as Call of Duty or Wolfenstein 2.
Nevertheless, both cards are more 'future-proof" than their older siblings made with Pascal architecture, even if they lack DLSS and ray-tracing hardware.
The 1660 Ti features a wind force cooling system that has been equipped with inclined fans to help keep the temperature cool, while additional thermals will be able to keep the processor cool, all without causing the fan's blades to turn too quickly and overburden the system.
Similarly, the GeForce GTX 1060 has been crafted with premium materials that will help to keep the card from overheating, all the while featuring efficient thermals that will be able to counteract even the most intense gaming workloads.
In addition to a more efficient VRAM, the GTX 1660 Ti also features Nvidia's newer TU116 processor, which is the first Turing processor to be created without RT or Tensor cores. Its hardware features 24 shader modules and a total of 1536 CUDA cores, as well as a 12nmFF process and 6.6 billion transistors, which is a 50% increase when compared to the 1060, which has 4.4 billion.
ASUS ROG Strix GeForce GTX 1660 Ti Advanced Edition
MSI GeForce GTX 1060 Gaming X 6G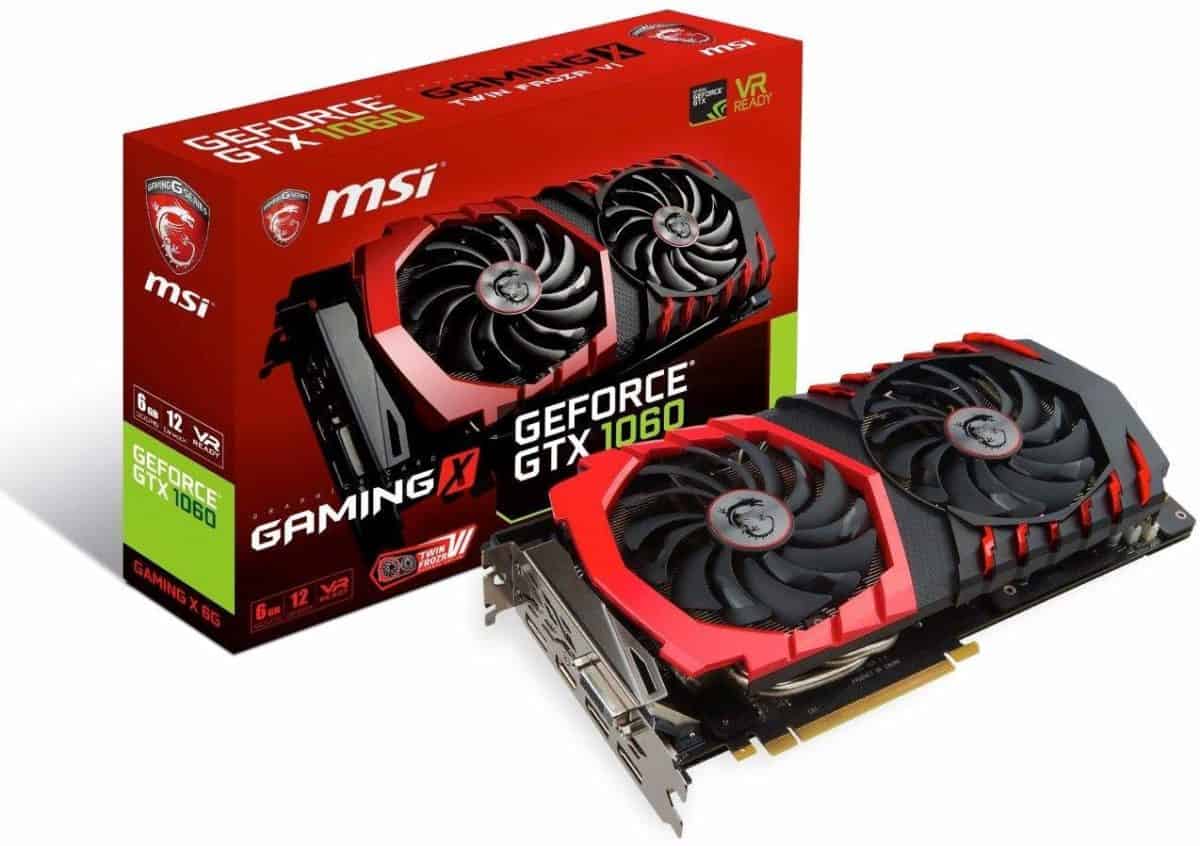 So, which one comes out on top? Though the Nvidia GeForce GTX 1060 offers a good performance for all 1440p and 1080p gaming, we think that the Nvidia GeForce GTX 1660 Ti is the winner.
Sure, it might not come with sought-after features such as DLSS and ray-tracing, but it is still a great choice if you want a gaming card that offers some of the more advanced features of an RTX without breaking the bank.