Nvidia GTX 1070 vs AMD RX 590
In this article, we will be taking a closer look at two GPUs, the Nvidia GTX 1070 and the AMD RX 590.
We will be comparing their specifications to see which one comes out on top. By benchmarking the FPS and resolution we will let you know which is the better option. We will also discuss other specs, such as dimensions, cooling, VRAM, and architecture.
EVGA GeForce GTX 1070 SC Gaming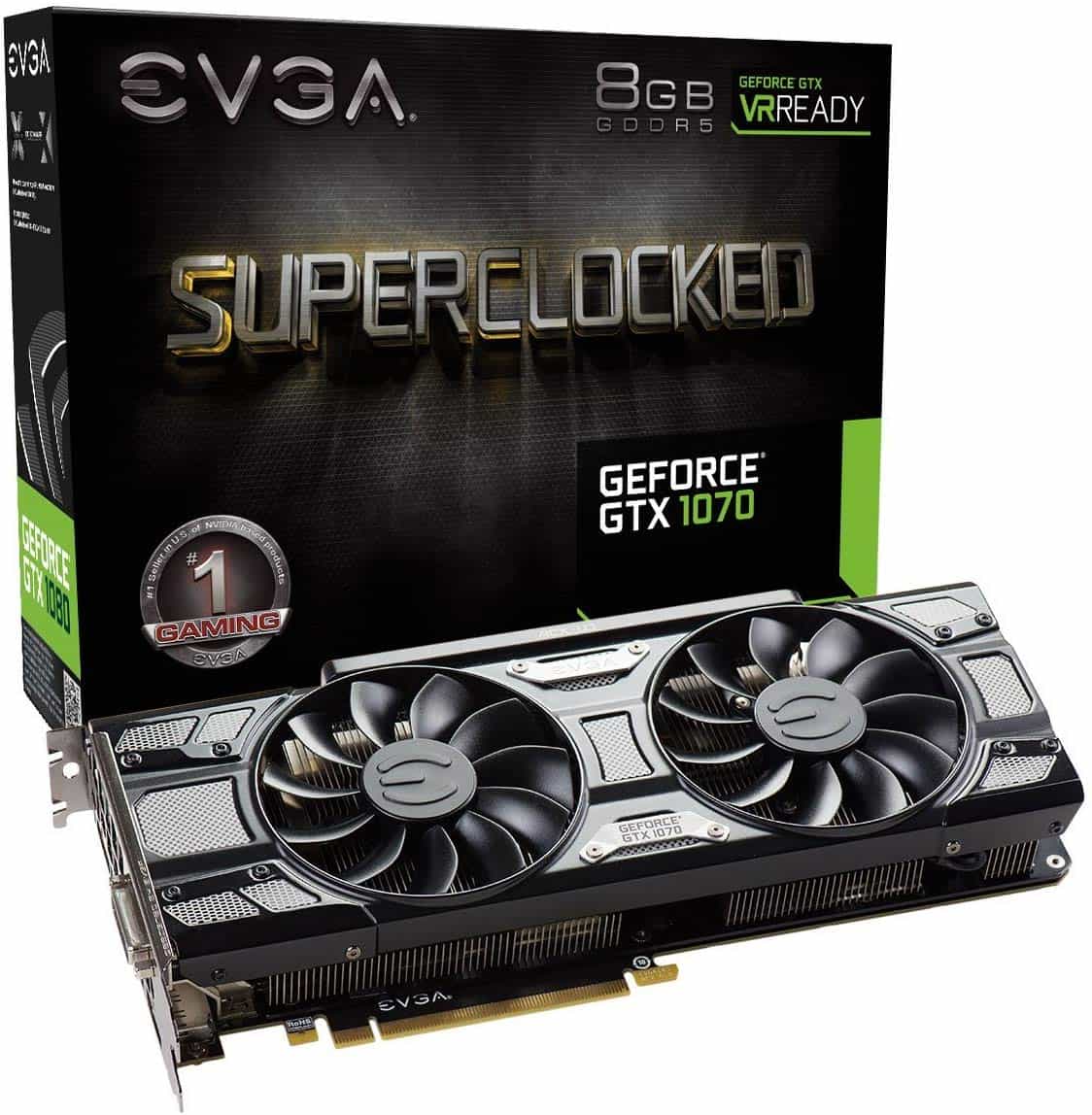 The market for PC gaming components is a competitive one. Since Nvidia released the first graphics card, companies such as AMD have previously struggled to keep up.
While AMD produces great quality graphics cards, the innovative technology that Nvidia regularly releases has been difficult to match.
With the release of so many new concepts when it comes to architecture and ray tracing, the market has become more competitive, with both companies striving to be top dog.
While AMD takes center stage for CPUs, they are yet to fully overtake Nvidia in the GPU department. However, in recent years AMD has significantly upped their high-end graphics card game.
AMD has improved its specifications and bridged the gap Nvidia created. While Nvidia used to be head and shoulders above their competitors, the differences are becoming noticeably smaller.
While AMD has always provided good value for money with the mid-range GPU options, Nvidia has released more reasonably priced GPUs in recent years. While AMD used to be the preferred choice for cheaper GPUs, Nvidia's recent models have certainly put AMD's to the test.
Let's take a look at the base and boost clock specs:
Nvidia GTX 1070
Base Clock – 1506MHz
Boost Clock – 1784MHz
AMD RX 590

Base Clock – 1469MHz
Boost Clock – 1565MHz
The Nvidia GPU uses Nvidia Pascal architecture. This provides 3x faster speeds and performance in comparison to its predecessors. It provides a more up to date gaming experience, with the support of next-gen VR experiences.
Its overall power efficiency is great and this GPU is the Pascal Architecture flagship. It provides a performance that is far better than existing Nvidia graphics cards and uses Direct x12 features for faster gameplay.
The AMD Rx 590 uses Polaris 4th Gen GCN Architecture. This improves the overall performance in comparison to previous AMD graphics cards, by 1.7x. It doubles the transistor density. This helps to improve gameplay and efficiency.
This GPU also has Direct x12 support. If you enjoy playing games such as Doom, you will be happy to know that the Polaris Architecture supports Vulkan.
Though both use different architecture, they are fairly similar in how they perform. However, the increased base and boost clocks of the Nvidia GTX 1070, though small, cannot be ignored.
The cooling system is important, particularly if you are looking to overclock your GPU. Both of these graphics cards do not use air-water cooling. Unless you increase the air cooling system manually, this will restrict you if you are looking to significantly overclock the GPU.
When looking at the TDP of each processor, the Nvidia GTX 1070 is 150W, and the AMD RX 590, is 175W. The AMD RX is not as efficient in comparison to the GTX 1070.
The recommended PSU is the same for both, at 500W and 33A. The cooling system of the RX 590 is a Sapphire Nitro+, which is dual X cooling. Nvidia uses a blower cooling system, which uses a single fan.
When purchasing a GPU, you want to ensure it is the correct size for your PC build.
Nvidia GTX 1070
Length – 10.5"
Width – 2-slot
AMD RX 590
Length: 9.5"
Width – Dual slot
When comparing both graphics cards, there is little difference between the two. There is a one-inch difference in size, which should not be noticeable. However, if you are lacking in the room, the RX 590 would be the better option.
They are both two slots in width, which is standard for the majority of graphics cards. The power connector needed for both is a 1x 8-pin.
The interface both cards use is PCIe 3.0 x 16. When looking into futureproofing, this interface is slightly outdated with the recent release of PCIe 4.0 x 16.
The resolution and fps of the graphics card is the most important specification to consider. When benchmarking both, it is not surprising to find that the Nvidia GTX 1070 came out on top.
When looking at the fps performance in gameplay, for the majority of games such as Far Cry: New Dawn, Overwatch, and Fortnight, the fps of the GTX 1070 was far higher. It performed 36% percent better than the RX 590 when benchmarking GTA V.
The overall effective speed of 1070 was 33% faster than the 590. When looking at specific fps, the MRender of the Nvidia was 101 fps in comparison to AMD's 71.9 fps.
However, the RX 590 had a better overall fps for a handful of games, such as Assassins Creed: Valhalla. Its fps was 46 in comparison to 43 from the GTX 1070.
Both of these graphics cards support 1440p (4K) gaming, which is important if you are looking to future proof. However, their optimum performance is 1080p.
If you want to future proof your build and improve your overall gaming experience, ray tracing is something to consider. It will improve the lighting in-game, and make the graphics more realistic.
Ray tracing is a newer concept that not all older-gen graphics cards support. The Nvidia GTX 1070, being a fairly new GPU supports this. – to a point. If you play a lot of AAA games, this is the better card for you.
Unfortunately, ray tracing is not a feature that is built in the RX 590. However, the lighting it provides is still good. In terms of shading, the RX 590 has 384 more shading units in comparison to the GTX 1070.
When looking for a good GPU for gaming, it needs at least 8GB to run at 1080p. If you are looking to game at 1440p resolution, the memory will need to be significantly higher again.
Both GPUs run with 8Gbps, while this is good, this is the base amount needed. However, it is sufficient, especially if you are looking for a low to mid-range GPU.
The video memory used for both GPUs is GDDR5. While this is good, it is slightly outdated these days, given the release of the GDDR6, and the imminent release of the GDDR7. While it will run well currently, this is worth looking at when it comes to future-proofing.
When comparing both in terms of VRAM specs, they both are the same. Therefore, it is the differences in ray tracing, FPS, and clock speeds that you need to consider.
EVGA GeForce GTX 1070 SC Gaming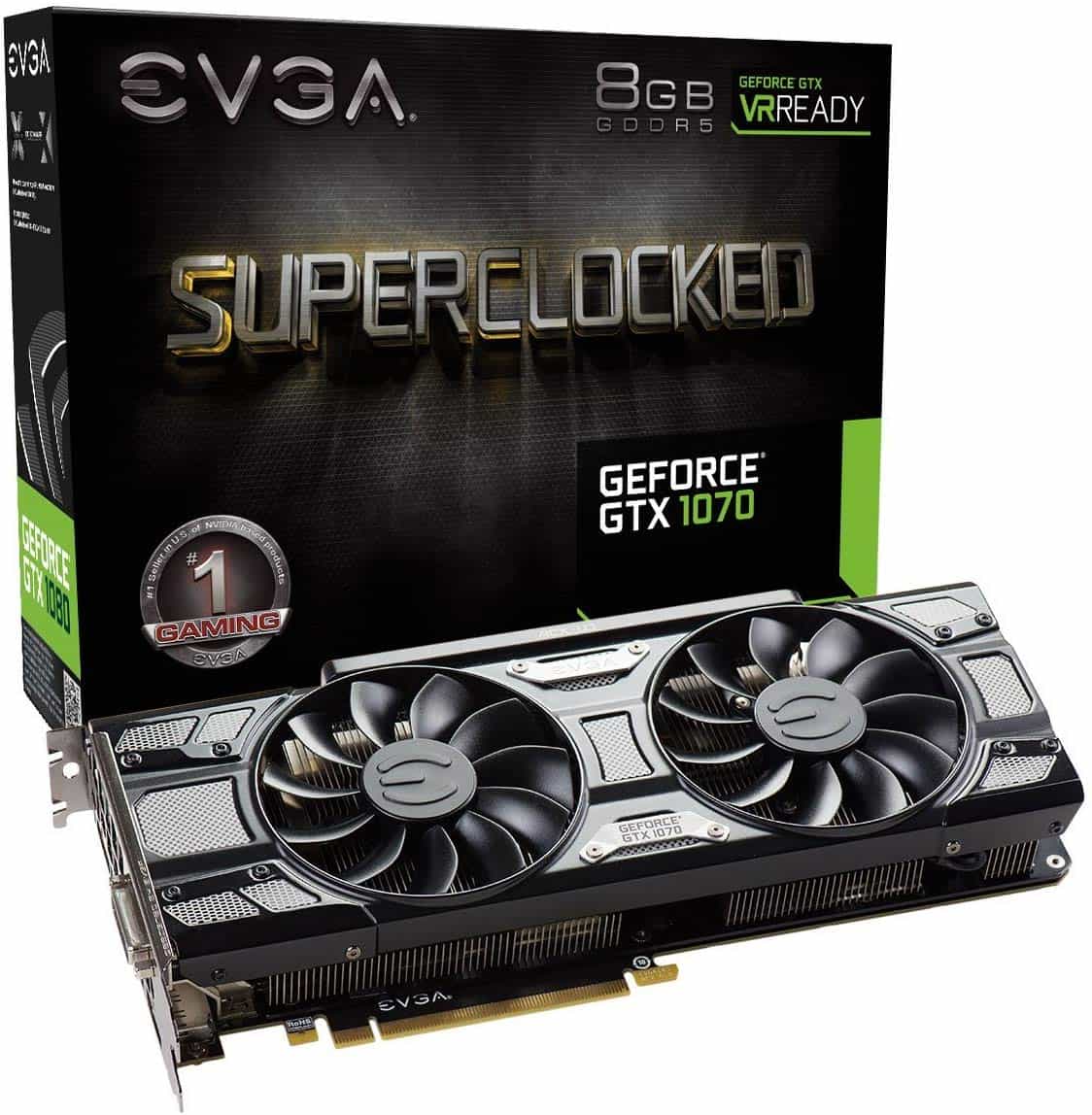 To conclude, the Nvidia GTX 1070 comes out on top. It has better clock speeds and fps. These are important when gaming. Though the clock speeds are only slightly better, there is a noticeable difference in the fps.
Its ray tracing capabilities will allow your pc to be more future proof. However, the Nvidia GTX 1070 is more expensive in comparison to the AMD RX 590. If you are looking for a cheaper GPU, the AMD may be the better option.
Overall, they are both fairly good GPUs, however, when it comes to future-proofing, they may become outdated in a few years due to their GDDR5 specs.