Best Corsair CPU cooler in 2023
Only the coolest coolers here
Updated: May 11, 2023 11:05 am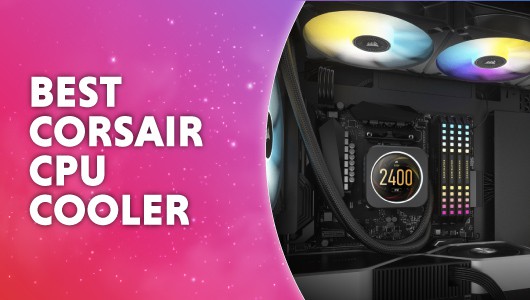 01

Best Corsair CPU cooler

Corsair H150i ELITE LCD

Corsair H150i ELITE LCD 360

02

Runner up Corsair CPU cooler

Corsair iCUE H150i Elite Capellix

Corsair iCUE H150i Elite Capellix Liquid CPU Cooler

03

Budget Corsair CPU cooler

Corsair Hydro Series H150i Pro

Corsair Hydro Series H150i Pro
Corsair is a giant in the CPU cooler space, incorporating quality and performance into every cooling component to ever touch a CPU. But we're here today to show you the best Corsair CPU cooler, fortunately for us, the process is made a little easier by the fact that Corsair only makes AIO liquid coolers and custom loop components.
We're going to be covering the AIO liquid coolers, as custom loops can get very complex in practice, not to mention expensive. So without further delay, let's get into it.
---
Best Corsair CPU cooler: Top picks
01

Best Corsair CPU cooler

Corsair H150i ELITE LCD

Corsair H150i ELITE LCD 360

02

Runner up Corsair CPU cooler

Corsair iCUE H150i Elite Capellix

Corsair iCUE H150i Elite Capellix Liquid CPU Cooler

03

Budget Corsair CPU cooler

Corsair Hydro Series H150i Pro

Corsair Hydro Series H150i Pro
---
Best Corsair CPU cooler: Reviews
Here we will review the Corsair coolers we have selected as the best Corsair CPU coolers in a more comprehensive capacity, covering why we think that these CPU coolers are the best that Corsair has to offer.
Corsair H150i ELITE LCD

Corsair H150i ELITE LCD 360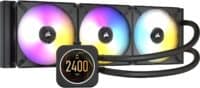 3x Corsair ML120 ELITE RGB PWM
Intel 1700, 1200, 1150, 1151, 1155, 1156, 1366, 2011, 2066 AMD AM4, AM3, AM2, sTRX4, sTR4
480×480 LCD Screen

Revised AMD mounting solution

Excellent thermal performance

Quiet operation

Upgrade kit

12th gen compatible
Undoubtedly, the Corsair H150i ELITE LCD reigns supreme as the pinnacle of CPU cooling performance. It boasts two variants, 360mm, and 240mm, ensuring compatibility with builds of all sizes. Furthermore, its mounting mechanism supports the latest sockets, including AM5 and LGA 1700, catering to the needs of contemporary systems.
When it comes to coolers, there is truly no superior option. The all-aluminum radiator toils relentlessly, swiftly dissipating heat generated by your CPU. Complementing this prowess are the three Corsair ML120 ELITE fans, resulting in an impressively efficient combination.
Corsair leaves no room for compromise, incorporating only top-tier components in their products. The pump featured in the Corsair H150i ELITE LCD commands a staggering liquid flow rate of 0.87L per minute, all while operating at a mere 20 dB, ensuring a whisper-quiet experience.
The pièce de résistance lies in the crown jewel—the LCD screen adorning the CPU block. Boasting a 480 x 480 LCD panel, this screen allows users to showcase vital system information, captivating images, animated GIFs, or even indulge in the whimsical realm of iCUE murals, displaying everything from sensor readings to beloved cat memes.
Indeed, the reasons abound as to why the Corsair H150i ELITE LCD 360 stands as the epitome of excellence among Corsair CPU coolers. Its performance is almost unrivaled in the industry, coupled with the inclusion of an LCD screen, making it an irresistible choice for discerning enthusiasts seeking the absolute best.
Corsair iCUE H150i Elite Capellix
Corsair iCUE H150i Elite Capellix
Runner up Corsair CPU cooler
Corsair iCUE H150i Elite Capellix Liquid CPU Cooler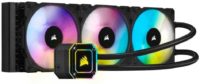 15.63 x 4.71 x 4.71 inches
Quiet Running Volume – This system should rarely break 36dBA.

RGBs – bright and punchy, these RGBs will breathe new life into your case.

Pump Design – A split-flow copper cold plate and a ton of micro-skived fins enable you to push your CPU to the limit.
Price – You may have to liquidate your assets to afford this liquid asset.

Installation – The fans can be difficult to screw into place.

The Corsair H150i iCUE Elite Capellix stands as a highly acclaimed and long-standing CPU cooler in the market. As a reputable name in the cooling industry, Corsair has forged a distinguished identity for delivering exceptional products, and the H150i exemplifies this tradition.
At the forefront of the H150i's appeal lies its remarkable cooling performance, owed in part to its substantial 360mm aluminum radiator and the inclusion of three Corsair 120mm RGB fans. These components synergize harmoniously to maintain the CPU's temperature at optimal levels, even during resource-intensive tasks.
Nevertheless, the H150i surpasses mere functionality by incorporating thoughtful design aesthetics. It boasts an assortment of color options, including both black and white variations, while also permitting users to augment its appearance with the addition of RGB fans. Such sleek and contemporary design elements ensure that the H150i seamlessly complements any high-end system configuration.
For individuals seeking a heightened level of personalization, the H150i offers the possibility of upgrading to include an LCD screen. This enhancement enables users to showcase system information and customized images on the cooler's expansive 3.5-inch display, mirroring the capabilities of the RYUJIN ii. Through this upgrade, the H150i attains a near-identical level of performance and aesthetic refinement akin to the RYUJIN ii.
Corsair Hydro Series H150i Pro
Corsair Hydro Series H150i Pro
Budget Corsiar CPU cooler
Corsair Hydro Series H150i Pro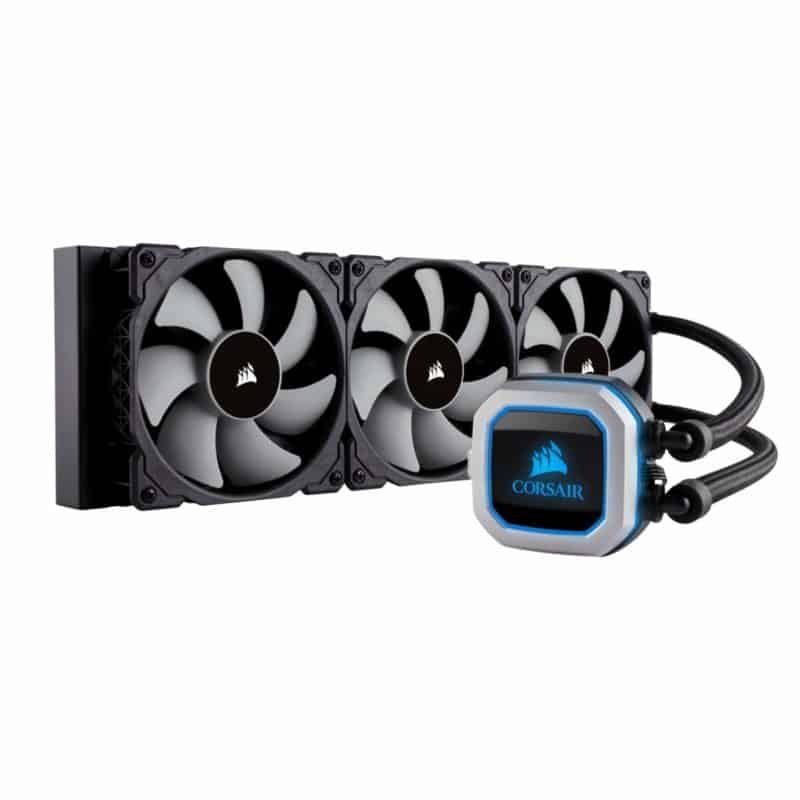 H(396) x W(120) x D(27) mm

Undoubtedly, the Corsair H150i stands as an unrivaled AIO cooling solution within the market, garnering immense popularity primarily due to its remarkable performance. What truly sets the H150i apart from its competitors is its ability to maintain whisper-quiet operation even under the most demanding circumstances.
While the H150i may not boast the most visually captivating design when compared to the likes of the Thermaltake Floe or the Kraken x72, its unassuming RGB block and unadorned radiator fans harness the power of Corsair's Magnetic Levitation technology, ensuring minimal noise emission. Remarkably, the H150i reaches a mere 25 dBa at its maximum noise level.
In addition to its outstanding performance, the H150i comes equipped with Corsair's sophisticated iCUE software, which empowers users to monitor and regulate their system's cooling performance. This feature further amplifies the H150i's functionality and overall appeal.
However, it is important to note that while the H150i serves as an incredibly effective AIO cooling solution, it may not be the most suitable choice for heavily overclocked systems, particularly when operating in quiet mode. Consequently, users should exercise caution when employing this cooler in highly demanding setups.
---
Best Corsair CPU cooler: Things to consider
Here we will outline some of the most important things to consider when opting for the best Corsair CPU cooler.
Cooling Performance
Efficient cooling is paramount for preventing overheating and maximizing the longevity of your CPU. When evaluating Corsair CPU coolers, it is crucial to assess their cooling performance.
Look for models with large radiators and powerful fans, such as the Corsair H150i ELITE LCD, which employs a 360mm radiator, and Corsair ML120 ELITE fans. This combination ensures effective heat dissipation, even under demanding workloads.
Compatibility
Compatibility is another crucial factor to consider when selecting a Corsair CPU cooler. Ensure that the cooler is compatible with your CPU socket type.
Corsair coolers often support a wide range of sockets, including popular options like AM5 and LGA 1700. Verify the compatibility list provided by Corsair to ensure a seamless fit with your system's CPU.
Noise Level
For many users, a quiet computing experience is highly desirable. When examining Corsair CPU coolers, pay attention to the noise level they produce during operation.
Look for coolers equipped with advanced noise reduction technologies, such as Corsair's Magnetic Levitation fans, which provide whisper-quiet performance. Opt for models that offer a balance between cooling efficiency and low noise output, ensuring a peaceful computing environment.
Design and Aesthetics
The design and aesthetics of a CPU cooler can play a significant role, particularly for enthusiasts who value the visual appeal of their system. Corsair offers a range of cooler designs, from sleek and minimalistic options to those featuring customizable RGB lighting.
Consider your system's overall theme and choose a cooler that complements your build. The Corsair H150i ELITE LCD, for example, features an LCD screen that adds a unique visual element and allows for customization, making it an attractive choice for those seeking both performance and aesthetics.
Additional Features
Corsair CPU coolers often come with additional features that enhance their functionality and user experience. These may include integrated software for system monitoring and control, like the Corsair iCUE software.
This software enables users to monitor cooling performance and customize lighting effects. Consider these supplementary features and determine if they align with your requirements and preferences.
---
Best Corsair CPU cooler: FAQs
Here are some of the FAQs surrounding the best Corsair CPU cooler.
Are Corsair coolers good?
Yes, Corsair coolers are highly regarded and known for their excellent performance, quality, and innovative features. They have established a strong reputation in the cooling industry and are trusted by many users for effectively managing CPU temperatures and providing reliable cooling solutions.
Can a CPU cooler effect PC performance?
Yes, a CPU cooler can significantly impact PC performance. An efficient and effective CPU cooler helps maintain lower temperatures, preventing overheating and thermal throttling. By keeping the CPU cool, the cooler allows the processor to operate at optimal frequencies and performance levels, ensuring smooth and stable system operation. Inadequate cooling can lead to increased temperatures, which may result in reduced CPU performance, potential system instability, and even damage to components.
---
Final Word
Selecting the best Corsair CPU cooler requires careful consideration of various factors. By evaluating cooling performance, compatibility, noise level, design, and additional features, you can make an informed decision that suits your specific needs.
Corsair offers a diverse range of CPU coolers, such as the impressive H150i ELITE LCD, which excels in performance, aesthetics, and customizable features. By considering these essential factors, you can confidently choose the ideal Corsair CPU cooler to enhance your system's cooling capabilities and overall computing experience.
If you desire to look at more AIO CPU coolers, our "Best CPU coolers in 2023" article has you covered.
---