Best Budget Gaming Monitor
Our Buyer's Guide To The Best 144Hz, 165Hz, 1080p and 1440p Budget Gaming Monitors On The Market
Updated: Dec 8, 2022 5:39 pm
Picking through all of the jargon and technical specifications when looking to buy a gaming monitor can be a difficult proposition. You have to consider panel specifications, response times, refresh rates, contrast ratios etc. On top of this, there are many competing brands and products out there and sometimes it can be hard to know which is the right one to go for.
If you're operating on a tight budget this can become even more of a difficult task, as the unfortunate reality is you usually can't get everything you want unless you're willing to pay extra for it. The decision becomes about picking out what's most important to you, and finding a screen that meets these priorities as closely as possible, whilst sacrificing other areas that matter least.
To make this job easier for you, we've selected a shortlist of what we feel are the best budget gaming monitors available on the market at this present time. Each monitor has its strengths and weaknesses that may make it more or less suited to your needs and we will ensure you have all the information you need in order to pick the one for you.
Anyway, enough chit chat, let's get stuck in!
Our Top Picks
01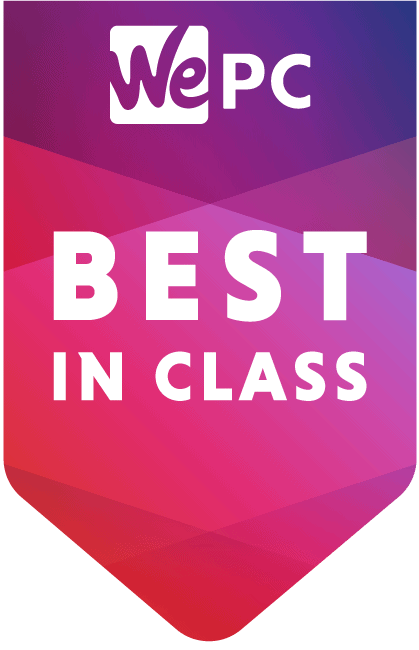 A 144Hz FreeSync Monitor That Does It All For The Price
SAMSUNG Odyssey G5 27 inch
02
A Whopping 32 Inches Of 144Hz FreeSync Monitor
AOC C32G1 32 inch
03
Super Responsive 24 Inch 144Hz Gaming Monitor With FreeSync
ViewSonic XG2402 24 inch
How We Choose
Unless you're clued up on the latest in PC gaming tech, knowing which brand or model is right for you for any given bit of PC hardware can be a daunting task. Monitors are no exception to this, indeed there are many aspects to consider when trying to find the right screen for your needs.Thankfully, WePC is here to make your life that bit easier. We put the time in so you don't have to!
For every product category we put in hours of research: comparing and contrasting specifications of different models and brands, using our in house experts with knowledge of each category to pick out the most important details and judge the quality of each product. We combine this with PC benchmarking, in house testing, and reviewing online user feedback to put together the right recommendation, depending on your needs.
How We Test
Individually testing the products we recommend is an important part of our best of guides. We want to make sure that what the manufacturer is claiming is correct as, more often than not, certain specifications need to be taken with a pinch of salt (monitor response times, for example). Where possible we like to push each product to its limit to see how it performs under stress to make sure it deserves its place in our top spot.
In order for us to consider a product "the best" in its category, it must show top level overall performance in our tests compared to its peers within the same price bracket. Often even "the best" monitors do have weaknesses in certain areas, which may make them unsuitable for certain consumers if they don't meet their specific requirements, however we will always mention these aspects in a review.
For each product we try to consider price vs performance, functionality, compatibility with other hardware and software, build quality, and, last but not least, aesthetics. We will always try and keep in mind the target audience of the item during testing to see if it meets its goals.
Things To Consider When Shopping For A Budget Gaming Monitor
There can be a bewildering array of specifications one needs to consider when deciding which monitor to buy, particularly in the case of gaming monitors. See our guide for What To Consider When Buying A Gaming Monitor for a detailed look at all of these parameters. For the purposes of this guide however, we will be discussing what to think about through the lens of shopping on a budget specifically. So see below for a list of things to consider when shopping for budget gaming monitors.
What Classes As A "Budget" Gaming Monitor?
The price range for a budget monitor is not set in stone. Different retailers and reviewers may define the partitions between 'Budget', 'Mid-range' and 'High-End' slightly differently. These prince ranges are likely to fluctuate slightly over time depending on market movements (greater demand for gaming tech plus inflation often leads to higher prices!).
Typically the minimum you will spend on a budget screen is $100, though there are options available below $100, they will be unlikely to make it onto this Best Of list. We put the ceiling price range up to around $250 for budget screens, but again this is not a hard boundary. If we see a monitor slightly above this price that we think is worth it we may include it. As new tech comes available, screens which were once mid-range often drop in price to the point we would consider them contenders for this budget category.
What You Will Get With A Budget Gaming Monitor: Realistic Expectations
Resolution: A 2K (1440p) resolution screen is the maximum you are likely to get at this price range, and most you will find will be 1080p. 4K screens are reserved primarily for high-end monitors. For online competitive gaming purposes, 1080p is the standard anyway, so for most people whose interest lies in this area this will be sufficiently high.
Screen Size: 24" or 27" is typical for a budget screen, although you will find the occasional 32" monitor in this price range. For 1080p resolution (usually the maximum you will be getting for a budget gaming screen) we generally think the sweet spot is 27" – anything above this and the loss of pixel density starts to become noticeable in a lower quality of image, though for some this is an acceptable trade off for more screen real estate.
Refresh rate: 144Hz is typically what you can expect in this price range, though you might find the occasional 165Hz display. Anything above 165Hz is beyond the realms of what would be classed a budget monitor. See our guide on The Best 244Hz Gaming Monitors if you are interested in these displays.
Response time: Response time essentially indicates the speed at which a monitor's pixels can change to keep up with the information the GPU is feeding them. Lower response times usually lead to image 'ghosting', and the reality is that for a budget display you are always going to get a bit of this. Whilst most manufacturers will advertise their product as having low response times (1ms for instance), this is almost always a best-case scenario, particularly on budget screens. Our product reviews will always let you know what response time to realistically expect from a screen.
Variable Refresh Rate: There are two types of variable refresh rate technology: one is AMD's FreeSync and the other Nvidia's G-Sync (read more about them here). There are different standards of this technology however, and for budget screens you will typically see them labelled as "G-Sync Compatible", which is the lowest standard available for Nvidia. Compared to full G-Sync, G-Sync Compatible doesn't do HDR and has not been tested and validated to the same level as a full G-sync monitor through. This is something to think about if you have an Nvidia graphics card and are looking for a budget gaming screen.
Build Quality: Manufacturers have to make compromises when designing cheaper gaming monitors for the consumer market. For budget monitors cheaper materials are often used, so don't expect metal stands: plastic will be the norm, and the panel coating itself will be of lower quality than a premium monitor.
Brightness and Contrast ratios: Whilst you can get budget screens with respectable specs in both these areas, things like HDR tend to be of a more limited form than with higher-end screens. As with any monitor, if you are gaming/working in bright conditions then a high peak brightness is more important, in lower light conditions detailed blacks are more so.
Color Accuracy: Don't expect to get anything more than SRGB in the budget price range, and it would be rare to see above 100% SRGB. If you do color accurate work alongside your gaming, then you're going to need to spend more money: take a look at our guide on The Best Monitor For Video Editing for something more suitable.
Adjustability and ergonomics: Adjustability and ergonomics are often poor for budget screens. Given that this is generally low on a consumer's priority list, it's an area the manufacturer tends to skimp on.
In-depth Review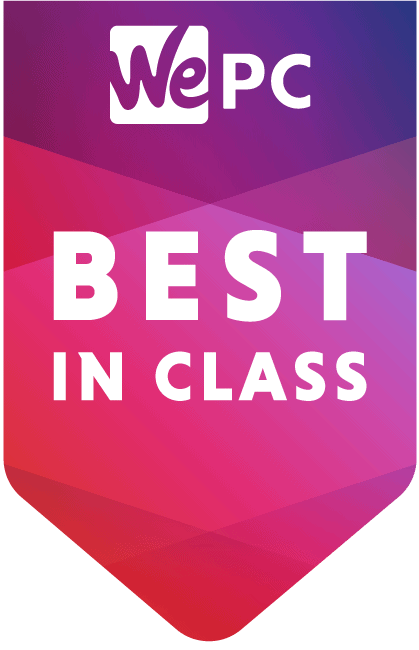 01
A 144Hz FreeSync Monitor That Does It All For The Price
SAMSUNG Odyssey G5 27 inch
Response Time (stated by manufacturer)
1ms
PROS
Great resolution for the money
Fast response times
Low input lag
Good dark contrast
CONS
poor adjustability
peak brightness could be better
The Samsung Odyssey G5 comes in 27 inch and 32 inch models, though for the purpose of this guide we will be looking at the cheaper 27 inch version. All in all the Odyssey G5 is a very good budget gaming monitor. It has a 2560 x 1440p resolution (known as WQHD) and is based around a VA screen which is curved allowing for greater immersion. An impressive 1ms response time and low input lag (considering this is typically an area of weakness for VA panels) combined with its 144Hz refresh rate make it ideal for competitive gaming on a budget. The screen has full FreeSync support but also has G-Sync compatibility if you have an Nvidia GPU.
The screen has quite low viewing angles, but on a curved monitor of this size that's arguably not much of a drawback as they're designed with one user in mind. The adjustability of the monitor does leave a lot to be desired, with no swivel of height adjustment, and only a narrow tilt range.
In terms of contrast ratio the HDR10 functionality means the screen is capable of producing some deep inky blacks, though the peak brightness was fairly low, meaning we wouldn't recommend using this monitor in a bright setting. The relatively narrow HDR color gamut means it is not suitable for professional graphic design work. That being said, this is a budget monitor designed for gaming, and in this area it excels. The resolution, refresh rate and response time of this screen make it definitely worth the asking price.
02
A Whopping 32 Inches Of 144Hz FreeSync Monitor
AOC C32G1 32 inch
Response Time (stated by maufacturer)
1ms
PROS
Large screen size for the money
Great contrast ratio and peak brightness
Good viewing angles
CONS
Some motion blurring visible
The AOC CQ32G1 is the 32 inch 1920 x 1080p variation of AOC's 144Hz G1 series monitors. Other screen sizes and resolutions are available, but this is the best you can get for the sub-$300 price point. This is a capable curved gaming display, though at the 32 inch size some may find the pixel density offered by 1080p a little on the low side.
Nevertheless the VA panel of the AOC CQ32G1 gives it a great contrast ratio with high peak brightness, even without HDR support. The screen has great color accuracy straight out of the box and generally a very nice picture quality. The screen also comes with great viewing angles which are still appreciable despite it being a curved screen, as the curve is not as pronounced as in some models. As is typical in budget screens, adjustability is limited to a narrow tilt range with no swivel or height adjustment.
144Hz refresh rate at this price point is very nice, and the screen comes with full FreeSync support but also has G-sync compatibility. The input lag on this screen is very low, though you may see some motion blurring due to a lower than ideal response time – the black frame insertion settings does help combat this however. If you're looking for a bigger sized, curved screen at the budget end of the spectrum, then the AOC CQ21G1 could be for you.
03
Super Responsive 24 Inch 144Hz Gaming Monitor With FreeSync
ViewSonic XG2402 24 inch
Response Time (stated by maufacturer)
1ms
PROS
Very fast response time
Very low input lag
better adjustability than competitors
CONS
Only 24 inch sized screen
weaker contrast ratio
The ViewSonic XG2402 is a 24 inch model in ViewSonic's 144Hz XG range. It is a 1920 x 1080 TN display with a non-curved screen, and is a very strong budget entry for those focused on competitive gaming.
As you'd expect from a TN screen, contrast ratio isn't the strong point of this display, but if you're in a well lit room some of this can be negated. In competitive gaming the monitor excels – there is very low input lag, a superb response time, and virtually no detectable motion blur.
The 144Hz monitor comes with FreeSync support, and though the viewing angles are not the best its adjustability features are above average at this price point: with height adjustability, a -45 degree to 45 degree swivel range and a tilt range of -15 degree to 5 degree. All-in-all the responsiveness of this monitor makes it a great choice for those whose priority is seamless, lagless gaming with no ghosting.
04
165Hz 24 Inch Gaming Monitor With Backlight Strobing Technology And FreeSync
Asus VG248QG 24 Inch
Response Time (stated by maufactruer)
0.5ms
PROS
165Hz refresh rate capability
good response time
backlight strobing technology
better adjustability than competitors
CONS
Only 24 inch sized screen
weaker contrast ratio
The Asus VG248QG is a 24 inch monitor that can be set to a refresh rate of 165Hz via its overclocking feature, or alternatively used at 144Hz. The screen also comes with backlight strobing technology, which helps to reduce eye strain and motion blur in gaming, a relatively unusual feature at this price point.
The TN panel display means that this monitor is not the strongest when it comes to color gamut and contrast ratio out-of-the-box, though if you calibrate it you can get decent performance in these areas. The main strength of this screen is its high refresh rate and very respectable response time in gaming. Thanks to the backlight strobing, motion blur is effectively non-existent. The monitor comes with FeeSync support and also has G-Sync compatibility.
Unlike many other competitors in this price range, the Asus VG248QG has a decent degree of adjustability, with up to 130mm height adjustment, 90 degree pivot, -5 degree to – 33 degree tilt and +/-90 degree swivel. This adjustability helps to alleviate the fairly narrow viewing angles somewhat. When you take everything into account though this is a great 165Hz capable monitor, with great responsiveness and backlight strobing for a cheap price.
05
Another Super Responsive 24 Inch 144Hz Gaming Monitor
BenQ Zowie XL2411K 24 Inch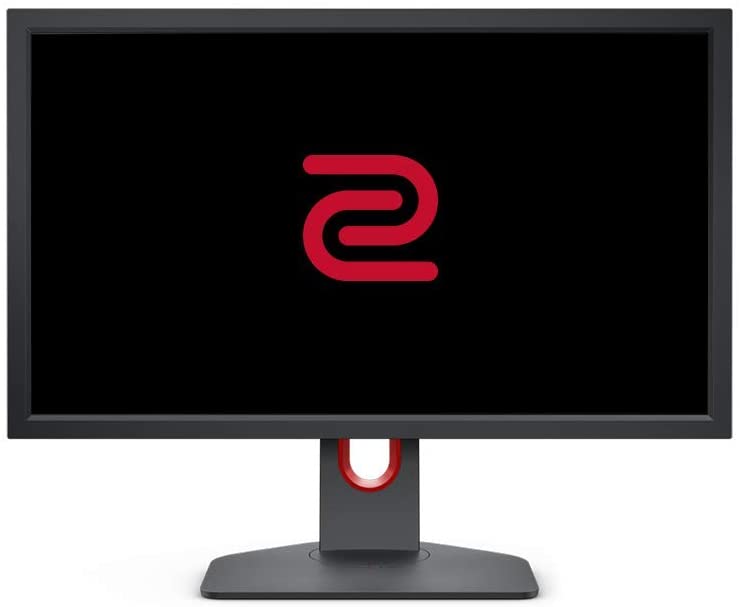 Response Time (stated by maufacturer)
1ms
PROS
Fast response times
Low input lag
Good peak brightness
CONS
Only 24 inch sized screen
lacks FreeSync or G-Sync support
The BenQ Zowie XL2411K is a 24 Inch monitor based around a TN panel. The response time is superb for this price range, even for a TN screen, and the low input lag is equally impressive.
Despite this fast response time, the 144Hz screen does not support FreeSync or G-Sync, hence misses out on our "best response time" category, as for most people this sort of variable refresh rate technology comes into its own during competitive gaming.
The BenQ screen has fairly sub-par black uniformity, though it does have a respectable peak brightness, making it well-suited to brighter gaming environments. Adjustability on this product is limited and it doesn't have the best viewing angels, but its still a solid gaming monitor for competitive use.
Final Word
This has been our run-down of the best budget gaming monitors currently available. The SAMSUNG 27-Inch Odyssey G5 is our best all round budget gaming monitor, though the other displays we have listed here all have their own merits, depending on your needs and requirements.
We hope this list has made it easier for you to choose the monitor which is right for you.
We will be updating this page as newer and better products become available so let us know if there's a specific monitor you would like us to review by leaving us a comment in the section below!
---