Acer Nitro XV340CK Monitor Review
We take a more comprehensive look at one of the cheaper 34-inch monitors that resides in today's market, the Acer Nitro XV340CK
Updated: Oct 19, 2023 1:07 pm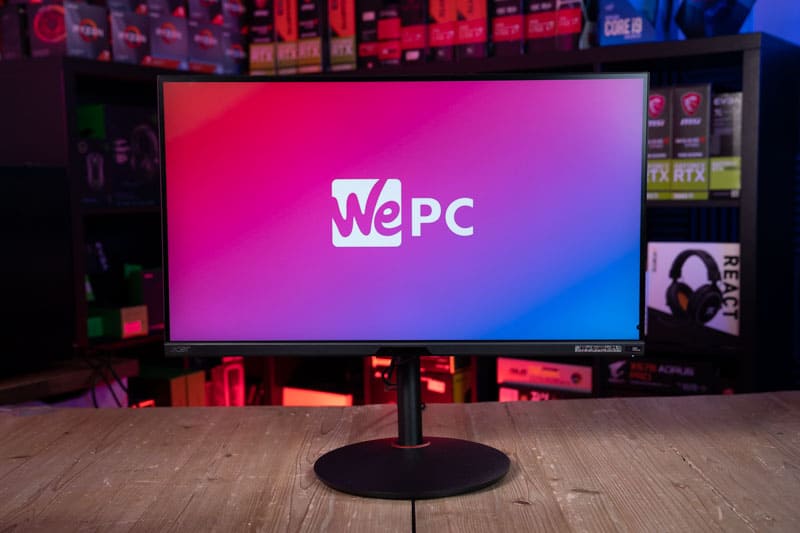 Larger monitors are becoming increasingly popular within the gaming community thanks to the immersive values they can bring to the table. And whilst ultrawide monitors were once considered sluggish, the same can't be said for modern alternatives – with many now offering up high refresh rates alongside speedy response times. In the following article, we'll be reviewing a monitor that slots nicely into the 'fast ultrawide' category – Acer's Nitro XV340CK.
The 34-inch monitor from Acer comes equipped with an impressive IPS panel that showcases all the traits you could want from a high-performance gaming monitor. With a fast 144Hz refresh rate paired alongside a low 1ms (VRB) response time, the XV340CK offers greater specs than many of its rivals. It supports FreeSync and G-Sync adaptive sync, offers a wide color gamut, and 1440p screen clarity – which is great for both gameplay and productivity alike. It also comes equipped with decent color accuracy, a wide color gamut, and a tonne of features that allow you to tailor your visual experience to your exact requirements. On the surface, this monitor seems to tick all the right boxes.
We'll be putting the XV340CK through its paces to see how it stacks up price, performance, build quality, and overall value for money, pitting it against similarly priced alternatives as we go.
So, with plenty to go through, let's waste no further time and dive straight into it!
Acer Nitro XV340CK
Acer Nitro XV340CK: Specifications
Tech Specs
Color Gamut
100% sRGB, 72% NTSC
Backlight technology
W-LED
Panel Coating
Anti-Glare/Matte
G-sync Range
48Hz - 144Hz
PROS
Excellent value for money
144Hz refresh rate
UWQHD Ultrawide display
Good response time
CONS
Stand isn't the best
Colors could be better
What's In The Box
The Acer Nitro XV340CK comes in a fairly basic box that showcases some marketing material on the exterior, alongside the monitor's main features and specifications.
Inside the box, users will find the monitor and the stand unassembled. To use the monitor, construction is required. Unfortunately, and unlike other monitors of this calibre, the XV340CK doesn't offer a tool-free clip-on stand fitting. Instead, you have to physically screw the plate of the stand to the rear of the monitor. Whilst this isn't ideal for speed, it does offer a much more robust construction overall.
Inside the Acer Nitro XV340CK box, you will find the following items:
Acer Nitro XV340CK monitor
DisplayPort Cable
HDMI cable
Power cable (kettle)
USB Passthrough
Quick Start Guide
Warranty
Design
With specifications out the way, let's take a closer look at the build quality, design, and mechanical features this monitor comes equipped with.
Design
As you would expect, the Acer Nitro XV340CK offers up the classic 'XV series' design traits that we've seen across other panels in the range. The monitor offers up a slender profile that definitely adds to the premium feel of this panel. Thin bezels provide a near-borderless design that definitely add to the overall immersion of this panel. The bottom bezel is the largest of the four and showcases the Acer logo in the centre. On the right-hand side, users will see a small LED that shines blue when the monitor is active.
The base of the stand is circular by design and provides good stability – albeit not quite as efficient as the 'V' shaped alternatives. The base of the stand also comes equipped with a small cable management routing system in the shape of a small red hook. Whilst it's not the best I've ever seen, it still gets the job done.
Moving to the rear of the monitor, there aren't many design features to discuss. The stand is cylindrical in design and offers decent functionality – when considering the size of the panel. The rear of the panel is fairly uncharacteristic for the most part – however, it does come with some game-inspired arrow-like etchings that definitely lean it more towards gamers. The Acer logo can also be found at the rear of the monitor.
Overall, the XV340CK feels well-balanced, providing both gamer and generic stylings that could work in both worlds.
Build Quality
The build quality of the XV340CK was surprisingly good. I ran a number of tests to check the integrity of the fittings and materials used, with the Nitro monitor excelling in all areas. Unlike other monitors of this price range, the XV340CK offers up a solid metal stand that is screwed into the back of the monitor for added rigidity. The panel itself feels extremely well made, with no creaking or flexing experienced when putting it under pressure. The panel coating offers a matte coating with – what seems to be – 3H hardness, giving the panel another layer of protection.
The stand holds the monitor in place firmly, giving it great balance and little wobble during usage. The base of the stand does offer the least resistance as far as build quality is concerned. It comes with a plastic cap that doesn't feel overly protective – yet not completely terrible either. The small cable management system at the base of the stand also feels a little flimsy – but that isn't really too much of a concern if truth be told.
Panel Coating
Like most modern panels, the Acer Nitro XV340CK comes with an anti-glare panel coating that has a matte finish. The coating does an incredibly efficient job when it comes to mitigating both natural and manmade light sources. Whilst it won't protect from direct sunlight, it definitely allows users to continue gaming under bright conditions. That said, the brightness of this monitor is a little problematic for bright room gaming – but we'll touch upon that in further detail shortly.
Bezels
The Acer Nitro XV340CK comes with fairly thin bezels that do help to create an immersive experience during both gameplay and entertainment viewing. The top and side bezels measure in at 9mm – not the smallest we've ever tested – with the bottom bezel sitting at 22mm.
Stand
Like many of the newer Acer Nitro series, the XV340CK comes with a very robust stand that holds the monitor in place securely. The stand offers pretty much every adjustment you could want from a monitor of this size. With height, tilt, and swivel functionality, you'll be able to find your perfect viewing position with ease.
Below are the exact specifications of the stand:
Forward Tilt – 5 degrees
Backward Tilt – 35 degrees
Left Swivel – 180 degrees
Right Swivel – 180 degrees
Pivot – N/A
Height – 120mm
Acer Nitro XV340CK
Inputs
Inputs can be found at the rear of the monitor and cables are inserted in a vertical fashion, as per usual. Inputs include several USB 3.0 ports, dual HDMI 2.0 ports, dual DisplayPort 1.4 ports, and a 3.5mm audio out.
This is more than enough input support for most users. Using the PIP/PBP feature, you'll be able to hook up a number of different devices and use them at the same time by segmenting the screen.
OSD
The OSD was a big letdown for me personally. Whilst other Nitro monitors have opted for the much easier joystick approach, the same can not be said for the XV340CK. For some reason, they've chosen to utilize the buttons on the underside of the panel for this display – a method that is not only outdated but utterly horrific to use.
Actually navigating the menus via these buttons couldn't be more awkward, with regular miss-presses that end up exiting you from the menu altogether. Navigation aside, however, inside the OSD you do have plenty of options to choose from – including color, brightness, luminance, and game settings.
Once you've found your perfect settings, you can save them to one of the various custom profiles.
Color Accuracy & Picture Quality
Great colors and excellent picture quality are two of the main factors that help create immersion while your gaming. Despite the importance of good color, monitor manufacturers don't always calibrate the color of their panels to what is deemed accurate within specific color spectrums – sRGB/Rec.709 for example.
We like to test each monitor for color reproduction to see how they would perform in color-accurate 0scenarios.
Here are the results for the Acer Nitro XV340CK:
| Preset | White Point | Black Depth | Contrast Ratio | Average ΔE*00 | Gamma |
| --- | --- | --- | --- | --- | --- |
| IDEAL | 6500K | 0.00cd/m² | Infinite | 0.00 | 2.2 |
| Out The Box | 6952K | 0.2683 cd/m² | 769.9:1 | 2.41 | 2..00 |
| sRGB | 6964K | 0.16 cd/m² | 754.4:1 | 2.54 | 2.18 |
Like always, we kicked started by quickly testing the factory 'out the box' settings – which for this monitor were; 'Standard' preset, 70 luminance, Overdrive set to 'Normal', and Color temperature warm.
Out of the box, the XV340CK was a little disappointing if truth be told. We measured a 6952K white point and fairly unimpressive 0.268 black depth. Contrast ratio was much lower than I expected, with Averaged DeltaE being inaccurate for the most part.
This monitor comes with an sRGB simulated profile, so we tested that to see if the colors were more accurate. Weirdly, they were not. We got a very similar White point as the factory but lower black depth overall. Contrast ratio was pretty much the same and average deltaE actually got worse, moving to 2.54 on average.
There were a number of other color presets to choose from, but none really offered great accuracy. That being said, here are some observations made from the presets:
Action – Color was fairly similar to Standard – Over drive was increased to Extreme, Freesync was disabled, and Ultra Low Latency was enabled.
Racing – Blacks seemed to be boosted slightly over the 'Standard' preset. Contrast ratio was greater and the image seemed to be utilizing a higher gamma. Over Drive was again set to Extreme and ULL (ultra low latency) was enabled.
Sports – Overall luminance was lowered in this preset with blacks boosted. Over Drive was set to 'Normal' and ULL was enabled.
After testing the various presets, I quickly calibrated the panel to see how accurate it could be.
We used the 'User' preset and altered the RGB to 42/46/36.
Here are the results:
| Preset | White Point | Black Depth | Contrast Ratio | Average ΔE*00 | Maximum ΔE*00 | Gamma |
| --- | --- | --- | --- | --- | --- | --- |
| IDEAL | 6500K | 0.00cd/m² | Infinite | 0.00 | 0.00 | 2.2 |
| Calibrated Profile | 6512K | 0.1569 cd/m² | 762.2:1 | 0.26 | 1.63 | 2.19 |
We calibrated the monitor and ran an in-depth color test to see how accurate the colors were across a larger spectrum. The results, as expected, were a massive improvement when compared to the other presets on offer. As you can see from the graph above, white point and black depth were the most accurate we had tested so far. Contrast ratio was still poor but average deltaE took a massive dip to a near-perfect 0.26 – maxing out at 1.83, respectively. Gamma now read 2.19.
Whilst this monitor isn't the most accurate we've ever tested, it did offer good levels of accuracy when calibrated. Out of the box, this monitor is not suitable for individuals looking to perform color-accurate work. However, after calibration, I could easily recommend this for editing within the sRGB spectrum.
Panel Uniformity
Panel uniformity is a test we run to check how uniform the luminance and color is across the entirety of the screen. During this test, the center square is used as the reference space. Every other square is then tested to see how far it differentiates from the reference.
In an ideal world, we want every square to be green, meaning it hasn't broken the differential threshold – something we can set at the start of the test.
Note: results will differ from panel to panel.

The panel uniformity for the XV340CK was a little hit and miss if truth be told. As you can see from the graph above, a large portion of the quadrants recorded came back with an amber or red score – deviating in color accuracy (and luminance) from the reference square. Many of the quadrants broke the 10% threshold, results in noticeable differences to a trained eye. Whilst that was the case, playing games and watching movies wasn't at all problematic. However, if you watch sporting events or programming where large blocks of color are visible, you may be sensitive to the uniformity of this panel.
Viewing Angles
Despite this monitor coming equipped with an IPS panel, the viewing angles weren't nearly as good as you might expect. Viewing the monitor from angles past 25-30 degrees showcased clear color shift and a decent drop in overall luminance – making this monitor fairly unsuitable for multiperson usage.
Acer Nitro XV340CK
Color Gamut
As part of the calibration process, the DisplayCal will give an accurate measurement of the color gamut the monitor can provide. Below are the results of the color gamut test:
As you can see from the results above, the Acer Nitro XV340CK offers a decent color gamut, but nothing spectacular. We recorded a 115.2% sRGB gamut volume, which translates to 79.5% Adobe RGB or 81.6% DCI-P3. As far as coverage goes, the monitor performed to an OK standard, providing 99.3% sRGB, 74.3% Adobe RGB, and 80.5% DCI-P3 coverage.
Looking at the physical color gamut graph, you can clearly see the scale of the XV340CK's color gamut. It exceeds the sRGB space (showcased by the dotted line) in the green and red/pink sections. However, it falls short in the blue and orange space.
Maximum And Minimum Brightness
We ended the color accuracy and picture quality testing by checking the maximum brightness, minimum brightness, and 120 candelas points on this panel. The results are below:
| Brightness | Candelas |
| --- | --- |
| 100% Brightness | 267.23cd/m² |
| 0% Brightness | 47.95cd/m² |
| 28 Brightness | 120 cd/m² |
Calibrated Profile
For those who want to use our calibrated color profile, you will find a link below where you can download the zip file.
Acer Nitro XV340CK: Gaming Performance
With color accuracy out of the way, it's time to put the Acer Nitro XV340CK through a number of different gaming scenarios to see how it stacks up in pixel response, input lag, and HDR content. Let's dive straight into it!
Before gaming, I found the best settings for my personal needs. Below are the settings:
Over Drive: Normal
FreeSync: Enabled
VRR: OFF
Ultra Low Latency: ON
Playing games on this monitor actually surprised me – mainly because other 34-inch monitors I've tested in the past have suffered greatly from screen artifacts like ghosting and trailing. But that wasn't overly obvious when playing on the XV340CK. I loaded up a couple of my favourite shooters and the gaming experience was pleasant – albeit not optimized for that type of gaming. The general gameplay was surprisingly smooth, with only small showings of overshoot in fast-moving images. I played around with the various Over Drive settings and found that, while 'Extreme' did show some signs of overshoot, it wasn't nearly as bad as I expected. Only minimal powdery trails could be seen, with some hints of haloing found when dark objects contrasted heavily on light backgrounds.
I played a few competitive titles on the monitor and whilst it was an immersive experience, it didn't match the high-speed esports monitors you'll find in today's market. That said, we recorded a low input lag of 4ms, meaning that no physical lag was displayed between input commands and actions on the screen. The response time for this monitor seemed pretty good when playing various titles, with very little ghosting throughout. I did notice some perceived blur when playing CS:GO, but nothing overly substantial. For the casual gamer, this monitor would be more than adequate for competitive games. As you'll see on the website, the 1ms rating is with VRB enabled. Meaning, without it, you'll be experiencing closer to 4ms response time (GTG). Players of single-player titles shouldn't worry too much about this, as minimal blur was experienced in these sorts of titles. However, in faster games like COD and CS:GO, competitive players may find this quite distracting. Furthermore, if you do decide to enable the VRB settings, remember that brightness will be affected quite badly. As the feature strobes the backlight, brightness is often reduced in the process. You'll also have to disable FreeSync to enable the feature, increasing your chances of screen tear if you can't hold a stable frame rate that matches the speed in which your backlight is strobing.
Playing single-player titles was very nice on this monitor, with colors and picture quality being the standout factors. The XV340CK offers a 34-inch 1440p panel which showcases excellent picture clarity. Whilst this is great for immersion, remember that it will tax your system much more than a 1080p variant. If you have the PC to handle such a resolution, you'll be more than happy with the quality of the picture this monitor provides. Finally, brightness levels are a little underwhelming, with a max luminance of 250 nits. This makes the XV340CK a poor performer in certain scenarios or when glare is abundant.
Final Thoughts
So, there you have it, our comprehensive review of the Acer Nitro XV340CK – a decent 34-inch 1440p monitor that comes to shelves at a very competitive price point.
The Nitro monitor performed well in a number of areas when it came to gaming and color accuracy, mainly thanks to the quick 1440p IPS panel it comes equipped with. The 144Hz refresh rate paired alongside a quick 1ms response time enabled us to get a good gaming experience from both fast-paced and slower titles. Despite the XV340CK's large size, playing competitive titles was actually perfectly acceptable, with only limited ghosting and overshoot to be seen. That said, this monitor is much more suited to immersive titles such as Shadow Of The Tomb and Cyberpunk, where the large screen size and high image resolution pair nicely for a stunning visual experience. Unfortunately, and unlike many of the other 34-inch monitors that currently reside in today's market, the XV340CK doesn't come with a curved screen. Whilst this won't be a deal-breaker for some individuals, it certainly narrows down the market demographic for this panel.
Overall, it's hard to knock a monitor of this size and quality when it comes with a price tag that is south of $600. For me, the XV340CK showcases fantastic value for money at this particular price point. Yes, it's not the best monitor you'll ever see, but it's by far the worst – showcasing good qualities in gaming, productivity, and all-round usage.
Acer Nitro XV340CK
---