A new update has launched for the Xbox Game Bar, which lets third parties release widgets for gaming functionality built directly into the Windows Game Bar. Already available from the Widget Store are widgets from the likes of XSplit, Razer, and Corsair, developed with the Game Bar SDK. There's also a widget for Destiny 2, that helps you track in-game progress and events. Read on for more details on these new widgets.
XSplit Game Bar HUD Widget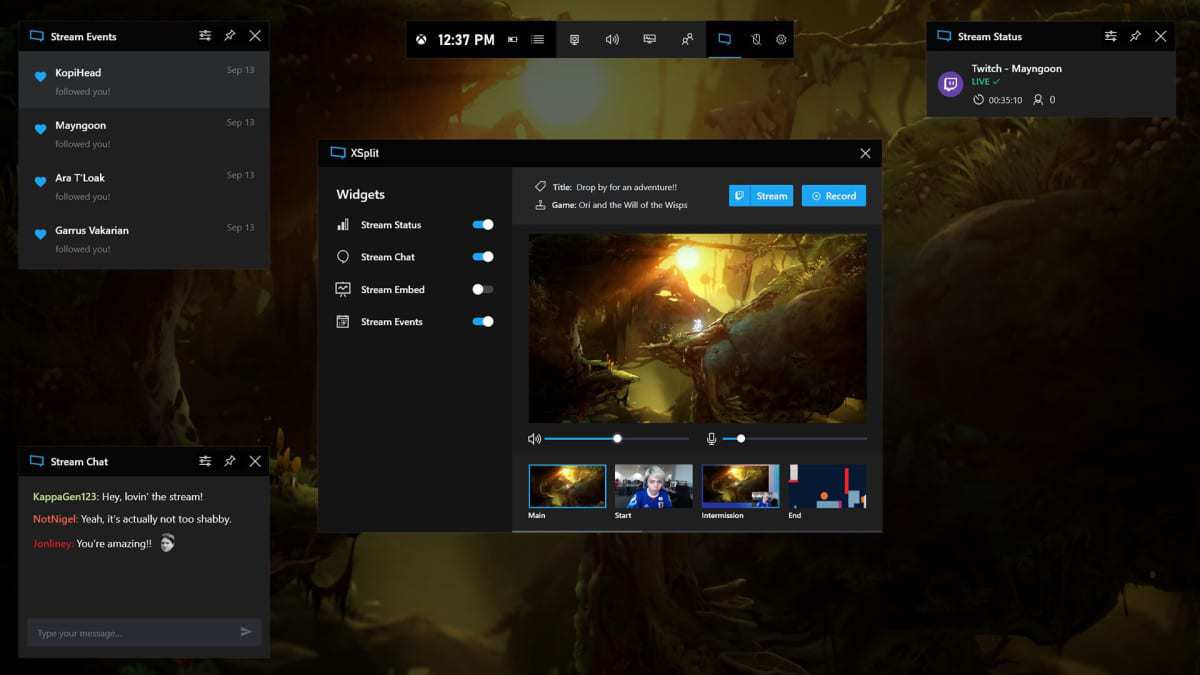 For users of XSplit Broadcaster, this widget places broadcast controls directly on the Game Bar, with this you can manage audio levels, and configure stream settings and titles. This is a handy way to control your stream quickly, without having to exit your game.
Corsair iCUE Widgets
If your system is equipped with any Corsair iCUE components, Corsair's lighting system, you can use this widget to control your system lights from the Game Bar. You can switch between the different lighting modes, and manually set different colored light setups, depending on your mood, or what's happening on-screen.
Razer Chroma RGB
Users of the Razer Chroma RGB lighting system can use this Game Bar widget to automatically synchronize your lighting settings with viewers on Twitch, so that during broadcasts you can share your lighting colors with viewers that also have Chroma RGB systems.
Razer THX Spatial Audio Widget
This will let you control the Razer's immersive positional audio technology on supported Razer devices, with settings available directly in the Game Bar, letting you configure your audio setup on the fly.
Destiny 2: Ghost
This Comunity-made widget for Destiny 2 is now available directly on the Game Bar. This lets you pin bounties, triumphs, and quests onto your screen whilst playing, to help you track progress through the Destiny 2 metagame. It also tracks your Bungie.net account stats and achievements. You can install and use the widget without even having the game installed, but it is intended for use during play sessions.
You can read full details of this update to Game Bar over on this Xbox blogpost.
Microsoft has also updated the Game Bar with new functionality around letting you get it out of the way when you're done with it. The two main new features are:
"Click-through: While pinned overlays are useful, they get even better if you can click through them when playing games such as League of Legends, Dota 2, and StarCraft 2. Xbox Game Bar users now have control over mouse click-through behavior, so you can decide whether mouse clicks over a pinned widget should go to the widget, or through to your game.

Transparency: We heard the feedback from both gamers and developers – you wanted widgets to support transparency, and today we're announcing that it's here. It's a great complement to the click-through feature and makes Game Bar widgets even more versatile so you can enjoy full field of vision while taking advantage of the pinned overlay."
A lot of these features are nice to have, and I can imagine plenty of other interesting uses for the Game Bar SDK down the line, although I don't think there's anything particularly essential about the Game Bar just yet. Much of the functionality it provides is available elsewhere on other systems. But if they can keep adding robust new features, and expanding the range of functionality it offers with exciting third party widgets, it could easily become a powerful tool to complement gaming on PC.
If you use any of the components that support the new features that got added via third-party widgets, or if you're a dedicated Destiny 2 player, these new widgets could be very useful. Let us know how you get on with them.