Today, we're going to be doing our first gaming keyboard review!
This is the Aukey KM-G6 RGB Mechanical Keyboard. This is a budget product from Aukey, but it has a fairly solid featureset and build quality for its price. After using this Aukey keyboard and its headset as daily drivers for well over two weeks, I feel like I have enough experience with the products to give a thorough and accurate review. Oh, and since the name is long we'll be referring to it as the KM-G6 for the remainder of this review.
With no further ado, let's begin.
Specifications
Taken from Aukey's product page, the specifications are:
Input: DC 5V 200mA
System Requirement: Windows, Mac OS, Linux, Android
Cable Length: 1.5m / 4.9ft
Dimensions: 434 x 135 x 37mm / 17" x 5.3" x 1.5"
Weight: 1185g / 41.8oz
In addition to the specs listed above, the Aukey keyboard also offers RGB backlighting with multiple lighting patterns and settings. We'll discuss these in more detail below.
What's in the box?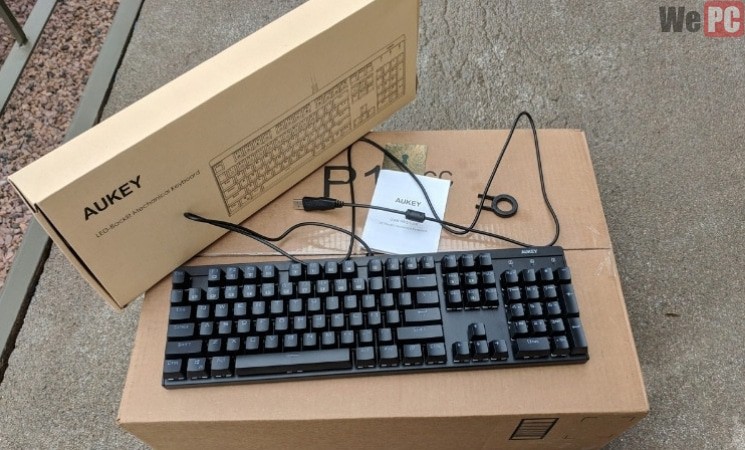 Everything pictured above is in the box:
The keyboard itself, featuring a decently-long (~5ft) USB cable.
The manual, which also serves as a starting guide for manipulating the RGB effects.
The warranty information, it's just a warranty.
A keycap remover, in case you need to replace a key, or just want to clean out your keyboard.
So, pretty much what you'd expect from a budget mechanical keyboard. If you want to see what it looks like with its RGB on, scroll on down to the Extra Features section of this review.
How does Aukey KM-G6 feel?
Feel is perhaps the most important part of a keyboard review. While the Aukey KM-G6 isn't using Cherry MX Blue Switches, it is using something that seems to be quite close in terms of feel: Outemu Blue switches.
Outemu Blue isn't just used by budget brands like Aukey, either– wider-known brands like Cooler Master and Biostar have also been known to use these switches in their keyboards. They may not be exact replicas of Cherry switches, but they feel good, seem to be well-built, and are quite a lot cheaper than the competition.
Switching from my Corsair K70 to the KM-G6 wasn't an unpleasant experience at all. While I was certainly missing some features, which I will be discussing later on, I found the general layout and spacing of the keyboard to be pleasant.
Within a few hours of using the KM-G6, I was already typing at my usual speeds (90 WPM on Typeracer, try me). In terms of feel, the KM-G6 just feels like a well-built mechanical keyboard and doesn't feel cheap in any way.
My criticisms of the keyboard are less about what it does have and more about what it doesn't.
In terms of comfort, the biggest issue I have with this keyboard is that it doesn't come with a wrist rest, which I consider absolutely necessary for extended typing or gaming sessions. For me, it meant that I had to take typing breaks more frequently than I usually do… it may seem like a minor difference, but in the long term, it does matter a lot.
Usability and software
There is no software to speak of here. All of your keyboard customizations must be done on a hardware level, which means sorting through documentation, holding down the "Fn" key and praying for the best as you toggle through different colors, settings, and permutations of the two to find what you're looking for.
The manual is somewhat informative in this regard, but the fact is that finding what looks best takes way too long for my patience, and the lack of dedicated software like Corsair's CUE is glaring here.
I've actually reviewed a similar AUKEY keyboard before– about a year ago now– yet this same problem still persists. It's somewhat baffling to me that AUKEY has yet to release software to control their RGB lighting across their various products. I'm not sure if it's a hardware constraint or a budget constraint at this point, but whatever it is I hope that it can be overcome soon, because it is the most glaring issue holding back AUKEY's RGB products from really making big names like Corsair or Razer sweat.
In terms of regular keyboard usability, the KM-G6 is pretty great. But when it comes to actually configuring its lighting settings and getting it to look the way you want it to look, the process is a massive pain and would be massively relieved by even rudimentary software functionality.
Sure, I'd still complain about mere rudimentary software, but at least then I wouldn't have to fiddle with the Fn keys like I'm programming my grandma's VCR.
Switches and Keycaps
In terms of the Outemu Blue switches, I found them pleasantly loud and clacky, as mechanical switches are meant to be. The feeling of tactile feedback and the advantages of mechanical keyboards over membranes are on full display here, and I genuinely didn't feel like my typing experience had taken a massive downgrade from my main keyboard, which is over three times the asking price of this one.
The keycaps themselves are reasonably large and feel comfortable to the touch, so I don't feel any desire to replace them. Even after two weeks of heavy usage, they look and feel solid, which I can't say for many membrane and cheapo keyboards I've used over the years. I doubt that their quality compares to, say, the absurd pedigree of a Ducky keyboard, but few keyboards do.
Overall, I'm confident in– and happy with– the quality of the Outemu switches and Aukey keycaps. Reviews of the keyboard on Amazon also don't seem to indicate many quality issues– at least, no more than usual. Like all hardware out there, you are going to get bad units occasionally, but even then, most customers seem to report good experiences with Aukey's customer service.
Extra Features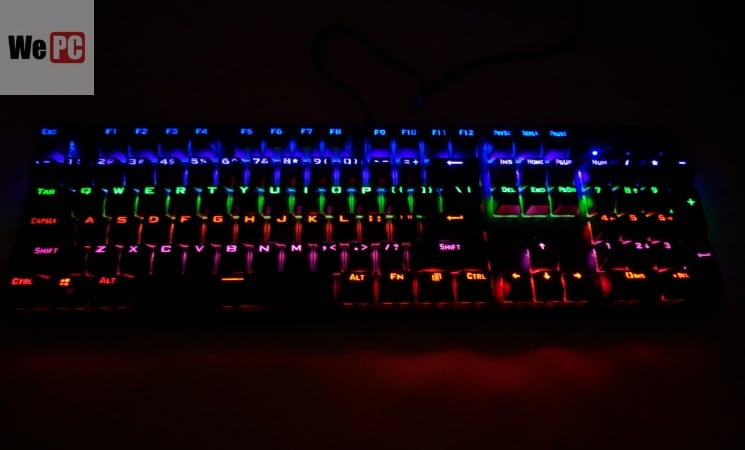 This is the part where I start really complaining about the things that this keyboard doesn't have. While it may be RGB, it's barebones in pretty much every other sense of the word.
To be fair, the RGB is nice. My best attempts at photography didn't quite capture how it looks in person, but it compares favorably to how RGB looks on my Corsair K70 and other RGB keyboards I've seen in person.
Due to…frustration with configuration, however, I ultimately decided to just stick with its default lighting mode, since finding the right combinations of settings and colors were frustrating.
Of the available lighting modes, I found that the rainbow lighting mode and type lighting were most pleasing. With the type lighting functionality, each keypress sent out a large ripple from the point of contact– not quite as fluid or precise as those on my K70, but still great for providing visual feedback to my keystrokes.
In addition to lighting modes, you can also toggle specific game modes. These pretty much just light up select keys on your keyboard– WASD for your FPS mode, for instance– and aren't too much to write home about, but are nice to have. There are eight of these in total, all covering the typical PC gaming genres that come to mind: MOBA, FPS, etc.
Okay, enough about the RGB.
Other staples that this keyboard doesn't have are media keys and USB passthrough. These, at least, I imagine are cost-saving measures, and they're acceptable ones, but their absence can hurt your experience if you're used to membranes around this price range that have those features or are getting this keyboard as a replacement for a more expensive mechanical gaming keyboard.
In the long run, these are minor hurdles that can be adjusted to. The absence of features like these really do drive home the fact that this is a budget product, though.
Conclusion