Like mice, keyboards have been getting smaller and smaller over the last couple of decades, with current options bringing the absolute minimum amount of keys to the gaming table. In today's guide, we'll be taking a closer look at the peripheral market to try and find only the best small gaming keyboards on offer this 2021.
While the smaller form factor keyboard removes a lot of the versatility they can potentially offer, many people are still leaning towards them for their gaming needs. With a smaller footprint and less clutter, the small gaming keyboard definitely has something to offer today's market.
We'll be taking a look at some of the stand-out options to see which showcase the best value, performance, and overall design.
So, with that in mind, lets jump straight into it!
The Best Small Gaming Keyboard
A Solid Mini Keyboard For Gaming
Best Small Gaming Keyboard For esports
Best Small Gaming Keyboard: First Look
The Best Small Gaming Keyboard
The Ducky One2 Mini is a fantastic little board that offers brilliant build quality, top gaming performance, and decent aesthetics too.
The Ducky offers a fantastic design that looks good in almost any scenario. It brings great gaming performance to the table and an abundance of features that really do make this a well-rounded keyboard.
A Solid Mini Keyboard For Gaming
Even though this gets our runner up spot, the Anne Pro 2 is probably level when comparing gaming performance. This is a fantastic keyboard and should be considered if people like high-end features.
The Anne Pro 2 is a really nice little keyboard, offering users ultimate customization and style. It performed very similarly to the Ducky One2 Mini and, on another day, could have easily got our top spot.
Best Small Gaming Keyboard For esports
The HyperX Alloy FPS Pro is a "best of both worlds" keyboard. It offers high-end performance at a mid-range price point. What more could you ask for?
Best Customizable Small Keyboard
Drop ALT Mechanical Keyboard
The Drop ALT mechanical keyboard really does offer it all when it comes to customization. Users have the choice of choosing between an endless number of switch and keycap options, not to mention the onboard profiling and RGB either.
We weren't overly family with this keyboard before testing it, however, it has impressed us in a number of different ways since getting it in the office.
With customizable options that go right down to hot-swappable switches, you literally have unlimited levels of customization at your fingertips.
Best Budget Small Gaming Keyboard
As far as budget options go, you'll do well to find a keyboard more suited to gaming than this one. A great choice for people on a budget.
Being our budget pick, you probably think this keyboard comes with poor build quality and limited features. However, that kind of thinking would be quite wrong when referencing the Redragon K552. This board provides Outemu Blue switches that feel tactile and responsive. Furthermore, it even has fully customizable RGB backlighting to suit your exact needs.
Whether it's the latest monitor or the best gaming mouse, people always ask us the same question when it comes to the products we recommend. How exactly do you choose the products you recommend?
It's a great question and one that lets you know our recommendations are well informed.
We usually start each best-of guide with a long list of contenders. After extensive research, we will whittle that list down to around ten finalists – which will either be purchased or sent to us by the manufacturer for testing purposes.
Once we have the finalists in the office, we do individual tests on each keyboard to make sure our results are unbiased and from several different user's perspectives. The results get collated and summarized in a review-style fashion which you can see below.
Testing the products we recommend is a huge part of the overall selection process in our best of guides. It's a way to make sure what we recommend is, without a doubt, the best option in its specific category.
To be sure a product is "the best," it must show excellent performance in our tests, and display better qualities and features than the competition it faces.
Most of the products we recommend here at WePC have gone through a strict testing process that involves everything from the price and performance, to build quality, efficiency, and aesthetics. Each product is pushed to the limit to see how it performs in numerous different scenarios before being placed in one of our guides.
Doing this enables us to provide you with the most accurate review of how the product performs and, ultimately, whether it's worth your hard-earned cash.
Looking and choosing the absolute best small gaming keyboard for your needs can be a difficult and time-consuming task, especially when you consider the number of options that currently reside in today's market.
For that reason, we've compiled a list of the main factors that we feel you should understand and consider before jumping into any keyboard purchase. By doing this, you will not only ensure the next keyboard you buy is right for you, but you'll also ensure the one you choose showcases good value for money too.
Let's see what those aspects are:
Switches
When discussing keyboards from a gaming point of view, the switches might be the most important aspect of a board. The switch is the mechanism that tells the keyboard (and your PC) which keys have been pressed. And while the switches' main job is to controls the function of your board, it also has a huge impact on how the keyboard feels when typing or gaming.
As switches have developed over time, so has the technology that makes up their design. Keyboard switch manufacturers have the ability to create switches that offer a quicker response, tactile feel, and clicky audible actuation – with variations of all three used across many types of switch.
So, with that in mind, you can start to understand how certain switches (Cherry MX red for example) are going to be better for gaming, while others (Cherry MX Blue) are more suited towards typists.
Even though we've only spoken of mechanical switches so far, there are other alternatives too. Membrane rubber dome switches are used widely in today's keyboards and offer a much softer, spongey actuation. These are the sort of switches you find in budget boards and, dare I say it, older offerings too.
Below is a comparison of the two: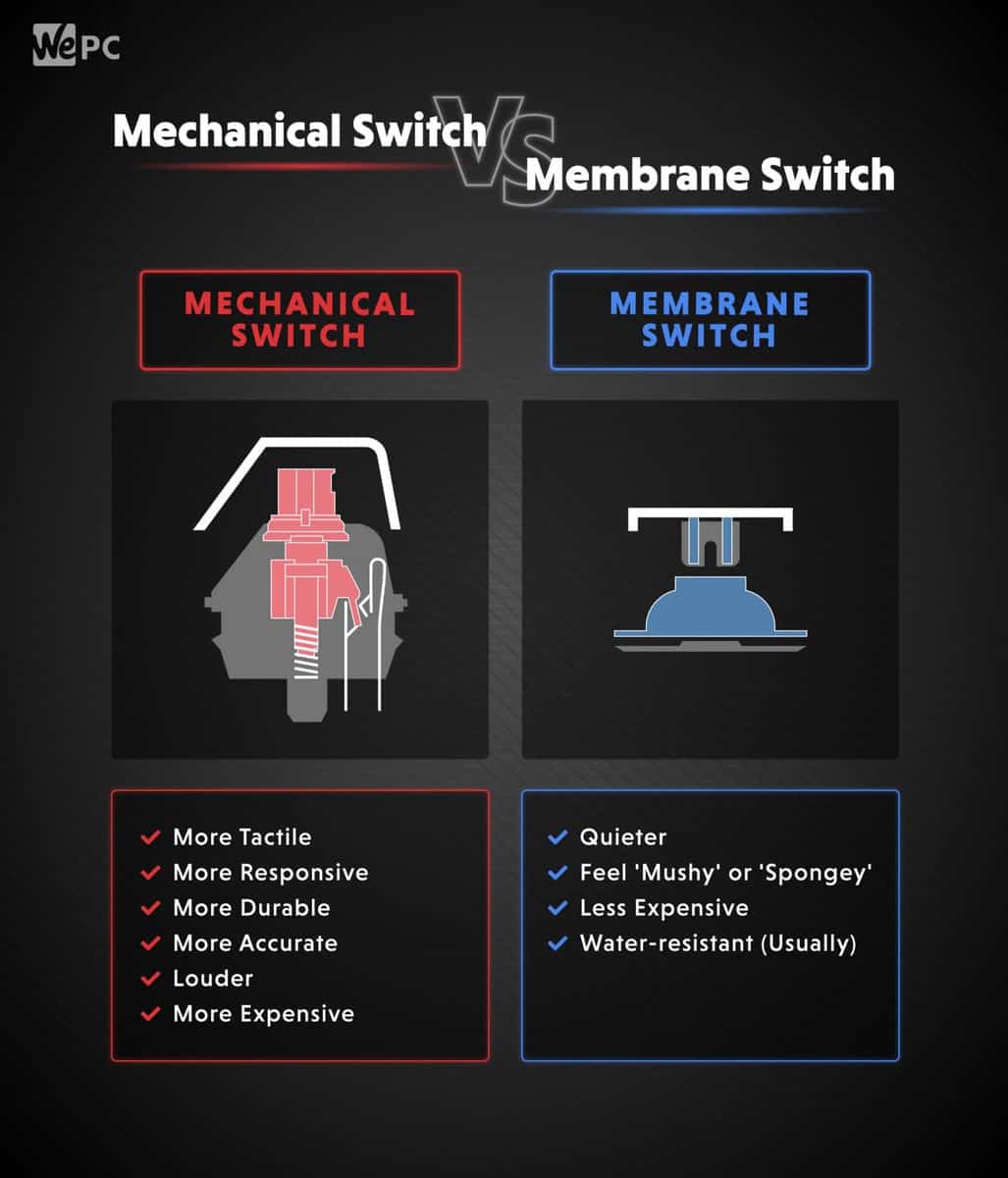 As you can see from the table above, the old-school membrane switch does have its benefits – quieter and less expensive. However, if you're into gaming, you can clearly see the mechanical switch is the one to opt for, bringing higher response, actuation, accuracy, and durability to the table.
Durability
That leads us nicely onto the build quality and durability section of this article. This is another key area when choosing a keyboard, mainly due to how much pressure and force a keyboard has to withstand during its lifetime.
A lot of cheaper boards now come to the table offering a plastic design that can feel flimsy and cheap. This kind of build quality is not ideal for gamers as it simply won't last – especially if you're prone to the occasional rage outburst.
More expensive offerings come to the table boasting aluminum frames and steel reinforcement, meaning once you buy a keyboard of this quality, you won't need to re-invest any time soon.
MACRO Keys & MEDIA Keys
While not many of the recommended keyboards above have macro or media keys, they're still found across many of today's boards and should be understood when looking for your next purchase.
Macro keys allow users to bind complex commands to a single key, allowing plays of MMO type games to quickly enter spells and commands at the touch of a button.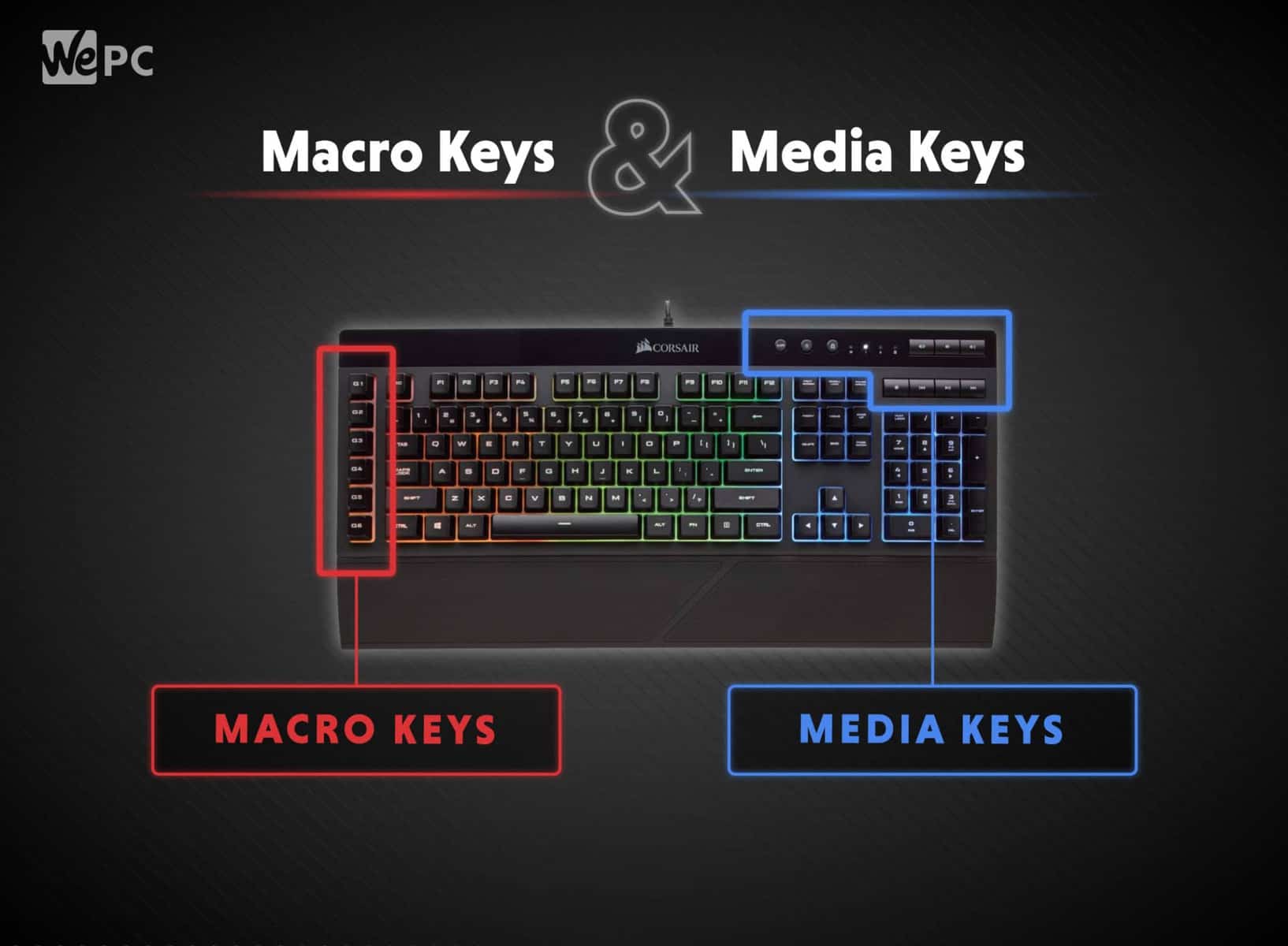 Media keys aren't really necessary from a gaming viewpoint, but they are handy to have for everything else. Media keys are pretty much what they say on the tin, they control your media settings – volume, play, pause, next, and previous. They come in a number of different forms and just add a little versatility to the keyboard in mind.
Key Rollover
Key rollover is a feature, not every gamer will need, however, for those playing games that require button-bashing or complex commands using numerous keypresses, key rollover can be a real must-have feature.
Key rollover is a technology used in modern keyboards that lets the user press "x" amount of keys at the same time with all being registered to the PC. Key rollover does come in a number of different varieties, with the best of the bunch being NKRO -or in other words, the ability to press every key on the board at the same time.
Aesthetics
Finally, we have aesthetics. While many will brush aside aesthetics as pure skin deep, it's always nice to have a good-looking keyboard at your desk. Whilst this isn't a priority lower down the price spectrum, it does actually play a major role in the higher-end boards.
The Best Small Keyboards For Gaming In 2021
Cherry MX mechanical switches in Blue, Brown, Red
Great battery life, Wired/wireless, unlimited customisable options
Cherry MX Blue, Red, Brown
Dedicated Media Buttons, Large Volume Wheel, USB Port
Drop ALT Mechanical Keyboard
Cherry MX Blue, Red, Brown
Hot-swappable switches, macros, RGB, Doubleshot keycaps
Cherry MX mechanical switches in Blue, Brown, Red
High quality construction and materials used
Limited featured due to size
As far as small gaming keyboards go, you'll struggle to do much better than Ducky's One2 Mini. This is one of the best mechanical gaming keyboards for gaming and traveling thanks to its super-small, 60% footprint.
Despite the lack of dedicated media keys and losing out on most of the function buttons and number pad, this keyboard still comes to the table with an abundance of versatile features, including hotkeys, mechanical switches, and RGB. In the past, we've had that chance to use many of the Ducky range, all of which provided a fantastic gaming experience – the Ducky One2 Mini is absolutely no different.
Visually, this board may seem simple in design, having said that, it's still very aesthetically pleasing none the less. The black color theme works extremely well with the RGB backlighting, whereas the PBT keycaps offer a luxurious finish to the surface of this board. The One2 mini does come with a bit of weight to it, which tells me the build quality is of the highest order. It sits very firmly on the desk and provides a stable gaming environment – no matter how robust you decide to be. Unfortunately, this board doesn't come with any software accompaniment, with all the features actually built into the board itself. This, on one hand, can be great for people with an in-depth knowledge of the hotkeys. However, for those that don't, it can cause some problems if truth be told.
As far as gaming is concerned, this board is absolutely brilliant. The version we managed to test had Cherry MX Red switches that felt extremely tactile and responsive. The One2 Mini also comes in Cherry MX Blue and Brown variants, for those wanting a slightly different type/game feel. Alongside the impressive PBT keycaps, users will also have an assortment of additional colored caps to allow further customization.
Overall, what you're looking at here is one of the best small gaming keyboards on the market. While that is the case, be aware, if you do decide to go for this board you'll have to fork out for it.
Great battery life, Wired/wireless, unlimited customisable options
The Anne Pro 2 keyboard was fairly new to us when we first managed to get hold of one for testing. However, the ANNE Pro 2 is actually a very well-known keyboard amongst certain circles, being classed as one of the best 60% designs in the game.
While this keyboard isn't the cheapest option on the market, it still undercuts the Ducky One2 Mini by a fair margin. At just over $100, we feel it showcases very good value for money, especially when you consider some of the premium features this thing comes equipped with.
Every inch of this board is taken by a keycap, leaving no room for spacing or unnecessary material. It comes in two different color options, black and white, and offers a sleek design that really does look nice on your desk. Both color options look very nice when used in combination with the fully customizable RGB – offering a huge number of presets to choose from.
Design aside, however, we wasted no time and threw this thing straight into a gaming scenario to see how it really performed. And let me tell you, this thing did not disappoint. The Kailh red switches are extremely tactile and responsive, literally giving you more speed when it comes to acute movements – think CS:GO peeking for example. While all the keys have a function right out the box, you can actually customize every single key on the board to your specific needs by utilizing the Obinslab starter companion software package.
The ANNE Pro 2 comes with an endless list of customizable options, ranging from keycaps, switch options and color, and overall color theme too. This board also comes with a tonne of additional features which include wired or wireless usage, NKRO, custom macro keys, double shot PBT keycaps, and an impressive battery to boot.
This truly is one of the best small gaming keyboards out there. It only narrowly lost out to the Ducky One2 Mini, but on another day, it could very well be our top pick.
Cherry MX Blue, Red, Brown
Dedicated Media Buttons, Large Volume Wheel, USB Port
HyperX are no strangers when it comes to creating some of the best peripherals on the market. This, their Alloy FPS, is one of the when it comes to gaming – especially esports players looking to take their game to the next level.
The HyperX Alloy FPS Pro has a fairly basic design, yet still manages to look stylish and polished. The board is a TKL design, losing the number pad but still with the navigation keys and function buttons along the top. With simple red backlighting, the HyperX Alloy FPS does offer small levels of gaming aesthetics, but for the most part, it's a fairly generic looking keyboard – in a good way.
Moving onto gaming, this board offers everything you'd want from a high-end gaming keyboard. It comes equipped with Cherry MX Red switches (which can be swapped for Blue and brown) which are probably the best when referencing response and quick actuation. The Alloy FPS also comes with 100% anti-ghosting and full NKRO, meaning gamers looking to perform the gracious act of "button bashing" will never experience missed keypresses.
The construction of this board feels very impressive. It comes with a steel frame that adds plenty of durability and robustness to its design. The keyboard has a removable USB connector at the rear, making travel all the easier too.
Ultimately, the HyperX Alloy FPS Pro offers everything you could want from a gaming keyboard. Fantastic customization, ease of travel, and great built quality.
Drop ALT Mechanical Keyboard
Cherry MX Blue, Red, Brown
Hot-swappable switches, macros, RGB, Doubleshot keycaps
Excellent features for a small board
A tonne of customization options
A little too small for some users
The ALT mechanical keyboard from DROP is the most expensive board in this guide and for good reason. It comes to the table with a tonne of premium features and a couple of unique options that separate it from the competition.
In terms of design, the ALT mechanical keyboard looks basic yet stylish. Custom keycaps sit on top of a steel frame with tasteful RGB glowing behind the keys and around the edge. This is a 67-key board and measured up to just over a foot in length – perfect for individuals that are short on space or do a lot of traveling with their board. The frame is comprised of anodized CNC machined aluminum which is of the highest quality, giving this board a fantastic feel and excellent life span to boot. With RGB that illuminates the keys and the edge of this board, it really is one of the nicest looking keyboards on the market for me.
From a gaming point of view, you can't really knock this board if truth be told. While the switches are designed for the typist's out there, you do have the option to choose more gaming-oriented switches if you choose. While we're talking about customization, it's worth mentioning that almost every aspect of this board is customizable to your specific taste. The hot-swappable switches actually allow users to swap the switch mechanics out for something more tasteful. Keycaps can be altered with ease, as can all the RGB – of course.
Ultimately, what we have here is one of the best all-round small form factor keyboards on the market. Be aware though, if you do plan on going for this board, it's gonna set you back a few bucks.
If you're familiar with some of our other keyboard-related guides, you'll no doubt already know what the Redragon K552 KUMARA has to offer. It's one of our favorite budget boards and for good reason.
Starting with the design, it's safe to say that this one is probably the least stylish in this guide, bringing a slightly gamey aesthetic to the table. The Redragon logo can be found above the arrow keys and stands out on the black color theme of the board. The RGB is fully customizable and comes in a number of presets that range from breathing to slow transitions.
From a gaming standpoint, the Redragon really does perform quite well. It offers Outemu Blue switches which are equivalent to Cherry MX Blue's – IE, loud and responsive. These tactile switches require approximately 80g of actuation force and release a very audible click sound after each keypress. While being extremely responsive, they have also been rated with a 50million click lifespan. Unlike other boards of this price point, the Redragon actually offers NKRO, meaning evening the most aggressive of button bashers won't miss a single keystroke.
The 87 key design of this board offers molded double-shot keycaps that feel and look fantastic – working extremely well with the RGB backlight. The durable metal frame at the heart of this keyboard means that it won't deteriorate anytime soon, and should provide stellar gaming performance for years to come.
Overall, an excellent budget board that sits very highly in today's market.