Best Razer Mouse 2022
A Good Old-Fashioned Mouse Hunt - Five Awesome Razer Mice
Updated: Mar 17, 2022 11:05 am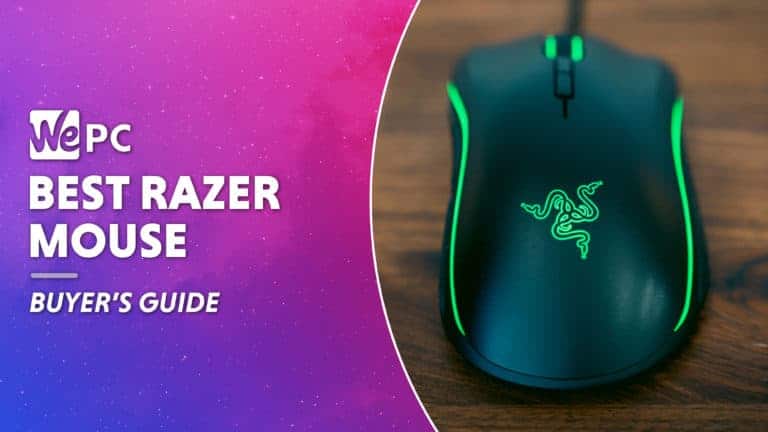 Of all the peripherals you need to complete a full gaming station, the mouse is probably the most vital. The difference between a poor and good quality mouse is often the difference between winning and losing.
This is why you should consider kitting yourself out with a Razer mouse. Razer makes some of the best peripherals in the world and their mice especially are works of art, but since Razer's inception, they've released 56 designs, so where do you start?
No worries, folks, the WePC gamer gurus are here to guide you on this perilous path through the forest of mice! Not only have we composed a brief guide on what to look for in a mouse, but we've also rounded up and reviewed five of the very best Razer mice you can buy. Let's go!
Our Top Picks
01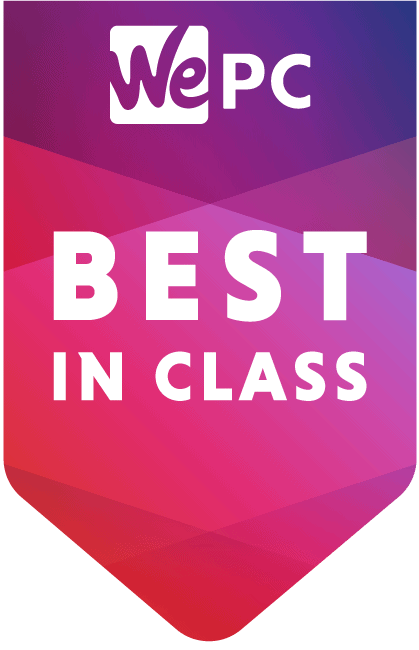 Razer Viper Ultimate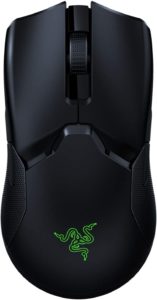 Razer Viper Ultimate
02
Razer DeathAdder V2
Razer DeathAdder V2
03
Razer Basilisk V2
Razer Basilisk V2
How We Choose
We've tested so many mice at WePC headquarters over the years that we consider ourselves mouse masters, black belts of the mousy arts if you will. Our team is made up of such a diverse bunch of gamers, it doesn't matter what size you need, what your gaming habits are, or what your budget is, we know from experience exactly which mouse is for you.
Razer just happens to be one of our collective favorite brands, so we're well acquainted with most of, if not all, their products. It's through all this hands-on (pun definitely intended) experience that we can guarantee that the products we've gathered for you in this article are the best of the best. Any one of them could be the key you need to unlock your potential and take your gaming skills to the next level!
Things to Consider
Before you pick out a prize mouse, let's discuss some of the key features you should be thinking about first.
Sensor
Mice function using one of two sensor types:
Optical
Optical mice utilize a weak infrared LED that reflects off the surface back into a sensor that tracks movement. These are considered standard mice. They don't work too well on glossy surfaces as their light is reflected too strongly back into the sensor
Laser
In the LED's stead, laser mice use, you've guessed it…lasers. These stronger light sources can penetrate even reflective surfaces and they track uneven or blemished surfaces better as well. The only problem is that they exhibit greater acceleration than their optical enemies.
Laser mice are touted as 'gaming mice', but many gamers prefer optical designs.
DPI
You'll also need to take into account DPI. The DPI of a mouse refers to its sensitivity. The higher the DPI, the smaller the movements it will detect, but this isn't always good. It can amount to a very jittery pointer.
Switches
The switches on your mouse are the left and right buttons you click to interact with the on-screen applications. Much like the switches under the keycaps of a keyboard, mouse switches come in many different styles, so it's important to find one that suits your gaming style.
Some mouse switches will have a short travel and a minimal click, others will have longer travel and more resounding click. Some will have a snappy reset, while others may rise in more of a smooth feeling motion. Different switches will also exhibit different latencies. The fastest switch uses optical sensors rather than strictly mechanical.
Weight
Heavier mice tend to be preferred for games that require a steady hand and precise movements; however, they're more likely to cause hand fatigue at the tail end of a long session. A good application for a heavy mouse would be sniping in COD. Lighter mice are beneficial during games that require rapid movements and fast reactions, but they can feel a little cheap. A light mouse would pair well with CSGO or any close combat FPS gaming scenario.
In the end, it doesn't particularly matter what weight mouse suits the game you're playing, but what you feel most comfortable with.
Size
Mice come in a number of shapes and sizes. This doesn't necessarily affect performance, but it will affect how well you're able to manipulate the mouse, so it's essential you find something with dimensions that suit your hand.
Generally speaking, gamers with smaller hands will be more comfortable with smaller mice as they won't have to stretch so far to click or use lateral functions. On the flip side, gamers with large hands need a little more material under their palm to prevent hand strain.
Cable/Wireless
Choosing a cable or wireless mouse is just a matter of preference. You should really just go with whatever will suit your current setup, but there are a couple of minor differences you should be aware of first.
Wireless mice are fantastic space savers, and they offer the freedom to use them anywhere within range, which is great if you like to take a step back from your monitor every now and again. The tradeoff is that they have slightly increased latency.
Mice that connect via cables are pretty limited in terms of mobility, but they offer the lowest latency performance.
The
In-depth Review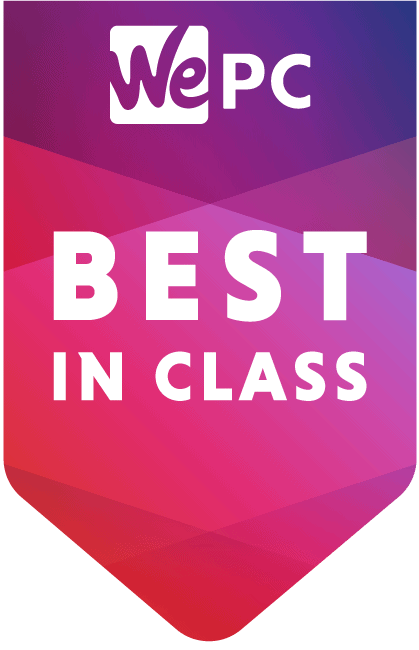 01
Razer Viper Ultimate
Razer Viper Ultimate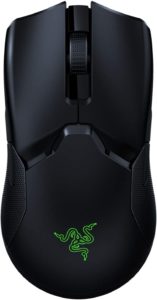 Size
Medium (126.73 x 66.2 x 37.81 mm)
PROS
Very lightweight, perfect for fast-paced gaming
Ambidextrous
Eight programmable buttons let you dial in personalized commands
Supreme low latency for a wireless mouse due to optical actuation
Mid-size makes it comfortable for most hand types
CONS
Too light for some
Certain gamers have trouble avoiding the lateral buttons
It'll cost ya
The Viper Ultimate really is a whole lot of mouse considering, physically speaking, it's not a whole lot of mouse. Weighing a minuscule 75g, this thing really flies, making it perfect for knee-jerk gaming scarious in first-person shooters. Measuring 4.9" in length and 1.5" high, it's a decidedly medium-sized mouse, so it will suit a huge gamut of hand sizes.
Featuring optical switches, the Viper isn't just quick on the pad, but in every sense of the word. Every time you click, the system registers actuation at the speed of light. This 0.2ms response time is three times faster than traditional actuation.
It's an ambidextrous wireless mouse perfect for space-sensitive situations already congested with nervous systems of cables. It doesn't offer quite the same low-latency as a wired design, but thanks to some nifty Razer HyperSpeed wireless tech, it's 25% faster than other wireless mice, and what's even more magical, the battery lasts a full 70 hours.
As if all that wasn't enough, it comes with eight programmable buttons, a lovely tactile scroll wheel, and a Focus+ optical sensor that can be set to anywhere up to 3200 DPI and is capable of tracking 450" per second!
02
Razer DeathAdder V2
Razer DeathAdder V2
Sensor
Focus+ Optical (PWM 3399)
Size (H x W x D)
(127 x 70 x 44mm)
PROS
Powerful sensor gives you plenty of sensitivity options
Elegant and ergonomic shaping keeps you comfortable
Optical switches and cable connection make for practically zero-latency performance
PTFE feet ensure unimpeded movement across mat
Awesome price for the quality
CONS
Some find the textured sides irritating during long gaming sessions
Not suitable for very small hands
Our second pick may be a cable-connected mouse, but Razer has done everything in their power to make it as unobtrusive as possible. Made from their proprietary SpeedFlex material, it poses little to no resistance as you scale the mat, and the special fibers never drag or get in the way of a victory
Other general aspects of the DeathAdder design are just as magnificent. The scroll wheel is tactile and grippy, the PTFE feet glide across any surface, and the way the buttons flare out elegantly as if mimicking an adder's fangs is both stylish and ergonomic. We like the textured sides, but it's widely noted they can cause a little discomfort after a few hours behind the desk
Featuring optical switches under the hood, actuation is lightning-fast, and the feel the click weight is just right, preventing miss-clicks without holding you back. Sorry lefties, we love you, but it's a right-handed mouse, and it has eight programmable buttons so you can make it your own.
The mighty sensor's DPI maxes out at 20K, so no matter how sensitive you like your mouse, the DeathAdder has the means to make it happen. The sensor also has an intelligent function that reduces cursor drift when you lift and reposition the mouse which is a great touch.
03
Razer Basilisk V2
Razer Basilisk V2
Movement Detection Technology
Optical
PROS
Focus+ optical sensor is accurate and versatile
11 programmable buttons allow you to customize performance
Ergonomic design encourages a natural resting position
It looks awesome!
Customizable RGB razor logo
CONS
Has the same textured edges that some don't appreciate
Not suitable for small hands
Quite heavy (but you may prefer it)
If you're looking for the best sensor in the game, it can be found within the coils of the Basilisk V2. Not only does it have that crazy 20K DPI spectrum, it has a 99.6% accuracy, which is the best on the market.
It also features Motion Sync technology that ensures that the signals that your mouse and PC are giving out show parity, increasing peripheral performance.
Moving on to design, this is a truly comfortable right-handed mouse. The bulk of it is very similar to the DeathAdder, but an accentuated thumb flare allows your hand to fall in an incredibly natural position, helping reduce tension across your whole hand. It also features a SpeedFlex cable for fluid movements. Aesthetics are on point too. It looks elegant, yet aggressive, and really inspires you to sit down and play.
The Basilisk has a lot of great features typical of Razer, optical switches for instance, but one that is definitely its own is the potential for customization. You get 11 programmable buttons in total, allowing you to tailor functionality to suit your needs game by game. Perfect!
04
Razer Naga Trinity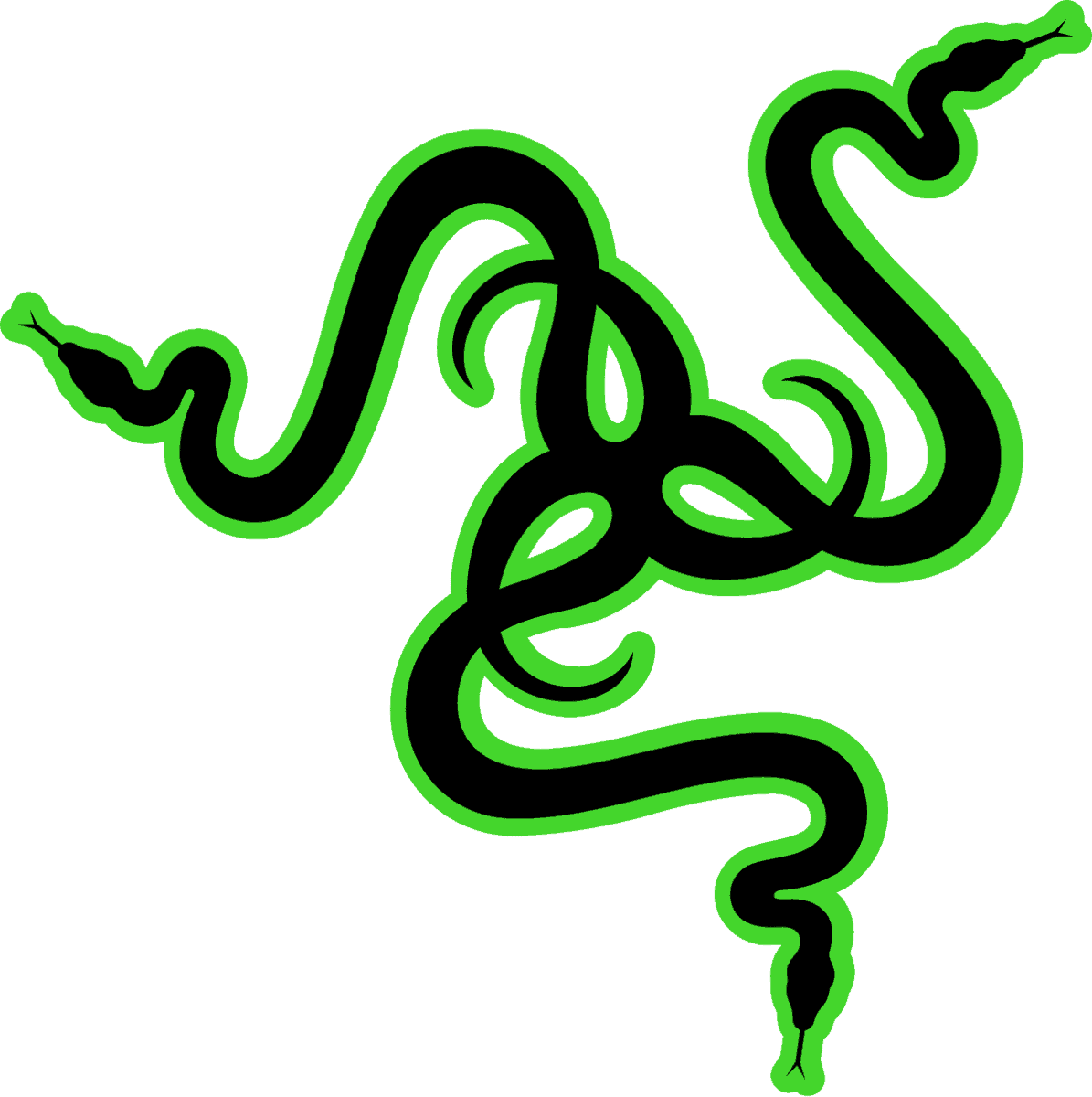 Razer Naga Trinity
Size
11.9cm X 7.4cm X 4.3cm
PROS
Quality 5G optical sensor tracks well and offers up to 15K DPI
With the modular design, you can choose between side panels
Great price considering it's like you're getting three mice in one
19 programmable keys in total
120g is fantastic for slower-paced games
CONS
Too heavy for most FPS games
Some claim that after a while they develop a double-click
No longer cutting edge components
The Razer Naga takes customizability to a whole new level. Much like its namesake, the Naga, a semi-divine being that could transform into either a human or a cobra, the Trinity can totally change its form using the modular side panels. Each panel has a different keypad layout, one with a 2, another with a 7, and a final one with a 12-key configuration, amounting to 19 programmable buttons in total. Nuts, right?
Unfortunately, it doesn't have that amazing Focus+ sensor, rather a highly capable 5G optical sensor with a 15K DPI sensitivity scale. Being a 2017 product, it also just missed out on the advent of razer's optical switches too, so it's loaded with a high-quality mechanical system. The clicks may feel a little mushy if you're used to a very stark click, but once you're used to it, you wouldn't change a thing.
Weighing in at 120g, this is quite a heavy mouse, so it's not really suited to FPS gaming unless you're camping out, waiting patiently for that perfect sniper shot. This mouse is more suited to real-time strategy games where measured precision is a must
05
Razer Viper UltraLight
Razer Viper UltraLight
Movement Detection Technology
Optical
Hand Orientation
Ambidextrous
PROS
Super lightweight for some rapid movement and zero fatigue
SpeedFlex cable prevents pull and drag
15K DPI optical sensor
Optical switches send signals at the speed of light
Great value for money
CONS
Cable may not suit your setup
Sensor isn't quite as powerful as the newer models
Closing the show, we have the UltraLight refresh of Razer's Viper model, and it certainly lives up to its name. Weighing only 69g, it's a good job it's a cabled mouse or it might just shoot out from under your hand. It's a shoo-in for any rapid-moving games.
The optical switches facilitate that uber-fast responsiveness, keeping up with those gaming-honed synapses in your brain, and the click is awesome. You may not think it's possible to be addicted to a click, but we respectfully disagree. It's just so incredibly crisp!
By far one of the best things about this Viper is the price tag, but let's take a moment to consider the compromises you're making to save the money. Firstly, it's a cabled mouse, which may not even be a problem. In fact, that means signals travel faster to your PC. The other compromise is that it features a last-gen optical sensor that maxes out at 15K DPI.
If you can handle those slight setbacks, then the Viper is an amazing mouse. It still has the stealth aesthetic, those awesome optical switches, 8 programmable buttons, and a comfortable ambidextrous design, it's just way cheaper.
Final Word
Bringing one of these mice into the fold can feel like a big step. Some of them have pretty gnarly price tags for such a small peripheral, but the impact it will have on your gaming performance will be massive.
The Viper Ultimate is designed for use by the best gamers in the world, and as such, its abilities far exceed normal expectations, so if it's the best of the best you want, you're sorted, but it is very expensive. If you're not averse to bringing a wire into the equation, you can save some money with the DeathAdder V3 and you probably won't even notice a performative difference.
The Basilisk is a verging on XL proportions, but if you have the hands for it, we highly recommend at least giving it a try. Once you feel the power of the extensive programmability, you'll never want to give it up. If you're looking for the maximum weight for precision gaming, you can't go wrong with the Naga and its modular side panels. For value for money, go with the UltraLight Viper. It's the best bang for buck mouse on this list.
---