What Is The Best Gaming Keypad? – 2018 Top 5 reviews
After researching 9 gaming keypads and testing 5 by spending 32 hours of extensive gaming and productivity work, we have confirmed that the Razer Orbweaver Chroma Elite RGB is the best gaming keypad. It has every premium feature a gaming keypad should have and is also the most comfortable to use for gamers with bigger hands. Gamers with smaller hands can still use the Orbweaver just fine but we found that the Razer Tartarus is better suited for gamers with smaller hands. Read on to find out why.
Our Pick
Razer Orbweaver Chroma Elite RGB
Best PC gaming keypad
This is the best gaming keypad out there. It sits at the top of the food chain. The name of the manufacturer is enough to give you the assurance that this is a candidate for being the real deal, and it is. Everything about it - overall design, feature, build, and performance exceeds our expectations.
Anything about the Razer Orbweaver is premium.
You get a gaming keypad that will exceed your expectations - like it did ours. In fact, this gaming keypad is the most high-profile solution in the market. The wrist rest can be adjusted accordingly to address all types of gamers. This removes any kind of stress there is when gaming.
You also have mechanical keys so you can respond efficiently faster than how you would on a different keyboard. It works great if you're a competitive gamer or a hardcore gamer in general.
Expert Pick
Razer Tartarus Chroma
Mechanical gaming keypad
This shares a very similar premium feel like the Orbweaver but the main difference you would notice is the size, number of keys, wrist rest, and key type. It has a very specific feel and function that fits perfectly for users that don't find the Orbweaver ideal for their use. In fact, this also accommodates gamers with smaller hands better than the Orbweaver.
It's almost a sin to question a product made by Razer.
Razer Tartarus may share a very similar physical appearance with the Orbweaver but it's different under the hood. The keys may be backlit like the Orbweaver but this has membrane keys to suit the needs of those who prefer a more silent tactile experience.
The wrist rest functionality and adjustments may be limited but some still find this more convenient than the Orbweaver.
Programmable Pick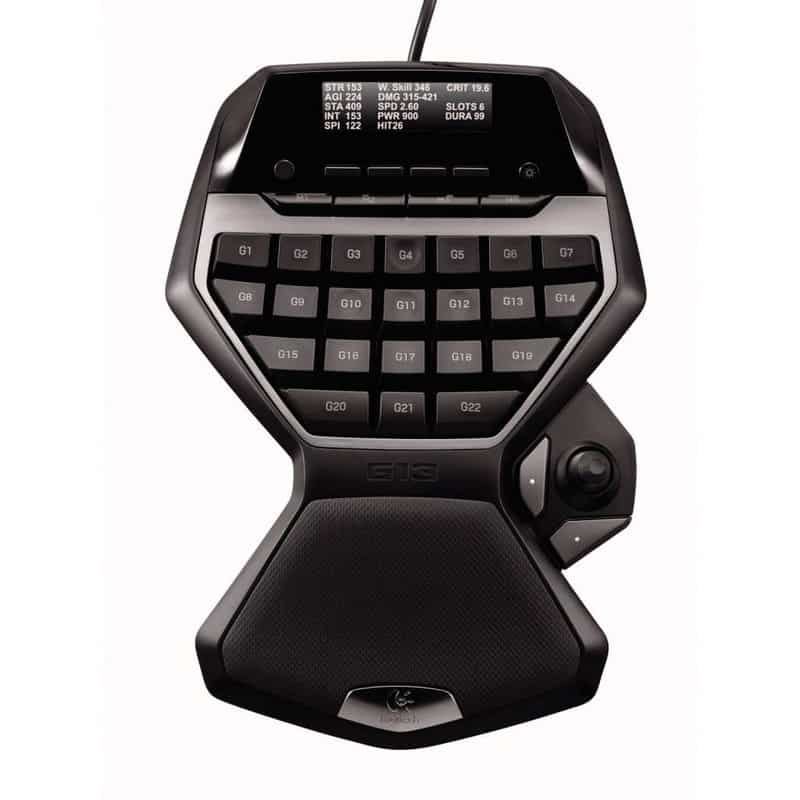 Logitech G13 Programmable Gameboard
Gaming keypad with analog stick
This type of gaming keypad has a very unique feature that both our top pick and the expert pick lacks - an LCD display. Build, design, and wrist rest is relatively different but it does have a very bold statement up its sleeves. Like the Orbweaver and the Tartarus, you have a multi-color backlight that does well in terms of illuminating the keys - but it does so differently.
Logitech is a company that is known for producing high-quality gaming peripherals through the years and the Logitech G13 is no different.
You can easily say that this is a gaming keypad that is built with functionality in mind and you could tell from its unique LCD display. The entire gaming keypad is ergonomically designed to provide a more convenient experience for gamers. It may boast a very unique LCD feature but it also comes with a great downside.
Expert Pick V2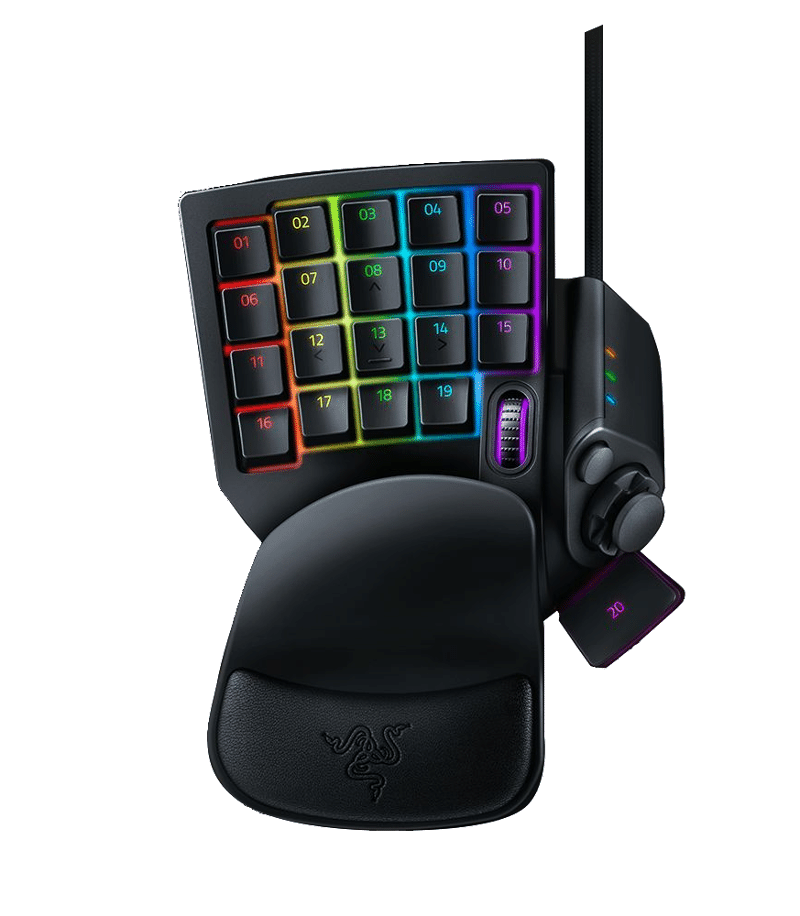 Razer Tartarus V2
Gaming keypad with detachable wrist rest
The gaming keypad that has a very identical physical appearance with the Razer Tartarus. Looking at the details deeper, you'd see that this has more keys than the regular Tartarus and a scroll wheel located at the bottom-right corner of the keypad. You may get a more functional gaming keypad but it's surprising to see that this also has some downsides.
Everything about the Razer Tartarus V2 is all about upgrade and improvement.
The regular Razer Tartarus has 25 programmable keys but the V2 has 32. To top that off, you have a scroll wheel for a more customized experience. If you don't fancy the wrist rest, the Tartarus V2 allows you to completely detach the entire thing off. It may boast more keys but it's surprising that at the same time, this opens up problems to other gamers.
Budget Pick
Delux T9
An affordable gaming keypad
A budget gaming keypad for budget gamers. You could easily tell from the physical appearance. The keys aren't that different from a regular keyboard because you still have the number keys along with the F-keys or function keys at the top. However, you do have three multimedia keys on each side along with a wrist rest to give you a more comfortable gaming experience. It also works great for lefties!
This gaming keypad is named Delux T9 for a reason.
It may be cheap and all but it offers a deluxe feel and experience. The keys are ergonomically placed to maximize the use and experience of gamers. There are 3 macro keys at the sides to give you more keys to work with - perfectly great for hardcore MMORPG gamers. If you're wondering why it has a symmetrical design, it's because this works perfectly well for lefties.
How We Choose Gaming Keypads
The gaming keypads we purchased weren't selected randomly.

Instead, we spent 68 hours of extensive research to gather, collect data, compare, and finally decide which gaming keypads are worth trying out.

Because of the fact that these gaming keypads are designed with yet another unique feature is what makes it harder to choose. We also check what professional gamers are using and what preferences they have so we could narrow down the initial list of gaming keypads we'd like to test.

After hearing and reading various personal experiences, feedback, and preferences, we decided to get 9 gaming keypads to try out and focus on 5 that we think are the best based on the tests that we made.
Disclaimer: The gaming keypads we tested were purchased using our own money. They were not sent to us to make biased opinions or feedback.
Features to Check Before Buying a Gaming Keypad
Analog sticks are popular on gaming keypads since they allow users to forego WASD for a thumb-only movement option. Using a stick does mean you have to bind jump to one of your other keys, but this significantly frees up your fingers to input more commands simultaneously.
Additionally, for people coming from a console experience, using an analog stick for their movement comes much more naturally. While it's not quite a perfect implementation, it does have its benefits, especially with this form factor.
Second up is backlighting. Most of the options on this list offer some form of backlighting, whether it's basic LED backlighting, partial RGB backlighting or full RGB backlighting.
Basic LED backlighting essentially just illuminates your keys with one color only, typically white. This applies to the entire keypad.
Partial RGB backlighting functions similarly, but allows you to choose most of the colors in the spectrum to backlight your entire keypad.
Full RGB backlighting allows you to choose almost all of the colors in the spectrum to backlight your keypad. Not just in one color, either- in varying colors, sometimes even on a per-key or per-group basis.
"Full RGB backlighting" is usually what jumps to mind when people refer to RGB customization.
Last but not least, the ability to set up your device with a custom profile is important so it doesn't mess with your normal keyboard ingame bindings or behavior. Being able to toggle between multiple profiles also allows you to adjust your needs according to the game you're playing, instead of being restricted to just one configuration.
The more customizable your gaming experience, the better. That's a mantra of PC gaming, and it applies especially to gaming keypads.
To be able to rank the gaming keypads accordingly, we know we're going to need more hands. So, we went to get 2 more pair of hands to test the gaming keypads.
For the actual testing, we have:
2 casual gamers

1 hardcore FPS player

1 grill hardcore MMORPG gamer

1 professional graphics designer
All 5 gets to test each gaming keypad for a hefty amount of time to come up with a conclusion on which gaming keypads they think is...
The most comfortable

Ergonomically designed for gaming

The easiest to use

Provides the best user experience
We have their answers on our conclusion section in this article so be sure to check that out below.
The 5 Best Gaming Keypads for 2018
Details
Our Rating

Our Pick

Razer Orbweaver Chroma Elite RGB

key type: Mechanical
number of keys: 30
extra features: Programmable 8-way directional thumb-pad, Full RGB Backlighting, Fully-Programmable Keys

4.5/5

Expert Pick

Razer Tartarus Chroma

key type: Membrane
number of keys: 25
extra features: Programmable 8-way directional thumb-pad, Partial RGB, Backlighting, Fully-Programmable Keys

4.5/5

Programmable Pick

Logitech G13

key type: Membrane
number of keys: 25
extra features: LCD Display, Analog Stick, 5 Onboard Profiles, Fully-Programmable Keys

4/5

Expert Pick V2

Razer Tartarus V2

key type: Mecha-Membrane
number of keys: 32
extra features: Programmable 8-way directional thumb-pad, Fully-Programmable Keys, Detachable Palm Rest, Thumb pad and Scroll Wheel

4/5

Budget Pick

Delux T9

key type: Membrane
number of keys: 46
extra features: N/A

3/5
#1
Razer Orbweaver Chroma Elite RGB
TECH SPECS
Key Type

Mechanical

Number of Keys

30

Extra Features

Programmable 8-way directional thumb-pad, Full RGB Backlighting, Fully-Programmable Keys
PROS
Programmable 8-way directional thumb-pad
Mechanical Keys
Full RGB Customization
Fully Programmable Keys
Multiple Profiles Through Razer Synapse
CONS
Expensive
Synapse Required for Profiles
It's no wonder that the Razer Orbweaver Chroma Elite RGB is the best gaming keypad in 2018, even though it's initially released in 2015.
It's our top pick because nothing is sacrificed here.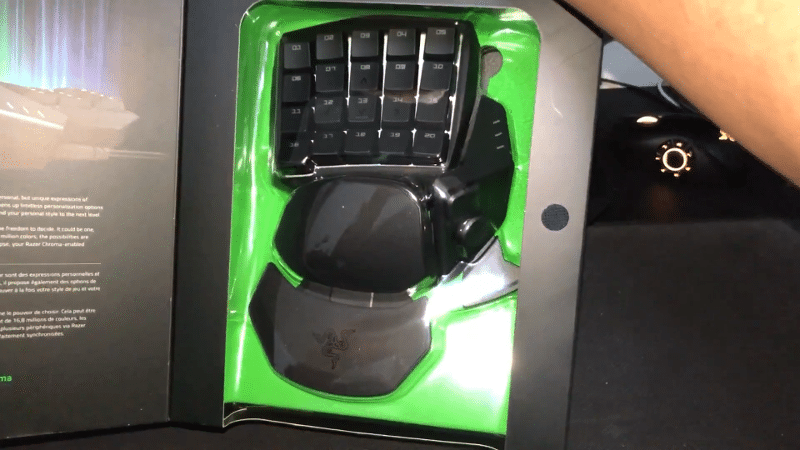 There are no real compromises here. By using Razer Synapse, you can have all the profiles and customization that you want from your keypad - perfect to match your mood, personality, or even your setup.
Additionally, the RGB implementation in the Orbweaver is what most people think about when they think about RGB: individually-backlit keys and fully customizable. For the case of the Orbweaver, it proudly boasts a complete implementation of this feature.
The soonest we got it out of the box, we can easily tell that the material is already worth the money we paid for. It may be notorious for being expensive but it sure does pay off.
You can guarantee this will help improve your performance and experience in general regardless if it's FPS, MMORPG, or even casual games.
It also seems that this goes well for those of you who do productivity and content creation.
In fact, we found a lot of professional content creators who use this to make their workload smoother and faster. So instead of having to press ctrl+c to do a simple copy and then press ctrl+v to paste, it can be done at easily with 2 keys with the Orbweaver by mapping the buttons respectively.
Older Razer Orbweaver uses Cherry MX Blue mechanical keys. This means you get a clickity sound that may be preferred by most gamers - even I personally prefer the mechanical keys over the membrane. However, the fact still remains that some are annoyed with the clicky sound.
This is why we decided to include the Razer Tartarus for that very matter. We'll talk about this shortly.
At the bottom of the gaming keypad, it's essentially made of rubber to keep the Orbweaver in place - perfectly great since gaming peripherals can be easily thrown around here and there.
Overall, the Orbweaver is your best bet if you're just aiming for the best. It would win in a fight against all of the other options, which is why it's #1 on our list of best gaming keypads.
Unfortunately, that does come for a price. Quite literally.
TECH SPECS
Key Type

Membrane

Number of Keys

25

Extra Features

Programmable 8-way directional thumb-pad, Partial RGB, Backlighting, Fully-Programmable Keys
PROS
Programmable 8-way directional thumb-pad
Fully Programmable Keys
Multiple Profiles Through Razer Synapse
RGB Customization
CONS
Only Partial RGB Customization
No Mechanical Keys
Synapse Required for Profiles
Expensive
The Razer Tartarus Chroma Expert RGB is a popular but expensive option. Depending on your needs, though, it could very well be the best gaming keypad for you.
If you aren't that fond of mechanical keys but still want the premium feel of Razer Orbweaver, then this might be the gaming keypad for you. This has membrane keys that give you a less noisy tactile experience without the compromise of the premium benefits.
Speaking of benefits, you get a premium experience with the Tartarus. It has just about the same physical features but with a more solid wrist rest. You can adjust the wrist rest to your liking but you're only limited to back and forth adjustments.
Because this has fewer keys compared to the Orbweaver, gamers with smaller hands can easily navigate through and press all the keys conveniently. Even with the Orbweaver set to the smallest adjustment, the Tartarus is still more convenient for gamers with smaller hands.
You also have the RGB  customization but you can't really customize the keys individually. When most people think of RGB backlighting, they think of being able to change the color of all the individual keys. This, however, isn't the case with the Tartarus.
Instead, you can choose one color for the entire board to assume, depending on the profile you have selected at the time. While you can set keys to toggle or rotate between colors, this doesn't provide the RGB experience that most modern consumers expect.
The Razer synapse can be a little annoying to mess around with - especially if it's your first time, but it gets easier down the line. No matter the case, you have a Razer chroma sticker like the Orbweaver.
And like the Orbweaver, you also have an 8-way thumbpad that offers more option to do a keyboard mapping and customization.
Depending on your needs, this could be the gaming keypad for you. Just remember that the Orbweaver is a better choice if you're all about the mechanical keys and the Tartarus if you want a quieter experience.
TECH SPECS
Key Type

Membrane

Number of Keys

25

Extra Features

LCD Display, Analog Stick, 5 Onboard Profiles, Fully-Programmable Keys
PROS
Included Analog Stick
Mini LCD Display for In-Game Info
Five Onboard Profiles With Fully Programmable Keys
Multi-Color Backlighting
It's no wonder that the Logitech G13 is one of the best we have on the list.
It's very comfortable and the entire layout is made for gamers. Luckily, we have a colleague (a grill) who has actually owned one and used it for 3 years and 8 months.
So aside from doing the test ourselves, we also interviewed our colleague about her personal experience with the gaming keypad through the years of use.
Let's talk about the good stuff first.
The gaming keypad has a design perfect for gamers. She's a hardcore WoW player and she's never imagined playing without using a gamepad. We can clearly see why because of how it almost does everything on point.
The LCD display is capable of showing a lot of things as we tested it. It could show you not only stats of your in-game character but it can also be set to show the current music you have playing and even your CPU and RAM usage.
It also comes with an analog stick and hotkeys that you can set like the Orbweaver and the Tartarus. If you're a hardcore MMORPG player, this should definitely come in handy.
Instead of having to press buttons far away from your hand on a regular keyboard, these analog sticks help simplify every task and skill by mapping them respectively. Moreover, you also have the option to change the backlight color into 16 million different lighting colors.
All in all, it's ergonomically designed to even compete with the Tartarus and the Orbweaver but there's something wrong about the Logitech G13 we'd like to talk about...
You see…
The Logitech G13 may boast an LCD display but having to constantly check the display when you have the actual game in front of you just doesn't go well.
Furthermore, these have membrane keys unlike the Orbweaver so it's expected to wear off at some point in time.
Nonetheless, our colleague used this for hardcore MMORPG gaming on a daily basis and started to notice minor problems after a year of intensive use. She got it running just fine until it's totally unusable on her 3rd year and 8th month of use.
Today, she's using another gaming keypad which we'll talk about next.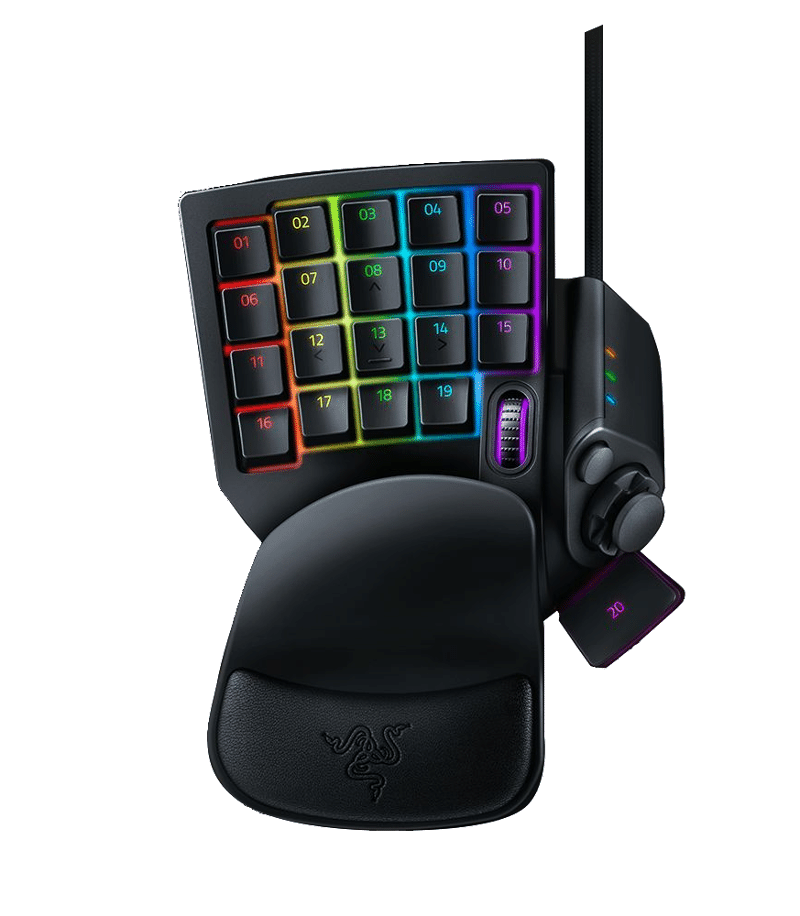 TECH SPECS
Key Type

Mecha-Membrane

Number of Keys

32

Extra Features

Programmable 8-way directional thumb-pad, Fully-Programmable Keys, Detachable Palm Rest, Thumb pad and Scroll Wheel
PROS
Tactile Mecha-Membrane Keys
Programmable 8-way directional thumb-pad
Multiple Profiles Through Razer Synapse
Has a Scroll Wheel
Fully Programmable Keys
CONS
Not As Ergonomic As The Original Tartarus
Synapse Required for Profiles
As the name suggests, the Razer Tartarus V2 is the upgraded Tartarus.
You could see at a glance that this is very much similar with the original Tartarus but there are a few differences here and there.
Let's start with the 2 most obvious differences you can't unsee:
Number of keys

Scroll Wheel
Aside from having more keys, the Tartarus V2 utilizes a rather different set of keys. These aren't the ordinary membrane or mechanical keys because these are Razer mecha-membrane keys.
It's essential a combination of both mechanical and membrane keys. It gives off a tactile feel of a mechanical key but it does so silently like a membrane key. This is what makes it best for gamers who don't prefer the clicky sound of mechanical keyboards and isn't entirely into the quiet profile of membrane keys.
The RGB lights can be adjusted respectively with the use of Razer Synapse - just like the original Tartarus.
It also has a unique feature that's new in gaming keypads. The Logitech G13 may boast an LCD display but the Tartarus V2 has a scroll wheel.
We found this great at first but after a couple of testing here and there, we still prefer the mouse scroll wheel for in-game functionality and use this only for volume adjustments. You might prefer using this over the mouse scroll wheel to switch between weapons but it depends on what you prefer - it's your call.
The wrist rest of the Tartarus V2 can also be detached. This is something the original Tartarus can't do and it can be adjusted into two different positions to suit your preference and comfort.
To top that off, the material of the wrist rest is also covered with leather cushion which we find to be more comfortable.
Though it has more functionalities and better upgrades, it's surprising that this is actually cheaper than its predecessor.
PROS
Very affordable
Perfect for Lefties
Comes with Multimedia Keys
WASD Keys Highlighted in Red
Only Has Key Lighting
CONS
No LED backlight
No Analog Stick
It may be the cheapest on our list but this actually offers double the function.
Here's why:
Aside from the red WASD keys, you'd notice there are two red keys at the bottom part of the gaming keypad. These are space keys and if you're wondering why there are two of them, it's there to accommodate not just right-hand users but lefties will finally be able to play games conveniently.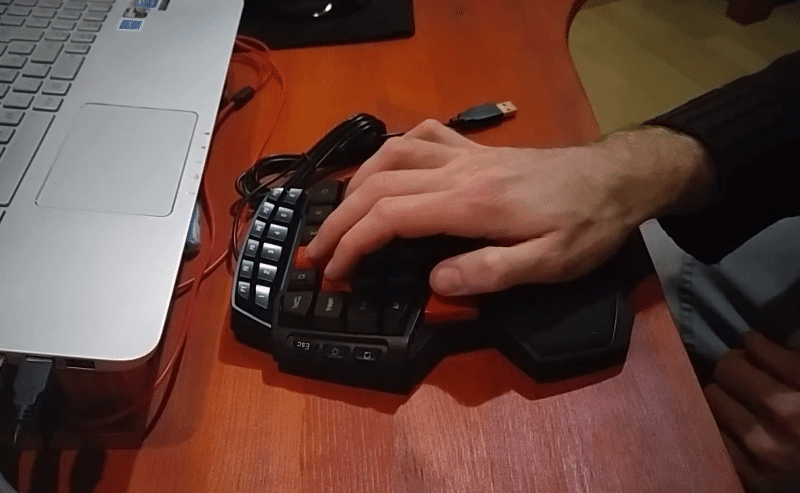 The vibrant WASD keys basically are among the key takeaways of the product. All the keys aren't that great because these are membrane keys. Although you have 46 keys to play with, it doesn't really give you the functionality you need since some of the keys aren't easily accessible.
It's more like a regular keyboard instead of being a gaming keypad. This does have a comfortable wrist rest but unlike the rest of the candidates on the list, these can't be adjusted - it's just there to give you comfort straight away.
Even though this does not have an LED backlight like the others above, you can still play games in a dark or dim room since the keypads are illuminated with a light setting that you can only adjust from low-high.
The placement of the keys isn't really accommodating since you have to move your hands to actually press the keys. Also, these aren't programmable keys and instead, functions like a regular keyboard.
The build is surprisingly solid for the price and it has large number keys to make sure you don't miss any keystrokes when gaming.
Overall, this still is worth getting, especially if you really are on a tight budget.
Which Gaming Keypad Best Suits You?
And here we are.
Mostly, what you go with depends on your budget.
If you can afford the best, buy the Orbweaver and have the best.
If you're budget-minded, the Delux T9 is the most value-oriented options.
We also recommend the Razer Tartarus V2 Chroma - it's cheaper but still performs just like its older brother, the Razer Tartarus Chroma. To top that off, it has more keys, fully programmable, and comes with an 8-way thumbpad and scroll wheel, not to mention that it has a detachable palm rest.
If you can buy a mid range device, the Tartarus come in at a reasonable price and is good for different things. Tartarus prioritizes aesthetics and comfort.
Choose the G13 if you are dead serious about in-depth customization. Keep in mind that this comes at a price but is going to be worth if its features match your needs.
No matter what you go with, you can't really go wrong.
After 32 hours of research, comparison, and testing, we've finally concluded which among the gaming keypads are ideal for specific use. As per the tester's conclusion…
The most comfortable gaming keypad is the Razer Orbweaver Chroma.
The Razer Tartarus Chroma is ergonomically designed for gaming.
The easiest to use is the Razer Tartarus V2.
The Logitech G13 provides the best user experience.
Of course, the cheapest but worth getting if you're on a tight budget is the Delux T9 gaming keypad.
So now you know which gaming keypad is the best, which among the 5 you think is for you?