Crucial P3 SSD's – fast and affordable
Speed, I am speed with these fast and affordable NVMes
Updated: Nov 23, 2022 6:46 am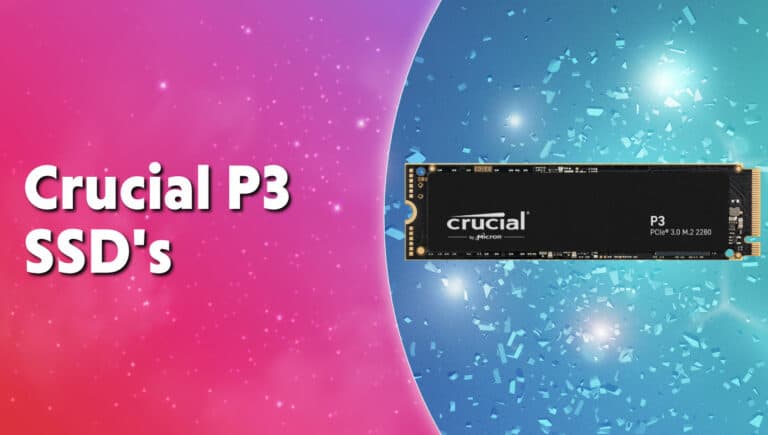 SPONSORED POST
SSDs are a great addition to any build that supports them. They allow for what seems like a great improvement in performance by decreasing your loading times. And Crucial has a lot to offer with its P3 SSD range of products.
These offer up a reduced loading time across the board. If it's loading up Windows on bootup or cutting down those pesky loading screens throughout your games. This is one component that can easily give you some quick benefits especially if you're on older spinning disks.
Although it might be pricier initially, the price per GB has been improving the longer they are out. And so it is a good time to nab one for an upgrade or your next build. Especially when there is an opportunity to buy them at a discounted price such as at CCL.
Crucial P3 and P3 Plus specifications
| | P3 | P3 Plus |
| --- | --- | --- |
| Capacity available | 500GB, 1, 2, and 4 TB | 500GB, 1, 2, and 4 TB |
| Sequential read speeds | Up 3,500 MB/s | Up to 5,000 MB/s |
| Sequential write speeds | Up to 3,000 MB/s | Up to 4,200 MB/s |
| PCIe generation | PCIe 3.0 NVMe | PCIe 4.0 NVMe |
| Form factor | M.2 (2280) | M.2 (2280) |
Here are the specifications for the Crucial P3 and P3 Plus SSDs. There is a difference between them as they offer a variety of options for you to choose from. With clear benefits of some that come at a higher cost.
Capacity
When looking at how much storage you actually need then you have to figure out your usage. When it comes to overall storage it isn't uncommon to have multiple devices with varying speeds. As you may not want to spend your whole budget on the most expensive type.
However, a 1 or 2-TB NVMe may be more than you require. As it will allow you to install Windows onto it to enjoy the speediness across your whole system. While still having leftover space for your other uses like games.
Although in this day and age games are getting a bit large with their installs. With a game like Call of Duty takes up a quarter of a one-terabyte drive. But an affordable and fast boot drive is still a worthy investment.
SSD Speeds
Now when it comes to the speeds of the Crucial P3s there are some differences as well to choose from. You will find both sequential read and write speeds. These are what the SSDs are capable of achieving running with the CrystalDisk Mark benchmark.
This means that the data is lined up and ready for storage. This means may not be the real-life usage you get but it does give a good indication of what they can achieve overall. And can be used as a good comparison between them.
There is some variation in the models. The P3 3.0 gives a sequential read of up to 3,500 MB/s whilst sequential is limited to 1,900 MB/s for its 500 GB model. And the 3,000 MB/s is found with 1 TB or more.
Whilst the P3 Plus models vary across the board. With read speeds starting at 4,700 MB/s and increasing to 5,000 MB/s and falling again to 4,800 MB/s. Whilst writes are a lot more varied. Starting with only 1,900 MB/s jumping to 3,600 MB/s, 4,200 MB/s, and then at 4,100 MB/s.
This offers a lot of variety in the performance you might get between the NVMe's. But it's all still blisteringly fast. And these options are roughly 6-9x faster than SATA SSDs and 22x faster than HDDs.
PCIe generation
The main difference between the two models is their PCIe generation. P3 uses the Gen 3 specification, whilst the P3 Plus is based on Gen 4. This is the main feature that changes the speeds at which the SSDs are capable of reaching.
Each generation doubles the available bandwidth of the lanes. And although NVMes use only half the lanes it's still a good improvement for the x4 slot. As gen 3 x4 offers up to 3.938 GB/s, whilst gen 4 x4 doubles that to 7.877 GB/s.
Affordability
The Crucial P3 SSDs are one of the cheaper options you can find. With a great value for money, offering a lower price per gigabyte of the NVMe selection. And there are a couple of reasons why.
One of which is that the standard P3 option is of course the lower bandwidth from the lower PCIe generation. This means of course the P3 Plus range does come with a higher cost but for a much-improved speed.
Another reason is that these SSDs don't include a DRAM cache as another cost-saving measure. This part of the storage keeps track of data mapping tables. Meaning it keeps track of where data is stored on the NAND storage.
This means that the P3 SSDs may take a bit longer to find the data and be slower than some DRAM NVMe's. However, these will still be faster than SATA options and so you can have much faster options for cheaper.
PS5 compatibility
Now another benefit of the Crucial P3 SSDs is their compatibility with PS5s. It is a great way to expand your console's storage. As the console has been out for a while now it may be slowly filling up with all the data you've saved on it.
So to not have to go through all that and remove stuff you can expand your storage. Installing an M.2 into your PS5 is a fairly easy task and lets you hoard all the games and data you may want.
Crucial P3 and P3 Plus at CCL
Final thoughts
Overall, the Crucial P3 and P3 Plus SSDs are a great and affordable storage choice. With a great value for money that still provides great speeds and lower loading times. This can be a great upgrade choice if you have the option to move your operating system. As it will give you a sense of great improvement in your performance without too much hassle.
There is also a range of models so you can choose the best one for you. All of them are available at CCL (UK) which also has great discounts on some of the picks. Or some good promotions to go with your NVMe.
Crucial P3 FAQs
Crucial P3 is a good affordable option and still a fast NVMe so it is good on its own. It will mean they fall behind some more premium options, but it still is much better than SATA options. Meaning you get plenty of speed for much less.
Does the Crucial P3 have DRAM?
No, the P3 and P3 Plus do not have DRAM. This means they can fall behind in the performance of more premium options but they have a much better price per GB.
---