Fractal Design Define 7 PC Case Review
Updated: Apr 21, 2022 3:12 pm
Fractal Design's Define series has been one of the more accomplished, high-quality line of cases I've come across for a few years now. These are constructed with care and in many cases, feature unrivaled functionality, with Fractal Design always seeming to bring more to the table with each revision. Today we are looking at the Fractal Design Define 7, which follows that trend and is here to replace the highly regarded R6. Our version is the "Light Tempered Glass", with clear and dark tints also being available alongside the classic model that features no glass at all.
This PC case was released early 2020 and brings a fresh look into a series much loved by enthusiasts. Fractal also released the Define 7 XL which replaces the XL R2, but we are just going to be covering the mid-tower option, for now at least.

With the R5 and R6 models being such high successes, let's see what the Define 7 offers up.
[mks_col]
[mks_one_half]
Pros
Premium, high-quality case
Spacious, with E-ATX support
Great acoustic performance
Tool-free panels
High-quality dust filters
Retains 5.25″ bay
New ultra-slim fan hub
Dual- layout interior
Good cable management
[/mks_one_half]
[mks_one_half]
Cons
Expensive
Cable cover seems a bit pointless
Paying for a top panel you may not use
[/mks_one_half]
[/mks_col]
Specifications
| Case Type | Mid-Tower |
| --- | --- |
| Dimensions (mm) | 547 x 240 x 475 (L x W x H) |
| Materials | Steel, Tempered Glass, Plastic |
| Available Colours | Black, White, Grey |
| Weight | 13.49 KG |
| Front I/O panel | Power Button, Reset Button, RGB Button, USB 3.0 x 2, USB 2.0 x 2, USB Type-C, Audio jack x 1, Microphone Jack x 1 |
| Expansion Slots | 7+2 |
| Drive Bays | 14 x 3.5"/2.5" + 4 x 2.5" positions (6 x 3.5"/2.5" + 2 dedicated 2.5" included). |
| Motherboard support | Mini-ITX, MicroATX, ATX, E-ATX |
| Cooling (Front/Top/Rear) | 3 x 120/140 mm (2 x Dynamic X2 GP-14 included) / 3 x 120/140 mm / 1 x 120/140 mm (1 x Dynamic X2 GP-14 included) |
| Maximum GPU length | Storage layout: 315 mm - Open layout: 491 mm (467 mm w/ front fan) |

Main Features
Modular

Tempered Glass

Silent Operation

Nexus+2 Fan Hub

USB Type-C
Inside the Box:
Fractal Design Define 7 PC Case

Accessory Box
The Outside
First impressions of the case are very similar to the R6, this is simplistic in its aesthetics, even with the tempered glass panel. This is built for stealth but the uninterrupted glass panel is high quality and will add some style points to any build.
At the front we see a hinged door once again, complete with that brushed aluminum look. The door feels much thicker this time around with a new and improved hinge system and snappy magnet to assist. Aside from feeling much more sturdy, the door still only opens about 90 degrees and like the R6 you can reverse the way it opens.
The door directly impacts cooling, despite the side ventilation towards the front. If your primary concern is cooling then you will want to keep the door open, take it off, or go for a different case. This is built for silence so the door receives the sound dampening treatment, providing great acoustic performance.
Opening the door reveals the full-length fan filter that can be removed for easy cleaning. The vent is split, with the 5.25" drive bay having its own filter. These filters aren't the easiest to remove and require a worrying amount of force but don't worry, just perceiver and it will come off undamaged.
Behind the filter, you will find two Dynamic X2 GP-14 140mm fans preinstalled. This is fairly common in Fractal Design cases, only this time around, we see space for a third 140mm fan if that's the configuration you wanted. You can still go for three 120mm fans at the front and there is enough space for a radiator up to 360mm. Of course, installing an optical drive will eliminate the possibility of three 140mm fans, leaving you with space for just two.
At the very bottom is where the lower dust filter pulls out. The full-length dust filter coming out the front is nothing new from Fractal and it comes out without needing to open the door first too. This can often be an overlooked feature but the fact this is removed easily from the front is rare to come by for some unknown reason!
Rear
The whole ModuVent and basic use of this case has been upgraded in terrific fashion. The back is where we see this new way of opening your side panels, with two clips at the top of each side that you slide to pop the panels off. The panels are on tight so there is no issue with this new way of doing things and it's much preferred to the thumbscrews.
At the rear of the PC case, we see the third and final Dynamic 140mm fan pre-installed, completing the airflow setup which I think is pretty good out of the box, albeit not as good as a mesh front panel case. There are seven horizontal expansion slots at the back, alongside two vertical slots for vertical GPU mounting if that's your thing. The PSU attaches to a bracket which is always great for cases with a PSU shroud but other than the panel mechanism, everything's the same as the R6.
The Top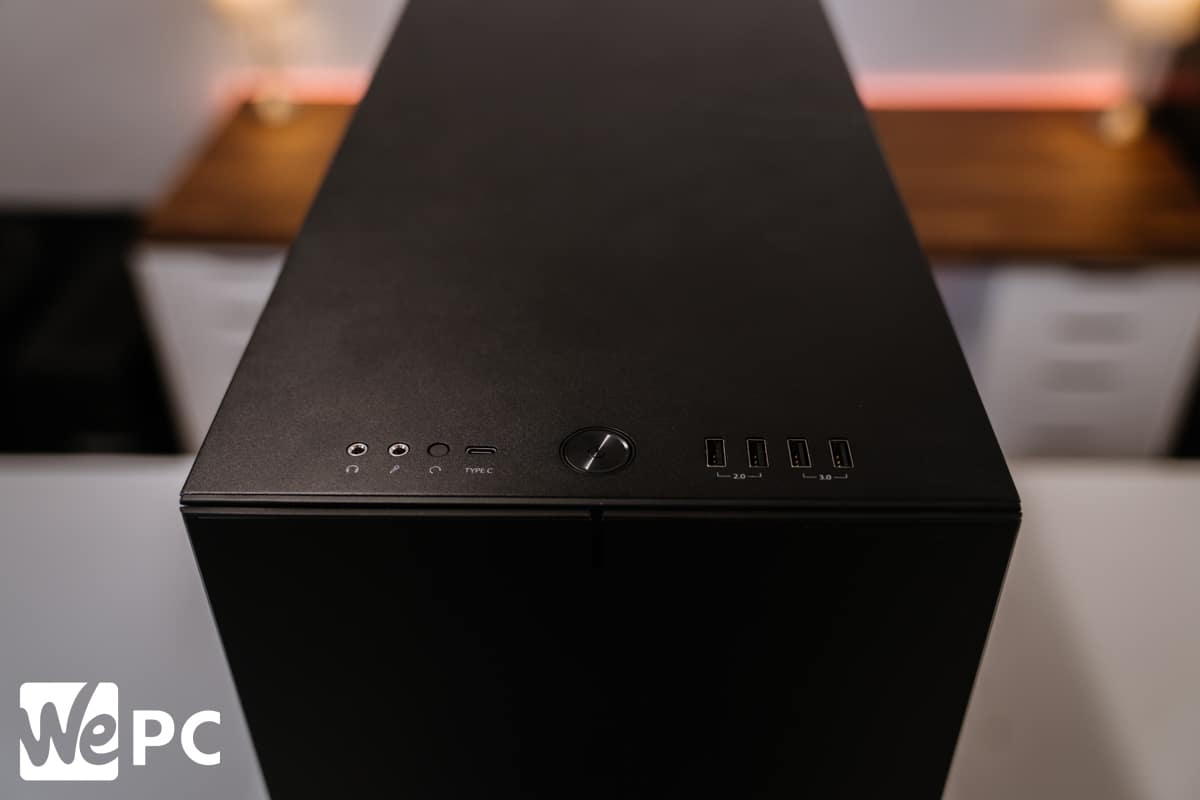 The top is where we see some of the biggest changes since the Fractal Design R6, with Fractal's new interchangeable panel design featuring. The ModuVent was always a nice idea, and easy to manage, but it's clear looking at the Define 7 that the guys at Fractal have had a good look. The top now pops off with little force being applied to the front-most corners. The top is relatively simple to remove/ replace and can be switched out for the ventilation top panel. The top panel this ships with includes the sound dampening materials we see on all other panels (except the TG) and is featureless aside from acoustic performance.
The front I/O panel is the same as the R6, with two USB Type-A 2.0 and 3.0. Again, we see a single USB Type-C port and separate headphone and mic jacks.

The top vent is now completely uninterrupted and looks part of the front I/O which was always a visual issue with previous Fractal cases.
Switching out for the ventilation top panel is for those looking to install extra cooling support into this PC case and Fractal Design has that covered with a full-length dust filter in there too. The bracket for mounting your radiators or fans also features a cutout fill port for budding water-coolers. This saves you filling the res from dodgy angles inside the case and is yet another classy touch from Fractal Design.
The Inside
While I still prefer the hinged door on the Phanteks Enthoo 719, Fractal Designs' development of side panels is still highly impressive. This pops off thanks to the clip at the back, as mentioned previously, and features those small clips that pop in and out with a bit of force. The panel will only fall to the ground if you drop it, as there are some secondary clips along the bottom.
The default layout for the interior is an open one but this can be adapted to support a more storage focused layout. Yet another piece of modularity from Fractal Design that is truly brilliant. For my build, I didn't require any HDD /SSD brackets so I stuck with open. This is a very spacious interior with an incredibly logical layout. The case can take a motherboard up to 285mm but E-ATX may not be optimal in the Define 7. I went for an ATX board that fits in without an issue and still gives me plenty of room to cable manage using those grommets.
If utilizing the top bracket inside the case you can fit a radiator up to 420mm long. Using the top will mean you'll need the ventilated top panel and will forgo the acoustic performance a little but it's nice to have options.
The inclusion of rubber grommets is nothing new from Fractal, or cases that cost as much as this, but it's a feature I like. The Fractal Design grommets tend to move less than other brands and didn't come out once while installing my PSU cables.
The bottom is completely shrouded by the full-length plastic PSU cover. The PSU shroud features some ventilation due to the basement being able to accommodate a radiator up to 280mm. The front-most end of the PSU shroud has small plastic pieces that will pop out when needed. They can be removed when you are mounting a large radiator on the front panel or if you plan on installing a reservoir.
Switching this up to a more storage based layout means you can get an impressive amount of drives into this case. You get six SSD/HDD brackets and two SSD only brackets alongside the included "multi" bracket. In total, you can mount up to 14 HDDs alongside four dedicated SSD mounts.
The rather nifty multibracket can convert any unused fan position into an HDD, SSD, or pump mount. This feature will hardly be used by the masses but it's great to see Fractal Design add new things without taking anything useful away.
The Back Panel
The back panel of the Define 7 brings about some interesting changes, to say the least. The first thing you'll notice is the repositioning of the Nexus+ 2 fan hub. Rather than the square one we are all used to, we now get a slim horizontal fan hub. This is a great change, the fan hub no longer gets in the way like it did when cable managing the older R6.
Another addition is the "Integrated cable guides", which I wouldn't normally bother with but gave them a go nonetheless. Much like on the NZXT H510, they were simple to use, with the middle accommodating for the thicker 24-pin cable easily enough and the velcro straps doing a sufficient job.
Nothing out of the ordinary with the cables, all as high quality as you would expect, with the front I/O being braided. There is a secondary "shroud" at the back to aid with cable management but isn't it all a bit pointless unless you plan on having the back panel off? Well, maybe but, it's easy to remove and doesn't get in the way like they did with the Cooler Master H500M.
Cable managing a build in this case was incredibly easy and user friendly, with 30mm of space being more than enough. Whether you use the cable guides or not, the malleable cables make clean cable management quite simple.
Features
Fractal Design cases without a decent amount of features are hard to come by. The Define 7 follows on from the R6, with the main focus still being towards acoustic performance but still offering a plethora of nice little extras.
Sound Performance – Acoustically this performs similarly to the older R6, with both cases being optimized for silent operation. The high-density padding on the panels works well at keeping those decibels low.
Modularity – The new and improved ModuVent system (interchangeable top panels) is a great addition. While many users will pay for a panel that they may never use, it's great for those looking to add extra cooling support. You can take advantage of Fractal Design's "dual-layout" feature and change the "open" layout to a more storage-friendly one. The case, in general, seems to make your life easier at every turn, with easy to pop out cable management clips, slots for water-cooling, and side panels.
Nexus+2 Fan Hub – The new preinstalled fan hub is now ultra-slim while still able to connect three PWM fans and six 3-pin fans. Fan hubs make systems with multiple fans a lot easier to cable manage and this slim approach no longer gets in the way at the back.
These extra features make Fractal Design cases one of the better options for a stress-free build. The Define 7 has been constructed with care and brings the usual high build quality to the table, with what is essentially a flawless PC case.
Our Verdict
The Define 7 is the latest triumph in the series and is worthy of taking the torch from the highly regarded Fractal Design R6. This may be similar to its predecessor but each of the improvements can be considered quality-of-life changes, making this one of the best premium cases on the market.
While this is fairly expensive, it ships with a plethora of premium features. This is a versatile case, with the modular nature of the dual layout and interchangeable top panels making this great for almost any build.

This performs similarly acoustically to the R6 and is an excellent choice for a quieter PC build but beware of airflow as this is limited due to the thick hinged door. Either way, forgetting for a minute that this is one of the most well-constructed cases I have used, it's a PC case that will please any enthusiast looking to achieve silent operation in style.
---