Best 140mm fan – our top 5 picks for 2023
We find the best 140mm fan for your PC build
Updated: Apr 24, 2023 3:02 pm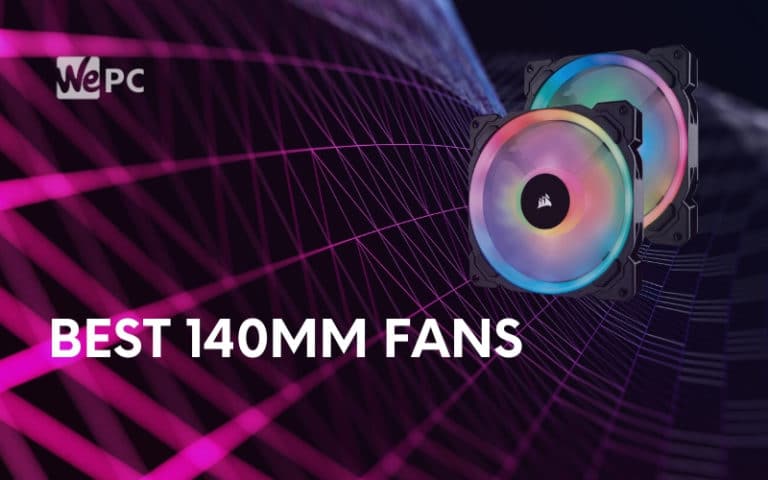 Is your PC your pride and joy? Perhaps you're only getting started with your first build, or you're looking to replace or improve something you already have. No matter, we believe that for the majority of us, our computer represents an investment of time, effort, and money that makes it quite precious to us.
High-end computers can have a cost that falls into the thousands of dollars, so it's crucial that we do our best to keep them in good health. The best and most recommended way is to provide a lot of cooling. Case fans make up a crucial part of every PC build, be it a top-notch gaming rig or a simple office computer. Without proper cooling, PCs tend to bottleneck, perform badly, or worse yet — break down. That's why you're doing the right thing by wanting to pick up a couple of 140mm fans!
Best 140mm Fan: products at a glance
0.08 sone (28.5 ~ 29.5 dB(A))
Corsair LL Series LL140 RGB
5.51 x 5.51 x 0.98 inches
Thermaltake Ring 14 High Static Pressure Fan
5.51 x 0.98 x 5.51 inches
3-pin and fan to Molex connector
At WePC, researching and testing computer components is our passion project and we're here to share that with you. Sifting through a sea of choices can be quite as difficult as it is time-consuming, so let us deal with all that for you. Below you'll find a comprehensive guide on all things related to 140mm fans, along with our best picks for this year. Read on, because your perfectly cooled rig is just a few minutes away!
---
Best 140mm Fan: our top picks
01

The Best 140mm Fan

Editor's pick

02

The Best Silent 140mm Fan

03

The Best RGB 140mm Fan

Corsair LL Series LL140 RGB
---
Best 140mm fan – in-depth reviews
Best 140mm fan
Magnetic bearing provides a longer lifespan

Airflow of 97 CFM

Adjustable RPM of up to 1600 RPM
May get noisier at super-high speeds
As long as you have the option, when building a top-notch gaming rig it's always good to go with high-end fans to match. When it comes to the top of the line products, we recommend the Corsair ML140. Much like the Arctic we also recommend, this fan has a stylish black and white design that will not overpower the inside of your case. They lack LED lights, but what they lack in simple design they make up for in performance.
One of the best things about this dual pack of fans is the fact that they come with a magnetic bearing. This means that they harness magnetic levitation technology in order to function. The benefits of that are simple and enjoyable. You can expect lower noise, a longer lifespan, and improved performance.
The RPM is adjustable and can reach up to 1600 RPM with a high 97 CFM airflow. You'll find that you can tailor these fans to your needs, switching between high and low cooling based on what you're up to. Corsair has a custom rotor design that optimizes the balance between high static pressure and high airflow, which makes it a good fit for very demanding builds. Whether you're a gamer or a content creator, you'll find the cooling more than adequate.
While normally rather quiet, these fans may have a tendency to get louder over time if used at top speeds. They're still not overly loud, but if you're looking for the quietest build possible, read on below to check out our recommendation in that department. Overall, these high-end fans are really impressive in terms of performance and longevity. If you're looking for something made to last, you'll probably want to check them out.
Best silent 140mm fan
The Best Silent 140mm Fan
0.08 sone (28.5 ~ 29.5 dB(A))
Very energy efficient – it stops when the computer is idle

One of the best exhaust fans for PWM cooling

Great combo of reliability, price-to-performance, and noise level
It's not ideal for overclocking
Starting with its amazing efficiency and ending with the long service life, Arctic F14 has truly earned one of the top spots in our list. As far as design goes, Arctic has used their tried and true minimalistic approach to bring forth a classic mix of black and white without LED lights. Not all non-LED fans look good in every case, but this one will blend in just right without looking dull. We believe that the majority of builds will suit this type of aesthetic.
Looks are nice and all, but it's the performance that we care about the most, and we're sure you do too. This is one of the most energy-efficient case fans we've ever seen. It stops when your computer is idle and it adjusts to what you're doing, never going past 800 RPM. Combined with 46 CFM, it delivers strong, reliable cooling without making your fans work overtime.
It has a fluid dynamic bearing system, which means that its life expectancy is much greater than in static pressure models. This is a fan that, once bought, will likely stay with you until you want a replacement and should not break down even after years of use. Arctic's fan design is rather innovative and promotes efficient ventilation. This is due to the way the fan blades are made, allowing them to improve airflow. The impeller is designed with a focus on removing as much noise as possible without any loss of performance.
Due to the limited RPM, we wouldn't call this our first pick for overclocking, but it can be done — just take it easy and pace yourself to find the perfect spot. Mixing silent performance and sheer cooling power into one neat package, this Arctic fan has impressed us on many levels. We recommend that you check it out!
Best RGB 140mm fan
Corsair LL Series LL140 RGB
5.51 x 5.51 x 0.98 inches
Tons of color and style options to choose from

Gorgeous hues to light up your case

Strong performance in a beautiful package
Cable management is a bit of work
Corsair's LL140 fans made it onto our list for a number of reasons, but we can bet that the first thing you'll see here will be the incredible design of these LED fans. This is a dual pack of RGB PWM fans that comes with some of the best color combinations that can be found on the market. Ranging from vibrant hues to soft pastels, these fans can truly light up your case and make as much of a statement as you like.
The fans include 16 independent RGB LEDs in each one, split between two separate light loops. The LED lights are controlled by the included Lighting Node PRO, Corsair's staple software, that allows you to pick and choose between all the different variations. Moving on to actual specs, these fans aren't just pretty, they can actually pack a good punch. The combo of adjustable RPM (600-1300) and a good airflow of 51.5 CFM delivers a good balance between efficient cooling and low noise.
Thanks to PWM, you're able to dynamically control the fan speed to suit your needs. The fan blades themselves are innovatively engineered, allowing for low-noise operation without sacrificing performance. If we were to find some downsides of this 140mm fan set, we'd point out the cable management as the culprit. Be careful when installing them and try to be as tidy as you can to not get confused.
Overall, we believe that these fans simply shine — figuratively and literally — and stand out from the competition. They're definitely worthy of a closer look.
Best value 140mm fan
Thermaltake Ring 14 High Static Pressure Fan
Affordable price in comparison to specs and looks

Quiet and with minimal vibration

Hydraulic bearing design
The LED lights are rather dim
At WePC, we like to double and even triple check every product before we recommend it to you. This is simply because we believe that your hard-earned cash should be spent on the best possible products. Due to that, we like to research cost-effective options that bring in the most features for the lowest prices. Thermaltake's Ring 14 is one such fan that manages to find the perfect balance in terms of pricing, but it does so at no cost to the performance. Featuring a number of good cooling solutions, this fan could probably come at a higher price — and we'd still recommend it.
The design of this fan is rather inconspicuous at first glance, but it does feature a couple of LED lights that make it shine in the dark. The colors aren't overly bright, so this will work well in a more muted setup. The specs are where the cost-to-performance factor truly comes into play, delivering in terms of cooling, longevity, and reliability. Compared to the standard case fan, this may offer up to 40% better cooling performance on average temperatures.
The airflow measures at 51.15 CFM, and the RPM at 1400. Due to Thermaltake's concentrated compression blade design, this fan is engineered to focus the inner circle of air outwards. This allows the outer section to pressurize and compress. There's a wind blocker frame included that maximizes the static pressure and thus, reduces the amount of noise this fan makes — yes, even at high speeds. We found it to be pleasantly quiet while still packing quite a punch in terms of cooling. If you want to get the best performance for every penny that you spend, we believe that Thermaltake makes that easy to achieve.
Best budget 140mm fan
The Best Budget 140mm Fan
5.51 x 0.98 x 5.51 inches
3-pin and fan to Molex connector
Amazing airflow and performance

Works well even at low RPM

Quiet
Tends to vibrate when mounted horizontally
Cougar's bright red CFD14HBR model is remarkably quiet, but that's not the only good quality you will find in this 140mm fan. Let's first talk about the design. Cougar isn't really an LED fan, but it has 4 LED lights on the outer rim that resemble spotlights. The body of the fan itself is a bright red/orange, which, to some, can almost seem to overpower the inside of a case. However, if you like vibrant colors, you're sure to enjoy this fan.
As far as the build itself goes, this is a very solid pick in terms of performance versus noise levels. The fans can spin at up to 1200 RPM, but even at the highest level, you'll be pleased with the low noise output of 18 dB(A). That's barely more than a whisper. Part of the reason why it's so quiet comes from the way its fan blades are built. Nine dual-layer rigid blades are capable of generating a powerful airflow, air pressure, and great cooling all throughout. All of this is done while reducing wind shear noises and noisy air turbulences.
Vibrations are kept at a minimum thanks to the way the fans have been engineered. Also, as this is a hydrodynamic bearing fan, noise is even further reduced due to the lack of friction. As you probably know by now, HDB fans have a long life expectancy. As such, this is a fan that once picked up, is likely to stay with you for as long as you like.
We don't recommend mounting it horizontally, as that is the one thing that may cause vibrations. It is an HDB fan, so you can mount it in any way you like, but the recommended orientation is vertical. To achieve the lowest noise levels possible, make sure you check out Cougar's CFD14HBR.
How we choose
When the market is filled with many interesting options and alternatives, picking out the fan that will work best for you is no easy feat. That's why we tend to put a lot of time into our research before we call a product "the best".
When we say research, we really mean it: we read up on the product, searching for information from every possible source. We then check out its performance in benchmarks and even review user feedback. The end goal is to make sure that we're narrowing down our list to only include worthwhile items.
Once all that is done, we move on to the testing! Only then are we truly able to recommend something and feel confident in the knowledge that we've signed our name under a good product? We like to take away all the stress that comes with building your PC. Let us worry about the research and simply reap the rewards by building the best computer you want!
How we test
Testing plays a massive part in our final decision when we assemble the list of products for our guides. Sometimes things can look good on paper but not so much so in reality — that's why we try to do as much testing as possible. As long as we're able to get our hands on a given product, we push it to the limit and then some. We want to ensure that you'll be able to overclock to your heart's content, and that can only be done with top-notch components.
Stress testing often reveals the true value of any part of a PC, be it a GPU or a case fan. Other than the benchmarks, we also take into consideration things like efficiency, longevity, design, and cost-to-performance ratio. All of the above helps us provide you with the most accurate and informative reviews of our favorite products. An informed choice is a good choice — that is the mantra that we try to follow when preparing our buying guides.
Things to consider
So you've decided to get a new 140mm case fan, or two, or even six. That's great! Whether you're aiming to slot them into your brand-new build or you're looking to upgrade your current rig, we fully believe that you can't go wrong with a little bit of extra cooling. Keep in mind that not all fans will suit all users. Before you jump the gun, we'd like you to stop right here and take a look at some of the things to consider before making your purchase.
What do I need in a fan?
This is a broad question, but it's the first one to ask. What are you going to use your new PC for? As an example, if you're mostly using it for work (and you're not working with heavy software), you may not need quite as much cooling as a competitive gamer does. However, the truth is that fans are always a worthy investment, and it's better to go with more than with less.
Another thing you absolutely need to check out is the pin compatibility. Some fans come with 3-pin, 4-pin, or Molex connectors. Most modern motherboards have a lot of room for extra fans, but you need to make sure that the fan can even be plugged into your motherboard in the first place.
Lastly, it's also a question of budget, which we talk about at length below.
Specs to consider
Other than the above, there are a few more technical things for you to be aware of before you click that tempting "order now" button. Any PC user, regardless of their tasks, will need to keep in mind the following:
Type of bearing
Bearing types in fans affect a lot of different factors, from performance to lifespan. In general, the cheapest sleeve bearings have the shortest life expectancy, while high-end fluid bearings tend to last for years.
The types of bearings include:
Sleeve bearings: affordable, quiet, can only be mounted vertically
Ball bearings: mounted in any direction, relatively silent, with moderate longevity
Rifle bearings: very similar to ball bearings
Fluid bearings (FDB and HDB) are usually high-end options. They offer reduced friction and up to 300,000 hours of solid performance
Magnetic levitation (ML): one of Corsair's lineups in fans, the magnetic levitation fans use magnets to create a frictionless bearing. Which leads to a much quieter experience across all RPMs and a longer lifespan.
Noise level
Obviously, not many people want a fan that is noisy. Most modern fans are quiet and if yours makes a lot of noise it could indicate a problem with the hardware or even the installation itself. However, there are many different levels of "quiet". Nearly all modern fans fall below 30 dB(A), but some really quiet models can maintain close to 15 dB(A). Before making your decision, ask yourself how important silent performance is to you.
RPM and CFM
RPM stands for revolutions per minute, while CFM stands for cubic feet per minute. In simple terms, this means that the first one controls your fan speeds while the second one controls the airflow.
When fans run at high RPM, they may generate better cooling, but it often comes at a cost: they get noisier. A good fan will remain quiet even at top fan speeds, but this too may change over time. Wear and tear affect fans just like any other component and it makes them less quiet as they age. The ideal balance will allow for good airflow and superb cooling at a relatively low RPM. That was one of our aims when we created this guide, so the fans we discuss should all perform quietly, even under pressure.
Design
While hardly the most important thing in comparison to pure specs, LED lighting has taken the market by storm. This makes it an important thing to think about beforehand. If you want shiny bright lights, be it a rainbow of colors or a single-colored vibrant hue, you'll want to look into LED/RGB fans.
How much do fans cost?
Fans are generally inexpensive, although 140mm variants obviously cost more than their 80mm counterparts. However, they do pack a lot more punch and are suited to large, high-end builds. One thing to keep in mind is that you're not likely to buy just one fan. Modern cases often accommodate up to six and depending on how much cooling you're interested in, you may find yourself spending more just to get several fans at once.
To give you a better idea of how much money you need to reserve in your budget, we've prepared a little rundown of approximate pricing for 140mm case fans.
Low-end 140mm case fan – $10-15
Mid-end 140mm case fan – $15-25
High-end 140mm case fan – $30-50+
The prices can vary a lot from model to model, so make sure you read the specs carefully — and if that's too daunting, just read our comprehensive reviews below!
Final Word
We hope that you enjoyed getting to know the best 140mm fans on the market. Whenever we test anything and then work on our guides, we try to make sure that we pick something for everyone. Budget, high-end, and mid-range fans were all included in our list. As we've put them through some pretty extensive testing, we feel certain that we can vouch for them — the above are truly the best fans currently on the market.
Just as we said at the very beginning, picking out the right case fan can almost seem like a chore. Fans lack the exciting specs that, for example, GPUs have. Case coolers may have no direct effect on your PC's performance in games and the like the way some other parts do, but that doesn't make them any less important.
FAQs
In general, yes 140mm will be better than any smaller fans if everything else is kept constant. They can put through a lot more air volume, through them even at lower RPMs. They do have lower compatibility though and might run a bit more expensive than 120mm options.
Are 120 or 140 fans quieter?
140mm fans will be quieter than 120mm fans in general. This is because they can spin a lot slower to move the same volume of air to provide sufficient cooling to your components. And with that slower speed, there is less sound from hitting and speeding up the air.
---