Best big-screen tablets: the largest tablets out there
In a world where portability is becoming just as important as power, some of the largest tablets out there can still provide a great balance - here are the best you can buy
Updated: Apr 13, 2022 4:05 pm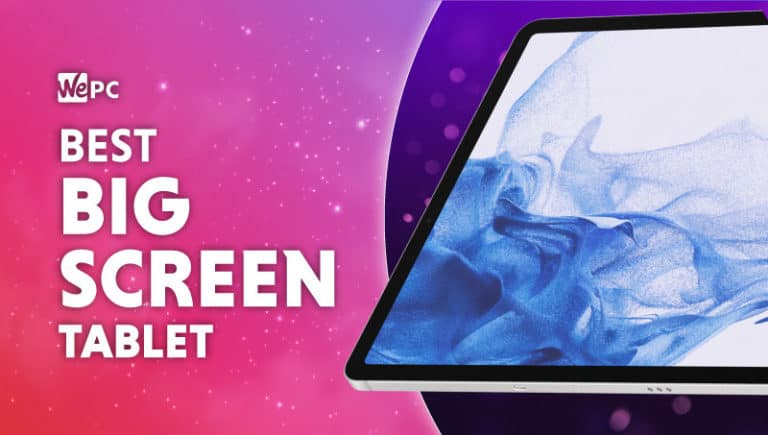 Size does matter and although tablets are designed to be portable, there are many reasons why you'd want to get a tablet with as big a screen as possible. A big screen differentiates your tablet from your phone and makes watching films or playing games that much more enjoyable.
And tablets can do so much more than just entertain. A big screen makes it possible to work productively on a tablet, too.
If you can find an ecosystem that works for you, having a tablet handy along with your laptop could allow you to be more productive.
If you're on the lookout for the largest tablet, we've found the best that money can buy – check out our comprehensive guide below.
---
01
The largest tablet with excellent features
Samsung Galaxy Tab S8+ Ultra
02
The best poratable experience from Apple
03
The best large tablet for gaming
---
Largest tablets: things to consider
When it comes to the largest tablets, you are spoiled with choices when it comes to the operating system. It comes down to Android, iOS, and of course Windows. Here's a quick comparison:
iPad OS
For people invested in the Apple ecosystem, this is the default choice. An iPad will support features such as Airplay, Airdrop, Universal Control, and other stuff that is exclusive to the Apple ecosystem. Despite Android catching up, iPad OS still has apps such as Procreate that separate it from the crowd.
However, multitasking is not all that it's cut out to be on iPads. Split-screen works well, but things like file management and floating windows still need a lot of work.
Android
Samsung is the only manufacturer out there that is yet to give up on Android tablets. While Android on a tablet is an experience we would avoid in the past, Samsung's One UI makes it feel like a premium experience. Features such as Samsung Dex allow you to turn these tablets into true laptops.
Versatility and customization are the key points of Android. Still, some apps are just better on iPads.
Windows
Windows is the dominant operating system when it comes to both desktops PCs and laptops. Windows 11 is great when it comes to getting work done on the go. However, despite Microsoft stating otherwise, we all know Windows can be a bug-ridden mess.
Of course, that does not stop people from using it. Especially when it comes to gaming, as Windows tends to be the default choice. There's not much else to say, you know what you get here.
Performance vs portability
Now, this is an interesting thing to talk about in a guide about the largest tablets. If you're buying a large tablet, you want it to be powerful. However, you want it to be portable as well, or else what is the point of a tablet in the first place? So, there is a specific balance that needs to align here.
This is all the more relevant with the recent launch of devices such as the ROG Flow Z13, and Galaxy Tab S8 Ultra. These are massive portable powerhouses, but not as portable as something like an iPad Air.
So, consider what you might want to do on a tablet. If it's a desktop-like experience and versatility you are looking for, then that's where performance becomes crucial versus portability.
Multitasking
The best thing about the largest tablets is that there is so much room to play around and work with. Tablets are already a decent size, but anything above 10-inches is considered large. However, multitasking needs to be good to make use of that screen real estate.
With that said, it may or may not matter to you. Some people may want to use their tablets as laptops. They might have several tabs open, Youtube playing in the background, and a couple of documents open at one time.
Others might just want to have a drawing app open while working and use their tablets as entertainment while winding down. In that case, you might not even care about multitasking.
Battery life
When it comes to the largest tablets, you are right to expect excellent performance in a portable package. That's the main selling point here. However, know that when you're buying a tablet you essentially have another device that you need to charge.
In the case of some of the largest tablets, it may be sooner rather than later. As such, you want to ensure that battery life is good. Samsung tablets and iPads are great in this regard, while Windows machines are definitely not as good.
Best big screen and largest tablets: in-depth review
Samsung Galaxy Tab S8+ Ultra
Absolutely stunning display

Samsung Dex is a gamechanger

Superb battery life

Dual front cameras
Pricier than many laptops
There is no doubt about it, the Galaxy S8 Ultra is the most premium of the largest tablets out there. While there are Windows tablets that could outdo it in performance, they can not come close to the excellence of Samsung's user experience.
First off, this thing has a gigantic 14.6-inch, high-resolution, high refresh-rate, Super AMOLED panel. This is by far the most beautiful display we have seen on a tablet, rivaled only by the iPad Pro 12.9. The panel is bright, ultra-high-resolution, and the design is great too. It's essentially the screen of a premium ultrabook, but without the chassis of one.
Performance is good thanks to the Snapdragon 8 Gen 1. However, Samsung Dex is the most interesting part here. This essentially allows you to use a desktop-like mode, giving you a full-fledged desktop interface. It resembles a Chromebook, floating Windows and all.
That's where the Tab S8 Ultra stands out from the crowd. The versatility is amazing here. You can use it as a second display for your desk setup, or even just use it as your main device. Needless to say, it is great for gaming too.
All things considered, this is the cream of the crop when it comes to the largest tablets.
---
iPad Pro 12.9″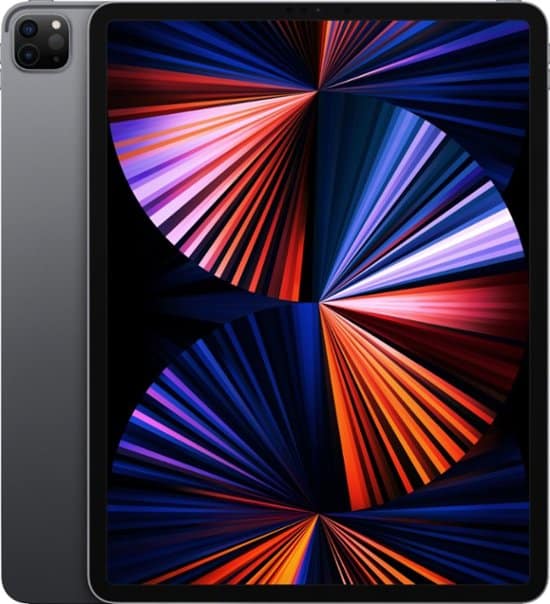 Stunning Liquid Retina XDR screen

The M1 chip is extremely powerful

Great front and rear cameras

Exclusive Apple ecosystem features
The iPad Pro is Apple's proudest accomplishment when it comes to high-end portable machines. You could almost say it has the potential to replace the Macbook Air, which has been one of its biggest successes for decades now.
If you are deep into the Apple ecosystem, this is the best of the largest tablets out there. It uses a high-end display, and the Promotion tech means it can go up to 120Hz for the refresh rate. The Mini-LED panel is just as impressive as Samsung's Super AMOLED displays. It's hard to say which is better.
Performance is sublime thanks to the M1 chip inside here. The hardware is so good that Apple may just need to overhaul iPad OS to fully take advantage of it. Apps such as Procreate make this the perfect tool for designers, and that is one of the many reasons behind its popularity.
Apple's biggest trump card is its ecosystem. Universal Control, iMessage, Facetime, Airdrop, Spatial Audio are all features that ensure people stay with Apple customers for longer. We can't complain much, it works well for them.
Overall, this is by far the best iPad and one of the best largest tablets in 2022.
---
ASUS ROG Flow Z13 (2022)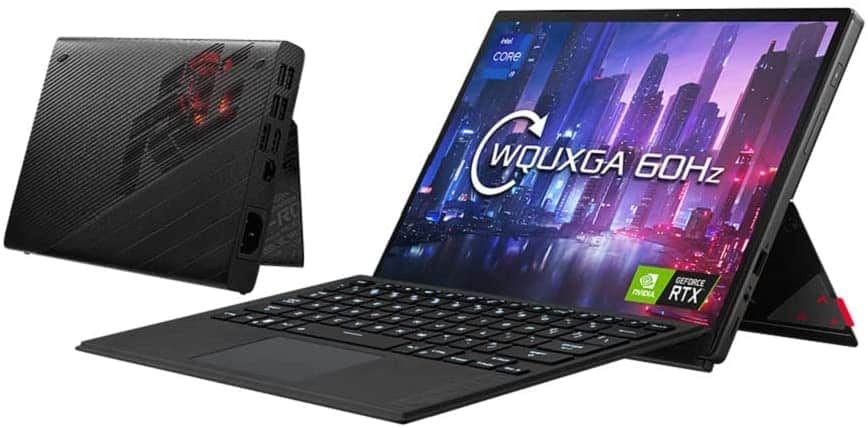 Unique futuristic design

Incredible performance

Excellent connectivity

Phenomenal display
Gaming tablet is a term that often gets a bad reputation. However, that's not the case here. If gaming is your primary concern, this is the best of the largest tablets out there for you. That's because this thing runs Windows, not Android, giving you access to your entire PC gaming library.
The ASUS ROG Flow Z13 design is impressive. The back of this tablet features a kickstand and some see-through elements with customizable lighting. It plays into that whole aggressive gamer aesthetic beautifully, all the while giving it a more modern spin.
As for the display, you get a 1920 x 1200 display with a refresh rate of 120Hz. It even covers 100% of the sRGB color gamut. The chiclet-style RGB keyboard is included. If the internal performance is not good enough, you can hook up an external GPU for more demanding games.
This is definitely a niche and over-the-top product, and that's what makes it so appealing.
---
Samsung Galaxy Tab S8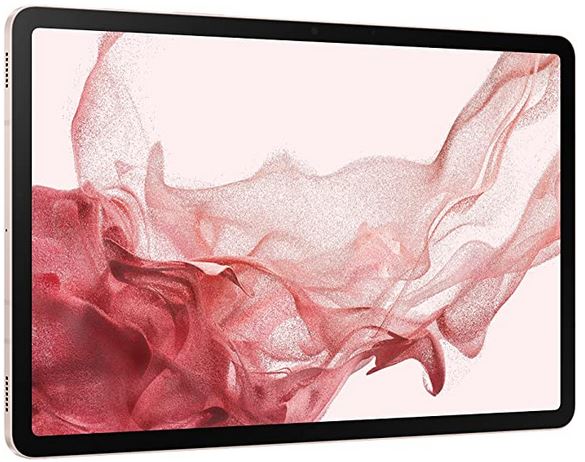 Same multitasking features as Ultra model

Stellar battery life

Perfect for artists
No in-screen fingerprint scanner

Limited upgrade from its predecessors
We've already established that the S8 Ultra is the best of the largest tablets out there. Well, take everything great about that tablet, and just shrink it down. That's what you get with the Galaxy Tab S8.
In fact, we believe this may be the better choice for a lot of people. It's more portable, provides better comfort to draw on, and has a slightly better battery life. You still get the included S-pen and the same excellent features of Samsung Dex.
There are a few things missing here, such as the fingerprint scanner under the screen. It also uses a lower quality panel than the Ultra model, but the 120Hz display here is still great. Essentially, it's the more mainstream option out of the two.
At 11-inches, it's a bit smaller than others, but it's still great when it comes to large tablets over 10-inches.
---
Lenovo Tab M10 Plus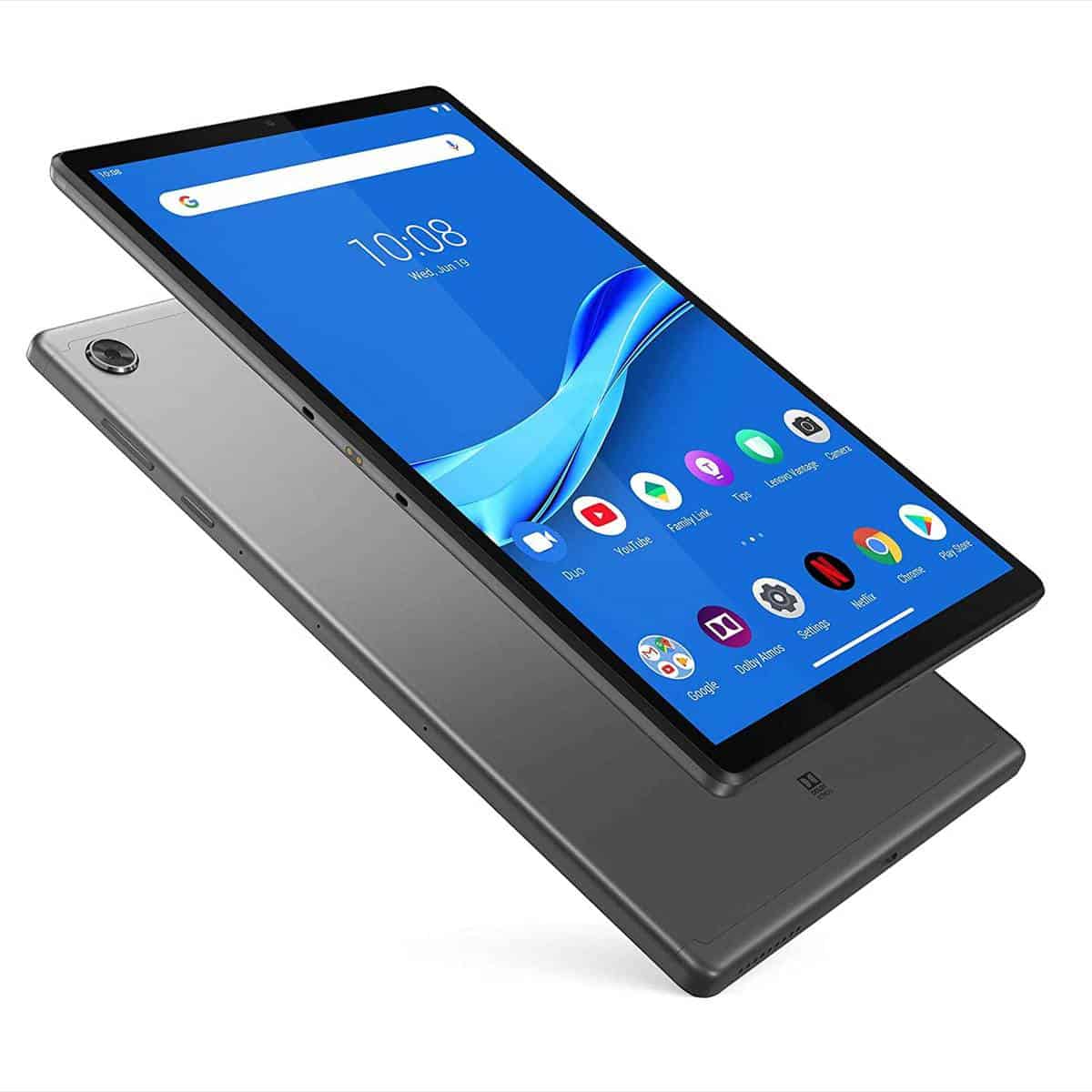 Perfect for media consumption

Decent cameras

Long battery life
Lackluster performance

Lacks versatility
Finally, we have the Lenovo Yoga Tab M10 PLUS. While it may not necessarily be the best of the largest tablets on this list, it's still an interesting product. This tablet does not boast about its performance, versatility, or even productivity features.
Instead, it focuses on one thing: media consumption. If you think of this tablet as a large screen for watching movies, one that lives on your kitchen counter or nightstand, that's where it makes the most sense. The 10.1-inch display is vivid and sharp and built exactly for that scenario.
Performance is decent, although it does not keep up with the iPad Air nor the Tab S8. However, storage is plentiful, and for casual usage, it works fine enough. People would be mainly using this for reading and watching videos, and it works well for that.
When it comes to the largest tablets, it's not the most versatile, yet makes perfect sense as a Netflix/Youtube companion.
---
Related tablet guides
---
Final word
If you are looking for the best big-screen/largest tablet right now, then the Tab S8 Ultra is really impressive. The iPad Pro will still appeal to the people in the Apple ecosystem, and ASUS's gaming behemoth is certainly nothing short of phenomenal.
The Lenovo Tab and Galaxy Tab S8 are also great options if you're feeling a bit more conservative.
The Galaxy S8 Ultra has made this niche in the market an exciting place. For the first time, you're getting a tablet that can truly replace your laptop. Although it costs more than the excellent Macbook Air right now, it's hard to ignore the appeal of a device that is this versatile. It will be exciting to see where the largest tablets of the world go from here.
---