Best Windows tablet 2023
Windows tablets will always be more flexible and capable than their Android or Apple counterparts. For those of you who want the desktop experience on a mobile device, check out our favorite Windows tablets.
Updated: May 2, 2023 8:32 am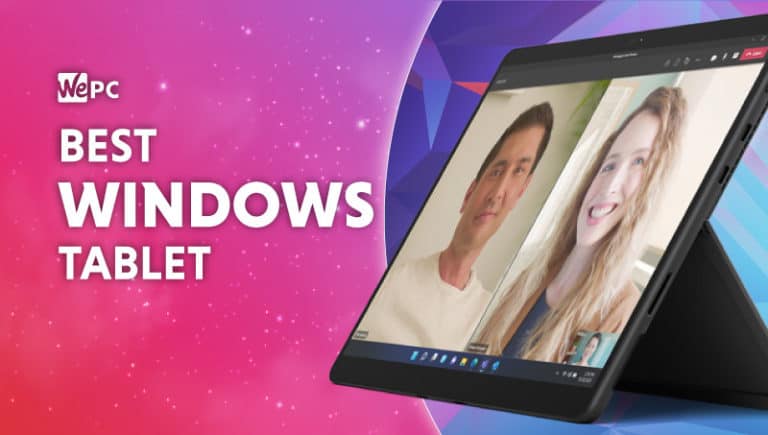 01

Still The Best All-Round Windows Tablet

02

A solid tablet for business on the move

03

A more slimline and affordable Microsoft Surface Pro
If you're looking for the best Windows tablet in 2023, you'll find a decent few choices worth considering. Although Android tablets substantially outnumber them, the Windows operating system (OS) tends to be the preferred option for 2-in-1 laptop/tablets (i.e. devices that can convert between the form factor of both) or 'surface' style devices (which tend to operate more like tablets, but with a detachable keyboard). This is because the Windows OS allows for greater 'laptop-like' functionality to be unlocked on these devices, making them ideal for the workplace.
A good Windows tablet should have decent performance, a good form factor, or at the very least reasonable specs at a reasonable price. Of course, a combination of all three of these things would be preferred. So, after taking a look at all of the options out there in the market, we were able to narrow it down to just five. We'll be covering them briefly, but first here's a look at our top choices for the best Windows tablet.
Best Windows tablet: products at a glance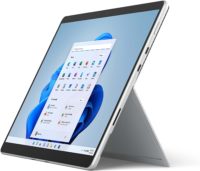 Intel Core i5-1135G7 / i7-1185G7
13-inch, 2280 x 1920 pixels, 120Hz
128GB / 256GB / 512GB / 1TB SSD
2x USB-C with Thunderbolt 4, Surface connect port, Headphone jack
1x USB-C with Thunderbolt 4, 1x USB-C 3.2 Gen 2, Headphone jack
128GB / 256GB / 512GB SSD
2x USB-C, Surface connect port, Headphone jack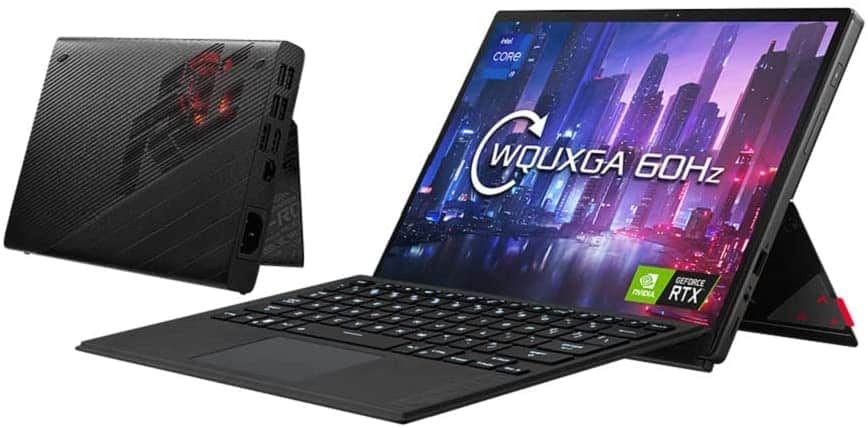 Intel Core i5-12500H/ i7-12700H/ i9-12900H
Intel Xe (iGPU) / RTX 3050 (40W) / RTX 3050 Ti (40W)
Dell Latitude 7000 7320 Detachable 13 2-in-1
13-inch, 1920 x 1280 pixels
---
Best Windows tablet: our top picks
01

The best Windows tablet

02

A solid tablet for business on the move

03

Premium features, sleek aesthetic
---
Best Windows tablet: In-depth review
Still the best all-round Windows tablet, now available at a reduced price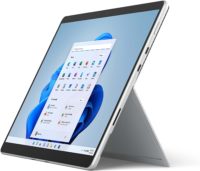 Intel Core i5-1135G7 / i7-1185G7
13-inch, 2280 x 1920 pixels, 120Hz
128GB / 256GB / 512GB / 1TB SSD
2x USB-C with Thunderbolt 4, Surface connect port, Headphone jack
Superb performance

Good connectivity

Gorgeous 120Hz display

Sleek design and form factor
The Microsoft Surface Pro 8 is easily the most well-rounded Windows tablet. This tablet has great specs on paper, a fantastic design, and a stunning display on top of that. This is hands down the best Windows tablet out there.
The real reason why the Surface Pro 8 is on the top of our list is because of the fact that it is the one to recommend for most people. First off, the design is sleek and elegant, and the lightweight design adds to the overall appeal. The form factor is slick and generally, the device feels great to use.
Although it's expensive, mainly because the type cover is sold separately, that's what it will cost you for the best Windows tablet. The Core i7 processor inside is great for everyday tasks, and it can handle real-world workloads with ease.
Apart from that, everything just works here. The type cover is elegant, and the keys feel great to type on. Furthermore, the new pen feels much better to use and will appeal to avid note takers and digital artists.
Considering it ticks all of the right boxes, this is the best Windows tablet and it's easy to recommend.
The second best Windows tablet
1x USB-C with Thunderbolt 4, 1x USB-C 3.2 Gen 2, Headphone jack
Great performance for its size

Sleek and portable

Includes keyboard and stylus

Features Windows Hello
Lenovo's Thinkpad lineup has consistently been the go-to choice for a work laptop. If you are a fan of the iconic Thinkpad design and want a reliable machine, then this may be the best Windows tablet out there for you.
As the name suggests, this is a device that looks quite similar to other models in the Thinkpad lineup. It features a detachable keyboard, which allows you to easily switch between tablet and laptop mode. The keyboard cover and a stylus are included out of the box.
Speaking of the keyboard, this may very well be the best one for any Windows tablet. Thinkpads always have great keyboards, and this one is no different. Unfortunately, the trackpad does seem a bit small. Performance is excellent though, thanks to the Core i5 processor under the hood.
Battery life is surprisingly good, which is important for a Windows tablet such as this one. The 12.3-inch screen is small, but it is sharp and vibrant. The 3:2 aspect ratio gives you access to more vertical screen real estate than your average 16:9 display. Finally, the stylus feels quite decent to use as well.
Overall, this is by far the best Windows laptop out there for fans of this iconic design and layout.
A more slimline and affordable Microsoft Surface Pro
128GB / 256GB / 512GB SSD
2x USB-C, Surface connect port, Headphone jack
Slick industrial design

Thin and lightweight

Long battery life

Surprisingly great cameras
The Microsoft Surface Pro X takes a lot of inspiration from the Surface Pro 8. It strips away a few features, but in turn, converts the tablet into a sleeker and even more portable device. For those who don't need a lot of processing power, this might be the best Windows tablet out there.
It really is quite impressive just how thin and slick this tablet really is. The thickness is about 7.3mm, but numbers don't do it justice. You'll be just as surprised as we were if you end up buying it. It still manages to include two USB-C ports, but this time without Thunderbolt 4.
The screen is almost the same as the Surface Pro 8, but it takes away the 120Hz refresh rate. While this 3:2 display is 60Hz, it still looks and feels great while in use. Surprisingly, the cameras on this thing are quite decent, so you're all covered for video calls.
A device like this does come with some sacrifices. We already talked about the lack of Thunderbolt, but performance is something you need to be aware of as well. This one is not for the power users, rather, it's intended for taking notes, working on documents, or watching videos.
This could be the best Windows tablet for you if you need something sleek and lightweight, yet don't mind the lack of performance.
The best Windows tablet for gaming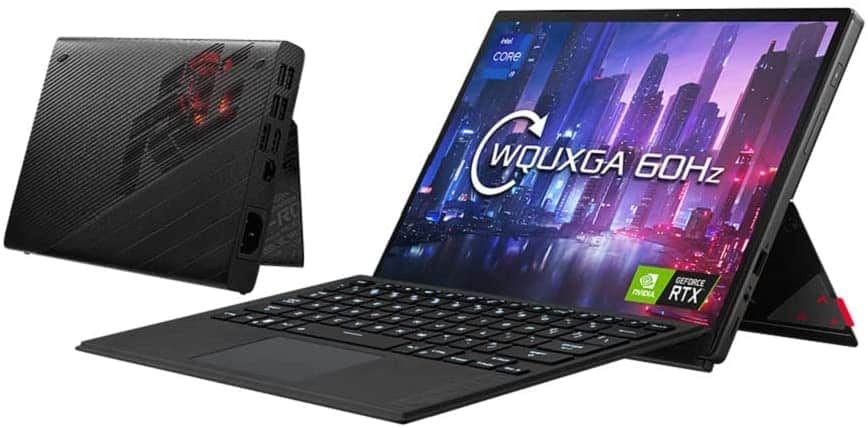 Intel Core i5-12500H/ i7-12700H/ i9-12900H
Intel Xe (iGPU) / RTX 3050 (40W) / RTX 3050 Ti (40W)
combined with the ROG XG Mobile, as powerful as any gaming laptop

superb brightness & contrast

great color accuracy and panel uniformity

optional ROG XG Mobile comes with lots of ports

good quality detachable keyboard & trackpad

great build quality
poor gaming performance with the Flow Z13 on its own

very expensive

poor response times

insufficient ports on the Flow Z13

poor cameras/webcam and mic

lacklustre battery life

color gamut would be wider

No G-Sync
The ASUS ROG Flow Z13 gaming tablet is a fairly unique device that combines the classic tablet/surface form factor with detachable keyboard and kickstand, with compatibility with an external GPU that gives it superior gaming power. You get different Intel CPU options as well as an onboard graphics card in the form of integrated Intel Xe graphics, or dedicated RTX 3050 or RTX 3050 Ti mobile graphics cards. The main attraction however is that you can combine it with an XG Mobile RTX 3080 graphics card, which is roughly equivalent to an RTX 3080 laptop GPU in terms of power.
This combination is certainly not cheap but it's by far the most powerful Windows tablet / surface-like device in gaming terms available on the market. You simply won't find anything like it anywhere else.
The last variant we reviewed was the Flow Z13 from 2022, but a newer ASUS ROG Flow Z13 2023 model is now on the market with Nvidia 40-series graphics and 13th gen CPU options. Although we haven't reviewed the 2023 model yet, the 2022 device comes with its fair share of drawbacks compared to gaming laptops you could pick up for a similar price or cheaper (No G-Sync, poor battery life, poor cameras/webcam and mic, and inferior display response times). You may wish to pick up a 14-inch gaming laptop instead, or, if you're open to the idea of a larger 2-in-1 laptop (one that folds with a hinge into a tablet form-factor) take a gander at the ASUS ROG Flow X16 (which scored highly in our review last year), now available with the latest-gen components.
However overall the screen brightness, contrast, color accuracy and panel uniformity on the Flow Z13 are all great – meaning it would be suited for a dual-use creative device working with visual media. The build quality is also good quality, as with most ASUS products.
Dell's best Windows tablet
Dell Latitude 7000 7320 Detachable 13 2-in-1
13-inch, 1920 x 1280 pixels
Fantastic display

Impressive performance

Comes with keyboard cover and stylus
Quite expensive

Trackpad feels a bit uncomfortable
The Dell 7320 detachable is the ultimate Windows tablet for folks who need a serious business laptop-like experience. In that scenario, the 7320 works quite well, and truly mimics the feel of a traditional laptop, something we know that Dell buyers care a lot about.
This one is quite pricey but you would expect that from the design and specs on paper here. Let's start with the screen. It features a sharp and enjoyable screen with an FHD+ resolution. The 13 inches of screen real estate feels roomy and enables you to enjoy content comfortably.
Performance is quite good, thanks to the Core i7 inside. It can handle day-to-day tasks that most people would demand from a sleek business laptop. The keyboard feels great to type on, but the trackpad does feel quite small here. The integrated kickstand is also a nice touch.
The real downside to this tablet is the fact it is quite expensive as configured. It could have been on the top of the list as the best Windows tablet if pricing was slightly more reasonable.
Still, for corporate jet setters who demand a slick experience, this is a worthy Windows tablet.
The best Windows tablet for portability
Ultra-portable design

Excellent cameras

Great battery life
Expensive for its configuration

Lackluster performance
It appears as if the Surface Go 3 is the polar opposite of the Surface Pro 8. While the latter might be the best Windows tablet all-around, the former is more suited for students and people who are looking for a Windows experience in the most portable form factor possible.
That is exactly why the Surface Go 3 is appealing to so many people. As the name itself implies, this is a Windows tablet that focuses on people who need a desktop-like interface while on the move. While it lags behind in performance compared to others on this list, it's also more portable and lightweight.
The Surface Go 3 is hard to recommend to everyone, as it is more of a niche product. Those who can appreciate the simplicity and design will immediately love it. Others who want more performance will be left underwhelmed.
While quite expensive for its specs, the Surface Go 3 is a great Windows tablet if you care about sheer portability.
---
Best Windows tablets: things to consider
Before you go out and start looking at the best Windows tablets, there are certain things every buyer needs to be aware of to make the right choice. To help with that, have a look at our buyer's guide.
Processor, RAM, and storage
First off, let's talk about the processor. Most Windows tablets these days use Intel Processors. Some of the latest tablets are running on 11th Gen Intel processors, as we are yet to see them be updated with 12th gen chips. There are a few exceptions, like the Microsoft Surface Pro X, which uses an ARM-based processor.
We don't need to remind anyone why RAM is important. Most tablets start with 8GB of RAM, which can usually be upgraded before buying. You don't want to go any lower, as Windows will start to slow down. For people who want to use their tablet for longer, you'll want 16GB for futureproofing.
Finally, storage is important depending on whether you'll be using the device casually, or as a full desktop replacement. You need to know an estimate of how much space your apps, files, and projects are going to take up. Most tablets will start with at least 128 or 256GB of storage.
Finding the right form factor
We reckon most people are looking towards the best Windows tablets mostly because of the form factor. Tablets tend to be more portable than most Windows laptops, and they are easier to use when you are just lounging around and using them casually.
However, if you're going to need performance, the tablet is going to be bigger and thicker. A tablet that focuses on performance, like the Latitude 7220 is in a different league than Surface Go 3, which focuses instead on portability.
This is why it is important to know what kind of performance you want beforehand. On the flip side, if portability is highly important to you, you will be sacrificing a bit of performance.
Battery life
Battery life is important since a tablet might get more usage than a traditional laptop. The best Windows tablets tend to be a joy to use, even while just casually browsing the web. As such, you may find that you are using the tablet for work, as well as for leisure.
So, battery life is highly important, or you'll find yourself always staying plugged in or hunting around for a charger. Sadly, this is something a lot of manufacturers tend to miss, so pay attention to it.
The display
Well, this goes without saying. The best Windows tablet should have a great display. As we just discussed, a tablet is great because you can use it for work as well as for watching videos, browsing the web, or even reading something. As such, display quality is important.
Fortunately, all of the Windows tablets in our roundup have good screens, so you are taken care of in that regard.
Connectivity
This is something a lot of people tend to forget when they are shopping around for the best Windows tablet. Because of the size and form factor, a tablet is always going to have fewer ports than a traditional laptop. USB Type-A ports are rare, so hopefully, you can make use of Type-C without any issues.
Some tablets may support Thunderbolt 4, others may not. Thankfully, a headphone jack is at least more common in Windows tablets than those that use other operating systems. Still, you mostly won't find any HDMI ports or full-sized SD card readers with most Windows tablets.
Look for a stylus
While a digital pen or stylus isn't a requirement, having one makes the tablet experience much better. A few tablets come with one out of the box, but the majority will not. This is definitely something to look out for if you feel like you will benefit from using it.
If you are an artist or digital creator, a stylus is necessary then. If the tablet in question does not come with one, then remember purchasing one separately will add to the cost.
Related tablet guides
Best Windows tablet 2023 FAQs
Are Windows tablets still a thing?
Windows tablets are indeed still a thing. The Microsoft Surface Pro series are the most popular and famous, but Dell and Lenovo also produce some models of their own.
Do any tablets use Windows 10?
The Microsoft Surface Pro X often comes equipped with Windows 10, as does the Surface Pro 7.
Newer models tend to have Windows 11 equipped, as it gives grater functionality to tablet devices, however they can still be compatible with Windows 10.
---
Best Windows tablet 2023: Final word
So, to conclude, if you're looking for the absolute best Windows tablet, we cannot recommend the Surface Pro 8 enough. Other products in the Surface lineup such as the Pro X and Go 3 are also great, depending on your use case.
Other than that, both the Thinkpad X12 Detachable and Latitude 7320 Detachable are great tablets for a business laptop-like experience.
Windows tablets are certainly an interesting breed. While they are more flexible and allow you to get more work done than Android tablets and iPads, their interface is certainly closer to a desktop rather than a mobile one. They also make the best gaming tablet models for obvious reasons (games run best on Windows).
This is why most people will feel more comfortable with Windows tablets because the experience feels familiar. We're sure this guide will have helped you nail the perfect choice.
---