ASUS ROG Flow X16 review
We test & benchmark the ASUS ROG Flow X16 2-in-1 gaming laptop
Updated: Aug 8, 2022 11:12 am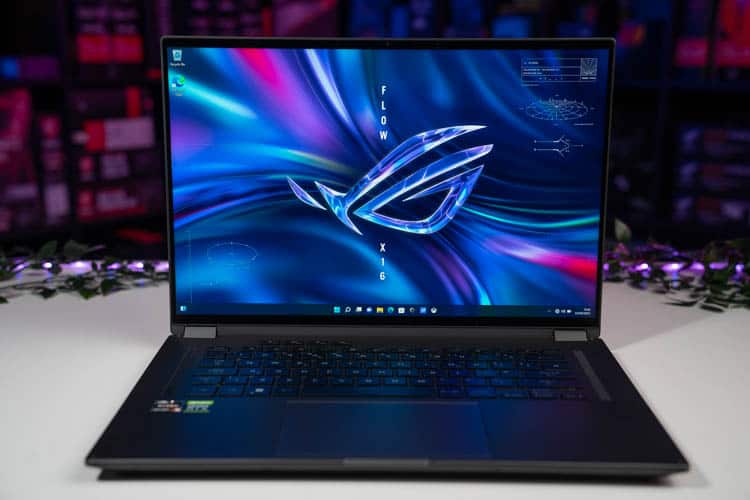 The ASUS ROG Flow X16 is a new offering from a company that is producing some of the best gaming laptops of 2022. This premium 2-in-1 gaming laptop meets the needs of people who wanted a larger version of the ASUS ROG Flow X13 / Z13, which are also able to switch between a conventional laptop form factor and that of the tablet, coming with a touch screen display that can be used with a stylus pen. The powerful CPU and GPU options, plus improved cooling yet slim size, make it an interesting choice for a portable gaming platform; whilst the option for a 100% DCI-P3 mini-LED display capable of showing HDR media, plus tablet functionality suggest a great dual-use machine for creatives. Read on to see if the ASUS ROG Flow X16 meets its potential!
Update 3rd July 2022: (additional testing data added to Screen, Benchmarks, and Battery Life sections).
Deals are live! Get huge savings on gaming laptops on Best Buy or HP in 2022, on the likes of the ASUS ROG Zephyrus M16, MSI Delta, Lenovo Legion Slim 7, HP Victus, and ASUS TUF DASH gaming laptops. For more selections, check out our Best Amazon Prime day gaming laptop deals page.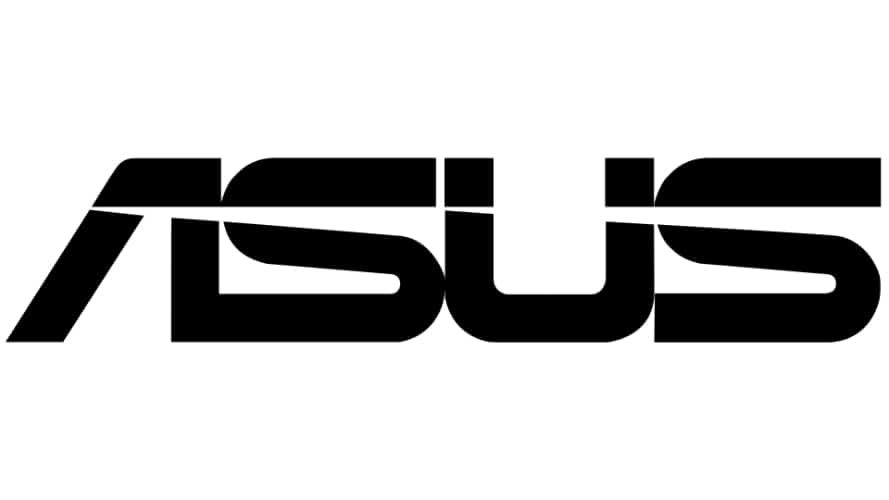 CPU
AMD Ryzen 9 6900HS (8C/16T)
Graphics
Nvidia GeForce RTX 3050 Ti (125W) / RTX 3060 (125W) / RTX 3070 Ti (125W)
RAM
32GB/64GB 4800MHz DDR5
Storage
1TB / 2TB M.2 NVMe
Specifications & upgradability
AMD Ryzen 9 6900HS (8C/16T)
Nvidia GeForce RTX 3050 Ti (125W) / RTX 3060 (125W) / RTX 3070 Ti (125W)
2x USB-A 3.2 (Gen 2), 1x USB-C 3.2 (Gen 2) with DisplayPort 1.4 & 100W charging, 1x PCIe 4.0 x8 & USB-C 3.2 combo port, 1x microSD card reader,1 x HDMI 2.1 (supports 120Hz 4K output), 3.5mm audio combo jack
great in-game FPS performance

MUX Switch

High-res 16:10 display

Superb peak brightness

100% DCI-P3 & sRGB color replication

HDR mode for viewing HDR content

Touch screen & stylus support

FreeSync

thin, lightweight & portable

good quality membrane keyboard & trackpad

mini-SD card reader

good build quality

good quality speakers for a Windows laptop
color accuracy could be better

maximum 165Hz refresh rate

no ethernet port

some screen wobble

keyboard placement a bit too far back

fairly pricey
Opening the back of the laptop required removing 11 Phillip's Head screws and a bit of careful but firm prying (we recommend a slender prying tool for this job).
Once inside you can see the two M.2 storage slots on either side as well as the two DDR5 memory slots in the centre. A welcome improvement over previous ASUS gaming laptops is that these memory slots are now upgradable, rather than soldered on, allowing for future updating. There is also a Wi-Fi 6E card.
The addition of a third, centrally-placed fan helps to keep the X16 comparatively quiet whilst also remaining cool, as the fan speeds can remain lower than if there was just two. Additionally the central fan blows air out across the heatpipes and through the back vents of the laptop, which occupy the entire rear side (a fairly unique design). The CPU is cooled with liquid metal and the GPU comes with new Pulsar Heatsink technology that redirects airflow to the GPU.
As far as we're aware there is only one CPU option, the AMD Ryzen 9 6900HS, which isn't as powerful as Intel 12th gen laptop options (the i7-12700H and up) in most scenarios, but does beat them on energy efficiency. There are three Nvidia GPU options to choose from: the RTX 3050 Ti, RTX 3060, and RTX 3070 Ti, and we tested the most powerful RTX 3070 Ti one. The TGP of all three of these graphics cards is 125W, which makes the two lower SKU cards the most powerful options available of their type, whereas the RTX 3070 Ti is below the maximum 150W option we've tested in laptops like the XMG Neo 15 E22.
The X16 also comes with compatibility with the ROG XG Mobile external GPU series that ASUS produce. Sadly we didn't get one to test with this machine, though we did do previously when we reviewed the ASUS ROG Flow Z13 (2022). That 2-in-1 laptop/gaming tablet came with an internal RTX 3050 Ti (40W) and we had an ASUS ROG XG Mobile RTX 3080 (150W) external GPU to go with it. Getting an external graphics card with the powerful loadout we had would be relatively pointless, but the inclusion of the slot is good for future proofing the machine if you wanted to get a more powerful eGPU in years to come (assuming ASUS continue to support the technology). Indeed the proprietary combo port on the X16 is PCIe 4.0 slot, meaning greater forward compatibility and performance with future XG Mobile eGPUs that support it (the present ones do not). If you opted to go with the RTX 3050 Ti or RTX 3060 loadout, then the more powerful eGPU slot might be of more use at the present time to give you extra gaming power at your desk.
Finally, probably the biggest draw of this machine is the option for the mini-LED ROG Nebula HDR display, which is the one we had in our test model. Mini-LED technology doesn't fall victim to the same drawbacks of OLED tech, like screen burn-in and the potential for reduced longevity due to the organic compound, plus Mini-LED displays tend to be brighter than those on OLED laptops. The main downside of Mini-LED compared to OLED is that there are a finite number of dimming zones, unlike OLED where each pixel can turn itself on and off, which means the contrast ratio and black depth will never be as good. Still, this particular display has 512 dimming zones, which is good, meaning minimal blooming. This is the only gaming laptop we're aware of that has a mini-LED panel. See the Screen section below where we put the display through its paces.
Software
The ASUS ROG Flow X16 comes with ASUS Armoury Crate software, which we're very familiar with from other ASUS gaming laptops, but which we still hate to navigate. It's riddled with pop ups, unclear, distracting flashy visuals, and is poorly organised.
That being said, it does have a good degree of functionality, and tweakable options, which all enable you to tailor your experience; whether you're looking for maximum gaming performance when plugged in, maximum energy efficiency on battery, or (in the case of the mini-LED version of this laptop) wish to view HDR content with the panel's full 512 dimming zones.
Most of these controls are under the Home section, where you can select from Silent, Balanced or Turbo presets, or create your own Manual custom profile where you can allocate wattage to the CPU and GPU as well as set up fan profiles and save them so you can easily switch between them.
We'll go into the different functionality in greater detail under the Screen and Performance, Noise & Temperature sections below.
Design aesthetics & RGB
The ROG Flow X16 comes with one color option: a dark metallic grey chassis with black keys. There is a lined, ridged effect and texture across the whole body of the laptop, with different sized lines on the lid compared to the inner body of the laptop and the trackpad, and the ASUS ROG logo cleverly etched out in the same style to the bottom right of the keyboard. The whole effect looks good and feels nice to the touch, and helps give the impression of a quality device.
There is one lighting zone underneath the keyboard that also shines through the lettering of the keys, with different RGB patterns that can be controlled from within the Armoury Crate software. The brightness of the backlighting has three settings (four if you include off completely) that are satisfactory bright even on a sunny day.
Size, build quality & ergonomics
The dimensions of the ASUS ROG Flow X16 are as follows:
Height: 1.94cm / 0.76″, Width: 35.5cm / 13.98″, Depth: 24.3cm / 9.57″
Looking at the weight now:
laptop: 2.2kg / 4.85lb, power adapter & cable: 0.7kg / 1.54lb, combined weight 2.9kg / 6.39lb
All told the dimensions are very similar to both the ASUS ROG Zephyrus M16 (another 16-inch display device) and ASUS ROG Zephyrus G15 (a 15-inch display laptop). The weight is a touch heavier than the G15, but almost the same as the M16. For a gaming laptop, this is very respectable, and the whole thing fits easily in a small to medium-sized rucksack, however for a tablet device it's a bit large and cumbersome. You wouldn't likely use the X16 as you would a conventional tablet or smaller 2-in-1 tablet device as a result.
Unlike the Z13, which has detachable Microsoft Surface-style keyboards, the 2-in-1 360° hinge of the X16 folds the keyboard section around the back. This can feel a bit awkward when you're holding it in tablet position as you can feel the keys depressing behind the screen, however past the 180° point both the keyboard and trackpad are automatically deactivated, meaning you can't accidentally miss type/miss click.
The device makes more sense in 'tablet mode' to use as a roughly A4-sized drawing pad flat on the table, or in tent/pyramid mode as a viewing screen to watch media on, or connected with an external keyboard and mouse for gaming. This upside-down arrangement might affect the efficiency of the cooling somewhat, which may add a bit more thermal throttling to your gaming experience, but it's unlikely to be anything too drastic.
The chassis is a mixture of aluminium and magnesium which actually feels bit more like plastic to the touch, rather than metal. As with most ASUS products, build quality felt good and solid for the most part, particularly around the main body of the laptop, keyboard, and touchpad.
The one area which could have done with some improvement in terms of build quality is the hinge, which we found to be a bit on the loose side. When the laptop was turned to the pyramid shape we found a slight knock would cause the hinge to open up a bit more, rather than remaining fixed in the position it was set in. Whilst this didn't prove to me much of a problem in practise, the screen wobble when typing was more irritating. It's not too bad on an office desk, but when writing an article on a train for instance, it becomes annoyingly noticeable.
Keyboard, trackpad & touchscreen
The membrane keyboard feels quite satisfyingly clicky and responsive, with decent key travel. Similarly the trackpad was responsive and has a satisfying click.
The keyboard sits quite far back from the front of the laptop, behind the large wrist rest and trackpad. The positioning can be a little awkward if you have smaller-sized hands, and you may find yourself accidentally nudging the trackpad with the side of your thumbs / inner hands when trying to type some of the back-central keys. A slightly smaller trackpad for a closer keyboard would have been a worthwhile trade-off.
Still, once we got used to the positioning we didn't make many typing errors, and overall the ping experience was pleasant.
The keyboard has various useful shortcuts as secondary functions of the function keys, including a sleep button, airplane mode, a button to disable to the trackpad, one to quickly cycle through the fan performance profiles and another to open the Armoury crate software.
Unfortunately, we were not sent a stylus with our review unit by ASUS, however the X16 has Stylus support MPP 2.0 technology, which is at least compatible with ASUS brand pens/stylus. Just using fingertips, we found the touch screen functionality to be nice and responsive, and we encountered no issues.
Webcam & inbuilt microphone
The HD webcam is unfortunately only 720p with a maximum picture quality of 0.9 MegaPixels at 30FPS. Still, for a lower resolution option it performed to an adequate level. It also has InfraRed functionality, meaning it can be used in conjunction with Windows Hello.
The onboard microphone array has a maximum quality of 24bit and 48000Hz but sounded pretty good to our ears, definitely above average for a gaming laptop and certainly good enough for a video call.
Ports, sockets, and other features
Given that the entirety of the rear edge of the laptop is devoted to a thermal exhaust port, all of the sockets for the X16 are located on the sides of the machine, including the main power socket.
For the most part, the port coverage is pretty standard for a 16-inch gaming laptop. You get a 3.5mm combo audio jack, two USB-A 3.2 ports along with one separate USB-C port, capable of DisplayPort 1.4 output as well as charging the laptop up to 100W (not enough to the laptop and GPU at the high end of the performance but enough for general use). You also get a microSD card reader, which is always nice to see for the functionality it brings to creatives.
Where the X16 differs is in two respects: the lack of an ethernet port (which will be disappointing for some competitive gamers, though an adapter can be used instead), and the inclusion of the custom ASUS combo port used to pair with the ROG XG Mobile external GPU. This combo port contains a PCIe 4.0 x8 port as mentioned, plus an additional USB-C 3.2 socket which can be used as normal when an external GPU is not attached.
Screen
The mini-LED ROG Nebula HDR display is, from a purely subjective user experience, the nicest looking display we've seen on a laptop. It's colorful, looks very crisp with its 2440 x 1600 resolution, has a nice tall 16:10 16-ich display which is ideal for scrolling through two documents or web pages side-by-side, and is very bright when set to 100% – enough to view documents and video media in direct sunlight on a sunny day. The bezels are nice and thin and it does feel like you get a lot of screen space to play with.
We can't say what the IPS version of the display is like, as we weren't given one to review, but the mini-LED screen is definitely the one we'd opt for.
In an ideal world we'd have liked to have seen a maximum refresh rate above 165Hz, which is the fastest option available with this laptop, given the powerful core components are capable of pushing beyond 165 FPS in games (see the benchmark results further down this page). That being said, although we're starting to see 240Hz 1440p options in 2022, we've yet to see a competing 1600p laptop with a refresh rate above 165Hz, so it's not like a competing device could do any better. 165Hz is more than enough for the majority of gamers needs anyway, and it's only really a downside if you're a hardcore competitive player of online twitch shooters.
In terms of the response time, ASUS claim 3ms when Overdrive is enabled in the onboard software, though testing shows an average 5ms grey-to-grey response time is more accurate. Regardless, this is still faster than the 6ms needed to completely eliminate ghosting at this refresh rate, so it doesn't actually need to be any faster than this, and is an impressive result.
The display comes with FreeSync support, not G-Sync sadly, however the USB-C/DisplayPort 1.4 output does support it if you want to plug in to an external display. This is also a way to get a higher max refresh rate, should you wish to.
One zone backlight control results
The following tests were conducted with the Backlight Control set to One Zone (under Home > System configuration within the Armoury Crate software). This means the display acts more like a conventional panel, with each of the min-LEDs acting as one rather than independently. This effectively disables HDR mode, reduces contrast ratio and means less deep blacks, but is the only way to achieve the best color accuracy. We tested the Multi-Zone and HDR mode in the same tests further down this page.
ASUS ROG Flow X16 color gamut
ASUS claims that the mini-LED version of the X14 has a color gamut which covers 100% of the sRGB spectrum, as well as 100% DCI-P3. Our results, which you can see below, support these claims, recording 99.9% sRGB and 99.6% DCI-P3 coverage, which is close enough in both instances to effectively count at 100%. Adobe RGB coverage was 94.2%.
ASUS ROG Flow X16 color accuracy out of the box
Prior to calibrating the display, the color accuracy of the X16 out of the box showed an average delta of 2.88, which is a bit disappointing, and above the 2.5 threshold that a screen needs to score below to get a respectably low level of variance. The white point however, was damn near perfect was superb at 6504K, very close to the ideal 6500K result. Gamma was equally good at 2.20, which is a perfect score. Black depth was adequate at 0.1324 cd/m², but we would have liked to have seen a better (lower) result, and the same can be said for the contrast ratio, which was disappointingly low at 912.5:1.
Switching the Backlight Control to Multi-Zone however, does improve the contrast ratio and black depth, though at the further expense of color accuracy, as we will see below. Either way the average delta / color accuracy was the main disappointment with the results.
ASUS ROG Flow X16 color accuracy following calibration
Calibration saw virtually no change to the results, with white point getting slightly worse to 6474K and contrast ratio barely improving to 917.1:1. Everything else remained exactly the same, which isn't surprising given the screen has been Pantone calibrated and certified (still always worth a crack regardless). It's possible that a more in-depth calibration than the one we did may yield a slightly improved delta result, but it's unlikely.
Ultimately, this means that professionals working in fields where color accuracy is paramount might not find this display suitable for their needs, even with the top notch gamut coverage. The majority of creatives (including professionals) who don't have to be quite so industry-precise when it comes to color should still find it more than suitable however.
ASUS ROG Flow X16 panel uniformity
We do a panel uniformity test on all laptops we review after their calibration, which tests for both luminance and color accuracy. We start on the centremost point as a reference and then test all the other sections of the screen (25 in total) to see how they compare.
Generally, any average color variation under 1.00 is good and shows up as green in the image above, though the average consumer won't be able to tell much difference below 3.00. Visual editors who work with color however may have a keener eye.
The results we got on the X16 were generally respectable. There was a mix of variation above (in yellow) and below (in green) 1.00 average delta, but nothing exceeded the 3.00 score, meaning no variance would be noticeable to the untrained eye. The greatest average variance was 2.31 in the second from bottom left panel (equating to 3.34 cd/m²) but nowhere else averaged above 2.00, which is pretty good.
All-in-all, a respectable result – certainly good enough for most creatives to work with unless they're operating at the very high end of color-accurate standards.
ASUS ROG Flow X16 brightness
We finished off our color accuracy testing by running a luminance test. On the unit we tested, we got a peak brightness of 518.73 cd/m² and a minimum of 37.03 cd/m². This is a very respectable result and well above average in terms of the peak brightness. It's well short of the 1100 nits peak brightness claimed by ASUS, but this is likely when the laptop is tested in HDR mode, as we will see below.
When using the laptop in the daytime we'd recommend matching the brightness to 120 cd/m² which equates to a brightness setting of 29% under the brightness controls for this laptop.
Multi-zone backlight control results
When switching on the multi-dimming zone feature, the display's contrast and black point improved by approximately tenfold (reaching 9317.7:1 and 0.0129cd/m² respectively), at the expense of average deltaE*00 (which reached 3.44), dropping of the whitepoint to 6390K, and a slight increase in the gamma above the ideal to 2.24.
Peak brightness increased substantially to 727.57cd/m², with the 0% brightness setting hitting 45.44 cd/m², and the 120 cd/m² point being found at the 20% brightness setting.
As you can see below, color gamut coverage only dropped slightly for sRGB and DCI-P3 (to 99.1% and 98.2% respectively), however with the reduction in color accuracy, plus the inherant lack of panel uniformity that comes with multiple dimming zones, it still wouldn't be suitable for color-accurate work with this setting enabled.
We did not attempt to calibrate the display further as multi dimming zone calibration is beyond the limits of the particular device we use. You may be able to get lower delta variance results with additional calibration, though if the one zone results are any indication this could also be negligable.
Ultimately, the multi-zone feature is great for gaming, watching films or other media on, given the greater contrast and deeper blacks, or just for general usage as a result of the higher peak brightness, but if you want to do color-accurate work, stick to One Zone.
Multi-zone & HDR backlight control results
When we both enabled Multi-zone backlighting AND turned on HDR mode under Display Settings in Windows, we got yet another set of results.
Contrast and black point improved over the One Zone settings, but not as much as with just multi-zone enabled. Whitepoint fell substantially to 5824K, gamma to 1.75, and average delta reached 3.47.
As you can see below, sRGB gamut coverage dropped to 94.9%, and DCI-P3 to 78.1%.

All told, the only reading which improved was the peak brightness, which hit a whopping 1152.37 cd/m², just surpassing the 1100 nits claimed by ASUS. The 120 cd/m² mark was reach on the 13% brightness setting, and the 0% reading came in at 32.54 cd/m².
Ultimately the only reason you'd turn on HDR mode is if you are viewing HDR content. Both color accuracy and gamut coverage out of the box means color-based proffesional work is not feasible with these settings enable. As above, we did not attempt to calibrate the display further, as HDR calibration is beyond the limits of our test, so cannot speak to whether some additional color accuracy is possible.
Audio
ASUS are one of the few gaming laptop brands that tend to have respectable speakers on their models, and the general audio quality of the X16's are well above average (though not up there with the likes of the best non-gaming models like the MacBook and Dell XPS 13 Plus). There's a richness to the sound quality, the upper and middle frequencies are well represented, and there is a degree of bass by comparison to most gaming laptops.
Like with virtually all laptops, the lower bass frequencies are still pretty absent, so if you're playing any songs with a lot of sub-bass tones, you're unlikely to hear them. Similarly, a lot of the low rumbling quality of sound effects in games (explosions and the like) are missing. Still, the speakers are good enough to enjoy Netflix etc. if you aren't too precious about this sort of thing, and the fact is there aren't really any competing devices that can output this sort of bass anyway.
Volume-wise the speakers were also above average, certainly loud enough for gaming and watching media on, and most crucially there wasn't any discernable loss of sound quality at max volume.
Battery life
We tested the ASUS ROG Flow X16 battery life for the RTX 3070 Ti version at two different brightness settings on One Zone backlight mode: 50% brightness (our usual test) plus at 29% brightness, which is the level equivalent to 120 cd/m² (i.e. the standard recommended room brightness). This reflects the fact that 50% brightness on this machine is panel is substantially brighter than your typical gaming laptop, and you likely won't need to have it set this high for general usage.
As usual, we switched all background applications off, played two hours of fullscreen YouTube, then the rest web browsing and typing on GoogleDocs. We set everything within Armoury Crate to improve energy efficiency as much as possible, with MSHybrid (i.e. Optimus), Eco Mode, Panel Power saver all turned on under Home > System Configuration, One Zone Backlight Control switched on, Panel Overdrive turned off, and under Device > System the GPU Power Saving set to Eco Mode. Keyboard RGB was also turned off.
The results are as follows:
50% brightness: 5 hours 14mins battery duration
29% brightness: 6 hours 29mins battery duration

As you can see, reducing the brightness level does make a significant difference to the battery life, which shows how draining the mini-LED display is. You could easily leave it closer to the 29% setting for general web browsing, word processing, and watching YouTube indoors.
If you are planning on using the display for creative purposes however (creative software like Photoshop, Fresco etc. and/or drawing with the stylus) you can expect the charge to run out substantially quicker. Although we did not get chance to test the battery life when using a stylus pen, we have been informed by the good folk of Reddit that on other devices like the Acer ConceptD Ezel, Surface Book 2 or iPad, the battery life when using the touch screen can reduce by up to around 50%. Assuming the same is true for the X16, don't expect to get much more than 3 hours out of it when doing this sort of work.
We wouldn't call this an impressive result, but it's certainly not bad, considering both the fairly slimline nature of the device, the mini-LED display, and the high-powered GPU. The functionality of being able to tweak so many settings within Armoury Crate certainly helps a lot, and we imagine if these aren't tweaked the battery life would only last a mere fraction of the above.
Performance, noise & temperature
Noise
In general, non-gaming usage, when set to Silent mode within Armoury Crate the X16 was just that. Even Balanced Mode was almost inaudible, and this is probably the setting we'd recommend if you're in the office or typing on the move, as it won't be heard by anyone yet will offer better internal and external cooling. When gaming under Turbo or our own custom Manual preset (which we'd recommend), the laptop did get fairly loud, but was still quieter than your typical gaming laptop working under the level of strain we subjected it to, which speaks to the benefits of having the third internal fan.
External temperature
The X16 remained reasonably temperate for general use when switched to Balanced mode. Silent mode generated noticeable warmth on the keyboard but not to an uncomfortable level, on a warm day you might get sweaty palms though. When gaming on either Turbo mode or our own maximised custom preset, with both the fans and power allocation to the CU and GPU set to the max, the keyboard did get quite warm, but no more than the majority of gaming laptops. Given the slimline nature of the machine the overall experience was certainly respectable.
Internal temperature
The graph above shows the temperature results for the games we tested. As per all of our tests, we set the wattage allocation to the CPU and GPU to the maximum within the onboard software, set the fans to maximum under Home > manual mode, and turned off any energy saving settings for the GPU and other components – this will put the maximum strain on the internal temperatures of the laptop, and isn't necessarily what you'd want for day to day gaming, but gives the best idea of the maximum performance potential.
To get an idea, the low-to-mid 90's is where thermal throttling starts to take place on a CPU, and the high 90's is where damage to the longevity of components starts to occur. Although the results may seem high to the untrained eye, these are actually lower temperatures than what we've seen on the XMG Neo 15 E22, which is a much thicker laptop, both for CPU and GPU performance, not to mention the smaller sized ASUS G14 (which is less surprising). In short, it seems that the new cooling technology is doing a good job; these are impressive results for such a thin machine and if you turned the power limits down a bit compared to how we had them in this test, you could expect to get a decent lifespan out of this machine.
ASUS ROG Flow X16 benchmarks
We tested the ASUS ROG Flow X16 with Nvidia RTX 3070 Ti and AMD Ryzen 9 6900HS in both its native 1600p resolution and at 1080p across a range of titles on different graphical presets.
We made sure the MSHybrid/Optimus was turned off with the MUX Switch within the Armoury Crate software, which is how we recommend everyone has it set when playing demanding games, as the FPS uplift it brings can be as high as 50% in some titles.
CS:GO underperformed relative to the XMG Neo 15 E22 with RTX 3070 Ti, hitting an average FPS around 30% lower at 1080p and 15% lower at native resolution. CS:GO is a more CPU leaning game, so this likely indicates the inferior performance of the AMD Ryzen 9 6900HS relative to the Intel Core i7-12700H in the XMG machine.
It was a similar story for Far Cry 6, which underperformed by c.10-15% in FPS terms compared to the XMG Neo 15 E22 with RTX 3070 Ti and i7-12700H CPU. Again these results can be explained by CPU bottlenecking.
Conversely, the results for Assassin's Creed: Valhalla were among the best we've ever recorded, performing about as well as the Z13 with the RTX 3080 eGPU hooked up to it.
Doom Eternal had the most interesting combination of results. The game performed between 5-20% better in average FPS terms on the X16 compared to the XMG Neo 15 E22 with RTX 3070 Ti, across the range of different resolutions and graphical presets, with both Ray Tracing On or Off, with one exception: at the highest graphical settings with RT switched on, the performance tanked. This would typically point to a shortage of VRAM relative to what is needed at these settings, however the RTX 3070 Ti in the XMG Neo 15 has the same amount of VRAM, and if it was a clock speed or power limit issue you'd think it would outperform across the board on all settings. A puzzle indeed, but the chief takeaway is that you'll get great performance from the X16, as long as you avoid playing at maximum settings with Ray-Tracing On.
Gaming at the native 1600p resolution is perfectly feasible on the X16, and in most cases the average FPS was above the 165Hz maximum refresh rate of the display, although the 1% and 0.1% frame drops were more noticeable. For some reason the average FPS at 1600p on CS:GO was actually higher, which may point to CPU throttling on the game at 1080p, whereas at the higher resolution the system relies more on the GPU. Alternatively it could just be an anomalous quirk in our test.
ASUS ROG Flow X16 gaming performance: the takeaway
Overall we were hugely impressed by the gaming performance of the ASUS ROG Flow X16. Despite having a lower 125W GPU power limit than some of the high end 150W RTX 3070 Ti laptops out there, it actually managed to outperform them in certain games. Notable areas where the laptop fell relatively short was in CPU-leaning titles, compared to those with Intel 12th gen processors, which is the trade-off you pay for better battery life. Ray-Tracing on the very highest graphical settings also seems a stretch too far for this machine, but you can still get good performance if you tweak things down a notch, and if you turn off RT you'll have no problem at any setting. Internal and external thermal performance under extreme stress was the best we've tested in a gaming laptop, which is impressive given the slim design of the machine.
Final Word
The ASUS ROG Flow X16 is undoubtedly a great laptop for both gaming and creative use, a unique dual use machine with a terrific bright and vibrant mini-LED display option that really sets it apart from the competition. That being said, it's not quite perfect: although the color gamut is top notch, the color accuracy leaves something to be desired for professional work in this area.
Competitive gamers might also want something with a higher maximum refresh rate than 165Hz and an ethernet port. Besides this and a few other quibbles though, it's a brilliant premium machine, if you can afford the price tag.
In terms of raw gaming performance, you can get the same level of FPS performance for less money than the $3,000 the RTX 3070 Ti model can typically be found for online, but when you consider the quality of the display and creative utility of the machine besides this, it's not especially overpriced. If you can get one for around the $2,699 mark or thereabouts with these specifications then we'd definitely recommend it.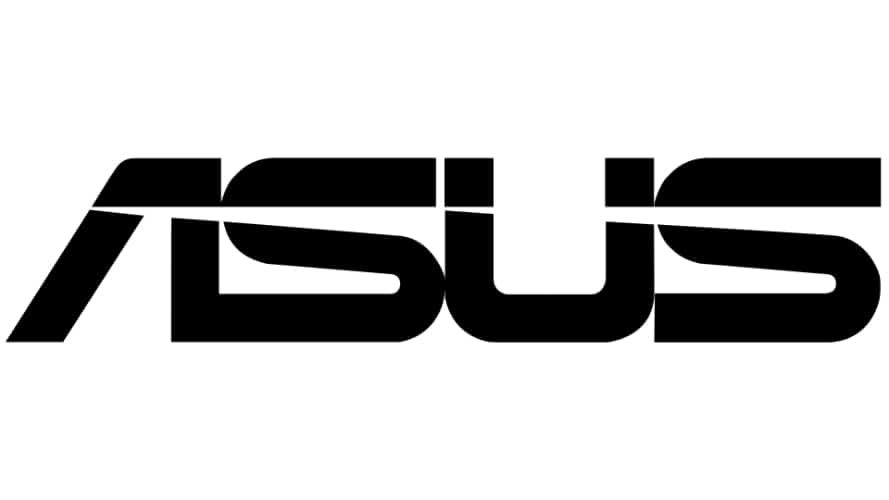 CPU
AMD Ryzen 9 6900HS (8C/16T)
Graphics
Nvidia GeForce RTX 3050 Ti (125W) / RTX 3060 (125W) / RTX 3070 Ti (125W)
RAM
32GB/64GB 4800MHz DDR5
Storage
1TB / 2TB M.2 NVMe
---