The life of an esports professional may seem like a glamorous and easy-going one. But, this couldn't be further from the truth. Sure, they get invited to all the cool parties at tournaments, have the chance to win thousands of dollars in prizes, and get to play video games all day every day. But, they also suffer from a multitude of injuries thanks to their dedicated practice – a lot of which go untreated until they become career killers. 
The Rise and Rise of Esports
In recent years, esports has grown into a wildly popular field. It attracts more than 337 million viewers each year and top prizes at tournaments can exceed $24 million. Denying that this is a genuine sport with real potential is no longer an option, for anyone. It's so popular, that hundreds of colleges now have their own varsity esports teams, and are offering sizable scholarships to attract the best players possible. 
The players themselves are often living in purpose-built gaming houses complete with personal chefs, top of the line gaming setups, and strict practice schedules. More and more people and organizations are recognizing it as a genuine sport, but one area still seems to avoid notice: the rise of esports injuries among top players. 
Most Common Esports Injuries
Because of the sedentary nature of playing video games, many will find it hard to believe that injuries to the players are rife, and can sometimes lead to the end of their careers. But, unlike traditional athletes, there isn't a support network in place to help avoid, treat, and care for players who experience these injuries.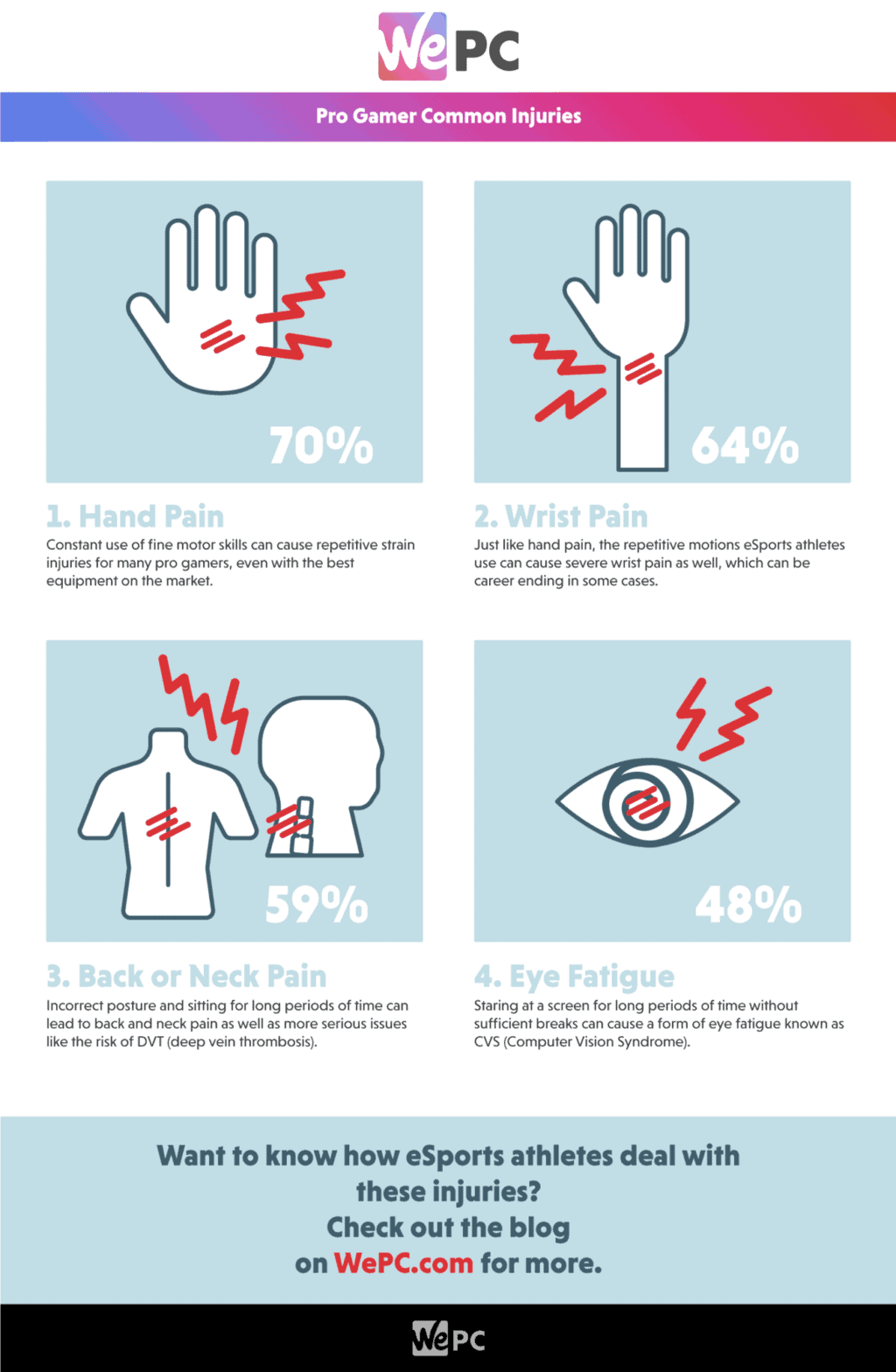 Hand and Wrist Pain
Repetitive strain injuries are common in most sports. These occur when you have to use the same small group of muscles in the same way time and time again. For esports players, this means hand and wrist injuries. No matter how ergonomic your mouse and keyboard might be, they can only do so much to prevent these injuries. 
Stretching before and after each gaming session is the best way to help keep injuries like these at bay. You might think stretching before playing video games is a strange practice, but when you use the same group of muscles of hours on end, stretching should be an integral part of your routine. Here are some simple stretches you can try to help keep hand and wrist injuries at bay.
Hand Exercises For Gamers
Please note: These exercises are meant as a guideline only. If you experience any kind of pain or stiffness in your hands or wrists, please consult your doctor.
Use a rubber band

. Place a rubber band around your hand, alternate between making a fist and stretching your fingers as far as you can. Having this kind of resistance on your hand while you do this will help to strengthen the muscles.

Arm stretches

. Hold one arm out straight in front of you. Hold the hand of your outstretched arm with your other hand. Gently pull your fingers downwards and hold for a few seconds before switching arms. Repeat the same exercise, but this time pull your fingers upwards.
Full stretch. Lace your fingers together and turn your palms away from your body, straightening your arms as you do so. Hold for a few seconds, then release. 
Thumb circles. Give yourself a thumbs-up, then rotate your thumbs in a clockwise circle. Repeat a few times, then switch the circle to anti-clockwise. 
Eye Strain
When you spend all day staring at a computer screen, it's difficult not to experience some level of eye strain. The blue light emitted from most monitors can lead to eye irritation and can even disturb your sleep. For esports players, they are spending large portions of their day, usually around 8-10 hours, doing just this. And, with the level of concentration and reaction speed needed, it can cause serious problems for their eyesight. 
It's recommended that people who work long periods of time with a computer follow the 20-20-20 rule. Every 20 minutes you spend looking at a screen, you should spend 20 seconds looking at an object that is at least 20 feet away. This quick and easy exercise can help stop your eyes from becoming strained. Of course, if you're an esports player in the middle of a skirmish, you're not going to lose 20 seconds staring off into the distance. This is why so many will experience varying levels of eye problems from prolonged screen time.
Monitors With Blue Light Filters
One way to help reduce eye strain is by using a gaming monitor that actively works to reduce blue light and eye strain. For example, the BenQ EW3270U comes with Brightness Intelligence + and eye-care technology built-in. The B.I.+ adjusts the brightness level of your monitor based on your surroundings, so you'll no longer get tired eyes from staring at a screen that's too bright. Pair this with the eye-care technology which reduces the amount of blue light and screen flicker, and you've got a monitor which makes it pretty difficult to damage your eyes with. 
Back and Neck Pain
You've probably already heard how sitting for eight hours a day can be as unhealthy for you as smoking, and while some of these claims may be a little on the exaggerated side, they do have some weight to them. One of the biggest problems faced by gamers who sit for prolonged periods of time is the occurrence of back and neck pain. Usually, this is caused by poor quality gaming chairs and bad posture. How many times have you leaned closer and closer to the screen as you try and achieve the perfect score? Well, all the slouching is only hurting you in the long run. 
Gaming Chairs
There are two ways to help deal with back and neck pain as a gamer. The first is to get your hands on a high-quality gaming chair. The best gaming chairs out there will not only be comfortable to sit in, but they will also provide you with effective lumbar support and headrests, so you can stay in the correct posture no matter how long you game for. 
Supportive Mattress
The other, probably surprising way, to help is to sleep on the right kind of mattress for gamers. When you sleep, you give your body time to recover from whatever you've been doing during the day and repair and rest those tired muscles. When we are sat down for the whole day, sleeping on a mattress with effective support can help our back and neck muscles relax and recover from the poor posture of the day. 
Esports and Mental Health
One of the most important but least discussed areas when it comes to esports players and wellbeing is the toll it takes on their mental health. Gaming has long been associated with a risk of addiction, with stories constantly emerging of players so obsessed they would spend all their time, and money, on gaming. 
For esports players who need to put in long days of practice, addiction is a real concern. In South Korea, where many of the top esports players are from, tentative first steps are being taken to deal with this issue, but the level of addiction continues to rise. There are facilities dedicated to treating game-addicted players, as well as something called the "Cinderella Law" which prohibits anyone under 16 years of age from playing video games between midnight and 6 a.m. 
But, is this enough? With the rising prize payouts and increasing pressure to be the best in your chosen game, competition for esports players has never been higher. And, while the same can be said of any sport, these other sports have regulations and support in place to help their athletes. The same can't yet be said when it comes to esports injuries.