Best 40″ TV 2023 (Smart, Roku, budget, gaming)
Whether shopping on a budget or looking for a TV for a smaller room, these are the best 40" TVs you can buy.
Updated: Apr 18, 2023 9:55 am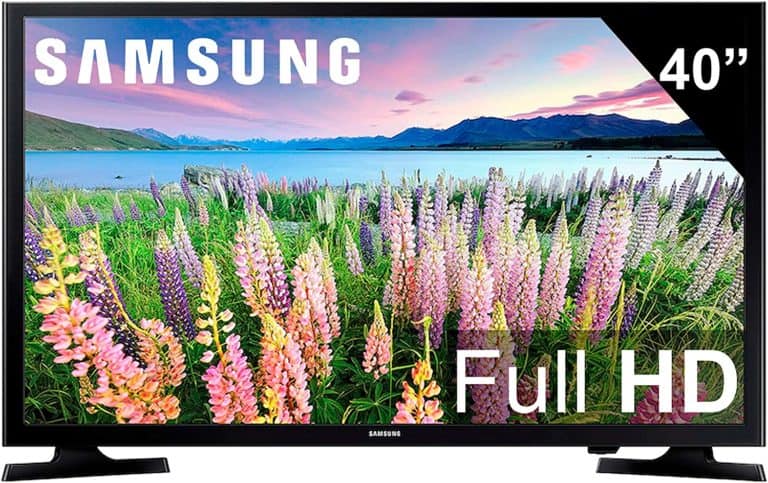 01

Best overall performance for a 40" TV

03

Best Smart Home Integration 40″ TV
It's only been a few years since 40" TVs were considered a big screen, but with today's epic 65", 75" and larger models now taking pride of place in many homes, it's a screen size that hasn't had the same level of attention.
In fact, despite 40" once being the big screen of choice, a lot of manufacturers don't even make TVs in this size now, with their mid-size screens usually now starting at 43". But that doesn't mean they've completely disappeared.
Best 40″ TV 2023: products at a glance
TCL 40-inch Class 3-Series
Samsung UN40N5200AFXZA 40-inch TV
40-inch TVs are great if you're on a budget, or if you're looking for a TV to fit into a smaller space like a bedroom or office. In more condensed rooms a 40-inch TV will still give you that big-screen feeling, much more so than the standard small screen of 32" will.
Plus, if you're a gamer or using the TV as a monitor where you'll be sat up-close, 40-inch TVs are the best size for a great experience without having to turn your head every couple of seconds.
---
Best 40" TV: our top picks
01

Best overall performance for a 40" TV

03

Best Smart Home Integration 40″ TV
---
Best 40″ TV in 2023: reviews
Powerful DTS sound

Google Assistant built-in – no speaker needed

Brightest picture at this screen size
Limited HDMI ports for connecting devices
Hisense are a brand that push the boundaries of entry-level TVs and what they're capable of. Despite keeping costs low, they manufacture displays that are bright and vivid that, while nowhere near the quality of a top-of-the-line Samsung or LG, will keep movies and games packed full of color, even without HDR.
It has Motion Rate 120 tech, which helps keep fast-paced sports and games looking crisp without too much blurring. It's not the most sophisticated but it does a decent job.
This TV also has Google Assistant built in, so you don't need to have an existing speaker, making it easier than ever to navigate through menus. Plus, the powerful twin speakers have DTS tech which keeps voices crisp and adds plenty of depth to music and those bombastic action sequences.
For a budget 40-inch TV this is perfect, with the only real drawback being just two HDMI ports. You might need to pick up an HDMI hub if you have multiple consoles and don't want to keep switching things in and out.
TCL 40-inch Class 3-Series
Roku TV has a huge range of apps

Choice of voice control

Dolby Digital Plus sound
Needs a smart speaker for voice control (Roku model)
There are near-identical versions of this TV available running either Android TV or Roku TV. We've picked the Roku TV model for this list because Roku is an excellent smart platform that just edges out Android TV in terms of app availability, but there is a drawback to that – the Android TV does have Google Assistant built-in, but for this model you'll need a smart speaker.
The picture is clear and quite bright, though not as good as the Hisense H55. It does have good sound though – twin 8W speakers are boosted by Dolby Digital Plus for a good punch of power without sacrificing fidelity.
One interesting feature is the V-chip, which acts as a content filter. If you're looking for a TV for the kids' room, you can block certain content based on program ratings, which can be useful.
Best Smart Home Integration 40″ TV
Samsung UN40N5200AFXZA 40-inch TV
SmartThings – control your smart home devices

Fast OS with good app selection

Smartphone sync – scroll your phone on the TV
Thick bezel doesn't look great
While you won't find many Samsung TVs with a 40-inch screen size anymore, they haven't completely faded away yet. And with any Samsung TV you're going to get a decent picture and sound quality, though this is nowhere near the TVs further up the range. It's still as good as the TCL above and maybe just lagging slightly behind the Hisense H55.
What helps this TV stand out is its impressive range of smart features. The Tizen OS is really responsive and has a good range of apps. You can also control your other smart devices through SmartThings, and pair your phone with the TV to scroll through your apps and photos on the big screen.
But what is that bezel? It's one of the thickest bezels we've seen on a Samsung TV in years, and really detracts from the look of the screen. A shame, as Samsung normally nail it when it comes to looks, but clearly this range doesn't get the same attention.
Works with Apple smart speakers

AirPlay 2 – share your iPhone to the screen

Thin design
Basic sound tech with underwhelming speakers
This Vizio D-Series TV is mainly pitched at Apple-lovers, despite being made by Vizio. That's not to say you should completely avoid it if you aren't an Apple fan, but the best features are that it is one of the few TVs to be compatible with Apple's HomeKit, and it works with AirPlay 2 for casting your iPhone's screen to the TV – most TVs work with Chromecast but AirPlay is rarer.
The TV's speakers aren't amazing, so you may want to pair this TV with a soundbar or some external speakers, but otherwise it's a good option, and it looks nice too – it's one of the thinnest models at this screen size.
No frills, budget TV that just works

Reliable brand, designed to last

Plenty of HDMI ports for streaming sticks
No smart TV

Basic speakers
According to customer reviews, this is one of the most popular 40-inch TVs you can buy, and that's despite the fact that it's pretty basic. It isn't a smart TV – very rare these days – and the speaker quality isn't amazing.
At WePC we love tech, but this TV is a good choice if you just want something that's really simple, and a lot of people comment on the reliability of the Insignia brand.
While this is the worst TV of this list, it still looks fine and is easy to use, plus there are plenty of HDMI ports if you do want to hook up a streaming stick or console for some extra viewing options. There are many worse ways to spend a couple of hundred dollars, and the TV will last you many years, unless you get unlucky.
---
Best 40-inch TV – things to consider
Decreasing popularity
Like we've said, 40" TVs just aren't as popular a screen size anymore, so if you're determined to get one this size then your choice is pretty limited. A lot of the TV manufacturers don't make 40" screens anymore, with their entry-level TVs at 32" and then the next size up being 43" as standard.
Bear that in mind when you're buying – if you're choosing a 40-inch TV then it might be the last time you do. If they continue to be phased out, then the next time your TV fails you're going to need to re-evaluate the space you have available and buy a different screen size. So, make sure you buy one from a known brand, so you get the most mileage out of your TV.
But honestly – if you have the space available then consider choosing a 43-inch TV instead. You'll get a much wider choice in terms of resolution, screen type and features, and while your budget may be stretched more, the better picture quality will make it worthwhile.
Resolution and HDR
If you're looking for a 4K TV that's got a 40-inch screen, you'll be out of luck. Even in the best 40-inch TVs we've found, none of them have a 4K resolution – they're all limited to Full HD 1080p.
Depending on where you're planning on using the TV, that might not be an issue. If it's for the kids' bedroom or something to have in the background of your office, you might not need a 4K display. Remember that not all content on streaming apps is available in 4K anyway.
But if you are planning on using your 40-inch TV for gaming with one of the latest consoles, or as a monitor, you will spot the difference when sat close to the screen. If 4K is important to you, then you'll need to upgrade to at least a 43-inch TV.
You also won't find HDR on 40-inch screens generally. So, for accurate colors in your games and movies, you'll need to size-up.
Read more – What is HDR?
No HDMI 2.1 Support
Another limitation of 40-inch TVs is in their lack of HDMI 2.1 support. You won't find a TV that has an HDMI 2.1 port.
That's because they essentially don't need one. With the lack of a 4K display then you've already lost that benefit anyway, and at best on a 40-inch TV you'll get a 60 Hz display that maybe has some artificial motion support to boost frame rates to 120fps, but it won't be native.
So, if you were hoping to buy a 40-inch TV to get the most out of your gaming PC, PlayStation 5 or Xbox Series X, again you're going to be disappointed.
Top features to look out for
Never mind all the features 40-inch TVs don't have – here's what you can look out for when you're looking for the best TV in this screen size.
Voice control
While 40-inch TVs don't have all the fancy features of some of their larger counterparts, one feature that has made its way into these models is voice control.
Voice control varies by the model of the TV, so you'll need to check the specifications when you buy. Some have voice control fully built-in, while others rely on you having your own smart speaker already.
And they don't all work with every platform. Google Assistant and Amazon Alexa are pretty common, but only some will work with Apple HomeKit, and Samsung keep their SmartThings voice assistant Bixby to their own models.
Voice controls come in real handy on TVs within this price range, because you're likely using a remote that's not the most ergonomic or the fastest to type on. Being able to ask for a certain show, rather than having to navigate through loads of menus and then spend ages typing in the title, cuts down a lot of time.
Motion Tech
The refresh rate on your TV has become a lot more important now that gaming is so popular, because a low frame rate on a TV really ends up harming your experience. Movement is jerky, causing the whole image to stutter and just pulling you out of the sense of immersion.
High-end TVs with bigger screens can sometimes have native refresh rates that are higher to help with this, but otherwise most TVs make clever use of features to mimic a better refresh rate instead, including adding in black frames or duplicating frames to make everything seem smoother.
And that tech does make it into some 40-inch screens. Look for things like Hisense's "Motion Rate 120" or TCL's "Natural Motion 240" if you want your gaming action to look a little smoother. It's not for everyone though, as it can reduce the sharpness of the picture quality and it doesn't always work really well. A lot of gamers choose to disable it, but it's personal preference, and it's good to have the option.
Smart Platform – Surprisingly Good Choice
Entry-level TVs (which most 40-inch TVs are) often don't get the benefits of a fast smart platform. It's not unusual to find many of them using VIDAA or similar smart platforms that, while are perfectly functional and have most of the apps you'll need, can be pretty slow to navigate. There are even a handful that still aren't a smart TV at all.
But even in 40-inch TVs there are some better alternatives available. Look out for TVs that have either Android TV, Roku TV or Samsung's own Tizen operating system.
The benefit of these services is that you'll have a wider choice of apps to download to your TV, but also it won't take nearly as long for that content to load. Pressing the menu button will be instant, or almost instant, while slower platforms may take a few seconds.
It's still impacted by the quality of your TV's processor, and you won't find 40-inch TVs with a fast processor, but it's still worth buying one with one of these platforms when you can. Of the three, Roku TV has the widest selection of smart apps.
How we test and choose
With any of the tech we recommend – whether it's the latest TVs or just a budget accessory – we will always start with some pretty intensive research. We know our tech like the back of our hand, so we already have a pretty good idea of what's good and what isn't. But we know that our reputation for our expertise falls flat if we don't put the work in to stay on top of the latest news and trends.
So, that's where we'll start – we'll explore the entire market, looking at the tech that we've previously reviewed, and checking to make sure there's nothing brand new on the horizon. And when there is, we'll try to review that too, and where we can't we'll at least tell you what's coming soon so you know that something better might be around the corner.
A lot of the products you'll read about at WePC go through a strict testing process, and where we can't test a product ourselves, we'll trawl the spec and look at every resource possible to give you a full understanding of how good a product performs. That way, you can trust that our picks are honest, fair and will give you the best advice possible.
---
Related pages
Best 40″ TVs: FAQs
What should I look for in a 40-inch TV?
In a 40-inch TV you aren't going to find a 4K resolution, or HDR. Instead, focus on buying a TV from a well-known brand and choose one that has the best smart platform – Android TV, Roku TV or Tizen are best.
Which is the best TV brand?
Generally, Samsung, LG and Sony are considered to be some of the best TV brands, and it's usually LG and Samsung battling it out with the latest tech. For a 40-inch TV, LG aren't an option and Samsung only offer a handful of models still. If you want the best TV brand with a mid-sized screen the look at some of the 43-inch options.
Is a 40-inch TV big enough?
It depends what you're using it for, but 40-inch is a good-sized TV for smaller rooms like bedrooms or if you're planning on using it for gaming and you'll be sat closer than you would be on a couch. They don't have great gaming features, but they are a solid budget option.
You don't need to buy a smart TV if you have a streaming stick or games console, but almost every single TV sold these days is a smart TV so it doesn't really matter. Smart TVs let you access streaming apps so you can stream thousands of movies and boxsets, providing you have an active account with that streaming service.
How wide is a 40-inch TV?
The width of a 40-inch TV will vary depending on the bezel but they're usually around 35" wide. If you don't have a large TV stand, check whether the TV's feet are central or if they're at the edges of the screen. If they're at the edge, make sure the TV will fit on there before you buy.
Final Word
So that's our guide to the top 40-inch TVs available, but if you're sticking to quality brands then there aren't too many more available.
The best advice, if you can, is to spend a little more and make from for a 43-inch TV if you want a mid-sized screen that isn't huge. You'll get a much better picture quality, and a lot of better features than a 40" screen can handle.
40-inch TVs are being phased out so this might be your last chance to get one in this size – and there are still some good options available. They're also fantastic value, with very few TVs in this size costing more than $300.
Of all these TVs I think the Hisense H55 just edges it, but the TCL and Samsung models are great too with their own strengths.
The key things to look for are the picture quality, the smart platform and voice control, but if you want something with great sound or that's perfect for gaming, you'll likely need to buy a bigger screen.
If you've got any questions about 40-inch TVs or about TVs in general, then drop a comment down below.
---