Whether gaming is your middle name and you're looking for a card that can withstand the demands of the latest generation games, or you've recently decided to try your hand at building your very own PC build, we're sure you'll know how important it is to pick the correct graphics card.
Why? Well, despite being able to render images and video, it'll also help free up the CPU to effectively perform other tasks, and AMD and Nvidia are two industry-leading companies that regularly compete to bring out the best!
Today, we're going to be taking an in-depth look at two of their most popular graphics cards, the AMD Radeon VII and the Nvidia GeForce 2080, to help you decide which one out of the two is best for you and your needs.
From architecture to dimensions, resolution frame rates to cooling capabilities, we've made sure to cover all bases, so you can make the most well-informed decision. Read on!
ASUS ROG Strix GeForce RTX 2080 8GB OC Edition
MSI Gaming Radeon VII 16GB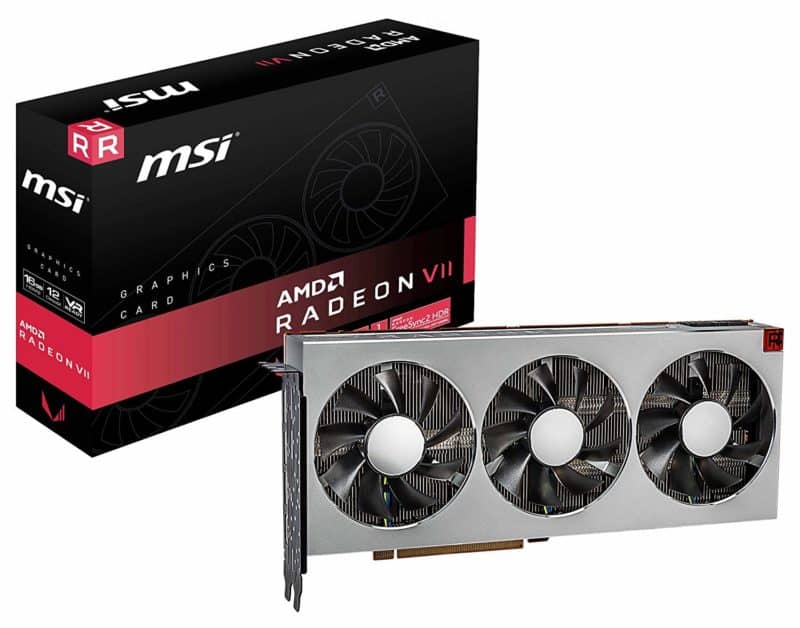 First up, we're going to be taking a look at the architecture of each card. If you didn't already know (or simply need a refresh) the architecture of a graphics card is considered to be the 'foundation' of the card and helps to indicate to us the hardware capabilities, as well as the overall performance you can expect to get.
With that being said, the AMD Radeon VII has been made with AMD's 2nd Generation Vega architecture, which was specifically designed by AMD to offer better cache latencies and faster memory support over older generations. This makes it ideal for handling a multitude of purposes, including content creations and gaming.
In contrast, the Nvidia GeForce 2080 features Nvidia's widely renowned Turing architecture, which is developed using a 12nm FinFET process. Turing architecture was initially released in 2018 (as a successor to Pascal architecture) and was made with an emphasis geared towards ray-tracing support, faster image rendering, and better memory and multitasking performance.
Bring us on to our next specification, the resolution is an excellent way to gain an understanding of how fast you can expect the card to render games at high resolution, and it is greatly impacted by the architecture.
As the Radeon VII has vast amounts of video memory, it's pretty safe to assume that you'll achieve great performance across all resolutions. On average, you can expect the card to reach around 84fps for 4K gaming, which is respectable, especially paired with the Vega architecture, which makes it ideal for latest-generation games.
In contrast, the Nvidia GeForce 2080 pulls ahead slightly over the AMD Radeon VII. At a resolution of 1440p/4K, you can expect the card to reach an average of around 97fps, which is significantly faster.
Now, though it's all good and well knowing the performance of the card, it's also important to be aware of the dimensions. The last thing you want to happen is to purchase a graphics card, only to find that it isn't compatible with your set-up! So, to make sure that doesn't happen, check out the dimensions of the two below:
For starters, the Radeon VII connects to the rest of the system using a PCI-Express 3.0×16 interface. As for sizing, the Radeon VII is 280mm x 125mm x 40mm, and comes with a dual-slot cooling solution. Similarly, the GeForce RTX 2080 also connects to the rest of the system using a PCI-Express 3.016 interface. Its dimensions are slightly smaller than the AMD VII and measure in at 267mm x 116mm x 35mm.
Next, we're going to be taking a look at the cooling features of each card. Though often overlooked, the cooling features of a card are important to consider, especially if you plan on running demanding games, or overclocking the card.
First, we'll take a look at the Nvidia GeForce 2080. This card features a next-generation 8 phase power supply that is able to not only support maximum overclocking but able to help to keep the card from overheating. In addition to that, it features a dual-axial blade fan design, as well as a vapor chamber that will ensure a quiet performance.
In contrast, the Radeon VII features thermal pads that will help to keep the system from overheating, as well as 75mm fans. Though they help to keep the card cool, unfortunately, they make a loud 'blower' noise while in operation, which may be an issue for some.
Ray-tracing refers to the ability to render realistic light and shading effects for a more immersive gaming experience. Out of the two cards, only the Nvidia GeForce 2080 contains the necessary hardware to be able to support games that are ray-tracing enabled.
Last but not least, the final specification we're going to be taking a look at is the VRAM – or video memory. To simplify, the video memory of a card is the short-term buffer between the CPU and the video card. So, the more video memory a card has, the more powerful you can expect it to be.
There isn't too much comparing or contrasting to do here, as both the Radeon VII and the Nvidia GeForce 2060 have GDDR6 video memory, which is the latest-generation video memory currently available. Unlike GDDR5 memory, GDDR6 is built using specialist technology that allows for higher data transfers per clock, higher overall speeds, and better bandwidth. This means that both cards, on paper, will be more than able to handle demanding software, games, and streaming at 4K.
However, considering the 2080's Turing architecture and more sophisticated cooling system, you can assume that the 2080 is the card that will be able to handle the most demanding of workloads with the most ease.
ASUS ROG Strix GeForce RTX 2080 8GB OC Edition
MSI Gaming Radeon VII 16GB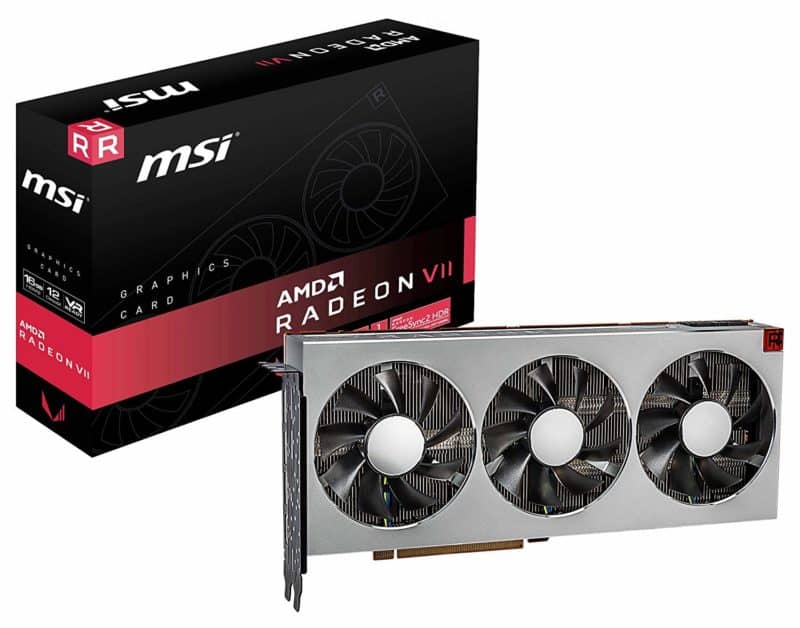 So, there you have it. Thank you for reading our comparison review between the AMD Radeon VII and the Nvidia GeForce 2080! All in all, it should go without saying that both cards pack a powerful punch. They're both capable of complex image rendering thanks to their memory speeds and are also able to handle latest-generation games without a hiccup.
However, if you're still stuck between the two and need a suggestion, we recommend considering the Nvidia GeForce 2080 as it's faster, supports ray-tracing, and operates without making a noise. Thanks to that, you can be put your faith in this card to handle all of your needs, from gaming to content creation, no matter how demanding.
In addition to that, it's also worth being aware that the Nvidia GeForce 2080 offers the best value out of the two. The reason for this is because the AMD VII has been discontinued, meaning that its market value has risen significantly from its original price.