Best CPU for GTX 1080
Best CPU for GTX 1080? Let's find out.
Updated: Jun 30, 2023 11:53 am
01

Best CPU for GTX 1080

02

Best budget CPU for GTX 1080

03
The GTX 1080 began to push the boundaries into 1440p gaming, being able to achieve relatively high FPS numbers for the time. The GTX 1080 was really a marvelous feat of GPU technology. However, with all that power, we need a good CPU supporting the GTX 1080. What is the best CPU for GTX 1080?
Now Read: Best CPU for GTX 1070
Every GPU, no matter how powerful, will need a well-balanced CPU in its corner pushing data to them, this is why it's imperative that we find a CPU that creates as little bottleneck as possible on either side. And we think we have just the CPU.
Best CPU for GTX 1080
The best CPU for the GTX 1080 has to be the Ryzen 5 5600X
The Ryzen 5 5600X is a top-performing and energy-efficient CPU that offers excellent value for its price. With a 6-core and 12-thread configuration, it can handle both gaming and light workstation tasks with ease.
The CPU's maximum core speed of 4.6GHz indicates its proficiency in gaming, as the performance in games is directly related to the max core speed of the CPU. This is due to video games' reliance on single-core performance.
In terms of efficiency, the 5600X shines, boasting a low TDP of 65W, which makes it easy to cool and helps to keep energy costs low. This TDP is significantly lower than some of the high-end flagships in the market, which can reach up to 200W.
The 5600X is also compatible with the widely-adopted AM4 socket, making it easy to find second-hand parts for upgrades and ensuring continued support for the CPU. AMD has pledged to support the AM4 socket for a few more years after the release of AM5, making the 5600X a reliable choice for users.
Why is preventing a CPU/GPU bottleneck so important?
A CPU and GPU have to work well together to run efficiently, if either the CPU or the GPU is too powerful, then a bottleneck happens. This is where one of the components is too slow to allow the other to be utilized effectively. This basically ruins the efficiency of the machine, and you end up wasting money.
If you have a CPU that operates at 100% to keep up with a GPU at 50%, you're losing 50% of that GPUs performance because of the lesser CPU (in very simple terms) so you want to match a CPU and CPU and GPU that ideally will max out together to get the most for your money.
Best budget CPU for GTX 1080
The best budget CPU for the GTX 1080 has to be the Core i5-12600K.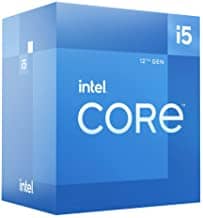 Boost clock speed (single core)
The 12600K has a bit of a lead over the 5600X. It has a better core speed, more cores, and more threads. However, the 5600X does perform a little better in multi-core scenarios, thanks to all of its CPU cores being full cores. 4 of the 12600K's 10 total cores are E-cores, clocked lower to provide efficiency over performance.
Final word
No matter the PCU you choose here, you'll be making the right choice. Both CPUs are capable of supporting the GTX 1080 and will provide the future-proofing you need to carry you through to at least another GPU generation. These are truly the best CPUs for GTX 1080.
---