The 5 Best G-Sync Monitors (Curved, Gaming, 4K)
An indepth look at the market's leading G-sync monitors - choosing only the best for your gaming needs
Updated: Dec 2, 2022 2:02 pm
Today we are sitting down to create a definitive list of the best G-Sync monitors money can buy.
G-Sync is an adaptive sync technology that matches the refresh rate of your monitor to the frame rate your PC is producing in-game. Adaptive sync technology has been implemented into modern-day monitors as it helps improve the smoothness of our gameplay and physically removes visual artifacts like screen tearing. Great, right?
Well, one downside is that huge amounts of monitors now come offering this technology, making our next monitor upgrade choice all the harder.
Luckily, we've decided to scour the web to find only the best G-Sync monitors available right now based on features, performance, and value. That way, you can just sit back and enjoy browsing the best of the bunch without having to take hours out of your day.
So, with that being said, let's take an initial look at the contenders:
Our Top Picks
01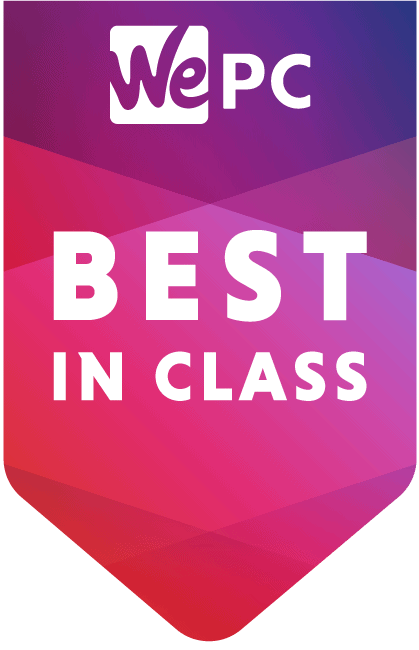 Best G-Sync Monitor
ASUS ROG SWIFT PG279Q
02
Best Value for money G-Sync monitor
Acer Predator XB271HU
03
Best 4K G-Sync monitor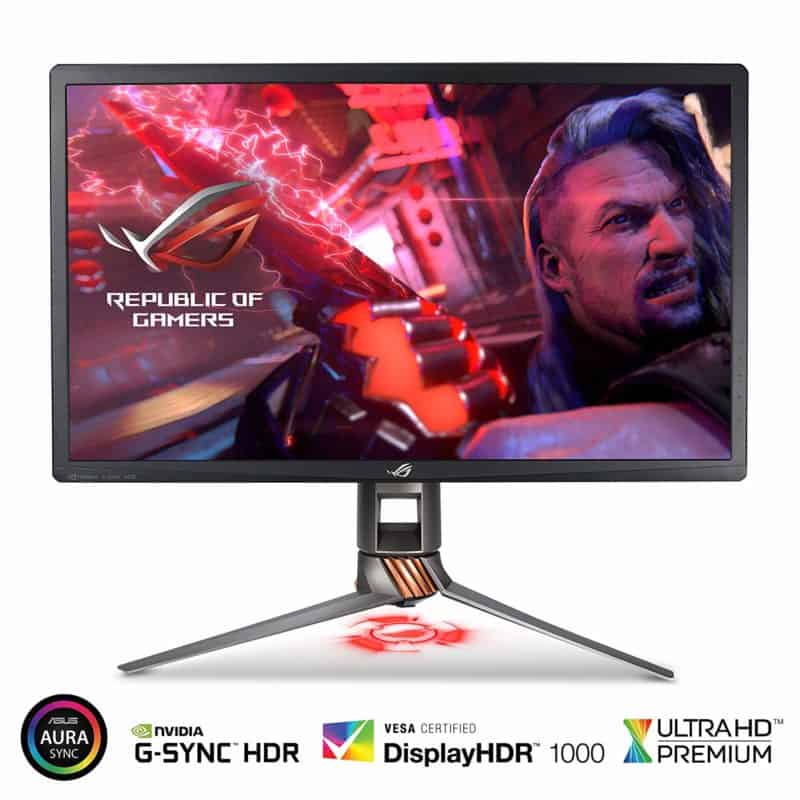 ASUS ROG Swift PG27UQ 4K Monitor
How We Choose
Whether we're reviewing new monitors or the best GPU on the market, choosing the right hardware can always be a tricky task.
It requires hours of product research, performance benchmarking, and reviewing user feedback to get anywhere close to a definitive conclusion on what to recommend.
If you aren't tech-savvy and struggle to put the time aside to go through the above requirements, you may end up purchasing a GPU that isn't right for you.
Fear not though, friends! Here at WePC, we like to take the stress of research away, and transform the whole process into an easy-to-follow, complete buyers guide. That's right, our team of PC enthusiasts has done all the hard work for you!
How We Test
Testing the products we recommend is a huge part of the overall selection process in our best of guides. It's a way to make sure what we recommend is, without a doubt, the best option in its specific category.
To be sure a product is "the best," it must show excellent performance in our tests, and display better qualities and features than the competition it faces.
Most of the products we recommend here at WePC have gone through a strict testing process that involves everything from the price and performance, to build quality, efficiency, and aesthetics. Each product is pushed to the limit to see how it performs under intense stress to make sure it warrants our coveted top spot.
Doing this enables us to provide you with the most accurate review of how the product performs and, ultimately, whether it's worth your hard-earned cash.
Things To Consider
We always like to educate our readership on the essential factors to consider when purchasing a new hardware product. This not only ensures that your next hardware upgrade is well informed, but it will also save you time, and maybe some hard-earned cash as well.
Below we've tried to outline only the most important factors when it comes to a G-Sync monitor.
So, with that in mind, let's jump straight into it.
Panel Types
Every monitor makes use of particular panel technologies. This usually tells us how the monitor will perform in certain situations – responsiveness for gaming, color accuracy for video editing, viewing angles, and more.
The three most popularly used panel technologies in today's monitors are TN (Twisted Nematic), VA (Vertical alignment), and IPS (In-plane Switching). Each one comes to the table offering its own particular set of pros and cons.
To better understand the differences between each of the panel technologies, we've created the following table: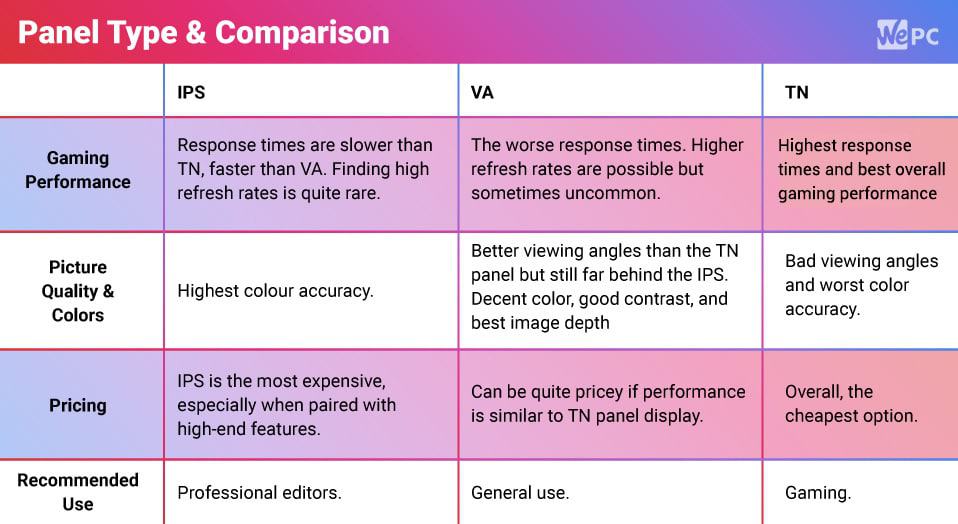 Refresh Rates
Refresh rates are one of the most important specifications a monitor comes equipped with. It is measured in Hz and tells us how fast the monitor can refresh the image it's displaying. Today's monitors offer up a variety of different refresh rate options – ranging from 60Hz to 240Hz – with faster rates being more desirable by gamers who like to play fast-paced FPS titles.
Having said that, the refresh rate is only one piece of the puzzle when it comes to the perfect mix of specs for gaming. The other factors will be touched upon shortly, but for now, let the following be a rough guide to what refresh rates best suit what scenario;
60Hz is ideal if you plan to use your monitor for;

Everyday usage – emails, google, etc
Office work
Creative workflows
Old school gaming that isn't fast-paced

144Hz is ideal if you plan to use your monitor for;

Fast-paced FPS titles in particular – CS:GO, PUBG, CoD

240Hz is ideal if you plan to use your monitor for;

Competitive esports
Playing games on a high-end gaming rig that can produce 240Hz in numerous titles
Response Time
The second most important factor when it comes to a gaming monitor is the response time. This is a measurement that tells us how fast the pixels change color, usually using the GTG (grey-to-grey) transition. Response time is measured in milliseconds (ms), with modern panels displaying anywhere between 1ms and 5ms.
Users who play a lot of fast-paced games should definitely be aware of what response time is, as it has a massive impact on the quality of the image's motion. If the pixels can't change color quickly enough to keep up with the fast-moving images of say, an FPS game, then you will experience image ghosting. You may have experienced this before; it's when the image has a slight trail behind it. This is simply down to the pixels not changing color fast enough.
Always look for a monitor with the lowest possible response time to ensure smooth gameplay.
Screen Resolution
Screen resolution is the final piece of the gaming spec puzzle. Screen resolution is a hugely important specification when it comes to a monitor, especially a gaming one. Because screen resolution has a direct impact on how demanding a game can be, you must always ensure your PC is powerful enough to handle the jump up.
To quickly explain screen resolution, a monitor that offers 1080p will have a max resolution of 1920 x 1080. That means the monitor has 1920 pixels horizontally by 1080 pixels vertically. Use the same methodology with a 4K display, 3840 x 2160, and it's easy to understand why bigger is better. But like we said at the start, those extra pixels require much more graphical power to run at high levels.
FreeSync and G-Sync
FreeSync and G-Sync are adaptive sync technologies brought to us from AMD and Nvidia. Their job is to increase the smoothness of your gameplay by syncing the refresh rate of the monitor to the frame rate of your PC.
That being said, there are a couple of factors that you must be aware of with this technology. First, monitors that come with adaptive sync usually require your PC to be able to meet a baseline FPS figure to be able to function properly. A lot of monitors can sync between 40-144Hz. That means your PC will have to produce at least 40FPS in the game you are playing to work efficiently. Having said that, to experience the best performance from this specification, you should really be aiming for the high-end of the range in which adaptive sync can work. If your monitor is 144Hz, you'll get the best results from getting 144FPS in the game you're playing.
Check out our comprehensive G-sync vs G-sync compatible guide here.
What Budget Should I Spend?
Budget is always one of the most important factors whenever it comes to a new hardware purchase. You must understand which parts of the PC you should spend money on, and where you can be a little more stringent.
As for monitors, it really comes down to what you plan on using the monitor for. For example, if you plan on playing games and want the most immersive experience possible, you should be looking to spend at least $500. That being said though, it also comes down to the quality of your PC, if it only has the ability to run games at 50FPS in low, it probably isn't worth spending all that cash on a monitor – you'd get the same experience from something a little more budget.
With all that in mind, below is a rough template for how much we think you should spend on a monitor –  depending on how you intend to use it:
Low-end gaming monitor – $150-250
Mid-range gaming monitor – $300-450
High-end gaming monitor – $500+
Office monitor – $100+
Entry-level editing monitor – $200
High-end editing monitor – $400+
Low-end ultra-wide monitor – $250
High-end ultra-wide gaming monitor – $700-1,000+
Low-end 4K monitor – $300
High-end 4K monitor – $700+
The Best G-Sync Monitors
In-depth Review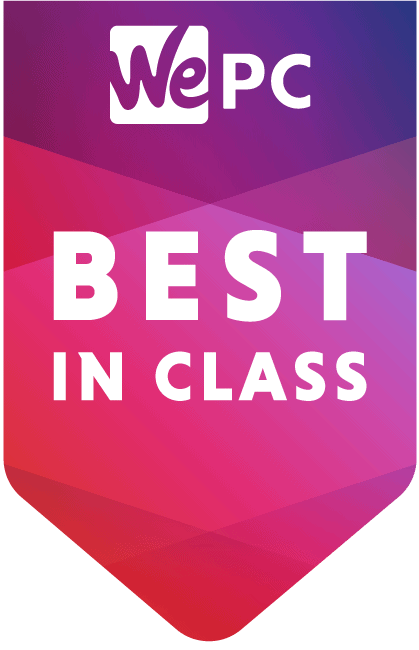 01
Best G-Sync Monitor
ASUS ROG SWIFT PG279Q
Maximum Resolution
2560x1440
PROS
Detailed IPS display
G-Sync technology
A stylish design
Rapid 165Hz refresh rate for fluid game play.
CONS
High-end price tag
Gamma is a bit dark
Once again, the ASUS PG279Q takes the top spot in one of our monitor best of guides. This time we're calling it the best G-Sync monitor available right now, and it's easy to see why. Before we get into the specs, though, let's take a brief look at the design.
ASUS has given the PG279Q their textbook branding. The ROG logo sits on the base of the stand, with a red LED around the bottom, which adds to the gamer feel of this display. Thin bezels add a refined feel to the design and actually increase immersion quite a bit. Overall, the monitor looks superb.
One standout design feature is the stand. This thing is awesome. I feel all gaming monitors should have a really robust stand, and the ASUS certainly has that. Not only is this thing robust, but it also offers four directional adjustments; height, swivel, tilt, and pivot. That means you'll be able to find the perfect viewing angle no matter what.
As far as features go, the PG279Q just keeps excelling. It offers a 165Hz refresh rate, 1ms response time, 100% sRGB coverage, and a 1440p IPS panel. For me, that's the perfect balance of specs for a fantastic all-round experience. However, this monitor really shines in the gaming department. If your PC has the performance to reach high FPS figures, this monitor (thanks to G-sync and a high refresh rate) is going to be able to produce some of the smoothest visuals around.
Even though this monitor is heavily geared towards gamers, it still offers a tremendous all-round experience.
02
Best Value for money G-Sync monitor
Acer Predator XB271HU
Maximum Resolution
2560x1440
PROS
Superb color reproduction
VESA compatible
Overclockable up to 165Hz
Supports G-Sync technology
CONS
Speakers don't sound great
Expensive
The XB271HU is a part of the hugely popular Predator range and is one of their flagship offerings. With high-end specs that include a lightning-quick refresh rate, 4ms response time, and excellent color recreation, the XB271HU ticks many of the right boxes.
As for aesthetics, Acer has definitely given this monitor a gaming feel. They've given it a grey color theme, which is accentuated by splashes of red throughout. The stand is angular, and the bezels are thin, which makes this thing look extremely good. The stand is fully functional but doesn't feel as robust as the PG279Q from ASUS. That being said, it still offers similar levels of adjustment none the less.
Acer has equipped the XB271HU with a ton of gaming features, such as a refresh rate that can be overclocked (using the DP) to 165Hz – matching that of the ASUS above. It also offers a BFI flicker feature to increase motion smoothness. The input lag is low on this monitor, and the colors are relatively sharp. However, the blacks leave a little to be desired, and the contrast ratio is not the best. Those points aside, though, this thing is very good when it comes to gaming.
When you compare this to other similarly priced alternatives, you soon start to realize what good value for money this monitor is. Overall, a great gaming monitor that comes to shelves at a very reasonable price point.
03
Best 4K G-Sync monitor
ASUS ROG Swift PG27UQ 4K Monitor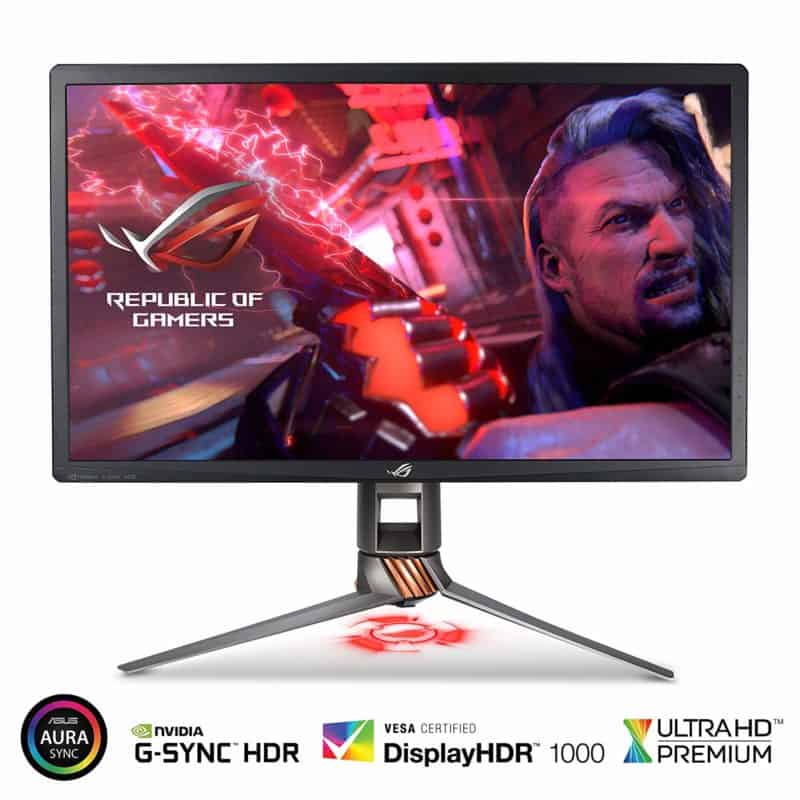 Maximum Resolution
3840x2160
PROS
HDR 1000
ROGs brilliant stand design
4K gaming at 144Hz
G-Sync
IPS panel with a 4ms response time
Next up is the hugely impressive PG27UQ from ASUS. The ROG Swift offers pretty much every feature you could ask for in a monitor. Rapid response for gaming, accurate colors for editing, and a 4K display for stunning image clarity. It does it all. But first, design.
Like all of ASUS's premium products, the PG27UQ comes with an excellent design – both visually and functionally. The metallic finish of the stand works well with the bezels and gray color theme to create a sleek and stylish design. The stand is four-directional and gives users plenty of versatility to find the perfect viewing angle.
As for specs, the PG27UQ comes boasting a 144Hz refresh rate, 4ms response time, HDR support (HDR1000), and ASUS's full eye-care package, all wrapped up in a stunning 4K IPS panel. This monitor really does take gaming to the next level, just be sure your PC can handle the additional performance power needed to run 4K gaming.
Colors are solid as well, offering a 97% coverage of the DCI-P3 color gamut and 99% Adobe RGB coverage for superb realism. Editors are going to love this thing thanks to the excellent color accuracy and screen real-estate 4K offers.
The only downside to the monitor, as you've probably guessed, is the price. It is by far the most expensive in this guide. However, if you are in the market for the best-of-the-best, look no further. The PG27UQ has you covered.
04
Best Curved G-Sync Monitor
Alienware AW3420DW Curved Gaming Monitor
Maximum Resolution
3440 x 1440
PROS
Stunning design
Brilliant gaming performance
Excellent color recreation
G-Sync support
It was pretty tough selecting a curved monitor for this guide, but eventually, we concluded that the Alienware AW3420DW was the best of the bunch. This monitor really does offer a stunning design that suits almost any setup. The stand is both sleek and robust, making it attractive and sturdy – something we definitely look for in larger monitors. The 1900R curvature of the panel works really well with the rest of the monitor's aesthetic features to create a luxurious feel. One noticeable aspect of the design was the size of this monitor. It does take up quite a lot of room on your desk. So be aware of that if you are considering this monitor.
Onto the specs, the Alienware offers a 120Hz refresh rate (good for curved panels), a 2ms response time, and a 98% coverage of the DCI-P3 color gamut. This is all neatly bundled into a 34″ curved display, which, ultimately, offers some of the best levels of immersion in this guide. Gaming is excellent on this thing if you play titles that make use of the UW aspect ratio. Furthermore, editors and creatives should love this monitor thanks to the rich color accuracy it offers. Alongside color, the screen area this monitor comes boasting is by far the largest in this guide.
On the downside, this is the second most expensive monitor in this guide – currently sitting at just over $1000. That in mind, I still feel it offers good value for money, especially when you consider its size and the features it comes equipped with.
05
Best Budget G-Sync Monitor
ASUS VG278Q Gaming Monitor
Maximum Resolution
1920 x 1080
PROS
4-way Ergonomic Stand Adjustment
144Hz
Highly responsive
Slim Bezels
5-Way OSD Navigation Joystick
With AMD FreeSync Technology
CONS
TN Panel
Poor Speaker Quality
Doesn't Have a DVI-D Cable
On the other end of the price spectrum sits our budget pick, and once again, we have an ASUS monitor. The VG278Q is by far the cheapest monitor in this list, but don't let that put you off, it still offers a great gaming experience for people in the 1080p market.
Aesthetically, this monitor provides pretty much what you'd expect; a nicely-designed stand that is robust but not overly adjustable. It looks very similar to other ASUS monitors, albeit less stylish with a gunmetal gray color theme accented with a red LED ring around the base of the stand. Thin bezels add to gaming immersion, whereas the fully functional stand (pivot, height, swivel, tilt) provides users with great viewing positions.
As for specs, we were pleasantly surprised by the responsiveness of this monitor. It comes with a 144Hz refresh rate and 1ms response time, that of which some premium monitors don't offer. Again, this one comes with the ASUS full eye care package, which helps reduce the level of strain put on the eye over extended periods of use. It does only offer a 1080p max resolution, which is not ideal for editors or creatives. However, if you're into competitive esports, like CS:GO, you'll be more than happy with this scaling.
Overall, I can't knock this monitor, it's great. It is designed for people on a budget, while still offering responsiveness that certainly gives you an edge in competitive gaming.
Final Word
There you have it, our five best G-Sync monitors available right now. We've tried to give you recommendations that suit different needs and usages to ensure everyone can find a monitor that suits them. 
However, if all that was too much to take in at once, here's the shortened version instead;
If you're looking for the best G-sync monitor money can buy – that offers great gaming performance and excellent colors, the ASUS PG279Q is our number one choice.
If you want to get the best bang for your buck, why not check out the Acer Predator XB271HU gaming monitor. It's packed with excellent gaming features and is a great alternative G-sync monitor to our top pick.
Looking for the best of the best and are willing to spend as much as possible to get it? The ASUS PG27UQ is what you're looking for.
The Alienware AW3420DW is our curved monitor option that offers a fantastic design that almost exceeds the quality of the features it comes equipped with.
For people on a budget who need a monitor that offers fast responsiveness for FPS games, the ASUS VG278Q is a fantastic monitor, to say the least.
It's been a pretty tough task picking out the best G-Sync monitors available today – mainly thanks to the sheer number of great monitors that currently flooded the market at the moment. However, we feel the ones we've selected are of the highest quality – offering excellent features and value for money, respectively.
Let us know what you thought of the selections by leaving us a comment below. Better still, head on over to our Community Hub, where you can discuss everything monitor-related with like-minded individuals!
---