Gigabyte AORUS FO48U gaming monitor review
Taking a closer look at Gigabyte's 48-inch OLED gaming 'monitor' to see how it stacks up against similar alternatives
Updated: Dec 13, 2021 2:36 pm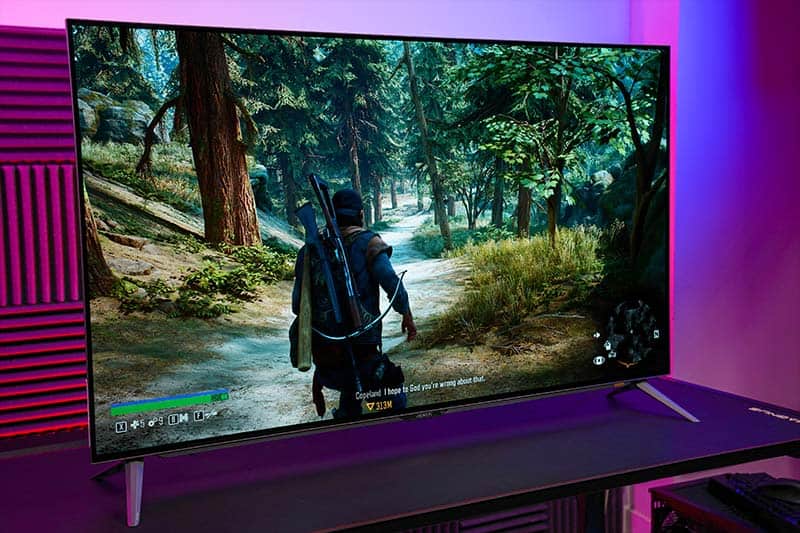 Despite being classed as a 'tactical gaming monitor', the Gigabyte AORUS FO48U definitely leans more towards a TV than a monitor. With a large 48-inch UHD 4K OLED panel at its heart, the FO48U definitely seems to tick all the right boxes for console gamers. It delivers inky blacks, an infinite contrast ratio, and stunning colors right out of the box. However, what sets this monitor (TV) aside from the rest is the specifications.
Besides offering OLED technology, the FO48U also offers a high 120Hz refresh rate, decent response time, and FreeSync variable refresh rate for silky smooth gameplay. Unfortunately, and like all OLED displays, the Gigabyte AORUS FO48U does fall victim to permanent burn-in if not properly cared for.
Overall, the AORUS FO48U looks set to impress right out of the box. In this guide, we'll be reviewing everything from picture quality and color accuracy to gaming performance and motion handling – concluding with a summation of how it stacks up against the market in terms of performance and price.
Gigabyte AORUS FO48U
Gigabyte AORUS FO48U monitor: Specifications
Tech Specs
Contrast ratio
Infinite:1
Color Gamut
130% sRGB, 98% DCI-P3
Backlight technology
OLED
PROS
OLED technology
HDMI 2.1 support
Next-gen console friendly
120Hz refresh rate
UHD 4K Screen resolution
1ms
CONS
Expensive
Lacking stand functionality
What's In The Box
The Gigabyte AORUS FO48U ships in a fairly slender box that displays plenty of marketing material on the exterior. Inside, the monitor and stand are separately packaged, meaning some assembly is required (screwdriver needed). Unlike many monitors of today, the FO48U does not feature a toolless design – annoying some individuals in the office immediately.
Assembly of the monitor does require two people to complete safely – mainly due to the monitor's sheer size. You can lean the monitor on a table or the box itself to attach the feet, but this could potentially damage the panel or the glass front.
Alongside the monitor and stand, the following items can be found inside the box:
Gigabyte AORUS FO48U Monitor
Powerpack + cable
HDMI cable
DisplayPort cable
USB cable
Remote control
Quick Start Guide
Calibration report
Warranty
Design
With specifications out the way, let's take a closer look at the build quality, design, and mechanical features this monitor comes equipped with.
Aesthetics
Aesthetically, the FO48U definitely looks more like a conventional TV than a gaming monitor –  featuring a large 48-inch glass screen that certainly gives this panel a stylish look. Bezels are fairly small on the FO48U with the bottom bezel featuring some subtle branding and not much else. The feet are small by design and utilize a 'V' shape for excellent stability.
Moving to the rear and there really isn't that much to report. Gigabyte's AORUS logo can be seen in the center of the panel and chrome strips have been added in an angled fashion. Unfortunately, there isn't any form of cable management with this monitor, meaning tidiness can be a little problematic.
Build Quality
As you'd expect with a high-end Gigabyte product, the FO48U feels incredibly well-made. The solid construction of this monitor comes from excellent materials used throughout. The face of the monitor itself is solid glass, with the rear featuring strong plastic. During tests, the plastic showed no signs of creaking or flexing, leading me to believe that high-end materials were used.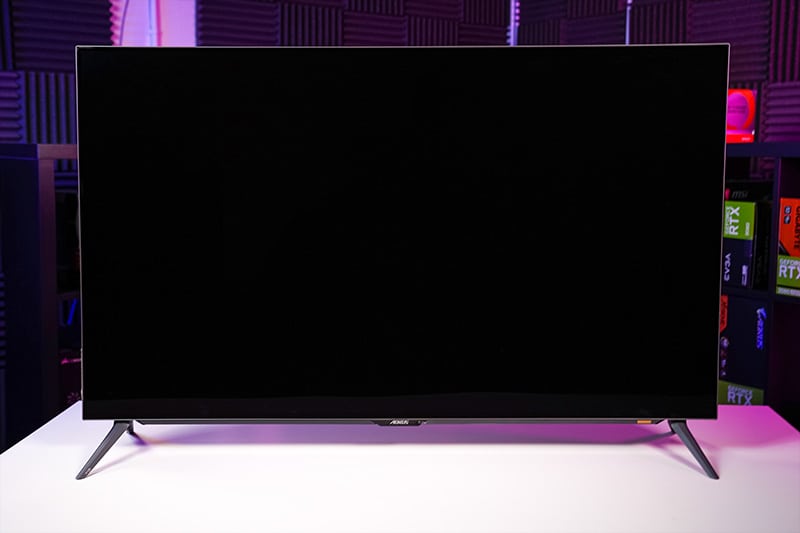 The feet were also solid metal, screwing into the base of the monitor securely. The OSD button (little joystick under the bottom bezel) felt well-made and purposeful.
Panel Coating
As we mentioned earlier, the panel coating on this monitor is glass – meaning reflections can be particularly problematic. Furthermore, fingerprints can be incredibly annoying with this particular material, with glare bringing them out even further.
Bezels
The bezels on the AORUS FO48U are fairly slender, giving this monitor an immersive quality that is great for gaming. The bottom bezel (or chin bezel) is slightly larger, but that's to be expected from a TV of this size. Overall, the bezels score highly for this panel.
Stand
As far as stand ergonomics go, the FO48U is incredibly limited (and by limited, I mean non-existent). It doesn't feature any adjustability whatsoever – meaning you'll have to equip this panel to a VESA mount if you want that functionality.
Below are the exact specifications of the stand:
Forward Tilt – N/a
Backward Tilt – N/a
Left Swivel – N/a
Right Swivel – N/a
Pivot – N/a
Height – N/a
Gigabyte AORUS FO48U
Inputs
Inputs for the FO48U include DisplayPort 1.4 and HDMI 2.1, meaning this is a next-gen console-friendly panel. Alongside this, the AORUS monitor also features several USB ports, a 3.5 mm audio jack, and a standard internal power supply.
For a more in-depth look at the inputs, see below:
2 x HDMI 2.1
1 x DisplayPort 1.4 (DSC)
1 x USB Type-C
2 x USB Type-A
1 x USB Type-B
1 x 3.5mm audio jack
OSD
The OSD (on-screen display) for this monitor is incredibly self-intuitive thanks to the joystick navigation system it utilizes(found underneath the bottom bezel). While this monitor does offer a tonne of OSD features, there isn't a great deal geared towards PC gaming and performance enhancements. Instead, Gigabyte decided to equip the panel with plenty of color options for optimizing your visual experience.
That being said, there is a tonne of color presets that range from Movie mode to FPS and most things in between. Furthermore, a KVM switch feature has also been equipped – allowing users to use one set of peripherals across numerous devices. Very handy.
Color Accuracy & Picture Quality
Great colors and excellent picture quality are two of the main factors that help create immersion while you're gaming. Despite the importance of good color, monitor manufacturers don't always calibrate the color of their panels to what is deemed accurate within specific color spectrums – sRGB/Rec.709, etc.
We like to test each monitor for color reproduction to see how they would perform in color-accurate scenarios.
Here are the results for the Gigabyte AORUS FO48U:
Like always, we started off the color accuracy testing portion of this review by loading up our colorimeter and running a test right out of the box. Below are the results:
| Preset | White Point | Black Depth | Contrast Ratio | Average ΔE*00 | Gamma |
| --- | --- | --- | --- | --- | --- |
| IDEAL | 6500K | 0.00cd/m² | Infinite | 0.00 | 2.2 |
| Out the box (Green) | 6197K | 0 cd/m² | Infinity:1 | 3.39 | 2.31 |
| Standard | 6193K | 0.0568 cd/m² | 4671:1 | 4.12 | 1.84 |
| sRGB | 6221K | 0 cd/m² | Infinity:1 | 1.33 | 2.29 |
| Movie Preset | 9181K | 0 cd/m² | Infinity:1 | 6.6 | 1.76 |
| Custom | 6210K | 0 cd/m² | Infinity:1 | 2.6 | 2.22 |
Out of the box, I thought the AORUS FO48U performed to a fairly good standard, offering up a 6197K white point, perfect 0 black depth, and impressive infinite contrast ratio. The average deltaE for the monitor using the sRGB space was 3.39 which, when compared to other monitors, isn't the best if truth be told. Brightness was set to 233 candelas (more than the recommended for daily usage) and gamma resulted in a 2.31 score.
I then moved on and tested the sRGB emulation mode expecting much better results. White point was increased to 6221K and black depth saw the same perfect 0 result. Contrast ratio was again infinite and gamma now measured 2.29. Like most monitors that deliver an sRGB emulation preset, the AORUS benefited from much greater color accuracy while using it. We now saw a 1.33 average deltaE, making it OK but not ideal for color accuracy.
I went on to test the Standard, Movie, and Custom presets, with varying results across the board. As far as accuracy goes, the Custom profile definitely showcased the best colors – scoring a 2.6 average deltaE when tested. All presets – apart from the Standard preset – offered the same perfect blacks and infinite contrast ratio (to be expected from OLED backlight technology).
Like always, I wasted no time and decided to calibrate the monitor to see how accurate we could make it. I utilized the 'Custom' profile and enabled custom RGB values.
It's worth mentioning at this point that I did encounter some issues calibrating the AORUS FO48U, especially when it came to tweaking the RGB values in the Custom preset. The color gamut seemed incredibly low when compared to the marketed specs, so some playing around with different settings was required. 
Regardless, we used the "Custom" preset and the RGB figures 100/93/82
Here are the results:
| Preset | White Point | Black Depth | Contrast Ratio | Average ΔE*00 | Maximum ΔE*00 | Gamma |
| --- | --- | --- | --- | --- | --- | --- |
| IDEAL | 6500K | 0.00cd/m² | Infinite | 0.00 | 0.00 | 2.2 |
| Calibrated Profile | 6524K | 0 cd/m² | Infinity:1 | 0.39 | 2.54 | 2.2 |
As you can see from the results above, color accuracy definitely improved after the calibration process. The average deltaE improve dramatically – now showcasing a 0.39 score (more than accurate enough for editing). As you'd expect, black depth and contrast ratio maintained a perfect score.
Panel Uniformity
Panel uniformity is a test we run to check how uniform the luminance and colors are across the entirety of the screen. During this test, the center square is used as the reference space. Every other square is then tested to see how far it differentiates from the reference.
In an ideal world, we want every square to be green, meaning it hasn't broken the differential threshold – something we can set at the start of the test.
Panel Uniformity Traffic Light System
Note: results will differ from panel to panel.
Panel uniformity for the AORUS FO48U was a little hit and miss. Looking at the graph above, you can clearly see how a number of different segments did not pass the nominal tolerance level. While this doesn't look great on paper, this didn't really lead to any imperfections when viewing content. That being said, it still scored poorly when compared to other panels of similar ilk.
Viewing Angles
Like all OLED panels, the viewing angles for the FO48U were incredibly accurate – providing excellent colors even at extremely wide angles. As this is a large monitor with very little stand functionality, this is certainly a plus for multiperson usage.
Gigabyte AORUS FO48U
Color Gamut
As part of the calibration process, the DisplayCal will give an accurate measurement of the color gamut the monitor can provide. Below are the results of the color gamut test:
The AORUS showcased a wide color gamut that offered 99.2% sRGB, 85.7% Adobe RGB, and 93.3% DCI-P3 coverage. In terms of volume, that equates to 140% sRGB, 96.5% Adobe RGB, and 99.2% DCI-P3 – making this one of the best monitors as far as wide color gamuts go.
Looking at the physical gamut graph, you can clearly see where the Gigabyte FO48U exceeds the sRGB spectrum – showcased by the dotted line. We've also attached the color gamut graphs for both the DCI-P3 space so you can see exactly where the panel falls short.
Maximum And Minimum Brightness
We ended the color accuracy and picture quality testing by checking the maximum brightness, minimum brightness, and 120 candelas points on this panel. The results are below:
| Brightness | Candelas |
| --- | --- |
| 100% Brightness | 392.44cd/m2 |
| 0% Brightness | 1.36cd/m2 |
| 30 Brightness | 120 cd/m² |
Calibrated Profile
For those who want to use our calibrated color profile, you will find a link below where you can download the zip file.
Gigabyte AORUS FO48U: Gaming Performance & Response
With color accuracy out of the way, it's time to put the Gigabyte AORUS FO48U through a number of different gaming scenarios to see how it stacks up in pixel response, input lag, and overall responsiveness. 
Competitive gaming
The first game we loaded was, you guessed it, CS:GO. Counter-Strike is a fantastic title when it comes to testing monitors as you encounter many fast-moving objects that clash with alternatively colored backgrounds. As this is an OLED display, response times should be exceptional – leading to a very good gaming experience that is void of most ghosting and smearing issues. I playing Deathmatch for around 2 hours and it's safe to say that this was most certainly the case. OLED really does tick all the right boxes as far as response goes.
I enabled the FPS preset alongside adaptive sync technology for gaming and the results were excellent. I didn't see any signs of ghosting or color smear when playing CS, neither did I experience any screen tear either. I suppose that's the big plus as far as PC gaming goes on this monitor, the response time. You won't find any overdrive settings here – it's simply not needed.
We launched a few more competitive titles and the results were equally as impressive. We made use of the aim stabilizer feature to see what kind of impact it had on perceived blur. The results were excellent. Using the BlurBusters UFO test, you could clearly see how the image was much sharper when using this particular feature.
General gaming
We wasted no time and decided to throw the Gigabyte FO48U through a number of lesser competitive titles to see how it performed from an immersion and colors standpoint. Playing Shadow of the Tomb Raider, Battlefield V, and Red Dead Redemption 2 was a joy. The large panel size delivered fantastic levels of immersion which were backed up by stunning colors, inky blacks, and effective contrast ratios for a truly stunning experience.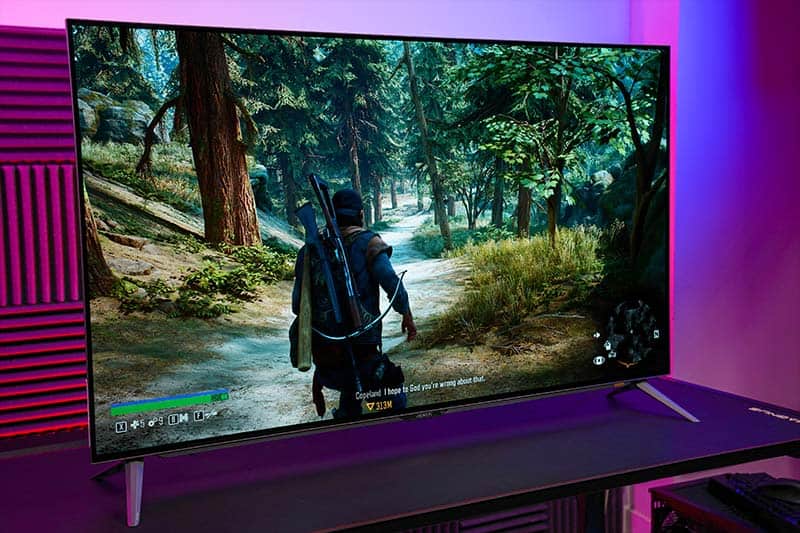 Playing these sorts of titles is clearly what this monitor was designed to do. It delivers excellent performance when playing games that don't rely on speed and responsiveness, offering up great colors and immersion in abundance. Unlike faster titles, CS:GO and COD, playing single-player open-world titles really sees this monitor come into its own. It doesn't suffer from any ghosting and smearing, allowing you to be fully captivated by the game you're playing.
The same applies to general content consumption like watching movies and TV series. The movie preset is especially good as it gives the picture a glossy look that is certainly beneficial when it comes to this kind of content.
Final Thoughts
So, there you have it, our comprehensive review of the AORUS FO48U- Gigabyte's 48-inch OLED gaming 'monitor'. 
Overall, I was incredibly impressed with how this monitor performed – albeit looking more like a TV than a traditional gaming monitor. At 48-inches, this panel really does tick all the right boxes as far as content consumption goes. It boasts superb colors right out of the box, a plethora of color presets for different viewing scenarios, and all the responsiveness you could need for a great gaming experience. With a 120Hz refresh rate and HDMI 2.1 support, the Gigabyte AORUS FO48U is also a fine example of a next-gen console-friendly display.
Unfortunately, there are a few downsides to buying an OLED monitor – mainly the permanent burn-in. While it's incredibly rare to experience burn-in while using this monitor for movies and games, it is at risk if used as a desktop display. Leaving this monitor on for long periods of time will lead to permanent burn-in which will diminish the visual experience of the panel.
That small issue aside, however, the Gigabyte FO48U performed to an extremely high level. It outperformed many of today's leading gaming monitors as far as responsive goes and should definitely be considered if you're in the market for a large-screen gaming experience.
Gigabyte AORUS FO48U
---