BenQ EL2870U Monitor Review
We Ask Whether This 4K 28 Inch BenQ Monitor Is Worth Your Money
Updated: Mar 10, 2022 11:16 am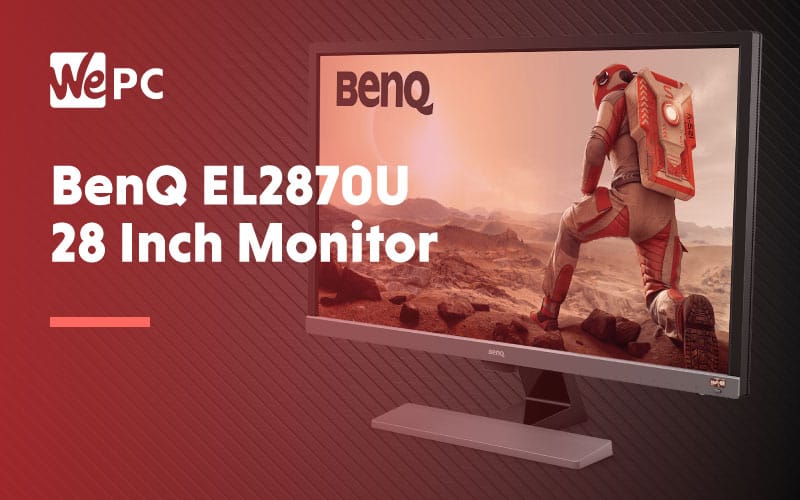 We have received a number of BenQ monitors to review and get to grips with over the last six months. One of which is the BenQ EL2870U. The EL2870U is essentially just a 28″ version of the BenQ EW3270U we reviewed. We are big into competitive gaming here at WePC, but that doesn't mean we don't like the occasional 4K gaming monitor.
I have been using the BenQ EL2870U monitor for around four weeks now as a primary and secondary monitor. If you have the extra cash and are hunting for a new 4K gaming monitor, you may favor an IPS panel over something like this with a TN. That being said, don't let this put you off the EL2870U as it does provide a picture quality and color accuracy that will make any game look fantastic.
The EL2870U may not be packed with adjustment options like the Asus ROG Swift PG278QR, but it offers Freesync, a high dynamic range, and a 1ms response time.
While this monitor may not be regarded as one of the best gaming monitors out there, it still offers some decent return for your cash. Let's dive into this review and see how the BenQ EL2870U stacks up!
BenQ EL2870U
Flicker Free Technology
Yes
PROS
4K resolution
AMD Freesync compatible
Attractive design
Fairly cheap
Fast 1ms response time
HDR
CONS
TN panel
Not many adjustment options
Thick bezels
The BenQ EL2870U, How We Tested
The BenQ EL2870U was sent to us about two months ago from the kind folks at BenQ USA. A colleague in the office was using this as their day to day monitor for graphic design, so it took me a few weeks before I could get my hands on it. For around four weeks, I have been using this for my general work but have also more recently switched this as my main gaming monitor to see what it's made of.
The build I'm using with this features an i5-8600 and an EVGA 1080 Ti GPU. While this build may not be the best, it performs well enough for my games, and it is enough to put this gaming monitor through its paces.
Specifications
We have conveniently listed the product's specifications here for you as it's generally a great place to start for any new monitor. Here you can check and see what features match your preference and it may give you a quick indication as to whether this monitor could be for you.
Below are the specs for the EL2780U:
| | |
| --- | --- |
| Size | 28" |
| Refresh Rate | 60Hz |
| Panel | TN |
| Resolution | 3840 x 2160 |
| Contrast Ratio | 3000:1 |
| Max Brightness | 300 cd/m² |
| Flicker Free Technology | Yes |
| Low Blue Light | Yes |
Physical Size & Weight
This BenQ monitor is 28″ with the dimensions being 26″(66.04 cm) x 19″(48.26 cm) x 3″(7.62 cm) not including the stand. With a weight of just 14lbs, it is a fairly light gaming monitor which is surprising for something of such quality. Regardless of its weight, BenQ has constructed this well, and it remains cemented to the desk without any visible wobble.
The stand is fairly low profile compared to a lot of others, and it supports the 28″ screen well. Unlike the ROG Swift monitor, this doesn't take up a lot of the desk, and you could get away with this in small spaces.
Contrast Ratio & HDR
Whether we are buying a new TV, a monitor for console or a brand new gaming monitor for our PC, we need to be aware of the contrast ratio. The contrast ratio is an important feature, especially when HDR is involved and in case you are new to the monitor world, it refers to the difference between the lightest and darkest points.
The BenQ EL2780U has a contrast ratio of 3000:1, which isn't too bad when you factor in the low price point. You want this range to be as big as possible really to get the most realistic images but anything over 2000:1 is decent for gaming.
This monitor supports HDR10 which is the most common standard of the technology and is also featured in UHD Blu-ray. The TN panel has a 10-bit native color depth but unfortunately no DCI-P3 color gamut.
Resolution & Refresh Rate
There are going to be a lot of terms thrown around that you may or may not know the meaning of. So, we are going to break down the different specifications of this monitor for you and explain it a little bit.
Resolution refers to the number of pixels in the monitor. The max resolution is always displayed with any monitor, usually as "3840 x 2160". This monitor has a 4K resolution meaning it has 3840 pixels horizontally and 2160 pixels vertically.
Response time refers to the amount of time it takes for the individual pixels to change color. Response time on a monitor is measured in milliseconds (ms), and generally, with 4K monitors, this is going to be closer to 5 ms than 1 ms. Here though we have a TN panel which often features quick response times, like this one, which has 1 ms. Slow response times on monitors can result in on-screen ghosting, and no one wants that.
Refresh rate determines how fast your monitor will physically refresh the images displayed with the higher the number often resulting in a smoother experience. The BenQ EL2870U only has a refresh rate of 60Hz so it won't be ideal for competitive or high FPS gaming. Regardless 60Hz is fine for a 4K monitor, and you'll be able to cap your FPS to 60 with the Freesync feature for smooth gameplay.
This monitor features a 60Hz refresh rate, which means it refreshes the image 60 times a second.
Inputs
The inputs on this monitor are a bit underwhelming, but with the price dropping, it isn't really an issue. Obviously, we like to see USB Type-C featuring but this is an older monitor so we will let it off.
The BenQ features 1 x DisplayPort 1.4 and 2 x HDMI 2.0 for greater flexibility with your connection options. The monitor also includes 1 x 3.5mm audio jack which could be great the use of headphones for TV and console.
That's is in the connectivity department, and as mentioned, it is underwhelming as there isn't even a USB slot.
Features
This monitor is hardly one to shout about in the feature department, but it does have a couple to keep you interested. The TN panel may let this down on paper, yet this monitor delivers some fantastic picture quality.
The design is pretty much identical to the 31.5 inch BenQ we are currently giving away. The grey plastic resembles a brushed metallic material and is accented with the odd bit of black. The only noticeable feature being the BenQ logo which sits front and center underneath the bottom bezel. We don't get thin bezel edges on these monitors unfortunately with the thinnest three edges measuring 17mm. Despite being rather on the large side, the monitor's edge still looks aesthetically pleasing.
Round the back, we don't see any added features at all really. You do have the VESA mounting holes (100 x 100) which is something I guess, but pretty bland at the back.
FreeSync
The BenQ EL2870U features AMD's FreeSync. This technology is a great way to eliminate screen tear, and it's much more of a bigger deal when it comes to 4K gaming.
Freesync will certainly improve your gameplay experience with a 4K gaming monitor, as long as your PC can handle it. As this runs at 60Hz, it doesn't require your computer system to get more than 60FPS to take advantage of the technology. I tested this on my system, which I mentioned before (i5, 1080ti) and found Freesync worked wonders for the graphically powerful games. Obviously, if you can afford more, then going for an IPS panel with G-Sync would probably lead to a better gaming experience.
Input lag wasn't an issue throughout testing, but for the more competitive players like my self, this 60Hz refresh rate doesn't cut it despite the 1ms response time.
Overall the monitor performed well with Freesync on, but I'll be sticking to my 165Hz Asus ROG Swift for now.
Eye Care Technology
It doesn't matter if you are getting a monitor purely for gaming or if it's multi-purpose, the fact is we use them a lot, and this can take its toll on our eyes. Eye strain is a big issue with modern computing, and it is something manufacturers have been combating for decades. Both RSI and computer vision syndrome can lead to health issues, so the inclusion of eye care is always a massive bonus.
The EL2780U features low blue light in its eye care package. This feature will protect you against the harmful blue light we get in monitors by removing it. The technology also takes out the radiation, all without compromising the image quality.
This monitor also features flicker-free technology with its eye care. A flickering screen can damage our eyes even though we can't detect it; it is there. This type of technology reduces the amount of flickering, making it easier to game for extended sessions!
Hands-On Results
After using the 27″ ROG Swift monitor for so long, it wasn't really a big switch going to the 28″ sized monitor. Of course, the stand was not as intrusive when compared to the ROG monitor, but the overall product felt very bulky and a bit old-fashioned. The resolution was, of course, a dramatic increase to 4K, which soon helped me forget about the appearance. It is worth noting my system was able to run games at 4K with ease, but you should definitely make sure yours does before going down the 4K route.
Unfortunately, this is a TN panel which offers a 1ms response time. That is a responsive panel but do we really need this for 4K gaming? The viewing angles were a bit dodgy, and I wouldn't use this for a TV, but when sat directly in front, the colors are superb.
IPS has slowly but surely become the norm for a lot of gamers with manufacturers producing IPS displays that feature high refresh rates and quick response times. Despite this, there is still a market for the TN panel, and that is largely down to their price. This BenQ enters calculations as a budget 4K gaming monitor and nothing more, but despite its panel type, you will not be disappointed with this in-game.
The monitor is 60Hz straight out of the box with little to no overclocking capabilities. Unless you are running the best computer in the world, then 60Hz with 60 FPS gaming is probably all you are going to need to enjoy those AAA titles in glorious detail. When turning on the FreeSync with a graphically impressive game, I was overall impressed. The Colours were outstanding, and the visible detail was unbelievable when moving from the 1440p monitor to this. 4K gaming monitors like this aren't for everyone, though, and I'm one of them. Despite this producing great image quality, I'm a competitive gamer, and I need responsiveness over a high resolution.
Is it Worth The Money?
In short, yes. It offers a relatively good deal on a high-quality gaming monitor. That being said, it is geared towards the budget gamer looking to enhance some 4K action. The image reproduction is excellent, and the colors did appear to be a better standard than the Asus monitor.
This isn't for the competitive gamer that's for sure, but with FreeSync, this could easily be a great choice for any casual gamers looking to add a bit of clarity to their games. 4K gaming does require a few half-decent components though so be sure to have a PC ready for it.
Overall the BenQ EL2870U was ok, the image quality was fine, and the price is excellent, but it was rather underwhelming. For the budget gamer looking for a high-quality steal, then sure this could enhance your gaming to no end. A competitive option? No.
BenQ EL2870U
Flicker Free Technology
Yes
---