*CONFIRMED* Logitech G502 X Plus release date, specs, and pricing
Everything you need to know about the upcoming Logitech G502 X Plus
Updated: Aug 30, 2022 8:22 am
It would seem that the Logitech G502 X Plus is finally on the horizon, with more and more leaks coming out of the woodwork via Reddit and even a mysterious trailer, for the upcoming ergonomic mouse.
So, let's have a look at what to expect from the as-yet-unannounced G502 X Plus. We'll cover what we know, what we don't, and what we want from this update to an all-time fan favorite.
READ NOW: Best gaming mouse 2022
*UPDATED 08/30*
Just now, Logitech has officially announced that the G502 X is available for sale right now. This comes from their official Twitter and is accompanied by a spicy trailer depicting the G502 X as a spaceship.
Additionally, you can now buy the Logitech G502 X from the official Logitech website right now, with other retailers sure to follow suit very soon.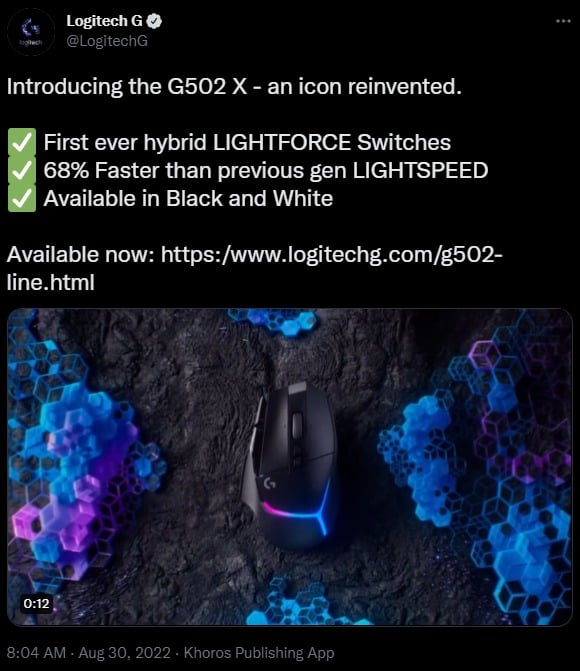 Logitech G502 X Plus specs confirmed
*UPDATED 08/30*
As the mouse has now officially been announced, we can get a look at the actual specs. Find the Logitech G502 X specs below courtesy of Logitech themselves this time, instead of speculation.
Connectivity: USB-C Charging
Weight: 106 grams
Mouse feet: Low-friction PTFE feet
Height: 131.4 mm
Width: 41.1 mm
Depth: 79.2 mm
LIGHTSPEED wireless technology
Up to 5 onboard memory profiles
13 programmable controls
8-zone RGB lighting
Battery life: Constant motion 120 hrs (37 hrs RGB on)
Sensor: HERO 25K
Resolution: 100 – 25,600 dpi
Max. acceleration: >40G2
Max. speed: >400 IPS 3Tested on Logitech G240 Gaming Mouse Pad
These are some very impressive specs, but there are a couple of key points to take away from this list. The first of which is USB Type-C connectivity and charging.
For reasons unknown to mere mortals, Logitech has been continuing to use the now-ancient Micro USB interface for their peripherals, with even the recent Logitech G Pro X Superlight using this old standard.
Another difference worth mentioning is the 106-gram weight. This is a 15-gram weight reduction over the previous G502 Hero, this is particularly good news for those of you who regarded that mouse as a bit of a tank.
---
The G502 X Plus trailer is currently doing the rounds over at r/MouseReview and, unsurprisingly, r/G502MasterRace. You can view it here, and it revealed a few key Logitech G502 X Plus specs that have got us excited.
If you don't have the time to watch a dramatic reveal trailer for a mouse, we've listed the broad strokes and key points below for your convenience.
Thirteen customizable buttons
New lightsync RGB lighting with 8 distinct lighting zones
Lightforce optical hybrid switches
Updated lightspeed wireless connectivity
Increased speed (We think this is referring to polling rate)
HERO 25K sensor
Logitech Powerplay compatible
White or black colorways
From these features, and the new name, we can see that Logitech is positioning the G502 X Plus as the zenith of the G502 product line, incorporating all previous features, while adding improvements too.
Logitech teases G502 X Plus
Just today, Logitech has given us a teaser of the new mouse via a gif showing a sort of abstract mouse shape exploding then coming back together like some Edge of Tomorrow type stuff.
The tweet is captioned 'The game changer | 8.30'. This tells us that they are going to officially announce something.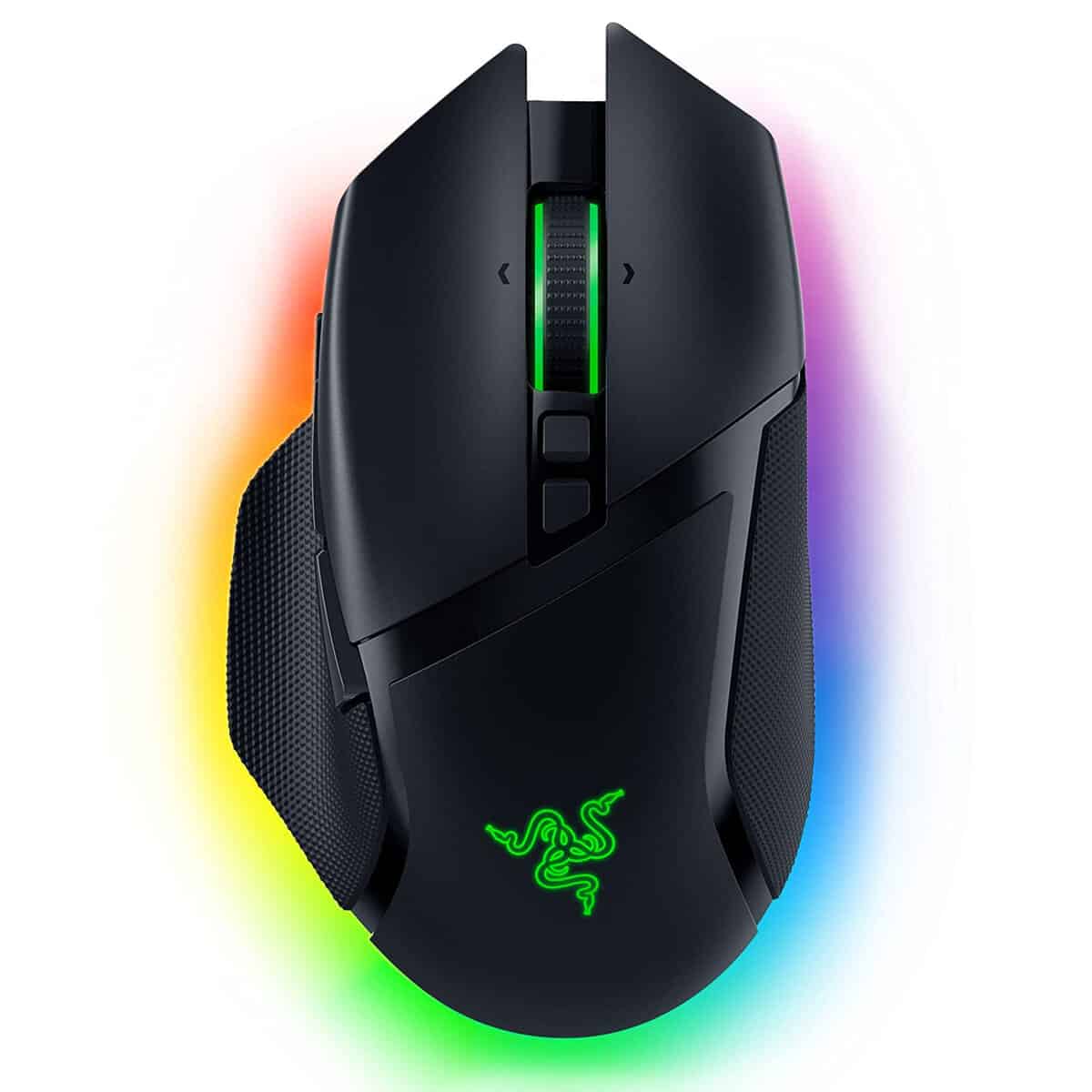 Focus Pro 30K Optical Sensor
Logitech G502 X Plus vs Razer Basilisk V3 Pro
The G502 line of gaming mice has always been compared to Razer's Basilisk line. This makes sense as both have a highly ergonomic right-handed shape, shift buttons, and unconventional scroll wheel designs.
READ NOW: Razer Basilisk V3 Pro review
This means that the timing of the trailer and the surrounding leaks probably aren't a consequence as Razer only just released the Basilisk V3 Pro, so we think that Logitech is going to announce the G502 X Plus soon in order to steal a bit of Team Green's thunder. So, seeing as you might be trying to pick between the two, let's have a look at how they compare.
Possibly the biggest difference between the Logitech G502 X Plus vs the Razer Basilisk V3 Pro is the buttons. It might seem insignificant, but a hallmark of the G502 form has always been the 2 additional buttons along the outside edge of the left mouse button.
The Razer Basilisk V3 Pro has no such buttons, which does allow for extra surface area for the left click, so it's a give-or-take scenario here.
Logitech G502 X Plus Weight
Again, we haven't heard anything official, but we've seen some pretty convincing leaks from Reddit user u/Nepuca, these leaks include a lot of imagery and even a video of them weighing the mouse.
If this video is to be believed, the G502 X Plus weight is 104g. This would put it in front of the Basilisk V3 Pro which we measured at 116g. This is a 12g difference which might not sound like a lot, but when it comes to mouse enthusiasts, the tiny metric matter a lot. Why do you think manufacturers like Cooler Master and Glorious go to such skeletonized, honeycombed lengths to cut the weight of their mice?
Logitech G502 Lightspeed wireless gaming mouse
Up to 60 hours (without lighting)
Logitech G502 X Plus vs Razer Basilisk V3 Pro design
The two mouse designs have gone tit-for-tat for years now, with neither being known to have an objectively better design than the other. That being said, the New G502 X Plus is looking pretty fresh from these images.
The biggest difference over the previous versions that we can see from these images is the lighting on the palm section. If you've ever seen J.J. Abram's Star Trek movies, this mouse bears a suspicious amount of resemblance to the bridge of the USS Enterprise.
Contrasting the above images of the G502 X Plus vs Razer Basilisk V3 Pro photography from our full review gives a better idea of the similarities and differences.
Overall, we actually prefer the G502 X Plus vs the Basilisk V3 Pro. We've always been a bit ambivalent toward Razer's triple snake logo, and honestly, it's starting to look a little dated these days.
Logitech G branding has always been a little more subtle, and when combined with the white colorway that u/Nepuca managed to get ahold of (according to another comment, a swiss man sold it to him?)
What we want to see from the Logitech G502 X Plus
As long-time fans of Logitech, and experienced users of the G502 series of gaming mice, we are excited the G502 mice aren't perfect, so here are a few changes we hope that Logitech has implemented in the New Logitech G502 X Plus.
Less weight
The G502 has always been a substantial mouse from a weight standpoint, and some people like that. However, given the advances in mice weight-saving ability that we've seen from the recent G Pro X Superlight and DeathAdder V3 Pro, the weight that people love might as well become optional.
Logitech already ships the Current flock of G502 mice with a number of weights that can be added to the mouse in 2-gram increments. We see no reason why they couldn't apply the weight-saving measures we saw on the G Pro X Superlight to the G502.
This would result in a lightweight mouse, by default, with the ability to increase the weight as the user in question saw fit.
Scroll wheel
One of the things we loved about the Razer Basilisk V3 Pro was the 'Hyperscroll tilt wheel' and how it dynamically switched from notched incremental movement like a traditional scroll wheel to free spinning depending on the speed that you flick it.
If Logitech wants to continue competing with Razer in the ergo gaming mouse space, perhaps a similarly innovative scroll wheel could be in order.
---