Ryzen 7000 series Zen 4 CPU prices have been leaked
It looks like all this promised performance comes at a cost.
Updated: Oct 20, 2022 3:36 pm
Ryzen 7000 series Zen 4 CPU prices have been leaked: The release of AMD's 7000 series CPUs is just around the corner, with a promised release date of September 15th, 2022. Zen 4 (Raphael) CPUs are said to bring performance increases of up to 35% over their predecessor. And according to VideoCardz, all that performance will come at a cost.
Now read: Zen 4 what we know
Not only that, it appears VideoCardz has managed to uncover a render of the new 7000 series Ryzen 9 packaging from an "international AMD conference" and we must say, it does look rather expensive.
VideoCardz then goes on to explain that, whilst this may be the Ryzen 9 packaging, the packaging for other series' (Ryzen 7 and Ryzen 5) will likely look different. Even this packaging leak should be taken with a grain of salt.
The information that came along with the photo of this packaging suggests that the pricing may not be all that different from AMD's 5000 series CPUs. The main differences will be in the high-end models.
Even though the anonymous information VidoeCardz received was not incredibly specific, we can draw some conclusions based on what they did reveal.
The leak suggests that the Ryzen 7 7700X will cost the same as a Ryxen 7 5700X, the Ryzen 7 7800X will be more expensive than the Ryxen 7 5700X, and both of the Ryzen 9 chips will be more expensive than the Ryzen 5000 series predecessors.
Here's a table of what we assume the pricing of AMD's 7000 series CPUs to be per the information we have right now.
Ryzen 7000 series pricing (alleged)
Here's the pricing we have deciphered based on all the information this leak has given us.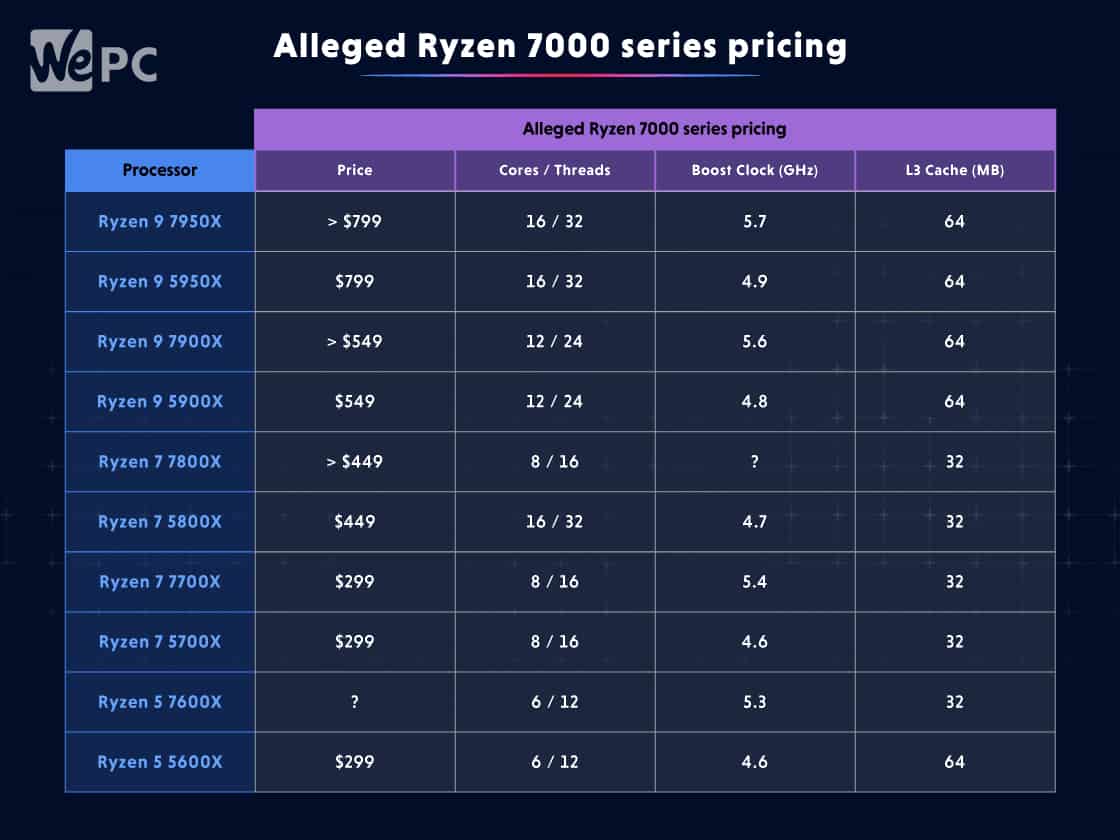 Interesting to see the Ryzen 7 7800X on the list, as we've had no confirmation from AMD nor leakers that it exists. We assume it would be released in the second cycle of Zen 4 CPUs if not now. So, at least internally, the 7800X exists. But we still have no idea what its specifications or release date might be.
As you can see, you're definitely paying a pretty penny. Nobody expected AMD's Zen 4 CPUs to be cheap, but honestly, it's not nearly as bad as we were expecting. Maybe the huge price hike GPUs suffered over the last couple of years has desensitized us to high prices.
Either way, if Zen 4 7000 series processors deliver like AMD promised they will, we'd say the alleged prices are more than worth it. We hope you enjoyed this Ryzen 7000 series Zen 4 CPU prices have been leaked article.
When did Ryzen 7000 series come out?
September 15th is the leaked release date of which the Ryzen 7000 series CPUs will release.
Yes, it appears as though the only memory support on the AM5 platform for Zen 4 processors will be for DDR5. There is no mention of DDR4 anywhere in leaked AM5 or Zen 4 documentation.
No, Ryzen 7000 series CPUs are designed to fit socket AM5, the successor to AM4. This time around, AM5 is built on the LGA socket architecture, the same as Intel's sockets.
---