Intel 13th gen Raptor Lake suspected SKUs
With the release of Raptor Lake rapidly approaching, we still don't have any solid information about the CPUs releasing in the 13th generation.
Updated: Jul 25, 2022 1:13 pm
Intel 13th gen Raptor Lake SKUs: Intel's 13th generation chips are soon to hit the market, but we still don't have much information about the specific CPUs that comprise the 13th gen. We do have some leaks surrounding the suspected 13900K and 13600K, but outside of that, not much.
Now read: 13th gen Raptor Lake, what we know.
13th gen Raptor Lake
Intel's 13th generation of CPUs have been dubbed 'Raptor Lake' and are more of a subtle improvement over Alder Lake, Intel's 12th generation CPUs.
Raptor Lake is going to retain the same socket compatibility as the 12th gen, meaning it will fit your LGA 1700 motherboard. Intel promised to keep LGA 1700 going for a couple of years after Alder Lake was released because we think even avid Intel enthusiasts are tired of changing sockets so often.
Raptor lake is designed around Intel's in-house architecture 'Intel 7' that's based on a 10nm process, the issue with this is that AMD's new Zen 4 architecture is based upon a 5nm process. The smaller the 'nm process', the higher the IPC (instructions per core), and the better the performance.
Raptor lake will be based on the same model as Alder lake for the most part, with the same Greacemont core architecture being used for its efficiency cores. But this time around, Intel has updated the performance core architecture. The new P-core architecture has been updated from Golden Cove to Raptor Cove.
Raptor lake SKUs
Now we're going to use historical data and snippets of the latest news to speculate on what SKUs may be hitting the market first when Intel's 13th gen Raptor Lake releases.
i9-13900K
We know there's going to be a 13900K as we've seen some performance benchmarks leaked in the last few days. Check out our 13900K CPU-z leak article to learn more.
The 13900K will be the 13th generation flagship, assuming Intel doesn't release a 13900KS when AMD releases its Zen 4 3D CPUs later on in 2023.
Intel's 13900K will most likely have 24 cores, with an eight P-core and 16E-core configuration. Totalling 32 threads, assuming Intel hasn't figured out a way to hyper-thread Greacemont E-cores.
We could apparently see boost speeds of up to 5.8GHz on the 13900K according to this article from Wccftech. That's a 0.3GHz boost over the 12th gen Alder Lake flagship, the 12900K.
i7-13700K
Again, leaks have surfaced lately surrounding the i7-13700K and its performance, such as this one from VideoCardz.
This leak suggests that the 13700K could be an eight P-core and eight E-core configurations with 24 total threads. This is similar to the 12900K from the last generation.
Only this time, the 13700K will have a 5.2GHz boost speed, not too far off from that of the 12900K. And the new leaks suggest that the 13700k could have a base core frequency of around 3.4GHz.
This CPU was tested on a DDR5 motherboard, so we don't yet know the DDR4 frequency any of the 13th gen CPUs will support as a baseline. However, we do know that 13th gen CPUs will support DDR4.
i5-13600K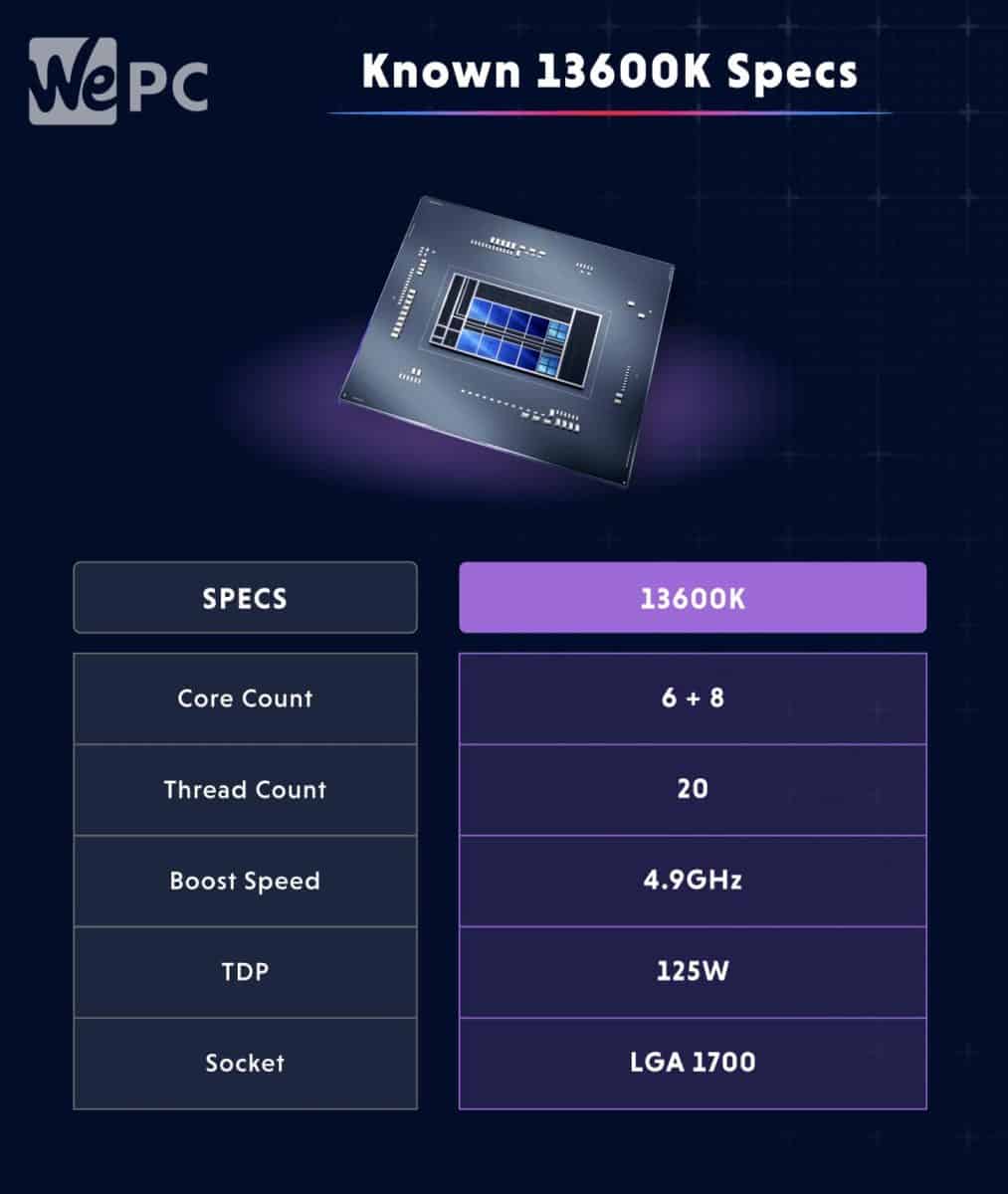 According to this article on PCGamer, the i5-13600K looks like one powerful chip. We think that the 13600K could be the sweet spot for 'price to performance' for the 13th generation.
The 13600K is suspected to have a total of six P-cores and eight E-cores, this means it'll most likely have a total of 20 threads. Intel seems to really be increasing the numbers this time around.
The engineering sample in the leak had slightly lower clock speeds than the expected 13600K, but the real deal should have all core boost speeds of up to 4.9GHz and all cores of up to 5.1GHz. The base core frequencies are not yet known.
The 13600K scored a lot higher than the 5950X in single-core performance, with the 13900K scoring 830 points and the 5950X only scoring 648. The 5950X still stayed ahead in the multithreaded workloads though but almost 20%.
Final word
That's about it for our Intel 13th gen Raptor Lake SKUs article. Intel is building something great here, and although the expected performance increase over Alder Lake is said to be limited, we like the look for the 13th gen so far. And can't wait to see how it stacks up against AMD's new Zen 4 CPUs in September. We will update this article as we get more information about the chips within Raptor Lake.
Please feel free to leave a comment down below if you have any questions or want to contribute to the article.
---