Asus, MSI, and Gigabyte have released their TRX40 motherboard lineup for AMD's Threadripper 3970X and 3960X. 
Last week, AMD formally announced that its next generation of Ryzen Threadrippers will consist of the 24-core and 48-thread 3960X and the 32-core, 64-thread 3970X models.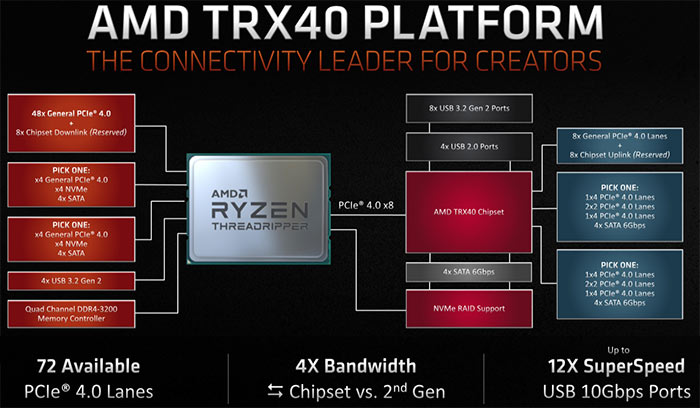 As a result of this, AMD's hardware partners have come forward to announce their own motherboards set to house this new range of Threadripper silicons. 
Asus
Asus has revealed a total of three TRX40 motherboards so far. They have described their lineup as "designed for professionals, gamers and enthusiasts...with PCIe 4.0 support on every PCIe and M.2 slot on the boards, meaning that whoever you are, the best performance is available for you". 
The first is the ROG Zenith II Extreme, which seems perfectly built for 3D artists and CAD professionals. 
Asus describes this model by saying it "strikes a balance between industrial power and gamer-friendly flash". 
The ROG Zenith II Extreme motherboard comes with:
Eight DDR4 DIMM slots

Four PCIe x16 slots

Eight SATA 6gbps ports 

Five M.2 slots

Aquantia ACQ-107 10G Ethernet port

1Gbps LAN port

Wi-Fi 6 (802.11ax)

Bluetooth 5 wireless connectivity
Besides the ROG Zenith II Extreme, Asus also announced the ROG Strix TRX40-E Gaming and the Prime TRX40-Pro. The first one is aimed at gamers and lacks some of the options that the ROG Zenith model has such as a 10G Ethernet port. However, it still comes with eight DDR4 DIMM slots, three PCIe x16 ports, three M.2 slots, a PCIe x4 slot, and eight SATA 6Gbps ports. 
The Prime TRX40 is a low frills version eight similar specs but lacks built-in WiFi and RGB lighting.
MSI
MSI has released multiple TRX40 motherboards, including the Creator TRX40, TRX40 Pro 10G, and the TRX40 Pro WiFi. 
While the details on the previous two are a bit vague at the moment, we know a bit more about the Creator TRX40. It features:
16-phase power design

eight DDR4 DIMM slots

10GbE LAN 

1Gbps LAN connectivity

Wi-Fi 6 

Four PCIe x16 slots

Three M.2 slots

Six SATA 6Gbps ports
You can even add in an M.2 Xpander-Aero which will add in four more M.2 slots if you need them. 
MSI said: "To meet the most demanding requirements for content creation processes, Creator TRX40 motherboard is well-designed in every respect. In terms of design, the concept follows the craft of 'crystal'. The crystal design reflects the light magically with millions of color effects. Creator TRX40 also features the best hardware design for maximum performance and long-lasting operation."
Gigabyte
Gigabyte has also launched several motherboards, including the TRX40 Aorus Xtreme, the TRX40 Aorus Master, TRX40 Aorus Pro, and the TRX40 Designare. 
Acting as the flagship of the bunch, the TRX40 Aorus Xtreme features 16+3 phase design, dual 10GbE LAN ports for better-wired connectivity and Wi-Fi 6 and Bluetooth 5 for wireless connectivity too. 
The motherboard also features:
Eight DDR4 DIMM slots - supporting up to 256GB of quad-channel memory

Four PCIe x16 slots

Four M.2 slots

10 SATA 6Gbps ports

An onboard audio scheme with 130dB SNR AMP
Gigabyte said: "3rd gen AMD Ryzen Threadripper processors continue to build on the huge success of the groundbreaking line of CPUs and our boards feature some of the most impressive power and thermal designs to fully unleash the power of these CPUs. We've also upgraded our PCIe design so users can enjoy true PCIe 4.0 performance at its best."
Final Word
At the moment, pricing information for each model and manufacturer hasn't been released yet. We're also not sure yet on when we'll get to see these motherboards, but as always, we'll keep you updated when we know more.