Nvidia's RTX 20-series GPUs may offer faster speeds compared to the graphics cards that preceded them, but the correlating rise in prices meant they carved out space for the GTX 10-series, which is widely believed to be the best family of graphics cards under $500.
The GTX 10-series has already done enough to prove to us that it's a GPU collection worth considering if you're in the market for a new graphics card, whether you're looking to upgrade or build your own PC from scratch. But which of these cards is the best choice?
When it comes to comparing the GTX 1070 to the GTX 1070 Ti, this family feud is one we're hoping to settle by considering their architecture, thermal cooling capabilities, memory storage, and overall performance of each GPU to see which model is the head of the family.
It's time to spill the tea on whether the GTX 1070 Ti is really that much more advanced than its sibling, the GTX 1070, or whether you'll end up paying extra for a graphics card that doesn't deliver. So, let's get into it.
EVGA GeForce GTX 1070 SC Gaming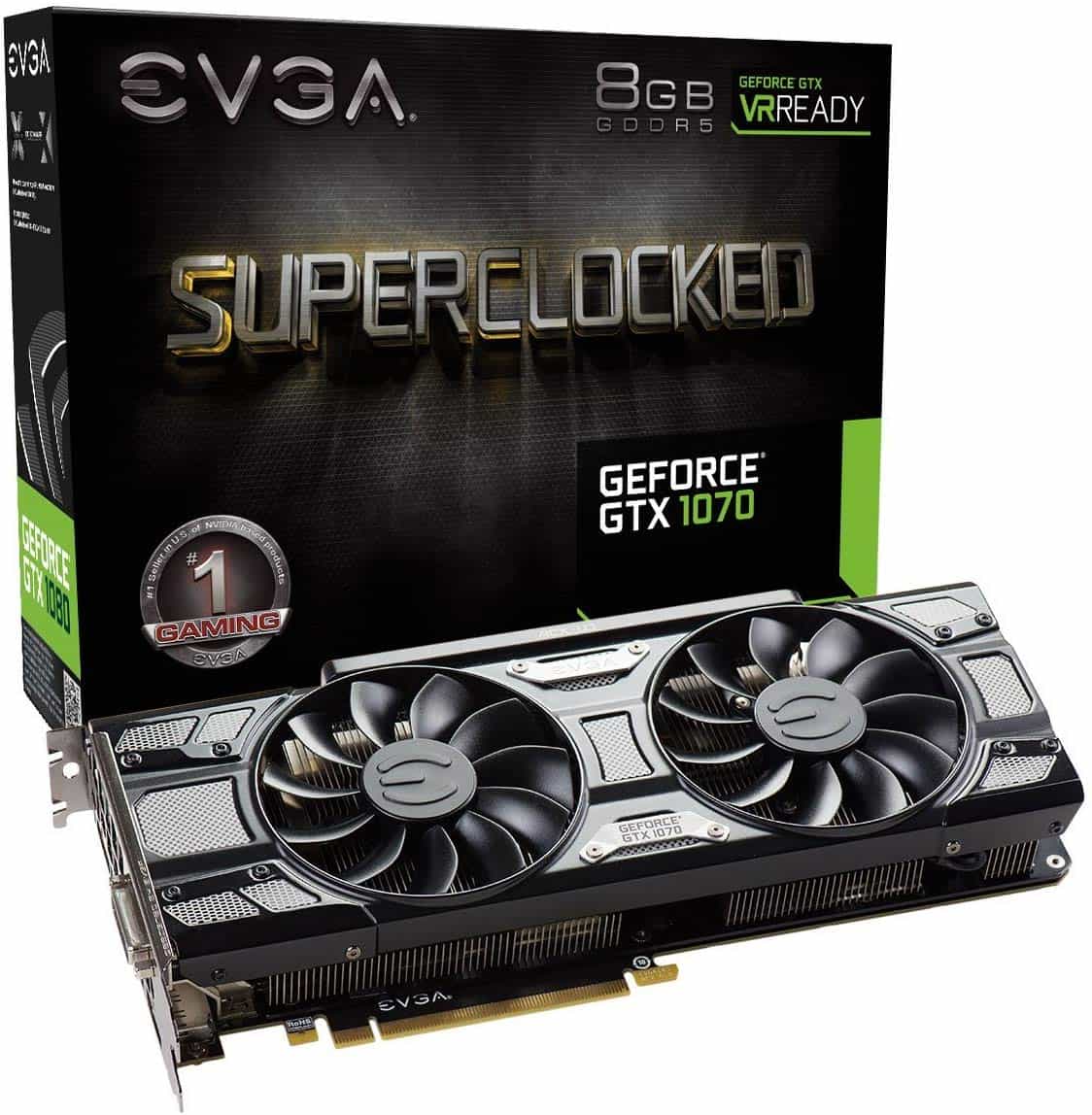 EVGA GeForce GTX 1070 SC Gaming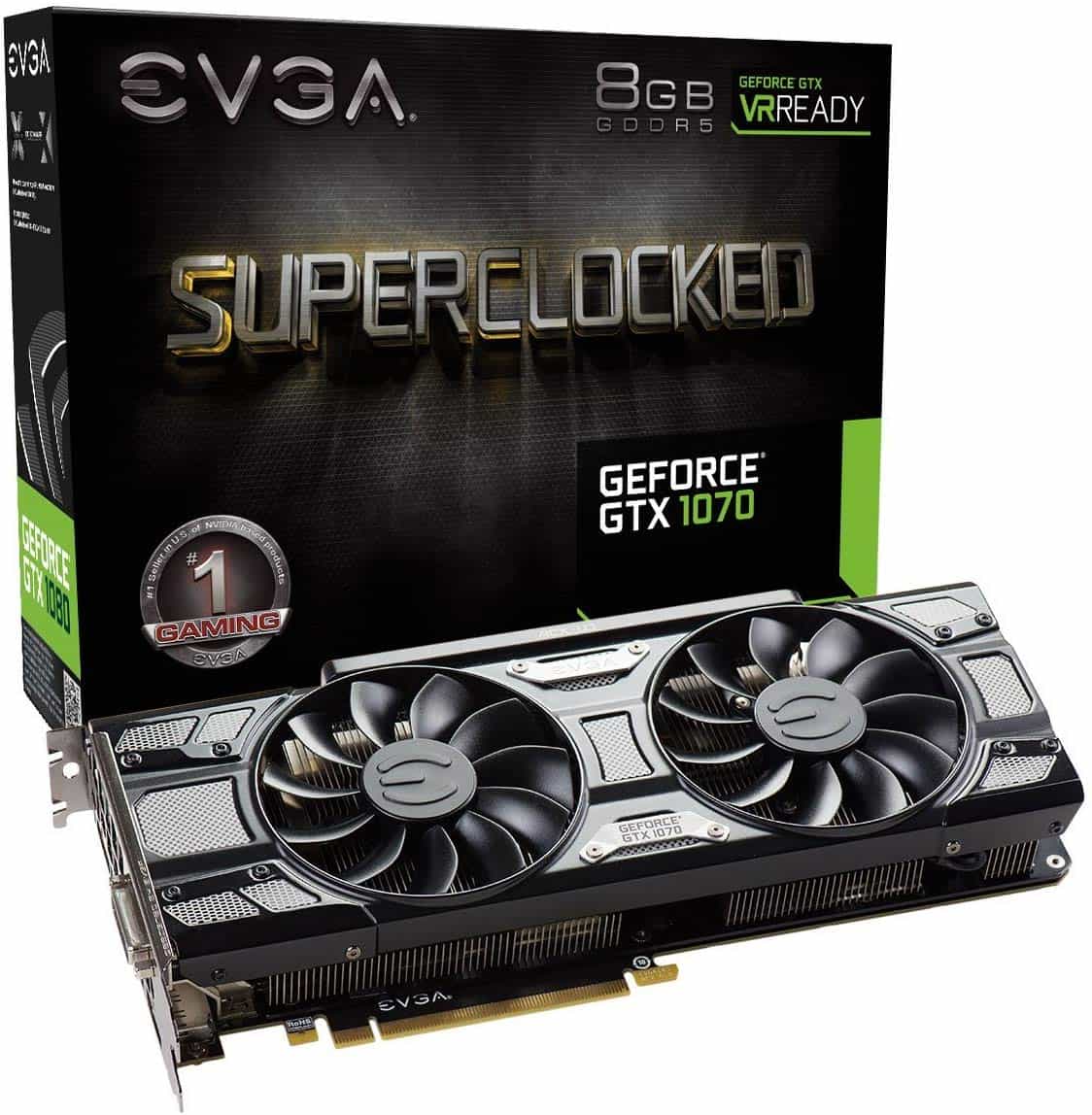 The GTX 1070 Ti uses the same GP104 GPU as the GTX 1070, but there's an increase in the number of CUDA cores by about 27 percent which brings it more in line with the GTX 1080's performance capabilities. The GTX 1070 Ti and the GTX 1080 AMD GPUs have 2,432 and 2,560 CUDA cores respectively, while the GTX 1070 has just 1,920.
In each of the streaming multiprocessors, you'll find between 60 and 128 CUDA cores, and the GTX 1070 has a total of 1,920 SM altogether. It's outperformed by the GTX 1070 Ti, but they're both based on 6nm Pascal microarchitecture which is powerfully efficient.
Although it was once boasted as being three times faster than its predecessor, the now-older architecture of the GTX 1070 and the 1070 Ti is less advanced than Nvidia's more recently released RTX cards, which feature the latest Turing NVENC architecture and ray tracing ability.
The GTX 1070 runs at 1,506 MHz and you can boost this speed to around 1,683 MHz or higher through overclocking your GPU. Comparably, the GTX 1070 Ti has a better base speed of 1,607 MHz, which is the same as the GTX 1080, but its boosted speed actually matches that of the GTX 1070.
When pushed to the uppermost limits of its capabilities, the GTX 1070 rises to temperatures above 80 degrees Celsius. While this may not exceed the GPU's maximum temperature of 94 degrees Celsius, it is still not recommended, therefore it's worth investing in a good cooling system to prevent overheating or your GPU running at regularly high temperatures.
The GTX 1070 Ti also has a maximum temperature of 94 degrees Celsius, but it tends to be slightly more stable in terms of temperature. Playing more taxing games at 1440p might see it rise above the 70 mark to around 76 degrees Celsius in the absence of a proper cooling system, and Pascal performs best when your GPU is kept cool.
The only real reason the dimensions of the graphics card may come into play is if you're already struggling for space in your existing setup, but where two cards are the same there's not much comparison to make.
Both the GTX 1070 and the GTX 1070 Ti measure 112mm in height x 267mm in length x 40mm (2 slots) in width. Technically, either of these graphics cards could crowd busier boards, but they're not such titans that they would take up the whole area. They do, however, pack plenty of power into every inch of their size.
Each of these graphics cards also has an 8-pin connector that supports PCI-Express 3.0 x 16, three DisplayPort 1.4 ports, an HDMI 2.0b port that supports 4K60 10/12b HEVC decode, and a dual-link DVI port.
Games with lower resolutions shone a particular light on the GTX 1070's capabilities at these settings, and it pulled ahead in games like Grand Theft Auto, Fortnite, and World of Warcraft, where its performance can't be faulted.
At stock speeds, both of these graphics cards perform well at standards we've come to expect from Nvidia's GX-series GPUs. The GTX 1070 Ti took the lead in the majority of games we tested them both against, although it doesn't quite keep up with the GTX 1080.
It may vary depending on the game you're playing and your resolution settings, but you'll see around a 25 percent improvement in the GTX 1070 Ti compared to the non-Ti version.
The extra CUDA cores come in useful here, especially when playing at 1440p which seems to be the optimal setting. Armed with these, the GTX 1070 Ti holds its own against AMD's RX Vega graphics cards and runs computerized circles around the GTX 1070.
Now, this is where things start to get interesting. Ray tracing may not yet be a common feature of the new games being released, but while it was previously thought to be reserved for Nvidia's RTX-series graphics cards, both the GTX 1070 and the GTX 1070 Ti can be stretched to handle DirectX Ray Tracing by downloading the new driver update.
Like the GXT 16-series, the GTX 1070 and 1070 Ti were not designed specifically for ray tracing, so this technology comes at a cost to the quality of its performance with slower frame rates per second and less stable imagery.
The GTX 1070 has a total of 8GB of GDDR5 memory which consumes more power than the more recently developed GDDR6 VRAM, and it has a memory speed of 8 Gbps, which is the same as the GTX 1070 Ti.
Rather than follow the GTX 1080's GDDR5X, the GTX 1070 Ti features the same GDDR5 memory and therefore the same memory bandwidth as the GTX 1070, but this is where those extra cores come into play.
The lack of memory bandwidth is negated by the faster clock speeds of the GTX 1070 Ti, and so doesn't have as much of an impact on the graphics card's performance, therefore it can handle higher resolution games making it the better choice.
EVGA GeForce GTX 1070 SC Gaming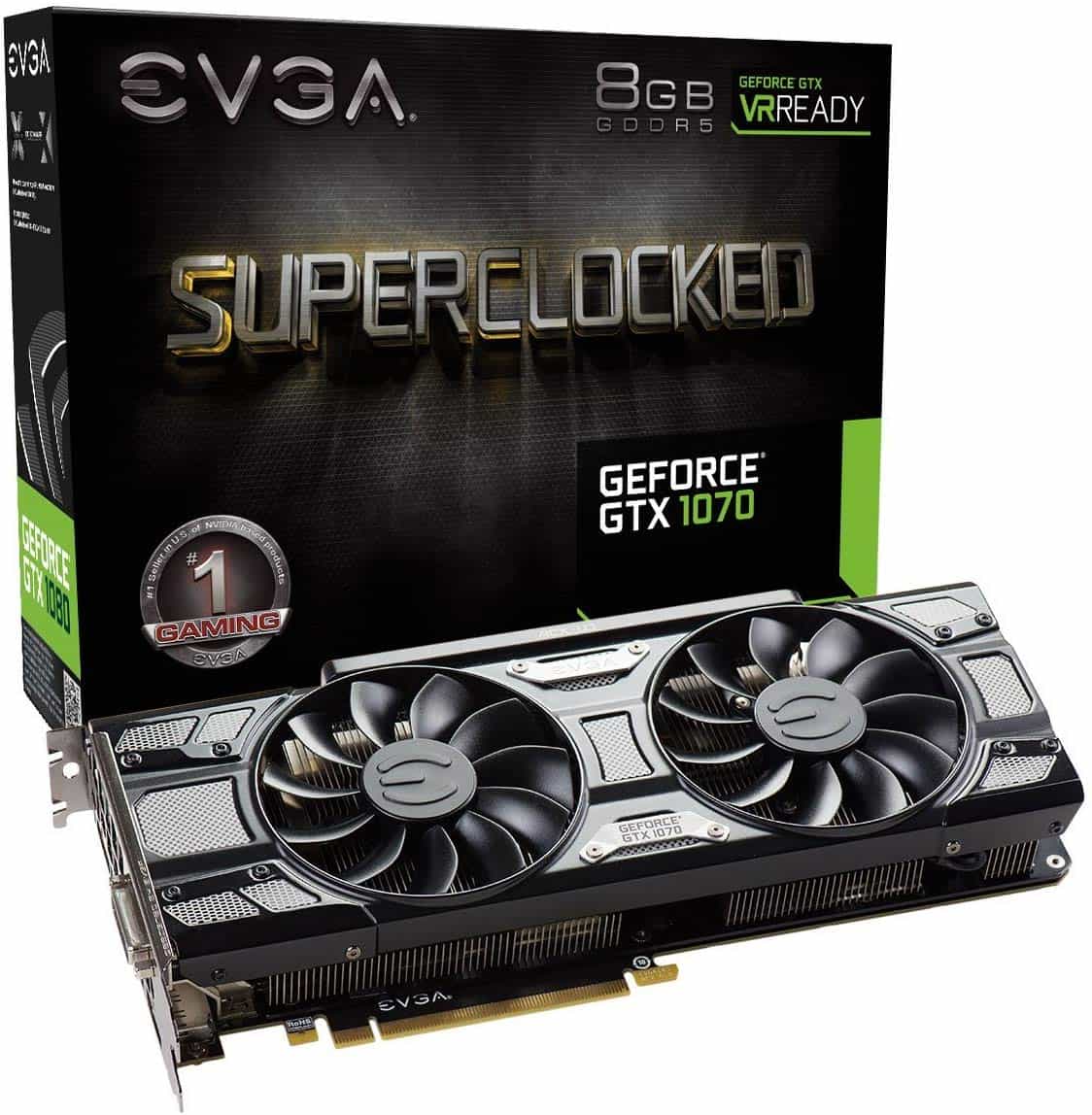 EVGA GeForce GTX 1070 SC Gaming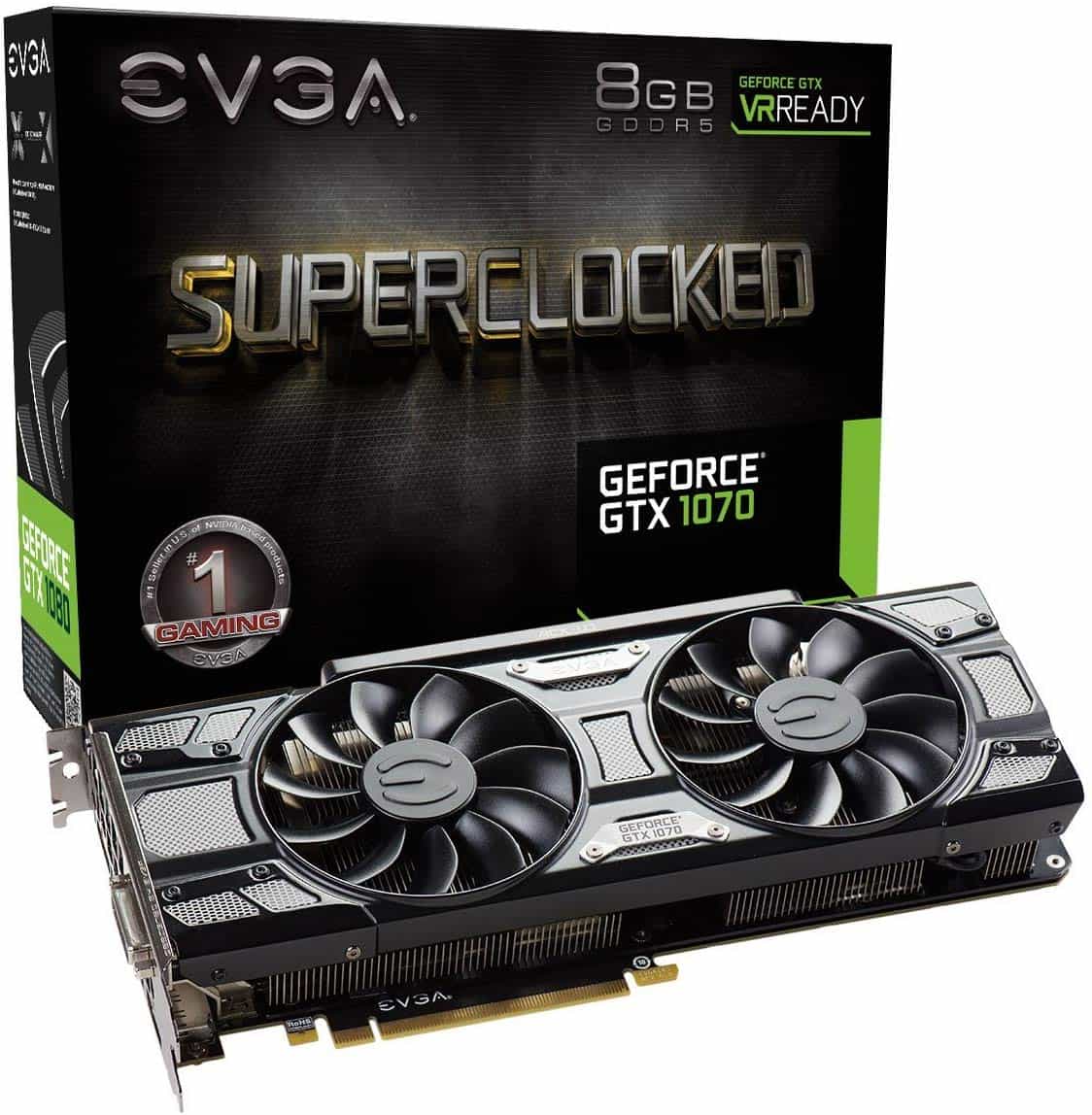 Just like the majority of Ti-cards, the GTX 1070 Ti provides smoother, faster gameplay with improved graphics compared to the non-Ti model. However, its superior performance doesn't take away from that of the GTX 1070, which is an impressive GPU in its own right that sits at a more affordable price point.
Both of these Nvidia cards are surprisingly good value due to the drop in price since this series was first released, but the GTX 1070 Ti sits between its sibling and the more expensive GTX 1080, at the crossroads between quality and justifiable price.