If you've been looking to pick up a new gaming monitor for a while now and have been feeling pretty overwhelmed by all the available options, don't worry! Here at WePC, we take a look at some of the best options out there so you don't have to.
Grabbing a dedicated gaming monitor is a perfect way to take your games to the next level without cracking open the case. The increased resolution, lower response times, and higher refresh rates can transform your games and even improve your gameplay.
If you aren't too sure what to look for in a gaming monitor, we'll also be going through some of the key things to consider after our list of monitors. This will go into a bit more depth of some of the key terms and phrases you'll see on product pages.
Why Buy A BenQ Gaming Monitor?
A great way to start your search is often to pick a manufacturer or two that you trust and take a look at their products. We'll be looking at BenQ monitors in this article. Although not a famous high street brand, BenQ is a Taiwanese technology company that has been around since the mid-80s. According to their literature, they aim to bring customers great products at affordable prices, without any sacrifices in quality. They also sell a great range of products ranging from gaming monitors to business displays and even projectors.
Purchasing from a company that has a primary interest in creating the best monitors out there is a sure-fire way to ensure you'll receive a high-quality product.
Where Can You Buy A BenQ Gaming Monitor?
With so many buying options out there today, it can often be difficult to even decide where to look. If you want to see the current lineup of BenQ monitors, heading over to their official website is the best way to check out exactly what they offer. You'll be able to filter through products and even take an in-depth look at what each monitor offers.
Another great place to look is marketplace sites such as Amazon. While you may see a wide range of products show up, you can filter down your search, read reviews, and even compare items to find the perfect monitor for you.
Which BenQ Gaming Monitor Is Best for You?
BenQ EX3203R
Tech Specs
Size - 32"
Panel - VA
Resolution - 2560 x 1440
Refresh Rate - 144 Hz
Response Time - 4 ms
There's nothing better than having a large monitor to play your games on, especially when it has a slight curve and boasts an impressive resolution and refresh rate too. This is a well-designed monitor that has an eye-catching 32", 1800R curved screen which makes it look great on any desk. The monitor also has a small bezel which adds a lot to the look as well as an adjustable chrome-look stand.
This monitor performs pretty highly in the color department too. The HDR feature is great for getting the best out of the VA panel. It's easy to set up and allows for a much deeper, richer range of colors.
For gaming, you just can't beat a 144 Hz, 1440p monitor. While you can go higher in both these regards, the value for money here is superb. If you play FPS or esports titles, the higher refresh rate will make your gameplay and reactions as smooth as possible.
There is also the inclusion of Brightness Intelligence Plus on this monitor that aims to reduce the strain on your eyes. The built-in sensor detects the amount of ambient light in the room and adjusts the monitor's brightness accordingly. You can also disable this feature if needed.
If you want more information on this impressive monitor, be sure to check out our full review.
BenQ EW3270U
Tech Specs
Size - 32"
Panel - VA
Resolution - 3840 x 2160
Refresh Rate - 60 Hz
Response Time - 4 ms
Looking for a monitor that will push your game's quality to the limits? BenQ also sells a number of great 4K monitors. The BenQ EW3270U is a perfect example of the quality you can expect when making the jump to a higher resolution.
It may take some getting used to at first, but a 32-inch monitor is something that can transform any gaming experience. As you'll be sitting a lot closer to a monitor than a TV, the 32 inches will seem almost too large at first, but you'll quickly get used to the extra space.
This might not be the best gaming monitor for you if you are looking for high refresh rates and low response times, but this is often the unfortunate tradeoff when choosing a 4K screen. The HDR is impressive on this monitor and really serves the increased resolution well, you'll be able to enjoy your games in more detail - if your PC can handle the extra strain. The 3000:1 contrast ratio isn't the best on the market however, so you may want to check this monitor out in person before you purchase.
While this is a great looking monitor, it doesn't have as many adjustability options as we'd like. You can only tilt this monitor backward and forwards, but there is no control over the height which means you'll be relying on books or a monitor stand here.
If you'd like some detailed information on our findings when we looked at this monitor, check out our full review.
BenQ EL2870U
Tech Specs
Size - 28"
Panel - TN
Resolution - 3840 x 2160
Refresh Rate - 60 Hz
Response Time - 1 ms
If you've got your heart set on a 4K monitor but your budget's a bit limited, why not take a look at the BenQ EL2870U?
This is a relatively inexpensive gaming monitor - by 4K standards at least. The 4K resolution looks fantastic and you've even got HDR technology to benefit from. Response time is pretty good too - measuring at 1 ms so you shouldn't have any trouble there.
Where it falls short is with the refresh rate which is sadly a low 60 Hz. This is something that might turn away die-hard gamers. Another thing you'll want to be aware of is this monitor only has FreeSync technology included. This is great for AMD graphics card users but if you've got an Nvidia card, you'll want to look elsewhere.
If you're like many of us and likely to sink into a good few hours of gaming, BenQ's eye-saving tech is a lifesaver here. BenQ has included Low Blue Light Technology to reduce harmful blue light and Brightness Intelligence which lets the monitor automatically change the brightness on-screen based on your surroundings. These two additions help to reduce eye strain which is great if you have long play sessions
BenQ Zowie XL2411P
Tech Specs
Size - 24"
Panel - TN
Resolution - 1920 x 1080
Refresh Rate - 144 Hz
Response Time - 1 ms
If you are looking for a good budget gaming monitor, then the BenQ Zowie monitor is a great pick. This is a fairly small monitor with 1080p resolution which makes it great for a small environment where space is limited. However, you are also getting a great refresh rate of 144 Hz and an impressive response time of 1 ms so you won't be lacking here even despite the small size and resolution.
This makes it a great monitor for those who like to play fast-paced games. The main downside of this monitor is that there's no Adaptive-Sync to speak of. This definitely helps to keep the price down but it's a shame to miss out on it, especially when many other monitors will include it as standard nowadays. As a result, there could be some issues with screen-tearing during gameplay.
The design of this monitor isn't the sleekest or most attractive on the list. However, this is a great no-frills monitor that will perform well for the vast majority of people. It's probably not the monitor you'll want if you're looking for the best picture quality in movies but it'll run games without issue for the most part.
Things to Consider
Price Range
The first thing worth considering when shopping around for any piece of hardware is, of course, the price. The problem is, there's so much choice out there and a lot of gaming monitors are pretty expensive. It's always worth doing some research on the prices of budget, mid-range, and high-end monitors to get a better idea of how much you'll be spending.
You can get budget gaming monitors for around $40-80 but you'll likely have to settle for a 1080p resolution and lower response times than a high-end monitor can produce. If you've got a big budget, you could pick up a mid-high end monitor for around $200+ which will net you some great features such as a 4K resolution or impressive refresh rates.
Having a set budget in mind is always a good move to avoid splurging on something you don't really need. Weighing up what you need from a gaming monitor will depend on a lot of things from personal preference to the types of games you play and whether you're planning to use the monitor for other things such as watching movies.
We'll keep going through some other things to consider below, these are also great ways to rate each monitor.
Size And Screen Resolution
One of the main things to look for in a gaming monitor is the size and resolution. Many people make the mistake of only focusing on size. While the size is important, remember that it's not the only thing that matters. If you're looking at monitors 34 inches and above, you'll need to make sure it's suited to your needs and your setup.
You don't want to spend hours gaming away when you're sat just a couple of feet away from a huge monitor. Not only is this bad news for your eyes, but it could also even end up difficult to play games if you can't see the screen all at once. A 24 to 27-inch display is pretty standard these days and will be suited to most people.
Instead, consider the screen resolution. The main ones you'll see are 1080p, 1440p, and 2160p - also known as 4K. As you can imagine, the prices scale with whichever resolution you pick. 4K will be the most expensive but another thing to consider is whether your PC can actually handle a 4K resolution before you blow your money!
Refresh Rates and Response Times
The refresh rate and response time of a monitor can often be confused, so here's a quick recap. The refresh rate is the number of times an image is refreshed on screen. A higher refresh rate usually means a much smoother image when you're playing games. If you play a lot of FPS games, the refresh rate is a particularly important thing to consider as it will affect your reaction times and accuracy.
Response time is the rate the monitor can switch from one color to another. Therefore a low response time is ideal because it means your monitor will produce clearer, sharper images with no ghosting or motion blur. If you're looking for a gaming monitor, it's best to aim for a monitor with under 5 ms response time - 1 ms being ideal.
Panel Type
Different monitors have different panels for their display. There are three main panel types - TN, IPS, and VA panels. These each has their own pros and cons which we'll outline below.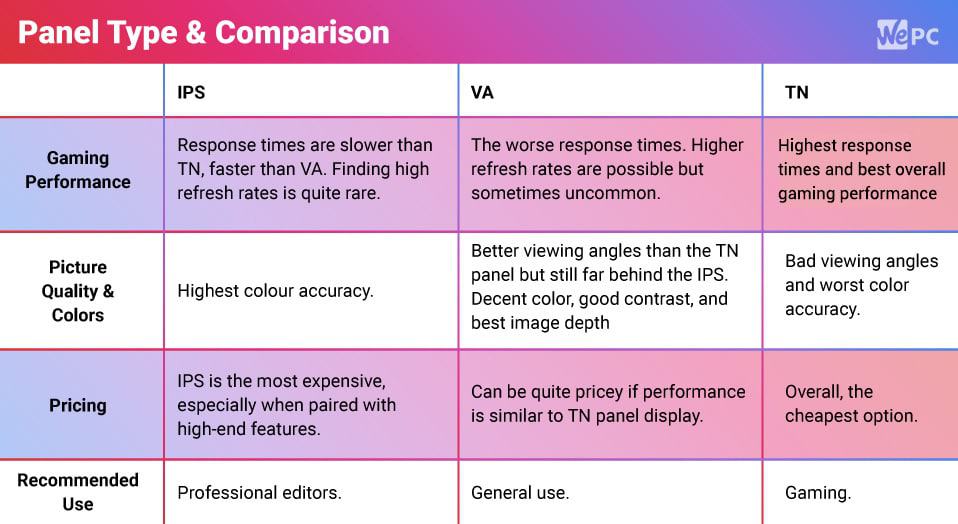 TN Panels
TN panels are usually the panel of choice for budget and lower cost monitors but they perform well with high refresh rates and low response time. The main downside is regarding the image quality which often won't be as sharp as other types of panels. Another downside is that the viewing angles may also be poor, which can lead to some disappointment if you're watching TV with friends.
IPS Panels
IPS panels offer wider viewing angles and great color reproduction. That means these panels are often more expensive than TN panels, but the benefits may be worth the price.
VA Panels
VA panels come somewhere between TN and IPS panels and offer a good middle ground. They have low response rates but some of the budget ones will suffer from some ghosting. VA panels typically have good viewing angles and are often used on curved monitors due to this.
Adaptive Sync
Another thing that you'll need to take into account if you want your games to look good is Adaptive Sync. Adaptive Sync can help your games perform stutter and tear-free.
Typically, this is included on most monitors these days. There are two main types to consider - Nvidia's G-Sync and AMD's FreeSync. They work slightly differently but the result is pretty much the same.
These Adaptive-Sync technologies work best when paired with a graphics card of the same make. However, many FreeSync monitors are now compatible with Nvidia graphics cards. Make sure you check before you buy a monitor whether it supports the type of Adaptive-Sync you need.
Our Verdict
Of course, this isn't a complete list of BenQ monitors but these are some of our top picks. We hope you've found something here which takes your fancy but if not, make sure you do your research. If you think there's a BenQ gaming monitor that should have made the list, feel free to let us know in the comments.
We hope we've helped clear up a few things you need to think about when searching for a new gaming monitor. If you have any other questions, feel free to leave a comment below or head over to our Community Hub to chat with other gamers.