Eve Spectrum ES07D03 4K 144Hz monitor review
We finally get our hands on the Eve spectrum - but how does it compare to the market's leading 4K 144Hz alternatives
Updated: May 18, 2022 10:40 am
It's safe to say that Eve hasn't had a spotless history when it comes to product launches. The company's V computer had arguably one of the worst launches in modern history, with pre orders of the device not being dispatched to customers until months (sometimes years) after the initial purchase. Since then, the company says they have resolved the financial issues they were experiencing over 12 months ago, launching a number of gaming monitors in the process – one of which we'll be reviewing today.
The Eve Spectrum 4K 144Hz gaming monitor is the display in question. It's a high-performance gaming panel that offers up all the bells and whistles you would expect from an HDMI 2.1 ready, next-gen console-friendly panel. At its heart lies a very efficient LG panel that delivers excellent color reproduction, great refresh rates, and a stunning 4K screen with near-borderless bezels. Additionally, the panel offers up HDR600 certification, a 1ms response time, and 98% DCI-P3 coverage – or so the marketed specifications state.
Once you pair all this together – alongside a well-built industrial design that leans more towards designers than gamers – it's easy to see why there was plenty of buzz around this panel.
We'll be putting the Eve Spectrum through its paces in this review to see how it really stacks up against the competition – disregarding the brand's checkered past as we do. We'll be testing the monitor in a number of different scenarios to see how it performs across the board, including gaming, build quality, color accuracy, and panel uniformity.
Eve Spectrum 27″ 4K gaming monitor
Eve Spectrum 4K 144Hz monitor: Specifications
Tech Specs
Color Depth
10 bits (8 bits + FRC)
Color Gamut
100% sRGB, 98% DCI-P3
Backlight technology
W-LED
Panel Coating
Anti-Glare/Matte (3H)
PROS
HDMI 2.1 support
Next-gen console friendly
144Hz refresh rate
UHD 4K Screen resolution
1ms MPRT
What's In The Box
The Eve Spectrum arrived in a fairly small box that showcases marketing material on the exterior (mainly the panel's main features and product imagery). Unlike other monitors, the Eve Spectrum doesn't ship with the commonly-used styrofoam safety packaging. Instead, it relies on heavy-duty cardboard and a snug fit inside for transit security.
The Eve Spectrum is also incredibly unique in the fact that it doesn't ship with a stand. That's right, you have to buy the stand additionally – for $100. Taking all scenarios into consideration, I actually think this is a positive for the panel. For people that use a VESA mount, saving $100 off the cost of this panel is fairly sizeable.
The Spectrum only comes with limited cables, with only a power cable and adapter being included. Users will have to supply their own HDMI 2.1/ DisplayPort 1.4 cable to use this monitor. Furthermore, there were no signs of a user manual either – just a small starter kit that explains how to assemble the panel.
Inside the Eve Spectrum monitor box, you will find the following items:
Eve Spectrum Monitor
Powerpack + cable
Quick Start Guide
Calibration report
Warranty
Design
With specifications out the way, let's take a closer look at the build quality, design, and mechanical features this monitor comes equipped with.
Aesthetics
Aesthetically, the Eve Spectrum is one of the nicest-looking monitors I've had the pleasure of testing. It comes equipped with a sleek design that is characterized by its elegant stand, thin bezels, and matt-grey color. The stand is also comprised almost entirely of metal, giving the stand a premium feel. The base of the stand is square by design and not too large – giving it a statuesque styling. The neck of the stand is incredibly slim and further adds to the elegance of its design.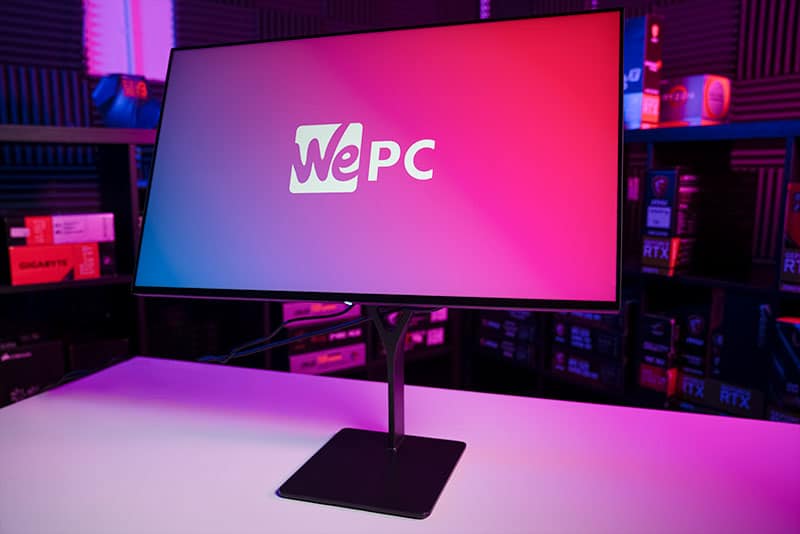 The panel itself is extremely attractive, characterized by thin bezels on all four sides. Yep, this is one of the only gaming monitors I've tested that has a small bottom bezel (closest to the desk). This definitely enables you to become more immersed in games and content consumption when using the Spectrum.
Looking at the rear of the monitor, there really isn't too much to report. The Eve display doesn't go for gamer-gimmicks like RGB and instead opts for a featureless approach. Small input symbols can be found above each of the ports, allowing you to navigate the inputs without having to physically look at them.
A cable management solution has been added to the stand in the form of a small cutout around halfway up the neck. While it doesn't fully cover your cables, it does tidy things up exponentially.
Overall, a very stylish-looking panel that certainly leans more towards the designer than the gamer.
Build Quality
The build quality of the monitor is a mixed-bag if truth be told. Starting with the positives, the Spectrum does offer a solid construction thanks to the utilization of metal throughout. The stand itself is entirely metal by design, giving the monitor a good weight and some stability. The panel itself feels well made and no creaking or flexing was experienced during tests. All inputs feel nicely finished and cables insert with purpose.
The stand is where things get a little dicey. Despite it being comprised of solid metal, the thin design does lead to some wobble at the base. The slender neck screws into the base via a thumbscrew underneath, but even when fully tightened, the panel still had some light wobble.
Panel Coating
Like many modern panels, the Eve Spectrum comes equipped with a matte coating in 3h hardness. This particular coating is extremely efficient at reducing annoying reflections but does lead to fingerprints in abundance.
Alongside mitigating both natural and manmade light sources, the Spectrum's panel coating also adds additional protection to the panel itself.
Bezels
The bezels on the Spectrum are some of the best I've seen. The side and top bezels are incredibly thin like most 'borderless panels, however, the standout difference when comparing this display to others is the bottom bezel – or lack of.
Unlike most other gaming monitors, the Spectrum also comes equipped with a thin bottom bezel. Not only does this add to the general immersion this monitors provides but it also creates an incredibly stylish design as well. For me, this is one of the defining features of the monitor and something that definitely separates the Spectrum from its competition.
Stand
In terms of adjustments, the Spectrum offers most of the functionality you would expect. With tilt, height, and pivot adjustments, you have plenty of options to manouver this panel into your exact requirements.  Unfortunately, it doesn't offer swivel functionality which can be a necessity for some individuals.
As we said in the intro, the Eve Spectrum can be purchased without the stand – equipped with a standard 100 x 100 VESA mount.
Below are the exact specifications of the stand:
Forward Tilt – 7 degrees
Backward Tilt – 23 degrees
Left Swivel – N/a
Right Swivel – N/a
Pivot – 90 degrees
Height – 122mm
Eve Spectrum 27″ 4K gaming monitor
Inputs
Eve states that the Spectrum was co-designed by over 4000 gamers, with many of its features coming off the back of consumer suggestions. During that design period, many of the 4000 were calling out for additional inputs – leading to a tonne of inputs being equipped to this panel.
With that in mind, the Spectrum is one of the most input-rich monitors we've tested. It comes packed with a tonne of different options, including the next-gen console-friendly HDMI 2.1 for 120Hz at 4K screen resolution. It also features a laptop charging support for a tidier desk experience.
A full list of inputs will be listed below:
2 x HDMI 2.1
1 x DisplayPort 1.4
1 x USB  Type-C
2 x USB Type-A
1 x 3.5mm audio jack
1 x USB Type-B
HDCP 2.2
OSD
The OSD (on-screen display) for the Eve Spectrum is fairly advanced but extremely self-intuitive. You can navigate the various menus of the Spectrum via the joystick found underneath at the rear of the indicator light. Annoyingly, we did experience some misclicks when running through the monitor's various menus at speed. This can be particularly irritating if you accidentally select a pre-saved profile as the monitor will switch off briefly to enable it.
Inside the OSD, users have access to all the usual color and picture settings. You can completely customize the performance and picture quality of the monitor via the OSD, changing everything from colors, brightness, contrast ratio, pixel response, game modes, and more.
The main OSD features for the Eve Spectrum are as follows:
Overdrive
Low Latency mode
Frame rate counter
Adaptive Sync
Crosshair
Backlight strobing
Color Accuracy & Picture Quality
Great colors and excellent picture quality are two of the main factors that help create immersion while you're gaming. Despite the importance of good color, monitor manufacturers don't always calibrate the color of their panels to what is deemed accurate within specific color spectrums – sRGB/Rec.709 etc.
We like to test each monitor for color reproduction to see how they would perform in color-accurate scenarios.
Here are the results for the Eve Spectrum ES07D03.
NOTE: Eve has pre-calibrated this monitor to an average DeltaE <2 – the calibration report that comes with the monitor is below:
Unlike many modern gaming-tailored monitors, the Eve Spectrum doesn't come with a plethora of color profiles to choose from. Instead, Eve simplifies the choice, only offering sRGB and DCI-P3 color emulations. We tested both to see how accurate the factory calibration for this monitor was.
| Preset | White Point | Black Depth | Contrast Ratio | Average ΔE*00 | Gamma |
| --- | --- | --- | --- | --- | --- |
| IDEAL | 6500K | 0.00cd/m² | Infinite | 0.00 | 2.2 |
| Out The Box (DCI-P3) | 6417K | 0.1133 cd/m² | 1086:1 | 6.56 | 2.24 |
| sRGB | 6506K | 0.1134 cd/m² | 1085:1 | 1.28 | 2.27 |
As you can see from the chart above, we've included 'IDEAL' results so you can see how the Spectrum compares to the 'best case' scenario. Out of the box, the Eve Spectrum was set in the DCI-P3 color space and had a luminance setting of 50 – which equates to a 254cd/m2.
Out of the box, the Spectrum did perform to a fairly decent standard. White balance measured in at 6417K while black depth was an acceptable 0.1133 cd/m2 – fairly typical for IPS panels. Contrast ratio was above the 1000:1 marketed specifications, with an out the box gamma of 2.24 – close to the ideal. Disappointingly, the DCI-P3 color space preset (out of the box) didn't result in the best average deltaE. In this particular test, the Spectrum scored 6.56 which is more than the recommended for color-accurate work.
We tested the sRGB preset next and the results did improve quite a bit. White balance was almost perfect while black depth and contrast ratio stayed almost identical to DCI-P3. Gamma rose slightly to 2.27. More impressive, however, was the 1.28 average deltaE it now displayed. While this is still higher than the marketed specs, it's more than good enough for color-accurate work within the sRGB spectrum.
After testing the various presets, I wasted no time and decided to calibrate the panel – recording color gamut, panel uniformity, and overall color accuracy.
I selected the 'User' settings for the calibration, changing the RGB values to 255/251/255. 
Here are the results:
| Preset | White Point | Black Depth | Contrast Ratio | Average ΔE*00 | Maximum ΔE*00 | Gamma |
| --- | --- | --- | --- | --- | --- | --- |
| IDEAL | 6500K | 0.00cd/m² | Infinite | 0.00 | 0.00 | 2.2 |
| Calibrated Profile | 6607K | 0.2355 cd/m² | 1074:1 | 0.22 | 0.94 | 2.3 |
The resulting average deltaE for the sRGB color space was greatly improved. While the 'out the box' settings resulted in a 6.56 average deltaE, the calibrated ICC profile now showcased a 0.22 average. That resulted in a maximum deltaE of 0.94 which is pretty decent.
Gamma came in at 2.5 and contrast ratio stayed high at 1074:1. Unfortunately, we did lose some of the white balance accuracies and sore a rise in black depth – now reading 0.2355. Overall, however, the calibrated profile was much better than the out the box settings.
Panel Uniformity
Panel uniformity is a test we run to check how uniform the luminance and color is across the entirety of the screen. During this test, the center square is used as the reference space. Every other square is then tested to see how far it differentiates from the reference.
In an ideal world, we want every square to be green, meaning it hasn't broken the differential threshold – something we can set at the start of the test.
Panel Uniformity Traffic Light System
Note: results will differ from panel to panel.
As you can see from the results above, the Eve Spectrum is incredibly accurate as far as uniformity is concerned. Almost every segment within the screen showcased a 'green' score, meaning each passed the nominal tolerance for deviation from the reference quadrant. This is great for watching content with large patches of the same color (tennis match or football game) or editors who may also require accuracy across the entirety of the panel.
Viewing Angles
Like most IPS panels, the Spectrum offered up excellent viewing angles that exceeded the 178/178 degree marketed specificaitons. While this panel is only small, you could easily use it for multi-person usage – in particular co-op gaming or sharing work documentation.
Eve Spectrum 27″ 4K gaming monitor
Color Gamut
As part of the calibration process, the DisplayCal will give an accurate measurement of the color gamut the monitor can provide. Below are the results of the color gamut test:
Looking at the standard sRGB color space, the Spectrum resulted in a 145.5% gamut volume – covering 99.8% of the space. Wider gamuts such as Adobe RGB and DCI-P3 saw a drop in both volume and coverage – as expected.
We saw a 100.3% Adobe RGB and 103.1% DCI-P3 coverage when testing the Spectrum, equating to 88.0 coverage of Adobe and 96.2% DCI-P3. While this isn't bad at all – reaching the requirements for HDR performance – it's still a little lower than the 98% specifications on Eve's own website.
Looking at the physical gamut graph, you can clearly see where the Spectrum ES07D03 exceeds the sRGB spectrum – showcased by the dotted line. We've also attached the color gamut graphs for both Rec 709 and DCI-P3 so you can see exactly where the panel falls short.
Maximum And Minimum Brightness
We ended the color accuracy and picture quality testing by checking the maximum brightness, minimum brightness, and 120 candelas points on this panel. The results are below:
| Brightness | Candelas |
| --- | --- |
| 100% Brightness | 438.79cd/m² |
| 0% Brightness | 73.69cd/m² |
| 12 Brightness | 120 cd/m² |
Calibrated Profile
For those who want to use our calibrated color profile, you will find a link below where you can download the zip file.
Text Clarity
Below is a photograph that captures the text clarity of the Eve Spectrum – using Notepad with ClearType on and off.
Eve Spectrum ES07D03: Gaming Performance & Response
With color accuracy out of the way, it's time to put the Eve Spectrum through a number of different gaming scenarios to see how it stacks up in pixel response, input lag, and overall responsiveness. Let's dive straight into it!
Competitive Games
While this monitor isn't specifically aimed at competitive gamers, I started off by playing some CS:GO to get a feel of how responsive the panel is. I used the monitor's default settings to see how it performed right 'out the box' and, unfortunately, things weren't as smooth as you might expect from a 144Hz monitor. I noticed a decent amount of jitter and perceived blur when playing Counter-Strike which was a little off-putting. Sharp corners and edges were particularly affected by this particular screen artifact, giving the entire game a slightly choppy feel. 
I played around with the various settings in the monitor's OSD and did manage to smooth out many of the annoying screen artifacts that occurred when playing fast-paced games. We utilized the 'Low latency mode' alongside 'Backlight strobing' set to 'Medium pulse width'. It's worth noting that using this particular feature does reduce your brightness quite dramatically – with no way of boosting it during usage. Furthermore, you are also blocked out of using adaptive-sync and response time overdrive features as well. That being said, with OSD adjustments, you can increase the smoothness of image motion quite dramatically with the features available.
I moved on to more immersive-based single-player titles next – a place where the Eve Spectrum felt a little more at home. Unlike competitive games, playing titles such as Shadow of the Tomb Raider and Cyberpunk 2077 felt incredibly immersive. We turned the high dynamic range on – which in this monitor is HDR600 certification – and colors immediately popped. We experienced a tonne of additional detail in the bright and dark areas despite not having true FALD dimming support. Playing slower-paced titles like Battlefield V and SOTR did lead to a much better gaming experience, with screen jitter and perceived blur reducing considerably. Furthermore, with its thin bezels, the Eve Spectrum not only looked fantastic but also offered a connected feel as well. 
Final Thoughts
So, there you have it, our comprehensive review of the Eve Spectrum ES07D03 – the first-ever 27″ 144Hz 4K gaming monitor from Eve. 
On paper, this monitor had a lot going for it. It was one of the first monitors to offer the coveted HDMI 2.1 input, provided a bunch of high-end features – including an LG panel – and also showcased a stunning design that is up there with the best I've seen. However, after a slew of distribution problems and issues with perceived blur when playing fast-paced titles, the Eve Spectrum wasn't all that it cracked up to be. But let's not be too harsh, the Eve Spectrum did actually provide a lot of positives. 
As we just said, the 27-inch Spectrum is one of the nicest-looking monitors I've tested. It offers a sleek design that is characterized by its slender features and near borderless bezels. The 4K screen resolution is incredibly crisp and the 144hz refresh rate does put it above 60Hz alternatives. Colors are fantastic right out of the box, offering a level of accuracy that would suit editors working within the sRGB color space – with HDR performance also scoring highly for a monitor that didn't provide full local dimming. 
However, we did experience some problems when playing fast-paced titles like CS:GO and Call of Duty, most notable the perceived blur around sharp edges and corners of buildings. Additionally, the stand was a little on the wobbly side and the OSD seemed fairly lacking in features past the basics.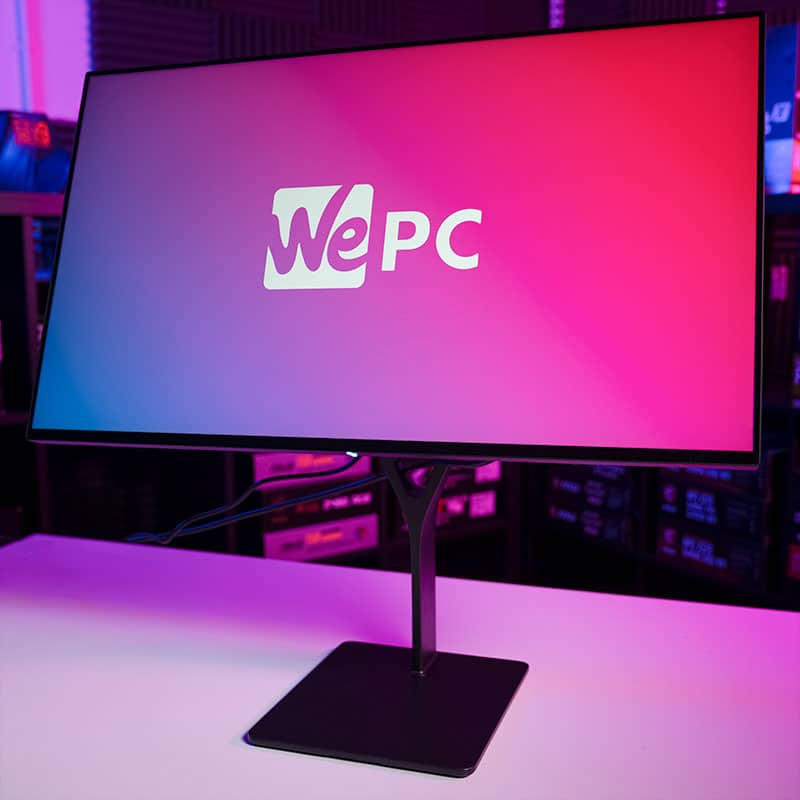 So, how does this monitor stack up as far as value is concerned? Well, it's a tough one. 
When you compare this against some of the market's leading HDMI 2.1 4K 144Hz monitors, it does sit towards the lower end of the spectrum – especially if you purchase it without the stand. It retails for around $799 (monitor only) or $899 (including stand) which is not all that bad considering the average being around the $1,000 mark. That being said, looking at the Spectrum's competition, you'd have to say that it is slightly lacking in both features and performance. AORUS, LG, and ASUS all offer their own 4K 144Hz panels and, why they are mostly more expensive, they seem to offer a more rounded package. 
Ultimately, the Eve Spectrum was a decent monitor. However, the only way to extrapolate true value from this panel is to purchase it without a stand. At $799, you'd have to say that this panel is pretty good value for money. Unfortunately, if you do require a stand, it pushes the monitor into the $900 territory, putting it into direct competition with market leaders. And despite all the good features this monitor provides, at that price, you might decide to opt for a more established brand.
Eve Spectrum 27″ 4K gaming monitor
---