Best 4K 144Hz Monitor 2023 – reviews and buyer's guide
choosing the best 4K 144Hz monitor can be difficult - this guide is here to make the choice a whole lot easier!
Updated: Jul 14, 2023 11:54 am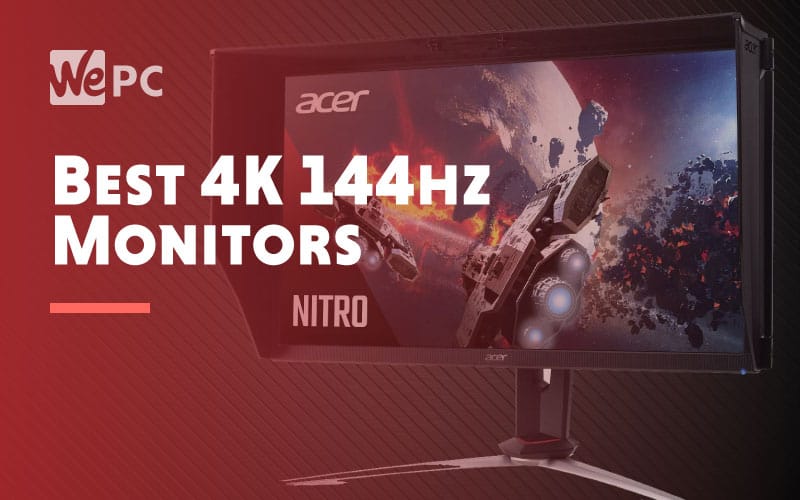 01

Best 4K 165Hz Monitor

SAMSUNG 32″ Odyssey Neo G7

02

Best 4K 144Hz Monitor

LG 27GN950-B 27 Inch

03

Best Budget 4K 144Hz Monitor

Acer Nitro XV273K
Back in the days when the smallest monitors were as big as our desktops, we wouldn't dream about one day using the best 4K 144Hz monitors for our gaming and everyday needs. However, here we are – the 21st century. And the market is flooded with hundreds of affordable monitors, all boasting high-end specs at increasingly affordable price points.
With there being a mass of monitors to choose from these days, we thought it was time to compile this guide of only the best 4K 144Hz monitors on the market. Each of the monitors has been chosen based on select criteria to ensure maximum performance and value for money have been met. These make up some of the best gaming monitors on the market. So, without further ado, let's take a closer look at the best 4K 144Hz monitors available right now.
Today's best monitor deals!
Before we jump into the best 4K 144Hz monitors, you may want to check out some of the best monitor deals currently on Amazon. When picking out a monitor, it's always best to seek out a deal with your purchase! You can also opt to check out Amazon's wider range of computer components and accessories deals if you wish.
Best 4K 144Hz Monitor 2023: products at a glance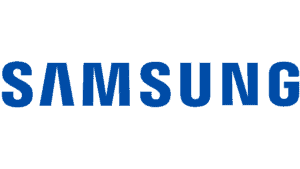 SAMSUNG 32″ Odyssey Neo G7
Curved, HDR, G-Sync, FreeSync Premium Pro
Acer Predator X27 bmiphzx
ASUS ROG Swift PG27UQ 4K Monitor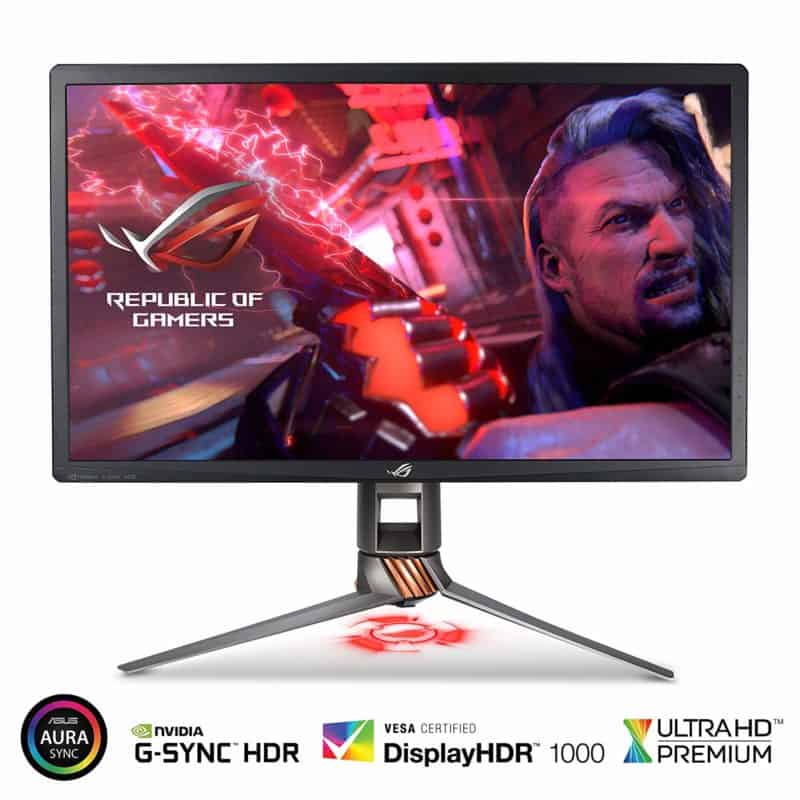 Best 4K 144Hz Monitor 2023: in-depth reviews
To get a good understanding of what makes a 4K 144Hz monitor great, we should establish the pros and cons of some of the best monitors on the market. We'll talk you through a number of brands to give you a good idea of the competition out there.
Best 4K 165Hz monitor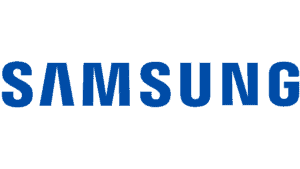 SAMSUNG 32″ Odyssey Neo G7
Curved, HDR, G-Sync, FreeSync Premium Pro
Pros
Large 32″ screen size
Can reach above 144Hz, up to 165Hz
Great HDR performance
More immersive curved screen
When hunting down the best 4K 144Hz monitor, we came across the Samsung Odyssey Neo G7 curved gaming monitor. While this technically can reach a max refresh rate of 165Hz, we still want to highlight it as one of the best on the market. It's a hard monitor to match if you want high refresh rate 4K gaming, unless you jump all the way up to 240Hz – though this is difficult to maintain for most users.
Like we said, you benefit from a little extra refresh rate with this pick, though a flat 144Hz model is actually available too in the G7 range. This allows it to nudge ahead of our other picks in gaming performance, and sits at the 1ms response you need for snappy reactions. Another thing to point out is the curved display, which is great for 4K displays if you want a truly immersive experience. This is a 1000R curvature – so not the most aggressive, but great for a 32-inch monitor.
Aside from gaming, the Neo G7 is also more than capable for work and video editing, much like many 4K monitors. The benefit here over our other picks is the larger 32″ screen.
Overall, it's hard to top the Neo G7 if you're looking for a future-proof 4K monitor. As you'd expect, it fully supports AMD FreeSync Premium Pro – which is great if you want to make the most of it's 165Hz refresh rate, or instead just want to opt for around the 144Hz level if you can't yet output enough frames in your favourite games.
Best 4K 144Hz monitor
Pros
Amazing gaming performance
FreeSync and G-SYNC support
Bright display with DisplayHDR 600 standard
Great ergonomics
Cons
HDR performance not the best with low contrast ratio
Now for a pick which sticks to the 144Hz level, the LG 27GN950-B 27-inch gaming monitor. We think this is a fantastic choice and great value for money. Yet again, the full 4K resolution and smooth 144Hz refresh rate are the main selling points here, ideal if you have a graphics card which can manage modern titles at 144FPS or higher. You're always backed up by full AMD FreeSync Premium Pro and Nvidia G-SYNC support though for more demanding or unoptimized titles. This variable refresh rate tech means you avoid and screen tearing. This is a slightly smaller display than the Neo G7, but 27-inch monitors are still a good match for the 4K resolution.
One downside is that the contrast ratio on this monitor is a tiny bit lackluster comparatively – but it still hits the 1000:1 mark, which is nothing to scoff at. With the DCI-P3 98% color gamut and VESA DisplayHDR 600, you're still in for great color representation and a bright display. We're also impressed by the design of this monitor too, as the virtually borderless design on all sides makes it a treat to look at. Another thing to add here is that this LG pick has great ergonomics. In other words, excellent height, pivot, and tilt adjustments available to position it to your liking.
Another thing to note is that this isn't a curved display, in case you prefer that kind of design. Either way though, we can only recommend this monitor as a great option with plenty of value packed in if in need of a truly great 4K 144Hz monitor.
Best budget 4K 144Hz monitor
Best Budget 4K 144Hz Monitor
Pros
High-end features
Top-tier gaming performance
Fantastic design
Solid build quality
Affordable price point
Cons
Some corners have been cut
Next up is an Acer entry into this guide. It comes in the shape of their Nitro XV273K gaming monitor. Even though the Nitro is thought of as the underdog to their Predator lineup, this monitor actually excels in the gaming department.
Before we discuss specs, first, we explore the design. At first glance, it's hard to separate the Predator and the Nitro if I'm honest. However, when you take a closer look, you soon start to see the subtle differences which definitely help reduce the price of this monitor. The stand is nowhere near as robust and doesn't look that appealing when compared to the Predator. It does, however, come with the same light-reflecting panels for increased immersion, something that should not be overlooked – especially from an esports stand-point.
Speaking of which, this is a perfect time to discuss this monitors high-end performance. With a 144Hz refresh rate and 1ms response time, this monitor exceeds both the ASUS and Acer in gaming performance. Having a reduced response time of 3 seconds probably won't make a huge difference at first glance, but when under the pressure of a fast-paced game, you soon start to see the benefits. Image ghosting is almost completely eradicated.
As far as color accuracy goes, the XV273K does a superb job. It doesn't offer HDR, but it does boast 90% coverage of the DCI-P3 color gamut. Pair that with the viewing angles of the IPS panel, and you have a truly immersive viewing experience.
Ultimately, the best 4K 144Hz monitor for gaming and one that we feel comes to the table at an extremely affordable price point.
One of the best Acer 4K 144Hz monitors
Best 4K 144Hz Acer Monitor
Acer Predator X27 bmiphzx
Pros
Supports G-sync technology
Excellent HDR feature
Great build quality
Automatic brightness adjustment
Cons
VERY expensive
No pivot adjustment
It was no easy task picking the best 4K 144Hz monitor in today's market – and not because there's only a handful to choose from. But, thanks to the excellent pricing of the Acer Predator X27 Pbmiphzx, we decided to give it the praise it deserves.
Let's take a quick look at the X27's design. Straight out the box, this thing feels pretty gamey. With a predominantly black theme, the Predator looks pretty menacing, especially when you take the angular design of the base into consideration. The standout feature of the design has to be the panels that come with this monitor. Obviously, they play a much bigger role than just aesthetics, but when only referencing that specific, it looks a pretty peculiar.
So, specs. The Predator has the luxury of boasting a 144Hz refresh rate, 4ms GTG response time, G-Sync support, HDR 1000 support, a 99% aRGB color gamut coverage, and 10-bit color all wrapped up in a stunning 27″ IPS panel. What this means for consumers is, whether you're looking to game, watch movies, enjoy creative tasks, or pretty much anything in between, this monitor is going to be more than equipped to bring it to life in stunning realism.
Overall, this is our number one pick for the best 4K 144Hz monitor. It offers pretty much every premium spec you would want and at a price tag that is unmatched across the board.
Another great 4K 144Hz monitor
Next Best 4K 144Hz Monitor
ASUS ROG Swift PG27UQ 4K Monitor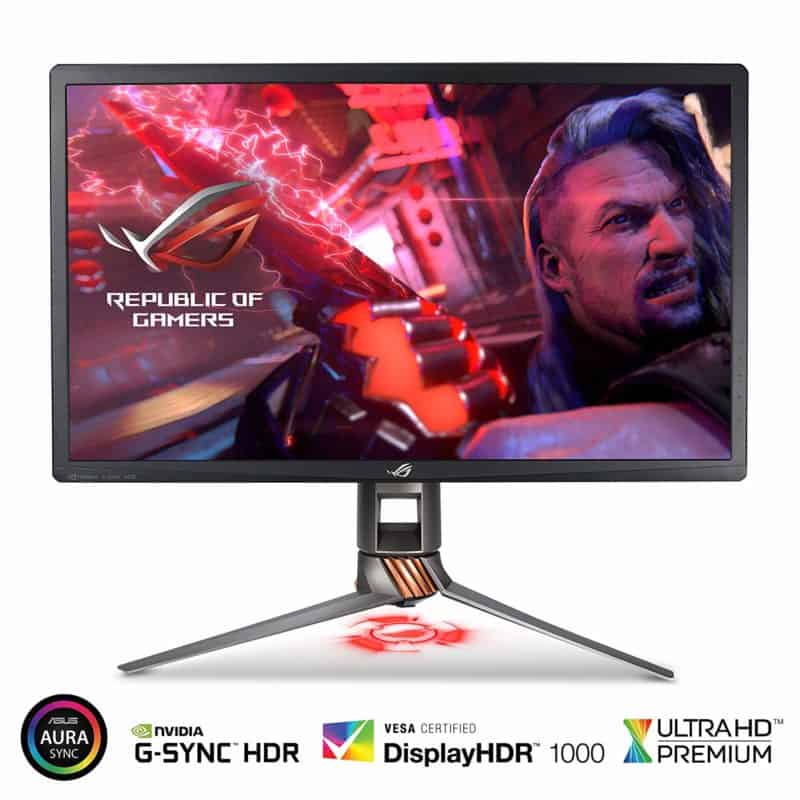 Pros
HDR 1000
ROGs brilliant stand design
4K gaming at 144Hz
G-Sync
IPS panel with a 4ms response time
We won't call the ASUS Rog Swift PG27UQ the runner up, because it's not really. It matches the performance of the Acer Predator but is left short in the pricing department. Whether you choose this or the Acer comes down to the price and which aesthetic appeals to your taste most.
Anyway, speaking of aesthetics, the ROG (like all their premium products) comes with a superb design. It has the textbook ROG branding – steel grey coloring for the most part with subtle bezels and a gnarly looking stand. Overall, I'd probably say the PG27 edges the Predator in this department. Only just though.
As far as specs go, the PG27UQ gaming monitor has been equipped with a 144Hz refresh rate, 4ms response time, HDR 1000 support, G-Sync support, and a full eye-care package to help reduce the strain a monitor puts on the naked eye. As far as color recreation goes, this monitor excels once again thanks to a 97% coverage of the DCI-P3 color gamut, and 99% coverage of Adobe RGB. Pair that with the 1000nit brightness, and you have a truly immersive viewing experience.
For gamers, this thing is an absolute dream. The 4K quanton dot IPS panel offers everything you could ever want. Immense image quality, rapid refresh rates for silky-smooth gameplay, low response time for limited levels of ghosting, and G-Sync to ensure your frame rate matches the monitors refresh rate.
Overall, one of the best monitors money can buy.
Best 4K 144Hz monitor buying guide
When you're deciding between different choices there are some factors between them that might just set you on one of them depending on your preferences.
Connectivity
One of the big differences is the inputs and connections the display has embedded in it. Depending on what you're graphics card connection has, and what you want to have the monitor achieve.
With 4K already a hard resolution to run with som many pixels, then a high refresh rate on top you need the best graphics cards. Plus a connection that supports it, which means at least a DisplayPort that is focused on that. Whilst an HDMI 2.1 connector would be required to get the capabilities of that.
There are also other ports you might get baked into the display. You can get a passthrough for a USB hub that connects to your gaming PC which allows you an easier time connecting peripherals to your system. As well as the potential for a USB-C port that usually allows display and power, useful for connecting and powering a laptop to the display.
Brightness
Another difference you might find is how bright the display can get. Measure in nits, this is useful for when you're room is bright and actually seeing what your monitor is showing. As the peak brightness tries to cut through and let you see those darker corners in-game.
Whilst this can also be altered by the backlight used in the display. With different panel technologies available that offer different experiences. Such as mini-LED, OLED, and LED, there are a variety of choices that behave differently. With different local dimming zones offer an alternate experience, which also alters the contrast ratio that can improve the look of the images.
Color accuracy
If your display has a range of uses, there might be some things you care about more. One of which is color accuracy. For creative uses of video or photo editing, you want good accuracy. With a wide color gamut, this means it is more accurate to true colors, in the SRGB or other spectrum you might use.
High Dynamic Range
HDR is something else you might be interested in. It is a way to also improve the look of the graphics by making them more realistic by balancing the contrast ratio and keeping a wide color gamut. So you get a more realistic lifelike image.
If the display does support HDR, there is content out there to enjoy on it, like some games or films. But HDR performance can vary depending on its spec, you can find a range of HDR 400 to 1400 that differ in the brightness achieved. This means the HDR capabilities will vary and need a good look into.
Adaptive sync
Another technology you might be interested in is adaptive sync. This offers a variable refresh rate as it adjusts to the framerate of your game. Usually, this comes with AMD Freesync Premium Pro or Nvidia G-Sync compatibility. And this will improve your experience as well but might hurt any low input lag options.
Mounting
Another feature you might be interested in is the mounting and setup of the display. Most usually have a Vesa mount option that will let you improve how it fits into your setup. It will improve the adjustments you can do to your monitor, with the ability to tilt, swivel, pivot, and do height adjustment as to perfect it for yourself.
Final word
So, there you have it, our comprehensive breakdown of the best 4K 144Hz monitors the market currently has to offer. Hopefully, this article has been a pretty easy-to-follow guide, which helps towards your next monitor purchase. These days, more 4K 144Hz monitors are hitting the market, and they are no longer a rare sight. We've already seen the likes of 240Hz 4K monitors arriving, so only expect this space to get more plentiful and hopefully budget-friendly.
Best 4K 144Hz Monitor FAQs
Can 4K be 144Hz?
Yes, 4k can do 144Hz. Although it takes a lot of graphical power to run and you want to have a connector fast enough for it. So you will need to have HDMI 2.1 or DP 1.4 at a minimum.
Is 4K 144Hz gaming worth it?
If you have the ability to run it, 4K 144Hz will be worth it, combining both great fidelity and smooth experience it offers the best of both worlds. But most of the time it will depend on your use case as it might be too much for you.
---