Genshin Impact gaming chair back in stock: Release date, pre-order, in-game bonuses
Fans have been given another chance to secure the limited edition gaming chair
Updated: Mar 14, 2022 4:01 pm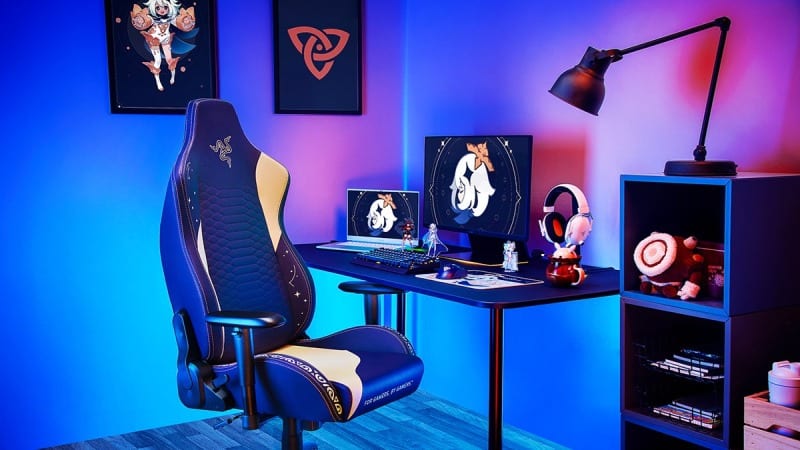 Fans of the hit ARPG Genshin Impact will be pleased to learn that Razer has managed to restock the officially licensed Genshin Impact gaming chair. Initially released back in November of 2021, the Razer Iskur X Genshin Impact edition sold out frightfully rapidly, it's no surprise, given the explosive growth of the Chinese developer MiHoYo's open-world painterly RPG tour-de-force.
Just moments ago, Razer tweeted out an announcement that they've managed to restock the coveted Genshin Impact gaming chair. This has been met with delight from the intensely enthusiastic Genshin Impact fans who failed to secure the unique design of the well-regarded Razer Iskur X gaming chair. These fans are no doubt excited at the opportunity to have another crack at grabbing this sought-after gaming chair. Gaming chairs are having a surprisingly busy time keeping up with custom designs, this comes only weeks after the Attack on Titan and Batman Editions of the Secretlab Titan EVO 2022. Additionally, noblechairs recently made headlines with a limited edition Elden Ring design.
Genshin Impact Gaming chair release date
Razer is a slight breath of fresh air when it comes to release dates, where most companies use words like 'expects' and 'soon', Razer opts instead to just put the shipping date right on the page below the pre-order button. The Razer Genshin Impact gaming chair will ship on April 08 2022, meaning that you'll be able to get your hands on this RPG-inspired colorway very soon.
Where to pre-order the Genshin Impact gaming chair
As per usual with limited editions, new releases, and pre-orders, the only way to secure this unique variant of the Razer Iskur X is directly through Razer's store website. It's unlikely to become available from any other vendors unless it becomes a permanent colorway. We doubt this as making it a permanently available variant of the Razer Iskur X will only make it less special, and of course reduce the value of those who are willing to pay a premium for their collections.
In-game bonuses with purchase of Genshin Impact gaming chair
Happily, you don't only get a unique design of this excellent gaming chair, you also get some all-important in-game rewards, The Genshin Impact gaming chair will net you a tasty 500 Primogems, Hero's Wit x20, and Mora x100,00. This is a big prize for those of you eager to advance your progress through the world of Teyvat.
---