All in one gaming PC – 5 best all in one computers
We make choosing the best All-in-one computer a seamless process - eliminating any that showcase low value as we go
Updated: Dec 5, 2022 2:46 pm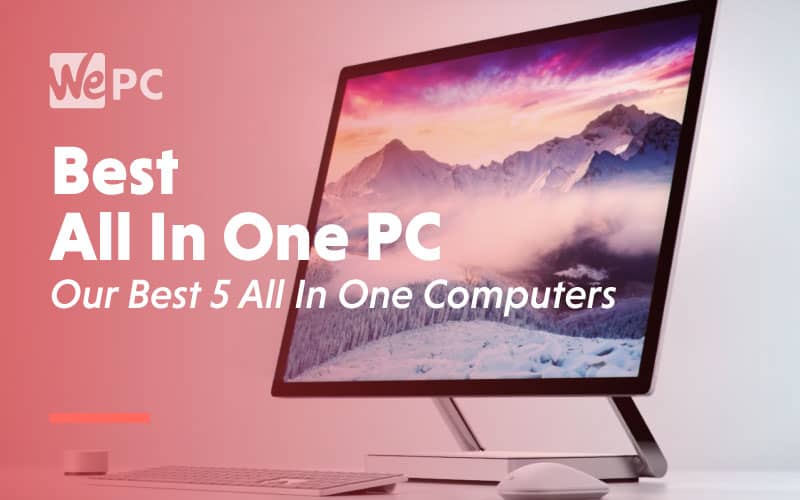 All-in-one computers are a great option for those looking at saving space or limiting the number of wires hanging out from behind the desk. These computers take up less room than premium PC builds whilst offering the same no-fuss attributes of a prebuilt gaming PC. These unique computers pack components at the back of the display in much the same way a laptop manages to do this however with the all-in-one PC's you are getting a lot more screen for your cash!
All-in-one's don't come cheap and in recent years have become an option for gamers too as the components being implemented become more and more powerful. These computers are ideal for the home office and offer a variety of features from 10-touch displays to 5K resolution!
Our top pick is the CUK Bionic, which packs a high-end RTX 2070 and an i7-8700K into a massive 31,5″ 144Hz monitor. It is a beast and would handle any game and almost any task you set it. It may be over $2000 but it packs a punch.
Our Top Picks
01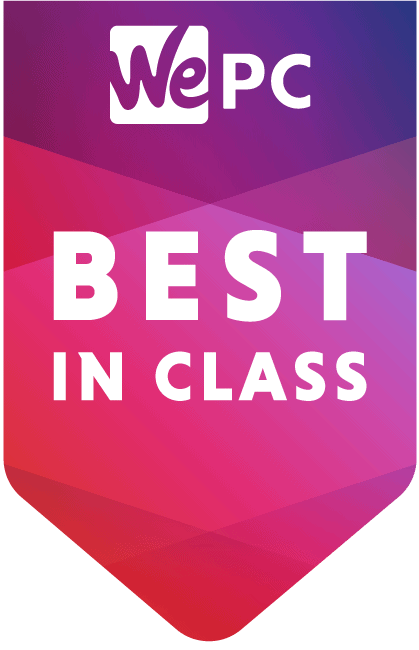 Best All-In-One Computer
CUK Bionic G32 VR Ready
02
Another Great All-In-One Computer
Apple iMac Pro
03
Best ASUS All-In-One Computer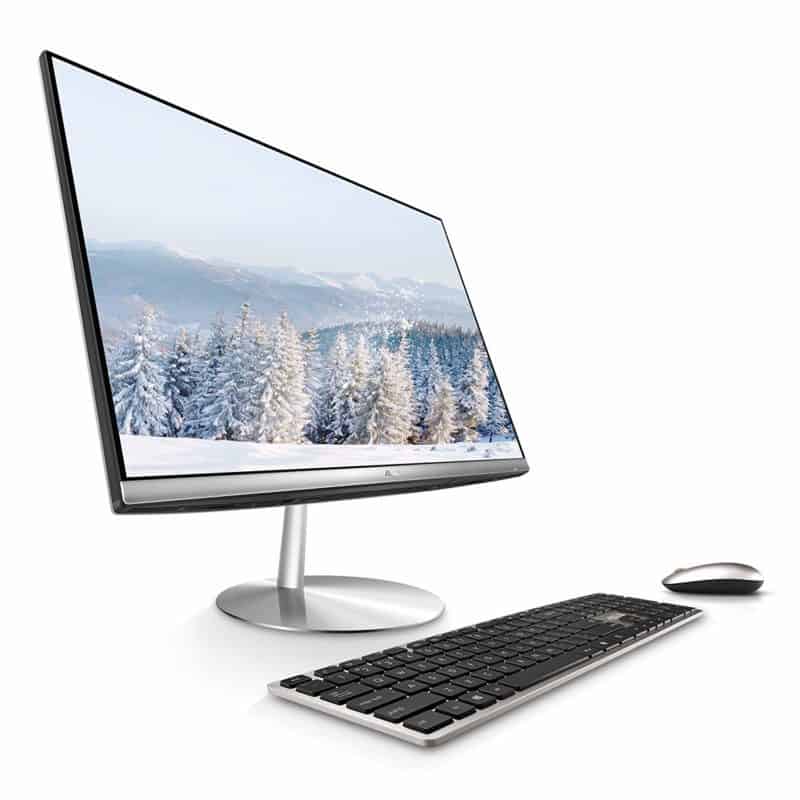 ASUS Zen AiO Desktop PC
Things to Consider Before Buying An All In One PC
Before jumping in and buying the first all-in-one PC first you should address exactly what you want from your new computer. If you are looking into a new computer for media-related work such as editing then a powerful processor and adequate RAM is going to be a must. You may be a keen gamer looking at saving a bit of space around your desk or are turning away from a gaming laptop for a better performing gaming all-in-one PC, in which case a good CPU and a powerful GPU are necessities.
This section will cover a few key areas of what to look for before buying your desired all-in-one computer.
Key components: Sometimes in these smaller form factor computers we see laptop size components featuring which can be a bit dated. You will want to avoid any all-in-one PC's that offer dual-core CPU's and aim for computers that sport at least a quad-core processor. If you are spending more than $1000 then you can expect a semi-decent processor as standard.
A lot of all-in-one PC's will feature a mobile processor. These mobile chips are not as powerful as a full desktop CPU but they can still offer some decent performance across all tasks.
For PC's over $1000, you are almost always going to get a graphics card capable of much more than just general work and media playback. Depending on your budget you can go from a basic machine capable of minimal graphical performance in games to a machine that can handle 4K and VR games with ease.
As far as RAM is concerned it can vary but a minimum of 8GB is required for most users these days and you shouldn't settle for any less. You won't find lightning fast RAM in a lot of all-in-one computers but they will usually be quick enough to deal with the task in hand without any issues. It is worth noting that some of these manufacturers will allow you to upgrade the RAM to a larger size.
Storage: When it comes to storage you are going to need a minimum of 1TB hard drive and shouldn't pay for anything less unless it is sub $300. 1TB could potentially get used up quite quickly if you work with large file sizes/ images. Games also continue to grow in size year after year so if you think you may need an upgrade just look for the option before you buy as some do have different storage options to consider. The more premium all-in-one PC's will often come with an additional M.2 SSD to supplement the HDD and house the operating system for a quick boot time.
The Our 5 Best All In One Computers
In-depth Review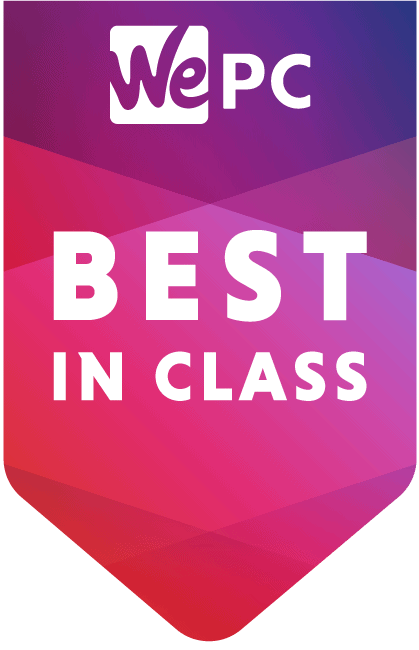 01
Best All-In-One Computer
CUK Bionic G32 VR Ready
Graphics
NVIDIA GeForce RTX 2070 8GB
Storage
500GB NVMe SSD + 3TB HDD
PROS
Best AIO for gaming
VR ready
144Hz display
4ms response time
CONS
The free keyboard and mouse are low quality
The Bionic G32 from CUK is a custom made all in one PC which is highly geared towards gaming enthusiasts.
Unlike your standard all-in-one computers or iMacs, this comes built to play high-end games at high FPS. Underneath the chassis reveals a powerful gaming rig with 32gb of DDR4 RAM. The i7-8700k processor is joined by an RTX 2070 which will handle any game you throw at it easily. Everything is mounted to the back of this monitor shell, even the PSU which has enough watts to deal with these components. The storage is excellent in this AIO PC with a huge 3TB drive which is more than enough to fit your media files and work onto. The 500GB M.2 is a great addition that saves a bit of space inside the machine and also gives you quicker loading times for your operating system and games.
So the inside will tear through those games and the display is no slouch either. The panel features a 144Hz refresh rate which is considered optimal for any gamer as it provides you with a smooth and responsive image. Not only does it feature a decent refresh rate but the response time is reasonably low at 4ms making this a viable option for any competitive gamers out there. The screen is 1440p making for some crystal clear pictures and features really thin bezels too!
If you are looking for a space-saving all in one solution to your current computer situation and you are a gaming enthusiast then this one from CUK has to be considered.
02
Another Great All-In-One Computer
Apple iMac Pro
Graphics
Radeon Pro Vega 64
PROS
Powerful performance
VR ready
5K
Four Thunderbolt 3 (USB-C) ports
No one is a stranger to the mighty Apple iMac Pro. This all-in-one computer is a must-have for the photo and video editors out there and this is largely down to its high performance, reliability and that stunning 5K display.
The iMac Pro performs well in more areas than just editing software, with a powerful Xeon W CPU which features 10 cores you can be sure this will make light work of almost any tasks you set it. Not only do you get a powerful CPU but this all in one also features a Radeon Vega 64 inside which is capable of even high-end gaming. This model features 64GB of DDR4 RAM and a 1TB SSD for storage which is more than enough to begin with, however, you can always upgrade an iMac.
As many have come to expect from Apple's design, we get a sleek-looking monitor here that disguises the fact it's an all-in-one PC reasonably well. The display is visually one of the best with the 5K 'retina' resolution packed into that elegant frame. With this space grey AIO computer you also get a matching 'Magic' mouse and keyboard.
There is no question you are paying a lot for this all-in-one computer but if you are an apple lover who constantly creating content then this is the one for you!
03
Best ASUS All-In-One Computer
ASUS Zen AiO Desktop PC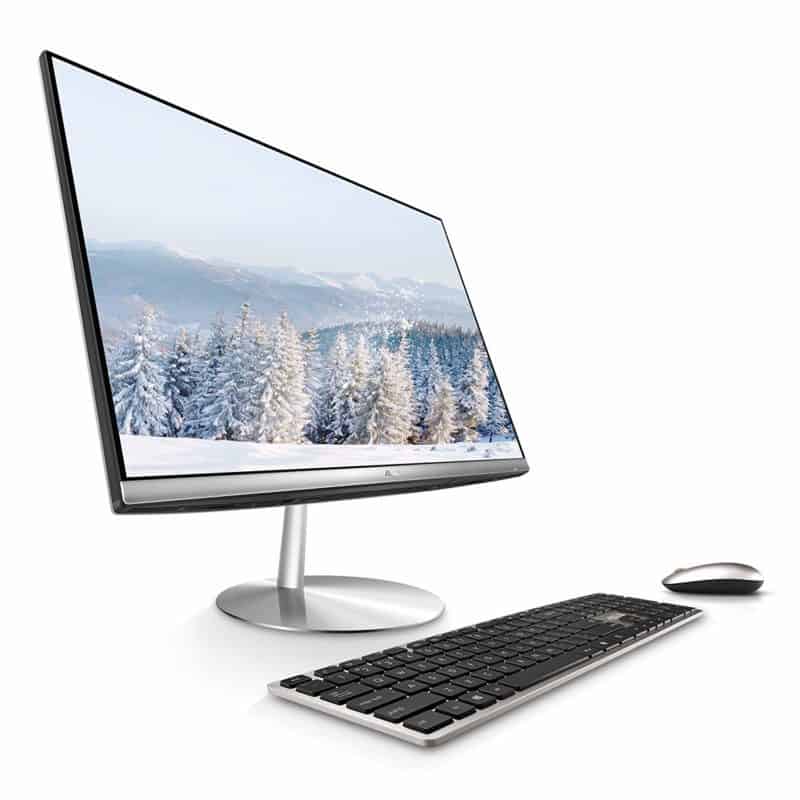 Graphics
GeForce GTX 1050
Storage
128GB M.2 SSD + 1TB HDD
PROS
Powerful processing power
Comes with M.2 storage
10-point multi touch
Thin bezel
Asus is highly regarded in the world of computers and it is no surprise to see them getting involved in the all-in-one PC market. The Asus Zen AiO desktop PC looks and appears like a very sleek monitor at first but it is holding a nice little machine inside.
There are a few different options to pick from with these which include an i5 or i7 CPU however this particular pick is easily the best performing and the nicest looking. This model comes with the Intel i7-8750H processor and will bring the benefit of hyperthreading to the PC. Alongside the CPU sits an Nvidia GTX 1050 GPU which aids with work tasks and gives you the option of some gaming with this machine, albeit on low to medium graphical settings. This model features 8GB of DDR4 RAM which is enough to get by without any issues but 16GB would have made this a more solid computer overall. For Storage, there is a 128GB M.2 drive for the operating system, general media-related tasks, and storing applications/ games on. Additionally, for a bit of storage backup, there is a 1TB hard drive to keep your files on.
As mentioned before, this is a very aesthetically pleasing computer and it owes this to its simplistic design. This all-in-one computer may only be 24″ in size but it sits on any desk elegantly thanks to its ultra-thin bezels and chrome-like stand. The overall form factor is small and this won't take up much room at all. The display offers a crisp 1080p resolution and features the 10-point touch technology allowing users the option to use this without the need for a mouse and keyboard.
Attractive and stylish, with a simple design, good key components, and adequate storage, this all-in-one is a well-balanced machine that will bring some joy into your office.
04
An Affordable All-in-one Computer
Acer Aspire All-in-One
CPU
Intel Quad Core i5-8250U
Storage
512GB SSD + 2TB HDD
PROS
Ultra thin all-in-one computer
Comes with SSD storage
16GB of RAM
Thin bezel
Acer is quite a common brand in this area and they have a bit of weight with monitors too. This Acer Aspire all-in-one is a looker and has the smallest footprint on the list!
There does seem to be a few different AIO models on offer from Acer however this one had the best value for what you are getting overall. The computer features an i5-8250U which is a little dated but its no slouch for those day to day tasks at home and would last quite a while as a home office PC. There is integrated graphics in this machine and the 'Graphics 620' does a great job for playing back media or work however it isn't something you would use for gaming. That being said there are some games out there this can handle quite easily but don't expect to be playing AAA titles on this machine with any decent frame rates. This model comes with 16GB of RAM so on-screen activities will be seamless and for storage, this has a 512GB SSD to boot your operating system and applications a bit quicker. To support the SSD it also features a 2TB HDD giving you enough space to store all your files.
The design is simple but the silver frame and stand add a premium feel to overall looks. As mentioned it's a really thin computer for an all-in-one and resembles the thickness of a laptop, with thin bezels too.
This pick will get the job done and it will look good in the process, a solid home office choice.
05
Lenovo Ideacentre AIO 520-24AST
PROS
Decent graphics for the price
10-point multi-touch display
Hideaway camera
CONS
Dated CPU
Bit plain looking
Lenovo is often the go-to for prebuilt computers that won't break the bank and offer a good level of customer service. This Lenovo Ideacentre AIO may look a bit plain but regardless it packs a bit of power and doesn't look out of place on the desktop.
This all-in-one features an AMD A12-9720P which may not be the quickest but it is reliable and can run at 2.7GHz. The best feature to this computer is the Radeon 7 graphics card that comes installed which is not that powerful but it handles games pretty well and gives you the option of playing a wide variety.
This model comes with a modest 8GB RAM which is enough for this system and it also features a fast 1TB hard drive to store all your applications and media files.
The computer comes with a webcam integrated into the chassis. This webcam pops up when you want to use it and can remain hidden when it isn't active, which is purposely designed for those who don't like a webcam staring them in the face. The all-in-one also features a multi-touch display so you can use this straight out of the box without the need for the included mouse and keyboard.
The design on this computer is a bit plain but it is by no means an ugly bit of kit. This will handle your day-to-day work with ease and has enough power for a bit of gaming and more, a great budget option.
Final Word
For simplicity, the all-in-one computers are a great alternative to high-end laptops as these AIO's can fit bigger components and feature bigger resolution displays. The all-in-ones are the ultimate space-saving compromise however they do lack the portability that a laptop can offer.
AIO computers often feature powerful components capable of much more than laptops and the ones in this list are mostly all more powerful than the standard prebuilt home desktops you see online. The key components in these all-in-ones offer the capability of VR gaming and AAA games in max settings. You sometimes see hyperthreading featuring along with high amounts of RAM making some AIO's perfect for editing work.
The all-in-one market is dominated by 'workstations' but we see a few cropping up with high-performance gaming capability too. Regardless of what you want from an AIO computer, it is important to know you can get more performance for your dollars if you have room in that office for your own built computer. It is each to their own but we recommend the CUK Bionic with the best overall performance for the price and the iMac Pro as the ultimate workstation.
---