The best 10th generation Intel motherboard in 2023
The 10th Gen CPUs push Intel back towards the front once more
Updated: Nov 20, 2023 10:58 am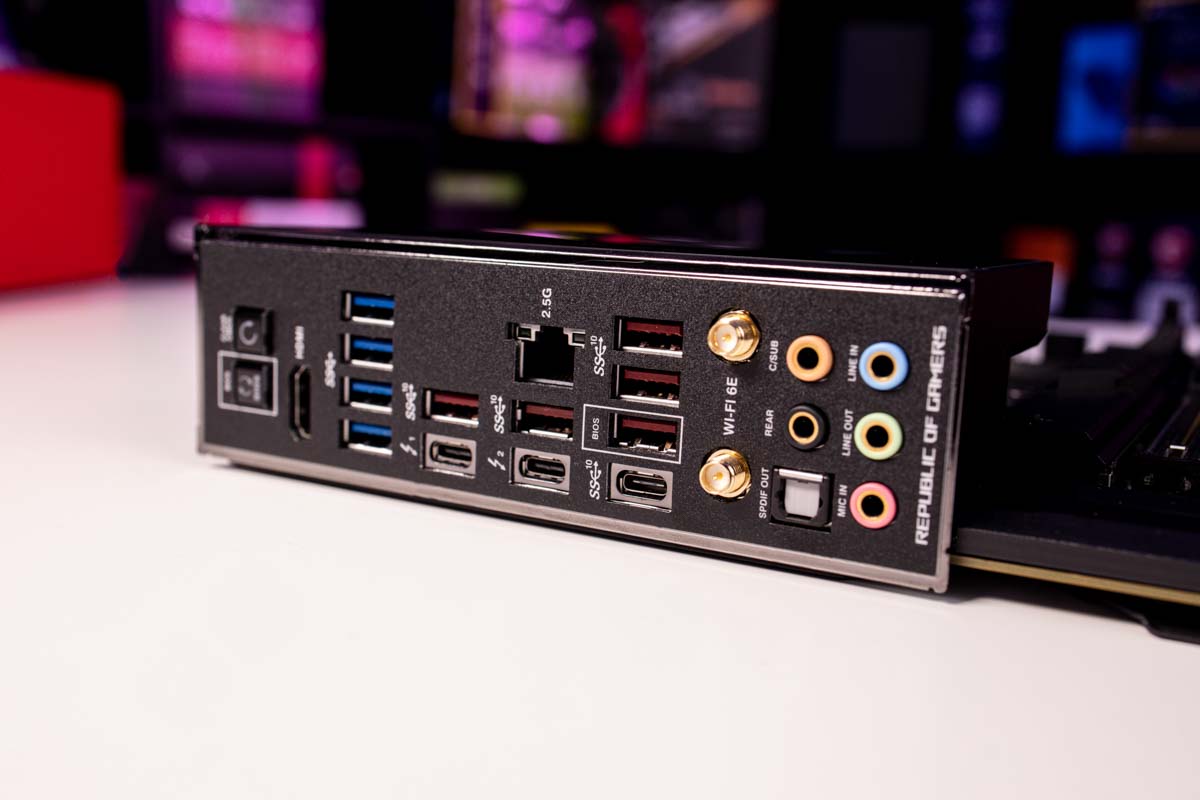 When you're planning to build a brand new PC, starting with a solid motherboard is essential. This is something you'll really want to research, and if you're planning to run with one of Intel's 10th generation processors, you'll need the best Intel 10th gen motherboard to go along with it.
Intel's 10th generation Comet Lake series uses the new at the time LGA 1200 socket which means you will need a motherboard that can support this. Luckily, there are several different options to choose from. The Z490s are the boards that came out for Comet Lake processors launch. However, there are also other mainstream options including H470, B460, and H410 chipset motherboards also available. At the top of our list, you can find the ASUS ROG Maximus XII Extreme, MSI MEG Z490 ACE, and ASRock Z490 Taichi, you can find out why further down but a quick glance for those just looking for the best.
---
01

Asus ROG Maximus XII Extreme

02

MSI MEG Z490 ACE

03

ASRock Z490 Taichi
Today's best Christmas motherboard deals
---
Our best Intel 10th gen motherboards
Asus ROG Maximus XII Extreme
Asus ROG Maximus XII Extreme
Pros
Variety of RGB LEDs
Great gaming performance
At the top end of the Z490 motherboard, series is the ASUS ROG Maximus XII Extreme. This is a motherboard that makes a statement with its design, its cooling system as well and its eye-watering price. It's a motherboard that looks great with strips of RGB lighting across the board and the RGB ROG eye logo as well. It's not just a pretty face though. This motherboard is capable of pumping out fantastic gaming performance with overclocking support.
In terms of slots, there are steel-supported memory slots, two PCIe x16 sockets, eight SATA ports, and four M.2 connectors. Also included are eight USB 3.2 ports and two Type-C connectors with a super-fast USB 3.2 Gen 2×2 port also. Asus has taken cooling pretty seriously here. There are an impressive 12 fan headers and six connectors for water-cooling. There are also eight temperature measurement points and a jumper to support a Liquid Nitrogen mode – so you'll never have to worry about overheating.
Onto the downsides. The main one is the price. Available for around $600, this is not your everyday motherboard. It's also worth noting that there's no PCIe 4.0 support to speak of, which at this price is a bit disappointing.
MSI MEG Z490 ACE
Cons
Not the greatest gaming performance out there
The MSI MEG Z490 ACE model is a great-looking motherboard that falls pretty nicely into a mid-range budget. Just like the other motherboards on our list today, this model offers a great level of expandability. You'll get four DDR4 memory slots, three PCI-E x16 sockets, and dual-GPU support. There are also three M.2 connectors, each with their own heatsinks, which is a welcome addition.
When it comes to running speeds, most reviews out there put this model as a great performer when it comes to application speed, but it doesn't score the highest for gaming speed. However, you'll save a bit of money with the MSI board (or a lot of money if you're looking at the Asus ROG Maximus XII Extreme option!), which makes it a pretty appealing model.
As far as the looks go, the MSI MEG Z490 ACE is a pretty nice-looking motherboard that doesn't go overboard with its looks. There's some RGB lighting, brushed metal heatsink shields, and gold-colored highlights throughout. Of course, you're not going to see all of this once you have everything plugged in, but it's a nice touch nonetheless.
ASRock Z490 Taichi
Cons
Pricey
Application performance underwhelming
The ASRock Z490 Taichi is a sleek-looking motherboard with an eye-catching design. The heatsink has an interesting steampunk-inspired look and RGB LEDs are included for those who like a bit of color in their PC build. The most notable feature aside from the looks is the support for PCIe 4.0. This is found in the two PCIe x16 slots and one M.2 connector. This makes it a great option for those who want to boost the speed of their PC and support faster storage and graphics cards.
The range of ports on offer is a great amount. The Taichi has eight SATA ports and five USB connectors, including the super-fast USB 3.1 Gen 2×2 Type C port.
The downside is that this motherboard is still quite pricey. It will set you back almost $200 so it's only really for the true enthusiasts and those with cash to spare. Another thing that reviewers have noted is that the application performance is quite underwhelming, which could be something to consider. However, if gaming speed is your primary concern, this motherboard will suit you well.
ASUS TUF Gaming Z490-Plus (Wi-Fi)
Asus TUF Gaming Z490-Plus (Wi-Fi)
If you don't want to spend a fortune on your motherboard but still want to grab all the best features that the Z490 chipset has to offer, the ASUS TUF Gaming Z490-Plus (Wi-Fi) might just be the option for you. Currently retailing at around $125, you can pick up a pretty impressive board to house your 10th generation Intel CPU.
This motherboard has a great level of build quality and it's pretty hard to see how they've kept the costs down. There are large heatsinks as well as a plentiful amount of fan headers to help you keep things cool. Some people may be a bit put off by the yellow highlights on the board, but they aren't overused.
For a budget motherboard, this ASUS model really shines when it comes to its performance and connectivity. You'll easily be able to get the most out of your processor with the 12+2 Dr MOS Power Stage which is perfect for those that enjoy a bit of overclocking. You'll also get a wide range of USB ports, including a Thunderbolt 3 header on the motherboard as well as WiFi 6 and Intel I219-V Gigabit Ethernet taking care of your connectivity.
---
What budget should I set for a 10th generation Intel motherboard?
The first thing to consider when buying a motherboard is of course the price. Starting here is best because the budget you have really affects the rest of your build. It will also determine things such as how many ports there are and how much memory the motherboard can support.
Deciding on a firm budget is a good start to help you narrow down your choice. For Intel's 10th generation chips, you'll be looking at Z490 motherboards if you want the best of the best. The pricing for these motherboards ranges from around $150 to about $200 for mid-range boards. If you're looking to splash out though, the high-end Z490 motherboards can cost upwards of $600.
For a bit of reference, budget motherboards may have limited RAM slots or only support PCIe 3.0 in order to keep prices low. More expensive models might be able to support PCIe 4.0 on the other hand and can even have additional expandability or RGB lighting.
---
Form factor
Before looking at the more technical aspects, it's important to first consider the size of the motherboard and the case you'll be installing it. If you already have a case, then you'll need to decide what form factor motherboard it supports.
Smaller motherboards will end up missing a few features but they are great for those looking to build a small PC. eATX boards are probably the best if you're looking to create a powerful and impressive system. However, they are the largest available, so bear that in mind.
There are a few different types of form factors available, which are listed below with their measurements.
Mini-ITX – 6.7" x 6.7"
Mini-ATX – 5.9" x 5.9"
microATX – 9.6" x 9.6"
ATX – 12" x 9.6"
eATX – 12" x 13"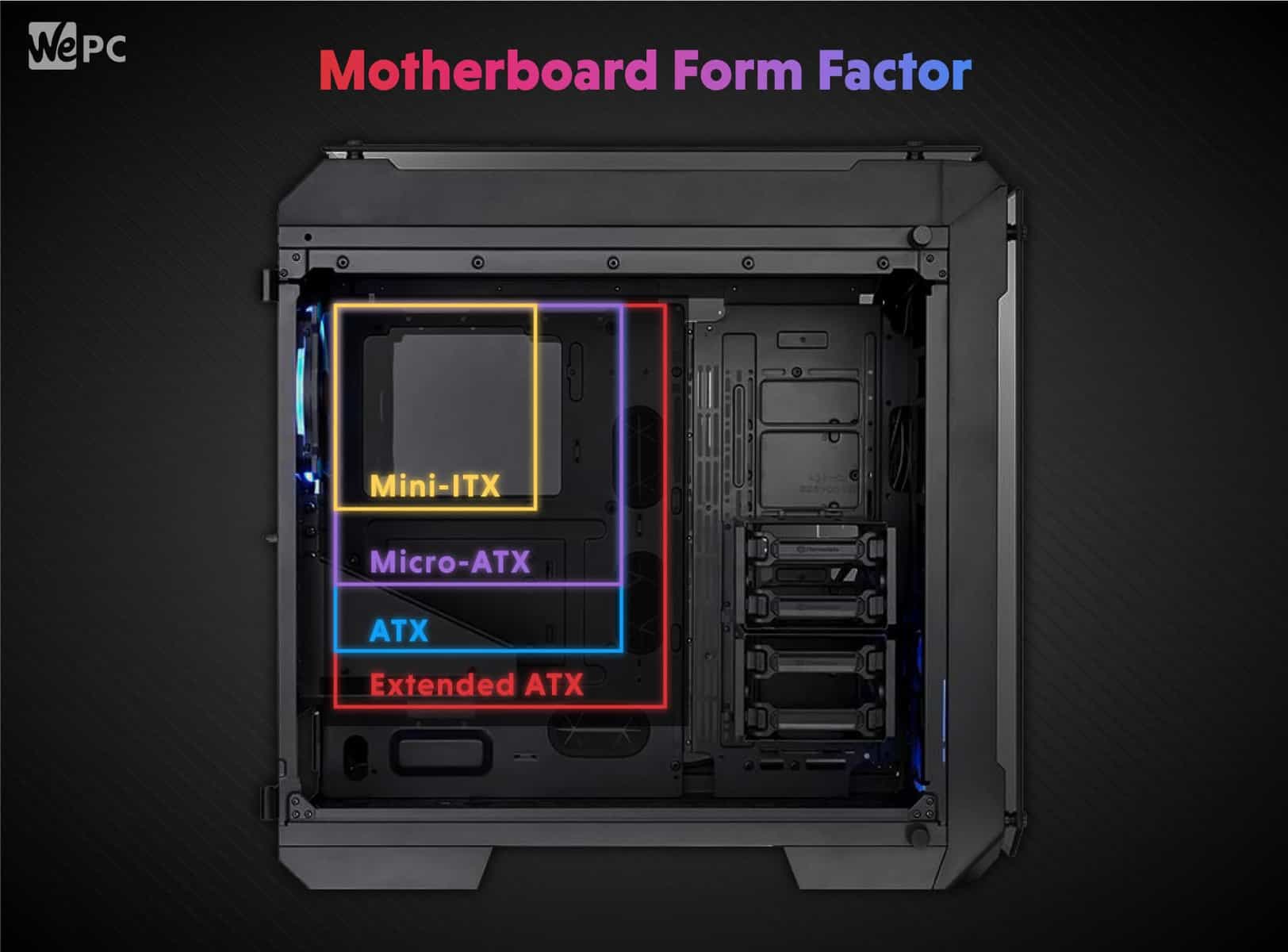 ---
Why is motherboard choice important?
The motherboard is one of the most important components in a PC because it acts as the backbone of the system, connecting all the components and determining the capabilities and limitations of the build. Here are some of the reasons why the choice of motherboard is important in a PC:
Compatibility: The motherboard determines the type of CPU socket, RAM, and storage devices that can be used, as well as the number and type of expansion slots for additional components. Choosing a compatible motherboard is crucial for ensuring that the components work together seamlessly.
Performance: The quality and capabilities of the motherboard can affect the performance of the system, including the data transfer rates and stability of the power delivery to the components.
Upgrade potential: The choice of the motherboard can impact the ability to upgrade the system in the future, as well as the potential to overclock components for enhanced performance.
Features and functionality: Different motherboards offer different features and functionality, such as integrated graphics, additional USB ports, or support for multiple displays.
Cost: Motherboards range in price and features, so choosing a motherboard that balances cost and performance is important for building an efficient and cost-effective PC.
The choice of motherboard is a critical factor in building or upgrading a PC, as it can greatly impact the performance, capabilities, and overall functionality of the system.
---
Final word
So, these are the pick of the current Intel 10th generation motherboards. Let's recap their particular strengths.
If you want the best of the best, then the Asus ROG Maximus is a great investment.
For those shopping for a great-looking motherboard that provides great features, the MSI MEG model will be a good choice.
If speed is your main concern, the ASRock Taichi motherboard offers PCIe 4.0 support to help you run a faster gaming system.
For those shopping on a budget, the ASUS TUF Gaming Z490-Plus (Wi-Fi) has a perfect mix of features for the price.
---