The Best Left Handed Gaming Mouse in 2023
A closer look at today's market to find only the best left-handed gaming mice for your needs
Updated: Jan 3, 2023 3:29 pm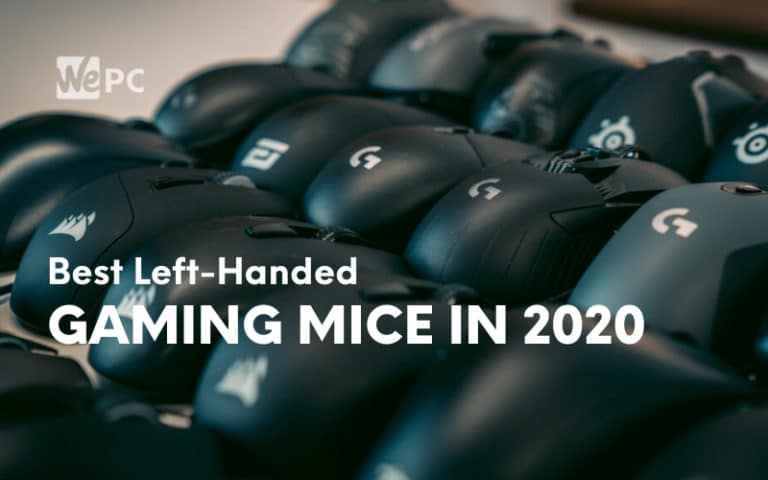 While the majority of gamers are right-handed users, there is still a huge demand for high-performing, well-balanced, affordable left-handed gaming mice too. With esports becoming more popular by the day – especially now no-ones allowed out – the demand for left-handed mice just became a great deal larger.
For that reason, we've decided to scour the web in order to find only the best left-handed gaming mice on offer. We'll be taking a look at some of the latest released from big-name manufacturers and comparing them against each other in order to determine which is truly the best of the bunch.
So, with all that in mind, let's waste no further time and dive straight into the best left-handed gaming mice in 2023!
Our Top Picks
01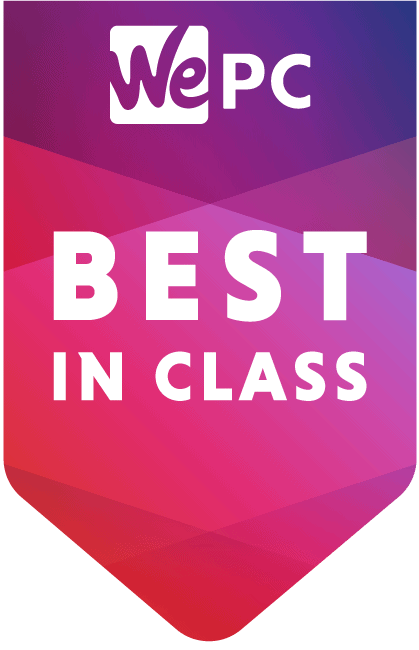 The Best Left-handed Gaming Mouse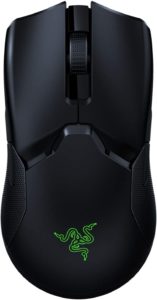 Razer Viper Ultimate
02
Best Logitech Pick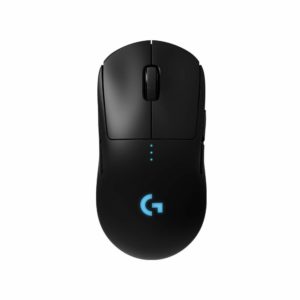 Logitech G Pro
03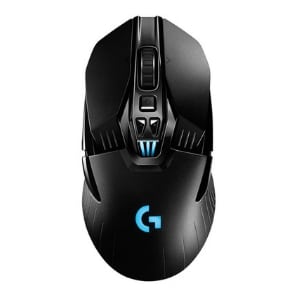 Logitech G903 16K Sensor
How We Choose
Whether you're looking for the best gaming mouse money can buy or a sub $50 budget option, choosing the gaming peripheral that best suits your needs can sometimes be a difficult and time-consuming process.
It requires hours of product research, performance benchmarking, and reviewing user feedback to get anywhere close to a definitive conclusion on what to recommend.
If you aren't tech-savvy and struggle to put the time aside to go through the above requirements, you may end up purchasing a left-handed gaming mouse that simply isn't right for you.
Fear not though, friends! Here at WePC, we like to take the stress of research away, and transform the whole process into an easy-to-follow, complete buyers guide. That's right, our team of PC enthusiasts has done all the hard work for you!
How We Test
Testing the products we recommend is a huge part of the overall selection process in our best of guides. It's a way to make sure what we recommend is, without a doubt, the best option in its specific category.
To be sure a product is "the best," it must showcase excellent performance in our tests, and display better qualities and features than the competition it faces.
Most of the products we recommend here at WePC have gone through a strict testing process that involves everything from the price and performance, to build quality, efficiency, and aesthetics. Each product is pushed to the limit to see how it performs under intense stress to make sure it warrants our coveted top spot.
Doing this enables us to provide you with the most accurate review of how the product performs and, ultimately, whether it's worth your hard-earned cash.
Best Left Handed Gaming Mice: Things To Consider
One of the best ways to ensure your next peripheral or hardware purchase is right for your needs is to learn the key factors and aspects that make up that particular product. Understanding the main factors that make up a gaming mouse will not only make your next peripheral purchase more informed, but it will also ensure that it's right for your specific needs too.
Below, we've compiled a shortlist of what we believe are the most important factors that impact a gaming mouse's performance. So, with that in mind, let's get straight into it.
Sensor
Let's kick start proceedings by talking about the most important element of a gaming mouse when it comes to performance and accuracy – the sensor. The sensor is located at the bottom of the mouse and is used to track the movements you make when playing a game or browsing the internet.
Sensors have come a long way over the past decade or so, with the latest offerings almost reaching highs that can no longer be improved. Nowadays, sensors offer pixel-perfect accuracy, impressive tracking acceleration, and long life spans too. No longer can you (as a gamer) blame your sensor when you get killed in a competitive title. Unfortunately, it's all down to you now.
With that being said, there is still a fairly noticeable gulf in sensor quality when comparing the premium options to the budget. So, understanding what level of performance you require, could save you a few bucks down the line. For example, if you're playing a fast-paced shooter like CS:GO, you're probably going to want to get the best sensor the market has to offer. Alternatively, if you're a casual gamer that likes to play MMO's and exploration titles, you probably won't need a sensor or such high quality.
That being said, almost every sensor in this guide offers excellent gaming performance, with only subtle differences between the recommendations on show.
DPI
DPI, or dots per inch, is a unit of measurement used to determine how sensitive a mouse can be. Whilst this doesn't play a massive role in the actual gaming performance of a mouse, it's worth discussing as many manufacturers will boast a large DPI as a real benefit to gaming.
For example, today's pro players use mice that have DPI capabilities of well over 12,000 DPI – some of which now reach 20,000DPI. Having said that, if you check their settings, they don't actually use higher than around 1200. The simple answer to that being because 16,000DPI is far too sensitive to be anywhere near accurate.
Most of today's gamers will use 400-800 DPI on average, so just be aware when you see two mice with competing DPI figures.
Size & Weight
Now, something that actually does affect in-game performance is the size and weight of the mouse you plan to use. As you may have noticed, there is a continued trend of mice becoming increasingly light in weight and design. Just take the Roccat Kone Pure Ultra and Cooler Master MM711 as prime examples. The main reason for this being that lighter mice are easier to maneuver and more nimble in those intense battle scenarios.
Having said that, not all users are keen on light mice. The Logitech MX518, one of the most popular gaming mice over the last 15 years, is far heavier than a lot of today's mice – weighing in at over 100grams. Ultimately, the weight you opt for mainly comes down to your personal preference, however, if rules were in place, I'd recommend lighter mice for FPS shooters.
Build Quality
A mouse's construction should be taken extremely seriously, mainly because mice can cost well in advance of $100 these days and you don't want to be splashing out on a new one every time you have a slight rage outburst.
Unfortunately, many of the "premium" mice found in today's market don't showcase the build quality to match their impressive price tags.
Ultimately, every mouse in this guide has been considered based upon its build quality and materials used. However, if you do plan to do some independent research of your own, just make sure the mouse you opt for has the capacity to stand the test of time.
Grip Styles
Grip styles might be few and far between, having said that, we all have our own preferred style and not all mice cater to that grip.
Your grip style literally refers to how you hold the mouse. Your hand takes up a certain position every time you hold the mouse, meaning certain sizes aren't going to feel right in certain grip styles.
The three main grip styles are palm grip, claw grip, and fingertip grip – all of which cater to different sized mice respectively. Obviously, this isn't the only factor that determines the mouse size you should go for, but as a general rule of thumb, smaller mice cater better to fingertip grip styles and larger mouse for claw and palm.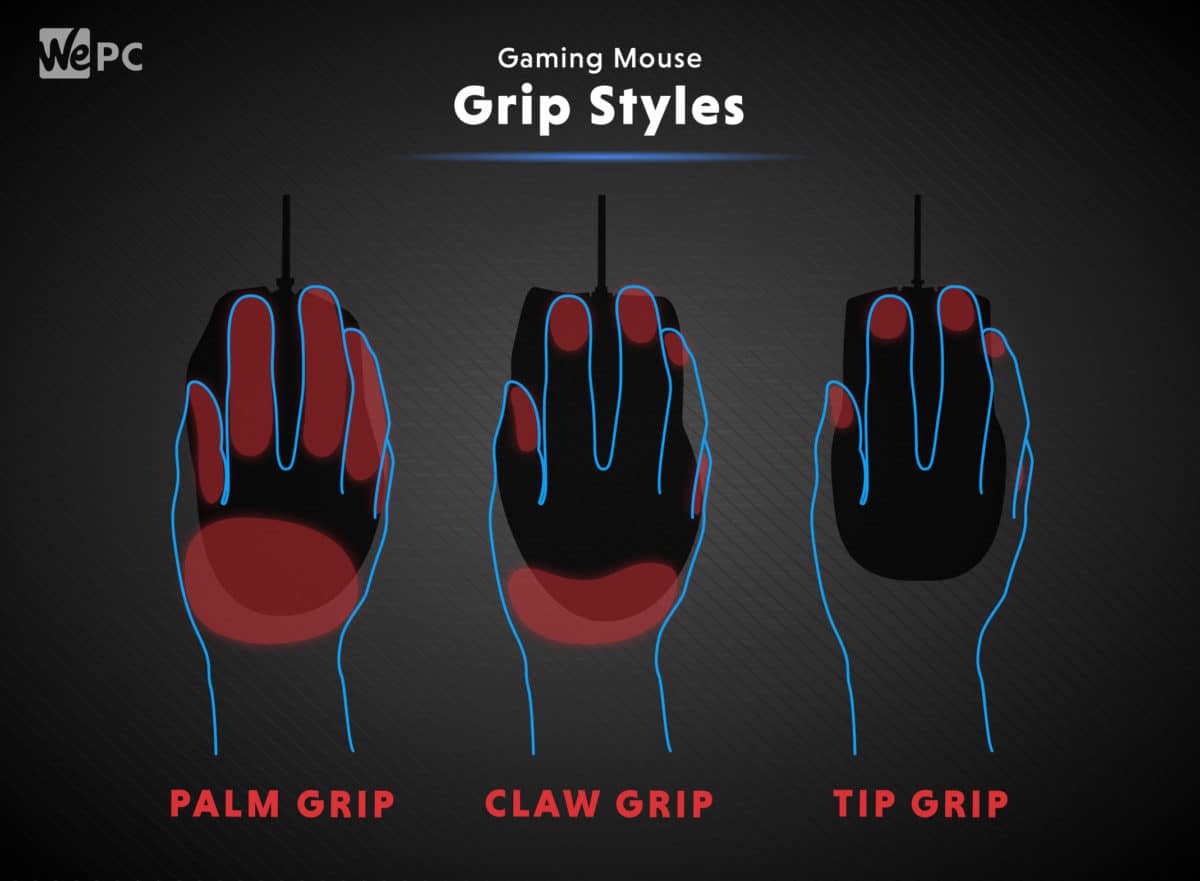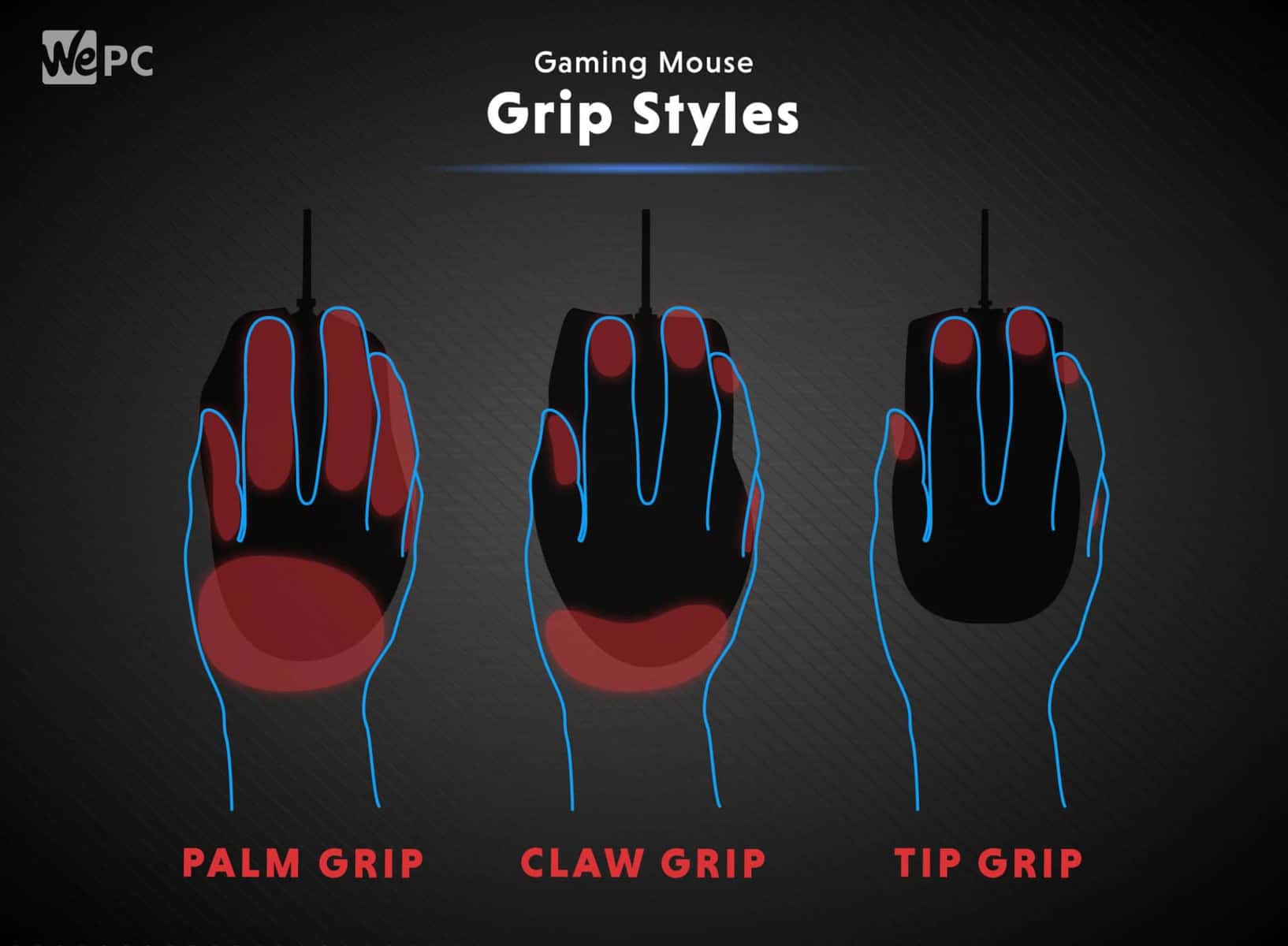 Left-Handed Ergonomics
As you've probably noticed, we don't actually feature any true left-handed gaming mice on this list. That's because there simply aren't that many left-handed gaming mice out there. Usually, a manufacturer will release a left-handed version of one of their gaming mice based upon popularity – the Razer Deathadder left-handed design is a prime example. However, most of the time, they just release ambidextrous mice that can be used for both left and right-handed users.
Thankfully, this isn't a negative for left-handed users. They still get to choose between a tonne of well-balanced, comfortable, high-performance mice thanks to the ambidextrous design versatility.
So, now we've had a chance to go over the important factors to consider with a left-handed gaming mouse, let's take a closer look at the mice on offer!
The Our 5 Best Left Handed Gaming Mice In 2021
In-depth Review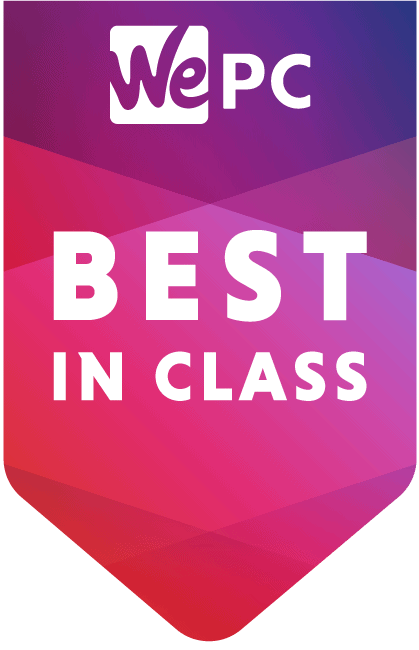 01
The Best Left-handed Gaming Mouse
Razer Viper Ultimate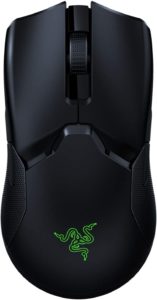 Size
Medium (126.73 x 66.2 x 37.81 mm)
PROS
Top optical sensor
Very light for a wireless mouse
ambidextrous design
Super responsive optical switches
Great materials
Many people will probably be surprised not to see the Logitech G Pro wireless get the top spot in this guide. However, on this occasion, Razer has gone one step further in the quest for perfection, offering up their hugely impressive Razer Viper Ultimate gaming mice.
The Razer Viper Ultimate offers up a fairly "gamey" aesthetic that is accentuated by soft curves and nicely designed grooves for added ergonomics. Whilst it doesn't offer the same removable buttons as the G Pro, it offers a much more comfortable hand feel for both right and left-handed gamers. The sides have been textured to help support your grip style, whilst the buttons have a slightly concave finish that allows your fingers to sit comfortably for hours. A very well thought out design that is right up there in terms of comfort and grip.
As far as gaming is concerned, this thing is right up there with the very best gaming mice available in today's market. It comes equipped with Razer's own Focus+ optical sensor – a variant of the PMW3399 optical sensor. And to say this thing is flawless would be an understatement. It has fantastic tracking, pixel-perfect movements, and can handle even the most vigorous of tilt slams too. Using this mouse eradicates every technical issue that once plagued your gaming performance.
Another huge plus for this mouse over its strict Logitech competition is its weight. Whilst the Logitech weighs 80grams, this one only brings 74 grams of weight to the table. That makes it more versatile and agile than most others on this list. The materials are also of the highest quality, offering zero flex when put under extreme pressure. There was also no obvious when shaking this thing violently – something you rarely get with wireless mice.
The split trigger primary buttons felt extremely responsive and accurate, with a nice tactile sound and actuation. Razer has also upgraded the switches to their proprietary optical switches, bringing more accuracy to this mouse when comparing to mechanical alternatives.
Lastly, we have the battery life. If you think this might be an area of negativity, then think again. The Viper offers around 70 hours of continuous game time, making it one of the best batteries in the game!
What more can I say, this mouse is truly one of the best Razer have made in a very long time.
02
Best Logitech Pick
Logitech G Pro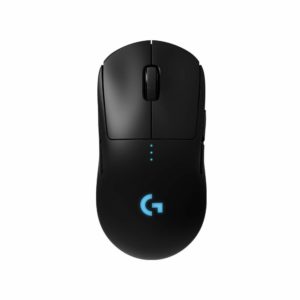 Size
Medium (125 x 63 x 40 mm)
PROS
Lightspeed wireless technology
One of the best sensors on the market
Truly ambidextrous (removable side buttons)
Infinite power when paired with G Powerplay mousepad
Super light weight (80g)
The Logitech G Pro gaming mouse is one of the most popular mice available in 2020 and for good reason. Not only did it receive 2 years of collaborative design work alongside esports pros, but it also offers fantastic build quality, great connectivity, and a bunch of cool features that make this a joy for both left and right-handed gamers.
In terms of design, the Logitech G Pro doesn't actually bring a great deal to the table – apart from its ambidextrous form that is. Its fairly basic oval shape consists of subtle curves and a slight hump. The buttons are all fairly inconspicuous and nothing about this mouse is loud or gamey. Having said that, that's where the simplicities of this mouse end. Everything else it offers is of the highest quality.
The standout feature of this mouse has to be Logitech's latest HERO optical sensor that sits at the heart of this thing. It's currently rated as one of the best and most accurate sensors in today's market. As you would expect, it offers utterly flawless performance whilst gaming and has 10 times the efficiency of other leading sensors out there.
As you've probably already noticed, this mouse does offer wireless versatility – something that is usually frowned upon when it comes to gaming peripherals. Having said that, wireless technology has been improving exponentially over the past 5-10 years, with many gamers now choosing wireless components over yesteryears wired alternatives. This mouse comes with lightspeed technology too, meaning you'll never be at a disadvantage when playing someone using wired components.
Whilst the design of the G Pro is quite simple, the materials used in this mouse are not. It consists of a lightweight 80gram frame that feels extremely firm and robust. That's a real feat when you consider the shell has no holes in it and it offers wireless versatility. Battery life can last up to 40hours on one charge, however, if you pair this with the Logitech G Powerplay Mousepad, you'll effectively never run out of charge again.
Overall, what we have here is one of the best gaming mice to be released over the past 5 years. The only downside to this product is its heft price tag.
03
Logitech G903 16K Sensor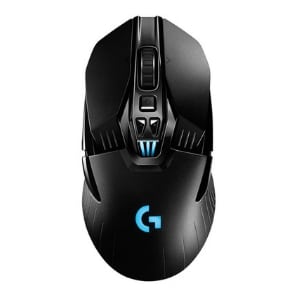 Weight
110 grams + 10 grams optional
Size
Medium-Large (130 x 67 x 40 mm)
PROS
Wireless charging
Ambidextrous design to suit both left and right-handed gamers
Excellent build quality
One of the best sensors out there
140 hours of battery life
LIGHTSPEED wireless technology
CONS
Fairly expensive
On the heavy side
Works best with Powerplay Mousepad
A shape that many have comes to know and love over the years for both gaming and everyday tasks. That's right, its the Logitech G903 wireless gaming mouse. If versatility, build quality, and programmable buttons are your game, you can't really go wrong with this epic offering.
From the offering in this guide, the Logitech G903 might be the most "gamey" out of the bunch, offerings sharp angles, disconnected primary buttons, and RGB to boot. Whilst this is one of the heavier mice currently in today's market, don't let that fool you, it backs that weight up with premium build quality and durability. This mouse feels seriously good. When put under numerous robustness tests, it came out trumps every time when comparing to the others in this list.
Moving onto gaming, the Logitech G903 does not mess around when it comes to accuracy and precision. Bringing Logitech's HERO 16k sensor to the table, this thing is right up there with the best gaming mice out there when it comes to accuracy. Unlike the G Pro and Viper that offer agileness, this mouse feels more hunkered down. That makes it great for spraying in games like CS:GO, however, when it comes to quick flick shots and 180s, it isn't the best around. That being said, it does come with 11 programmable buttons that do help market the G903 to other gaming styles such as MMO's and role play titles.
Like the other two mice in this list, the G903 also comes equipped with wireless technology. Thankfully, Logitech took the time to equip it with their impressive LightSpeed technology. With great responsiveness and a fantastic 140hour battery life that tops anything in this guide, the G903 has some of the best wireless support around.
One of the classics features this mouse offers is the optional weight you can add to its already hefty design. Sometimes a bit of extra weight is exactly what you need when trying to make minute movements. That in mind, this mouse comes with an additional 10 grams of weight that can be added to the underside of the G903.
Ultimately, this might not be the best mouse for FPS titles, but it's certainly one of the best all-round gaming mouse available when it comes to other gaming styles.
04
BEST BUDGET LEFT HANDED GAMING MOUSE
SteelSeries Sensei 310
Sensor
TrueMove3 (Optical)
Size
Medium (125 x 61 x 39 mm)
PROS
Nicely designed ambidextrous shape
Very effective sensor
Great actuation sound on each click
Very good build quality
Offers split-trigger buttons
CONS
Main Chassis material feels a bit on the cheap side
Lastly, we have the best left-handed gaming mouse for users on a budget. Even though this is the cheapest on the list, don't think that it's by far the worst, because, in all honesty, it's a great little gaming mouse that could give others a run for their money.
The Steelseries Sensei 310 has a decent cult following, with users still using it to this day and opting for it over more premium options. The sensei 310 is the ambidextrous re-design of the Rival 310, bringing all the same performance power as its right-handed brother to the table. The new design is perfect for both left and right-handed users, with matching buttons on either side. Whilst the design is a plus, in my opinion, it is on the smaller side, catering itself to the claw and fingertip users only.
Inside the shell of this great gaming mouse, we find the highly regarded TrueMove3 optical sensor. This is a variant of the PWM3366 and comes equipped with all the accuracy and durability of its maker. Steelseries market this mouse as having the "world's first true Esports sensor" and whilst that probably isn't strictly true, it does boast true 1 to 1 tracking for ultra-low latency.
Overall, what we have here is a very cost-effective gaming mouse that will not only save you a few bucks in the back pocket but will also offer enough accuracy to save you in a few fire-fights as well.
05
BEST LEFT HANDED GAMING MOUSE FOR ESPORTS
BenQ Zowie S2 Divina
Size
Medium (122 x 59 x 38 mm)
PROS
One of the best ambidextrous shapes out there
Very accurate sensor
Easy "plug'n'play" setup
Lightweight design
CONS
Mouse wheel non-adjustable and quite loud
Glossy coating that can become slippery under extreme sweat
As far as wired ambidextrous mice go, you'll do well to find one that's as good as the BenQ Zowie S2 Divina. With its bright pink design, this mouse offers much more than just a pretty exterior. High gaming performance, flawless sensor, and excellent grip are just a few of the features this simple yet effective mouse brings to the table.
From a design point-of-view, the Divina S2 is fairly basic. Having said that, its ambidextrous design that caters nicely to both left and right-handed users feels utterly superb – even over long gaming sessions. The subtle curves and gentle slopes of this mouse cater to most grip styles, giving the user a comfortable position that only increases confidence during usage.
The sensor is the ever-popular PWM 3360, a sensor that was widely considered the best on the market up until recently. The sensor provides fantastic gaming performance thanks to its pixel-perfect tracking and ability to handle slams like they're going out of fashion. The switches are Huano made and offer excellent life-time durability alongside a very pleasing actuation sound.
Whilst this mouse isn't the cheapest you're ever going to find, it's certainly one of the best in terms of comfort and gaming performance. Opt for this as your next gaming mouse and you will not be disappointed.
Final Word
So, there you have it, our complete breakdown of the very best left-handed gaming mice the market has to offer. We've tried to keep our reviews as short as possible, however, for some that still find them a little too much to digest, here's the shortened final round-up for you!
If you want the best left-handed gaming mouse money can buy, then look no further. The Viper Ultimate is not only one of the best mice Razer has released in years, but one of the best gaming mice the market has seen!
Whilst this didn't get our top spot, the Logitech G Pro Wireless is still one of, if not the most popular gaming mouse to hit shelves in the last couple of years. If you're willing to splash the cash on this high-end gaming mouse, you will not be disappointed.
The second entry from Logitech comes in the shape of their G903 wireless, a mouse that hasn't changed since its first release. Whilst this isn't the best for fast-paced shooters, it's a fantastic all-round option for those looking to go wireless.
This fan-favorite still plays a major role in today's gaming peripheral market, offerings stellar gaming performance, and a great design at a very reasonable price tag.
As far as wired left-handed gaming mice go, you'll do well to find anything that is as good as this. The sticky shell makes gripping this thing extremely easy, giving you massive confidence to take your gaming to the next level.
We hope you enjoyed our breakdown of the best left-handed gaming mice money can buy this 2020. Each of the mice in our guide showcased fantastic gaming performance, great build quality, comfortable shapes, and of course, cater themselves to the left-handed gamers out there.
Let us know which mouse you'll most likely be getting your teeth into by leaving us a comment down below. Better still, why not head on over to our Community Hub where you can discuss everything peripheral related with like-minded individuals!
Other peripheral guides:
---