Corsair HS55 Wireless Core – Low price, high fidelity
Here's why the Corsair HS55 Wireless Core is the best entry-level wireless headset out there
Updated: Nov 23, 2022 7:21 am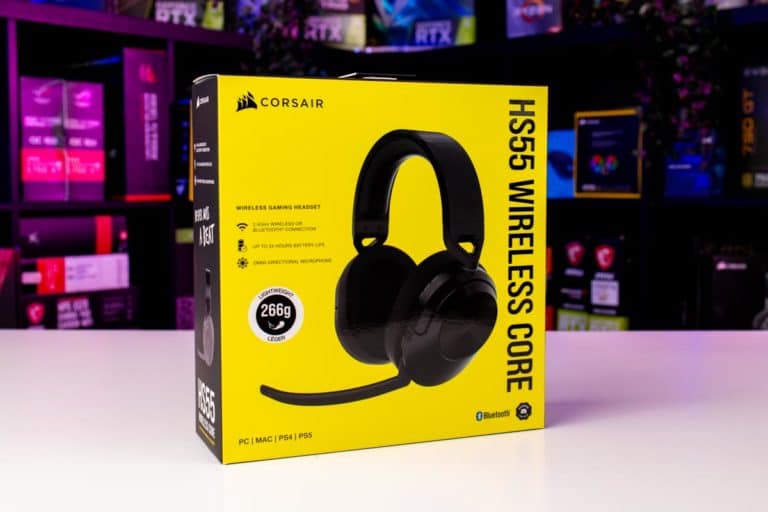 SPONSORED POST
For the longest time, PC gamers were tethered to their desk by gaming headsets and when wireless headsets finally did hit the market, the latency issues made them undesirable, despite the freedom from wires.
In the years since we've seen wireless audio technology make leaps and bounds to the point now where the latency is so low that it's functionally unnoticeable.
Corsair has consistently been at the forefront of this cable-cutting quest too, with their low-latency 2.4GHz technology.
Unfortunately, the privilege of going wireless has historically had a pretty hard-to-swallow price attached.
This is where the Corsair HS55 Wireless Core headset comes in, retailing for just $99.99, it brings a quality wireless gaming headset down to an accessible price.
So, let's take a look at what the Corsair HS55 is offering for this price, and why it might just be the best opportunity to cut those cables for good.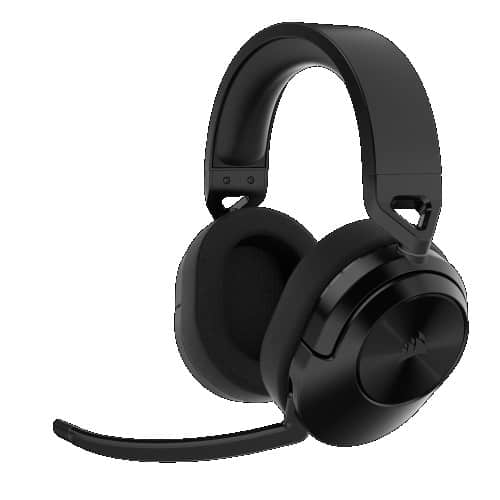 Corsair HS55 Wireless Core gaming headset
Connectivity
2.4GHz wireless, Bluetooth, USB Type-C
Frequency response
20Hz – 20 kHz
Mic
Flip-to-mute omnidirectional
Compatibility
PC, MAC, PS4, PS5, Mobile
Dual mode wireless connectivity
Corsair hasn't just created a cheap wireless headset here, they've also outfitted it with Bluetooth technology.
This means that you can seamlessly switch between devices at the touch of a button. Need to take a call while gaming? just tap the button and you're on the phone, tap again and you're back in the game.
The dual-mode functionality isn't just limited to switching between devices for convenience's sake, it also broadens compatibility. After all if a device doesn't have a USB slot, it almost certainly has Bluetooth.
This means that the Corsair HS55 Wireless Core gaming headset is compatible with pretty much any device you want, which can't be said for many headsets, especially within this price bracket.
NOW READ: Corsair HS80 Wireless review
Omni-directional flip-to-mute microphone
Of course, when it comes to gaming headsets, communication is key, and luckily, Corsair has furnished the HS80 Wireless Core with an integrated Omnidirectional flip-to-mute microphone.
We're big fans of flip-to-mute microphones here at WePC, as they remove the anxiety that results from saying something rude about your teammates, then realizing that you were live the whole time.
When muting the mic is a matter of physically folding it upwards, there is an additional sense of security that is well-appreciated.
Another benefit of this style of mic is that it becomes entirely hidden from view when you don't need it, whereas many alternatives leave you no choice but to have the mic in the way the whole time.
Additionally, the omi-directional pickup pattern of the mice means that you no longer have to obsess over positioning it just so.
Just flip it down somewhere in the vague vicinity of your mouth, and you'll be heard crystal clear by comrades and opponents alike. This also makes it easier to cram snacks past the mic, which is fortunate as slapping the mic with a jaffa cake mid-game is more than a little embarrassing.
NOW READ: Corsair HS55 wired gaming headset review
Lightweight comfort
Unlike things like gaming keyboards and mousepads, the weight of a gaming headset matters a lot. If it's too heavy, then the user becomes fatigued too quickly.
This is why the Corsair HS55 Wireless Core was designed to be as lightweight as possible, totaling only 266g/0.58lbs which, for a bit of context, is lighter than some gaming mice.
The ultra-low weight combined with the lack of cable means that the HS55 is a headset that stays comfortable for even the longest of gaming sessions.
The weight is a big reason for this, but Corsair has also equipped the HS55 Core Wireless with some super plush earcups upholstered in agreeably soft faux leather.
These earcups also have the best seal we've experienced out of all the headsets we've tested here at WePC, sponsored or otherwise, which is pretty unreal given the price.
However, we've all had a headset run dry disappointingly quickly, so what's the point of a headset with all-day comfort that doesn't last that long? Well, Corsair has an answer for that too.
24-hour battery life
Despite the super accessible price and impressively low weight, those industrious fellows in Corsair's engineering department have managed to make the HS55 Wireless Core last for up to 24 hours of continuous use.
This means that, unless you're some kind of superhuman caffeine-addled marathon gamer, this headset won't run dry.
Aside from being able to game all day and all-night, this extensive battery life provides another advantage.
24 hours of operation on a full charge means that, if like us, you often forget to plug your headset in at the end of the session, you need not fear, as the Corsair HS55 Wireless Core will almost certainly have enough juice leftover from your previous bout.
Price
We left this one until last, as the great price of the Corsair HS55 Wireless Core only really becomes impressive after you understand all the features they've managed to cram in.
We all like to have a go on expensive audiophile equipment, but the budget end of the spectrum bears special significance too.
While an adult with a full-time job might be able to splurge on some fancy esports-grade gaming headset, this just isn't realistic for a lot of people.
This is why we appreciate Corsair for producing a dual-mode wireless gaming headset that can be had for $100.
This is particularly important for the younger gamers out there as it gives them a far more affordable opportunity for a quality wireless gaming headset.
This has the incredibly positive knock-on effect of making multiplayer gaming, and gaming as a whole, more accessible to the younger generation.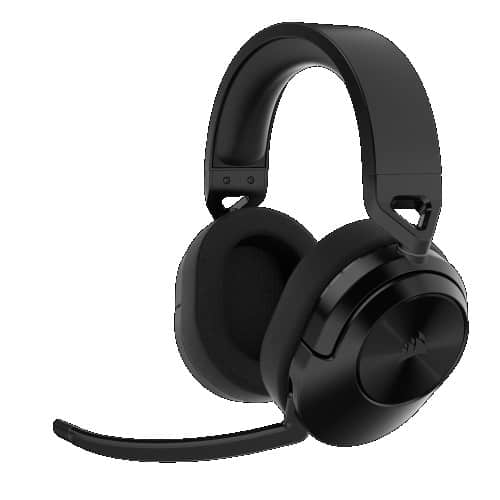 Corsair HS55 Wireless Core gaming headset
Connectivity
2.4GHz wireless, Bluetooth, USB Type-C
Frequency response
20Hz – 20 kHz
Mic
Flip-to-mute omnidirectional
Compatibility
PC, MAC, PS4, PS5, Mobile
---