Fractal Design Meshify S2 | PC Case Review
Fractal Design has released some fantastic gaming cases over the last 12 months with the Define R6, S2 and now the Meshify S2 all being enrolled into their ever-popular lineup of impressive gaming cases.
Today, however, we do a deep dive into their Meshify S2 gaming case to see how it compares with its predecessor and more importantly, the competition available in today's market.
Fractal Design has never been one to waver from their signature rectangular design which has served them so well down the years and the Meshify S2 is no different. The guys at Fractal seem to have taken a lot of the design features for the Meshify directly from the Define S2 which, for me, reduced the hype which surrounded the case upon release.
This being said, after the release of the Meshify C, it's predecessor, the guys at Fractal were bombarded with consumer feedback stating they wanted a bigger version to accommodate larger components, more radiators, and water cooling. In this instance, Fractal Design seems to have answered their prayers and then some.
| | |
| --- | --- |
| Case Type | Mid-Tower |
| Dimensions (mm) | 233 x 538 x 465 (W x D x H) |
| Materials | Steel, tempered glass |
| Available Colours | Black, white |
| Weight | 10.4Kg |
| Front I/O panel | Power, Reset, 1x USB 3.1 Type-C, 2x USB 3.0, Stereo/mic input |
| Slots | 7+2 |
| Drive Bays | 3x 2.5/3.5in, 2x 2.5in |
| Form Factor | E-ATX, ATX, Micro-ATX |
| Cooling (Front/Rear/Top) | 3x 120mm/140mm front fan mounts, 1x 120mm/140mm rear fan mount, 3x 120/140mm roof fan mount, 2x 120mm/140mm bottom fan mounts |
| CPU cooling clearance | 185mm |
| Maximum GPU length | 440mm |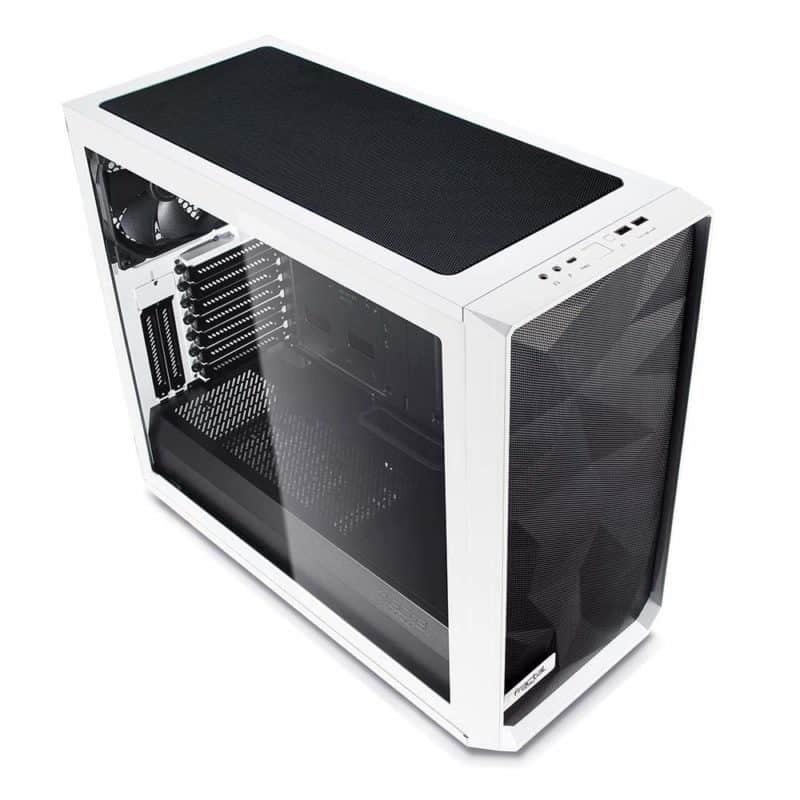 PROS
Aesthetically, very pleasing
Well engineered airflow
Comes with 3 x 140mm pre-installed fans
Top panel has built in radiator bracket for extra cooling
Displayed decent price/feature value
CONS
Only comes in 2 colour schemes
Fractal Design always does a good job of making sure their high-end products are well protected during transport. Something that can't be said for every manufacturer out there. Worth mentioning is the box itself, it has a specification table on the side making sure the consumer knows exactly whats in store.
The Meshify S2 is wrapped in a thin layer of plastic, presumably to stop potential scratches and dust entering the case. Two large polystyrene blocks go either side of the case ensuring it's protection against drops or knocks.
Packaging addressed, the Meshify S2 comes with 3 pre-installed Dynamic X2 GP-14 140mm fans giving this case excellent temperature control right-out-the-box. Furthermore, pre-installed stand-off screws are ready to use and an accessory box comes with the following extras:
13 x Motherboard and reservoir bracket screws
20 x 2.5" Drive Screws
12 x 3.5 Drive Screws
4 x Power supply screws
1 x Additional motherboard standoff screw
1 x Standoff tool
12 x HDD dampener's
4 x Optional Side Panel Screws
4 x Reservoir Bracket's
1 x SATA Power extension cable
1 x Adjust R1 RGB controller
6 x Cable ties
Overall
When unboxing this case, the team and I were discussing whether or not Fractal Design would have addressed some of the consumer feedback issues that resulted after the success of the Meshify C. On first impressions it certainly felt like those issues had been given some serious thought.
One of the main problems with the old Meshify C was how compact the case was, physically. There wasn't a great deal of space for extra radiators, water cooling or even the larger GPU's we see in today's market.
However, with the Meshify S2, you can rest easy in the knowledge that space is not a problem. But we'll touch on that later. For now, let's have a look at the exterior.
Front & Rear
The front panel consists of the signature Meshify design, which for those that don't know, is angular and extremely edgy. In a weird way, the shape reminds me of using a kaleidoscope as a child (if you don't want to use your imagination just check the picture above).
The panel is made completely of mesh which promotes excellent airflow, one of the cases main features, and has a plastic edge that clips into the chassis itself. You can remove the front panel completely by pulling with moderate force, but be aware, the I/O panel cables are quite taught so don't be pulling too hard.
Pulling the front panel off gives you access to the dual Dynamic X2 GP-14 140mm fans which can be swapped and cleaned with little to no fuss. The bottom of the case also has a mesh cover and has to be extracted before you can remove the front panel. The handle is situated underneath the front panel and is very easy to remove.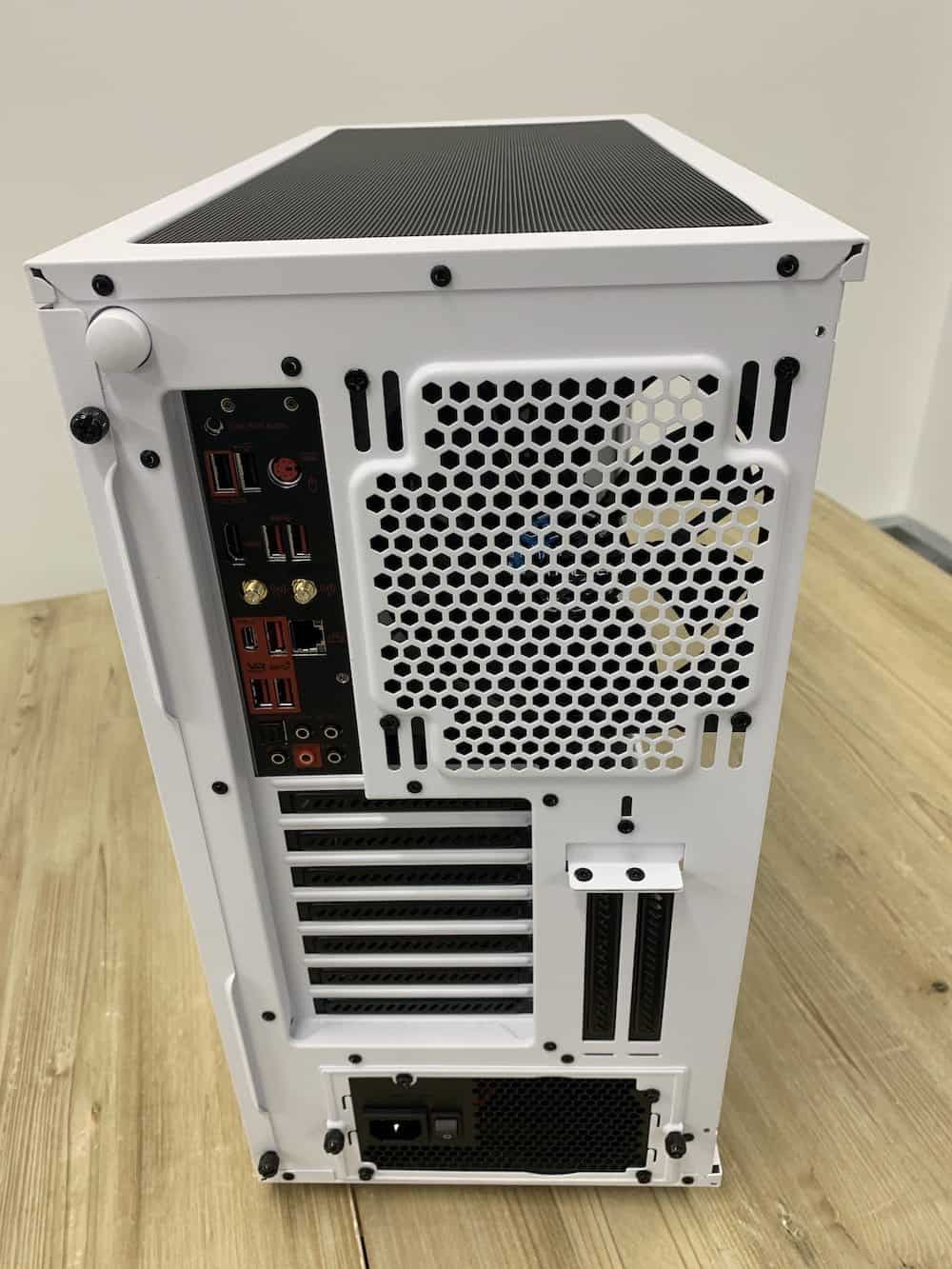 The rear is designed in the exact same fashion as other S2 models, boasting 7 horizontal expansion slots and 2 vertical. The vertical slots being purposely engineered for mounting GPU's vertically inside the case for additional aesthetic appeal.
You will notice the side panel thumbscrews at the rear which are bolt-free and easy to manage. You will also find the release button for the roof mesh (this is the only way to remove the roof panel).
Finally comes the third 140mm fan which is situated in the usual position and does a fantastic job creating a clean airflow stream.
Side Panels
The side panels on this case have push-to-lock technology and don't actually require thumb-screws to hold them in place. The component side panel is made of tempered glass with a metal frame for ease of use whereas the back panel is a solid sheet of metal to hide that pesky cable management.
The tinted glass that is used on the front panel gives an impressive aesthetic and looks great when pairing it with some vibrant RGB components. It's worth mentioning if, for whatever reason, you aren't a fan of a glass side panel, you do have the option to swap it out for a solid metal panel. Obviously, this would have to be purchased at an additional cost though.
Roof
The Meshify S2, unlike its predecessor, has a removable roof panel which is great especially from a build perspective. It has a radiator mount pre-installed and a mesh panel over the top (2 separate pieces) for those wanting to really bolster their cooling and install additional fans. The mount has the ability to accommodate 3 x 120mm fans respectively and can be plugged directly into the PWM controller at the rear.
You can switch this panel for glass if you require but we feel the guys at Fractal have done a wonderful job designing this case and wouldn't bother.
Let's take a look inside..
We wasted no time jumping inside this case and to our surprise, the changes that have been made from the Meshify C are exponential.
The most noticeable difference is just how much space you have to play with. The case has E-ATX motherboard support and even then, the space that is left would easily accommodate a radiator and a water cooling setup.
At the foot of the case is a full-length PSU shroud, the same you will find in the Define S2, and does an excellent job of being practical and functional. The pre-drilled holes allow you to easily fit a vertical GPU mount or reposition the SSD mounts which are currently situated behind the motherboard.
The grommeted holes are in the ideal location for ease-of-use, however, just like the Define, the I/O panel USB 3.0 cable could have been a touch longer to aid in the build process. Apart from that though, the grommets do an excellent job in taming the cable management leaving next to nothing exposed.
If you're looking to build a rig which boasts water cooling you're in luck, the newly designed interior has a tonne of different reservoir mounting spots to make life that much easier.
Behind the motherboard plate, you will find the PCB controller which can accommodate up to nine fans respectively. Unlike the Define, the Meshify S2 doesn't come with a fan controller so software will have to be installed to alter the speed they run at. Not a big deal though.
The 3 hard drive bays are found in the same spot as the PCB controller and have been finished with a caged effect. They screw in with a handy thumb-screw and can be utilized for cable management if free.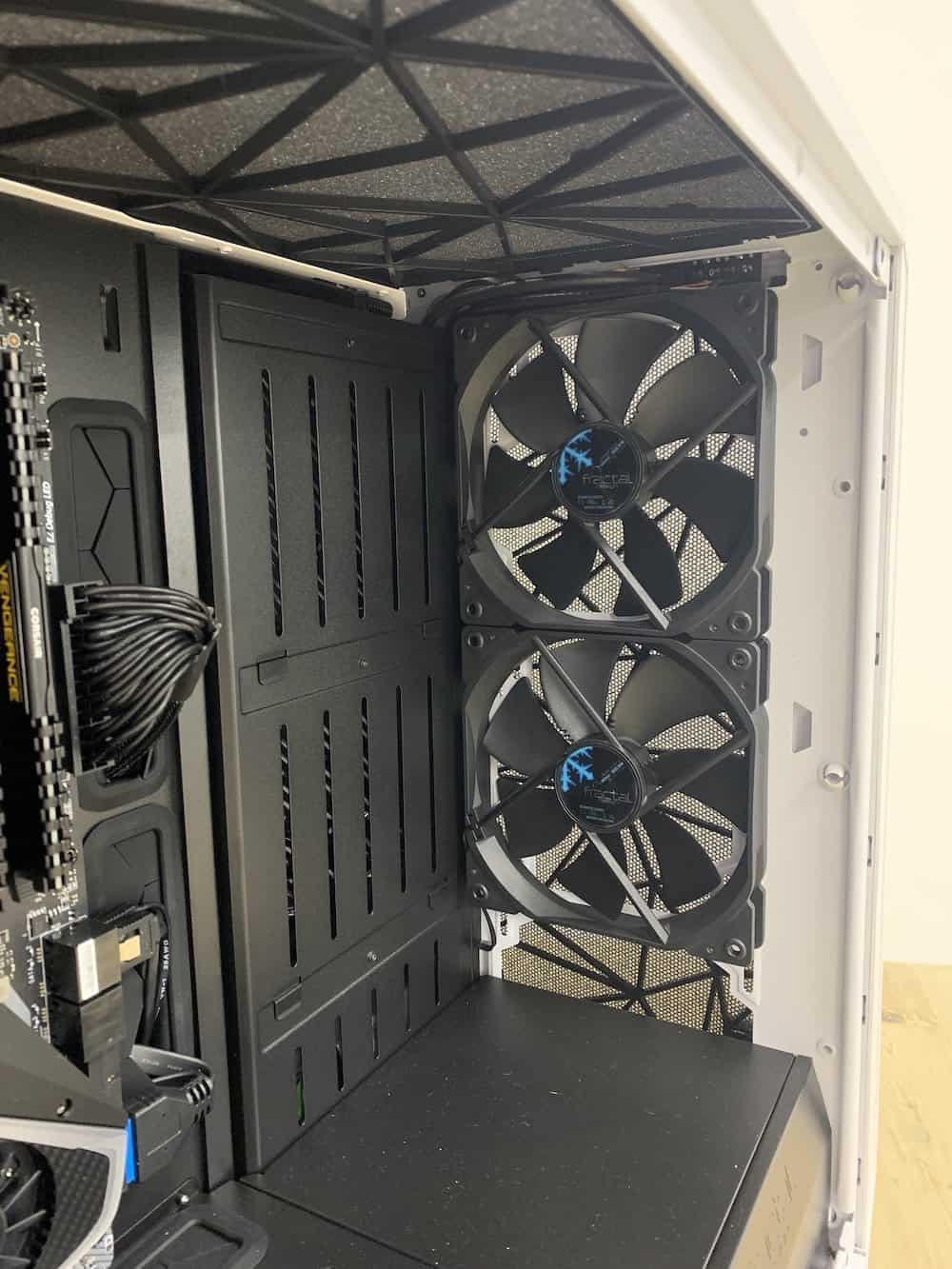 When the Meshify C was released, it immediately became a hit with the consumer for a number of different reasons. One of the main reasons was the feature & benefits it came equipped with. They have kept the same mindset with the new iteration and have packed this case with even more features than before:
Tinted bolt-free tempered glass panel - What better way to showcase your components than a glass side panel, I'll tell you what, a tinted glass side panel. The beauty of the tinted glass is that it only truly show's off the RGB components and hides some of the other messier areas of the build.
3 x 140mm Dynamic X2 fans- The Meshify S2 comes equipped with 3 x 140mm fans which have been custom designed to increase airflow. The unique design works perfectly with the shape of the mesh front in augmenting air intake providing even better cooling potential.
Built-in pump & reservoir support -  Unlike other cases of a similar ilk, the Meshify comes to the table with pre-installed pump and reservoir support thanks to a well-designed wall situated at the front of the case.
Additional Cooling bracket for triple-fan roof support - The case is already cool and provides adequate temperatures thanks to the 3 pre-installed fans. This being said, you do have the option to mount additional fans on the roof and floor of the case thanks to mounts that are ready to use straight out the box.
Full-length PSU shroud - Cable management is always extremely high on the priority list of consumers looking to purchase cases with tempered glass. The PSU shroud does a superb job of managing most of the cables and gives the interior a stylish finish which looks great in all black.
Pre-drilled vertical 2.5 slot GPU support - For those wanting to really push the boat out in terms of aesthetics, you'll be really happy to hear the Meshify S2 comes with pre-drilled vertical GPU mounting holes. Even though it's only small, it certainly goes a long way in making a tricky build a little easier.
If you aren't aware, the Meshify S2 was designed off the back of consumer feedback they received from Meshify C customers. This being said, it would be stupid not to compare the 2 to see how much criticism Fractal took on board.
One of the main problems with the Meshify C was its size. Consumers loved the design and features but didn't have enough space to accommodate cooling extras and larger hardware components. Thankfully, Fractal has addressed this issue by making the Meshify S2 much larger than it's predecessor. A feature that is sure to please the masses.
The second difference I noticed was how the roof panel of the S2 can now be popped off, unlike the C. The C had a grill-style roof with a mesh plate that sat on top, however, the S2 has been equipped with a versatile, exchangeable roof panel which offers much more practicality.
The interior grommet holes have been re-designed in the S2 and give much better cable management options. Furthermore, the glass panel on the C was comprised of a single piece of glass whereas the S2 has a steel frame making it much easier to take on and off.
Overall, the S2 is a much bigger, more practical case that offers the consumer much more versatility when building their perfect PC. It's great to see a company take criticism on board and design a product based upon the feedback left by their customers
We finally come to the part where we actually use this case in a real-life situation. It's always good hearing about the potential features and benefits, but without physically putting them into practice it's hard to know whether they're practical or not. So let's get into it.
For this particular build, we used an ATX motherboard (Rog Strix), EVGA 1080 TI black edition and Seasonic 500W power supply. It has a Be Quiet CPU cooler attached and some other bits.
As soon as we fitted the motherboard into place we noticed how much space we had to play with. We did test fit an E-ATX in place to see where the grommet holes would line up and to no one's surprise, saw they were positioned nicely out of the way.
The PSU sits on 4 plastic feet for a secure, protective fit and is well covered by the shroud. After slotting in the GPU a number of comments were made regarding the possibilities for the unused space. They, however, will feature in a future project.
At this stage, we checked to see how the cable management was developing, and to our surprise, it looked quite neat already. The case comes with Fractal Design's signature Velcro straps which are used to aid in cable management, however, we decided against using them as we thought the positioning wasn't best suited for our needs.
Like all cases, the CPU power cable was a bit of a pain to get through the grommet and back into the motherboard but by no means the worst we've ever used.
The drive bays were extremely handy when it came to additional cable management but wasn't really necessary as the back is covered by the metal panel.
Once the build was complete and we fired it up, you really get a feel for what this thing would look like with a decent water cooling setup installed and some extra RGB. We were left with a tonne of room, more than enough to accommodate the best water cooling setups
It's also worth mentioning that our build didn't make use of a great deal of RGB, however, aesthetically it still looked fantastic from all angles. If you wanted to, you could make something really special using this case as a base.
We finally come to our verdict... and for me, it's an easy one.
The Meshify S2 is an extremely good case that takes all of the quality features found in the Meshify C and refines them into a much more versatile, larger version. The aesthetic design of this case is absolutely brilliant, however, the true star of the show is its functionality.
Whether you're building a water-cooled powerhouse or an E-ATX multi-tasking colossus, you'll be confident that the Meshify S2 has the ability to house anything you have to throw at it.