Best 24 Inch Monitors in 2022 (Updated monthly)
We Select The Best 24 Inch Monitors Available For 2022
Updated: Jan 27, 2022 5:12 pm
The last ten or so years have seen some pretty huge changes occur within the gaming monitor industry – with a lot of people now leaning towards larger displays for their gaming and workstation needs. Having said that, there's still a significant demand for 24 inch monitors in today's market. Whether you're a competitive esports player or someone who needs a smaller panel for your compact desk, there are a ton of quality displays in this size to choose from.
In this guide, we've decided to compile a list of only the very best 24 inch monitors the market has to offer. Each has been carefully tested by our expanding team of PC enthusiasts to ensure your next monitor purchase is the right one for your specific needs.
Our Top Picks
01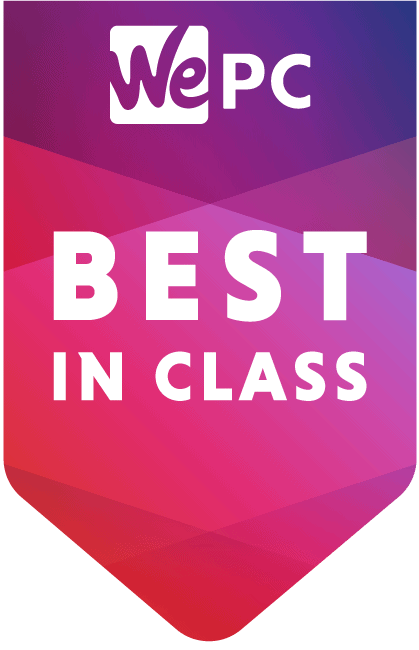 Best 24 Inch Monitor
ASUS ROG Swift PG259QN
02
Another 360Hz 24 inch monitor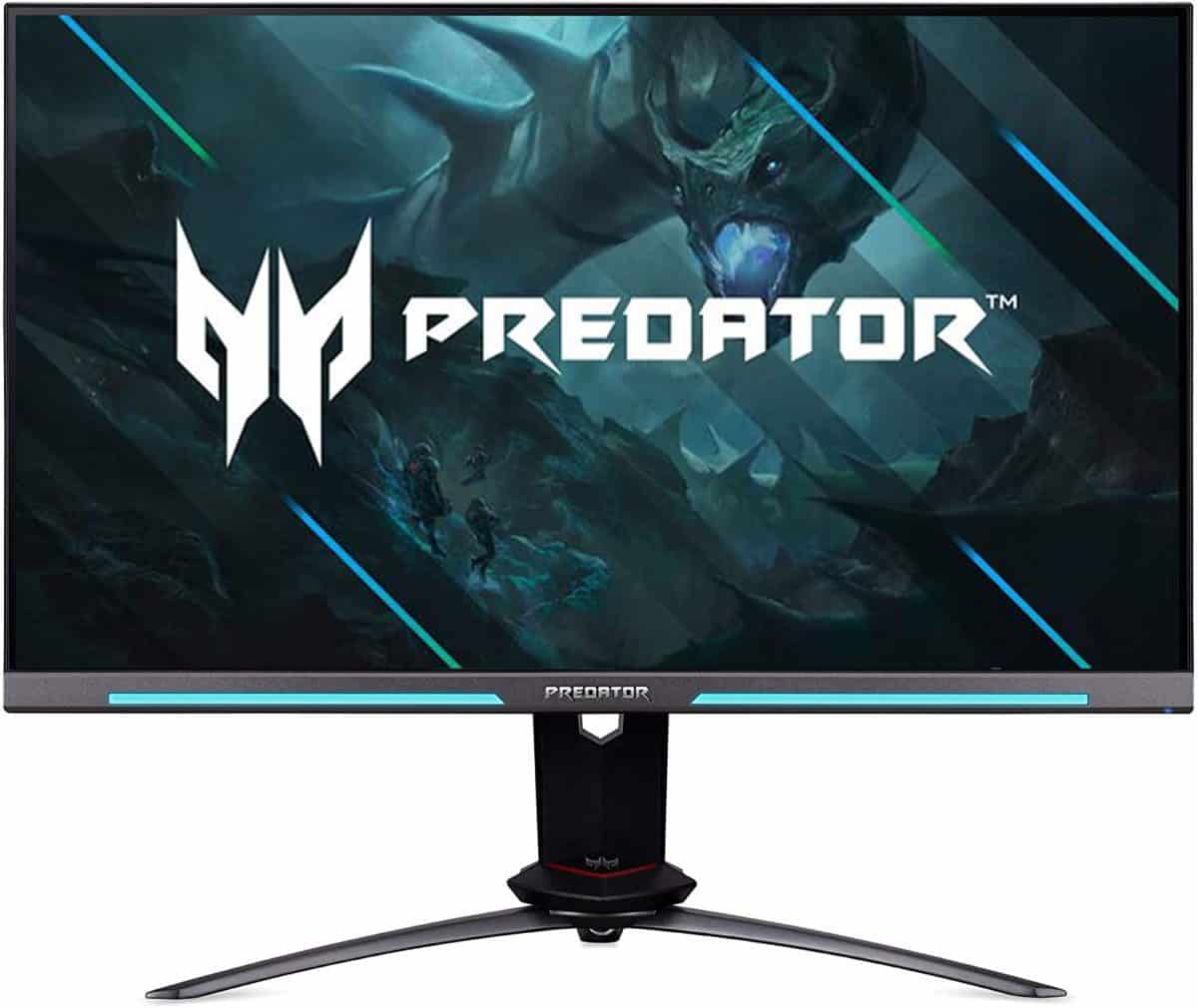 Acer Predator X25
03
Best 240Hz 24 inch monitor
BenQ ZOWIE XL2546K
How We Choose
Whether it's a best-of guide or a single product review, we ensure every monitor we recommend has been through a strict testing process. We don't just search Amazon for the top sellers, we hand-pick the market's best monitors, and each one is tested with the same meticulous care and attention as the last. This ensures that we can present you with the best products the market has to offer and gives our readers confidence that they can trust any gaming monitor we do recommend as having been through the same impartial review process.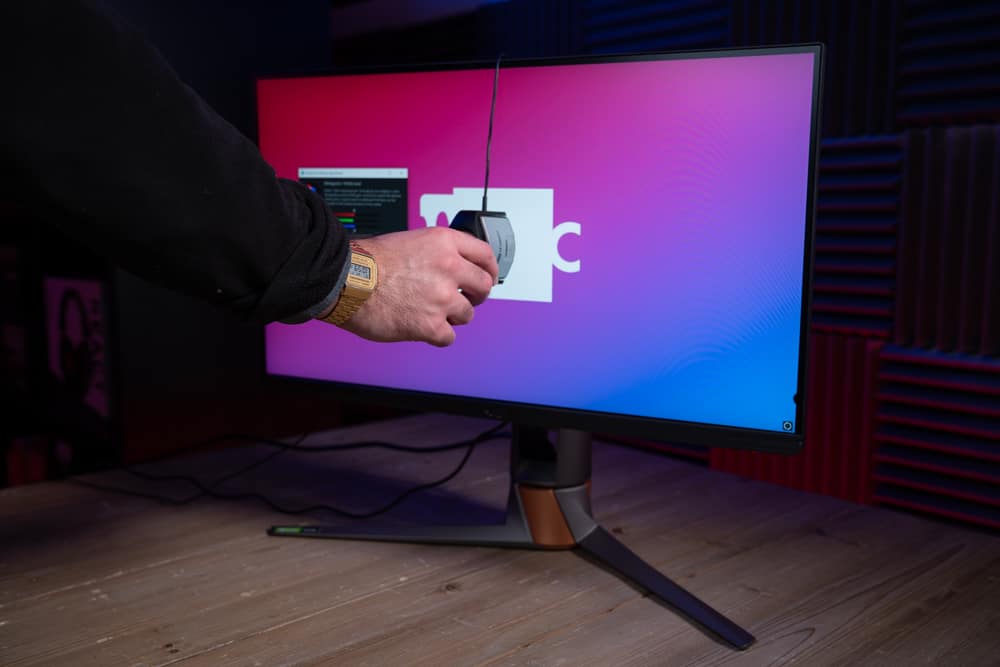 As part of the monitor review process, we like to test each for color accuracy, responsiveness, panel uniformity, build quality, and overall gaming performance. We use a number of specifically designed tools to capture the data for each monitor, ensuring only the highest levels of accuracy are recorded during testing. This process allows us to hand-select the best gaming monitors from both a performance and value standpoint, whilst also enabling us to compare the latest models with last season's best sellers.
Click here if you want to see our in-depth explanation of how we test each and every monitor.
Things To Consider
It can be a complicated process choosing your next monitor upgrade, especially in the technology world, where each new display has a bunch of areas to consider. For that reason, we always try and educate our readers on the most important factors to consider when it comes to purchasing a new 24 inch monitor.
With that in mind, let's take a look at what we consider the most important areas to consider in a 24 inch monitor.
Is a 24 inch monitor too small?
The size of your monitor can affect several different areas that include; maximum resolution, pixel density, aspect ratio, and picture quality. These are all pretty significant factors that will affect your overall user experience – but is 24 inches too small?
Ultimately, it all comes down to what your user requirements are. If you're looking for high-end desktop real estate, 24 inches might be a little too small. However, if you want to focus on esports gaming (where every frame counts), a 24 inch monitor could be exactly what you're looking for.
In that case, there are some simple guidelines to follow when looking to purchase a smaller display.
Max res. of 1080p is usually best
A higher resolution isn't always better with smaller displays
Great for multiple monitor setups
Excellent for esports gaming
TN for gaming, IPS for creators, VA offers middle-ground
Resolution
Your monitor's maximum resolution is, for me, one of the most important areas to consider when purchasing a 24 inch monitor. Not only does it impact your gaming performance exponentially, but it also directly impacts picture quality and the overall viewing experience – two areas that will have a pretty significant impact on your overall user experience.
Most of the monitors in this guide have a 1920 x 1080 (1080p) maximum resolution, and I feel that's the way it should be for a 24 inch monitor. Increasing the max res on a small 24 inch display has very limited benefits, apart from greater screen real-estate.
What is resolution?
The monitor's resolution refers to how many physical pixels the screen is displaying. For example, 1920 x 1080 means your monitor has 1920 pixels horizontally and 1080 pixels vertically. So, with that in mind, when you move up the theoretical resolution ladder, as we'll call it, you are physically increasing the number of pixels you can see.
Sounds great, right? Well, when you only have a limited 24 inch display to play with, you are limiting the amount of impact higher resolutions have on the image quality. Obviously, there's nothing wrong with a higher resolution 24 inch monitor, but for me, anything larger than 1080p is unoptimized for the size.
Below is a handy chart that will outline the most recommended resolution for specific monitor sizes.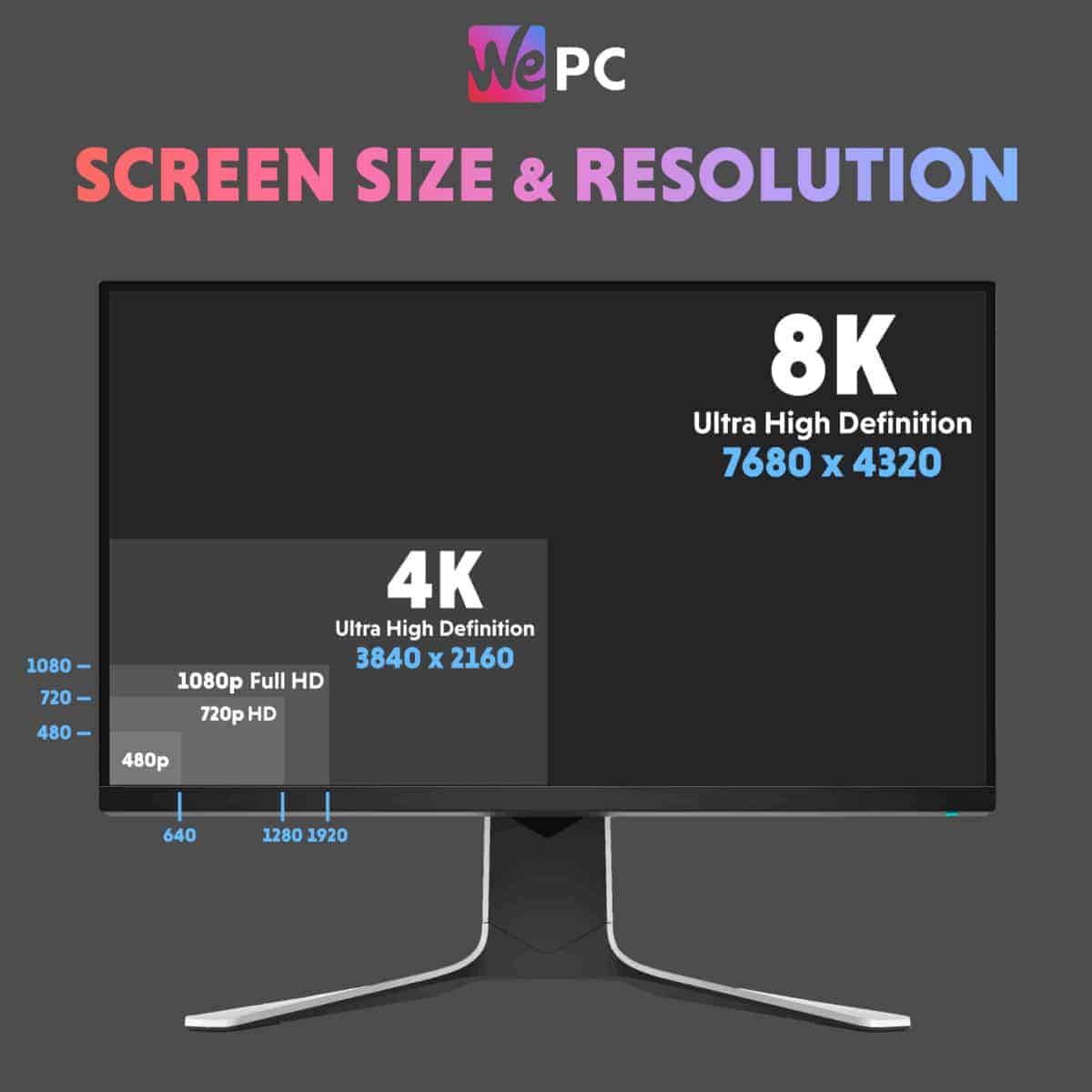 Multiple Monitor Setups
The great thing about a smaller display is that – if you have the space to accommodate them – they are very good when it comes to dual monitor setups.
As far as office work is concerned, most people will feel a little frustrated by the lack of screen space a 24 inch monitor provides. However, thanks to their affordable price tag and almost frameless designs, a 24 inch monitor is the perfect choice for a dual setup.
Gaming
When I imagine a monitor for gaming, it goes one of two ways. You either go specialized esports monitor or all-round entertainment monitor. The two are quite different.
If you want the best visuals and highest levels of realism, you're probably going to want to get a 27″+ display. Having said that, the esports player's main choice still seems to be a 24 inch 1080p panel.
A smaller panel is better equipped to accommodate higher refresh rates, which in turn, offer much smoother overall gameplay. Furthermore, the smaller screen size allows for higher frame rates, effectively giving you a competitive edge over someone using a more demanding panel.
The The Best 24 Inch Monitors For 2020 & 2021
In-depth Review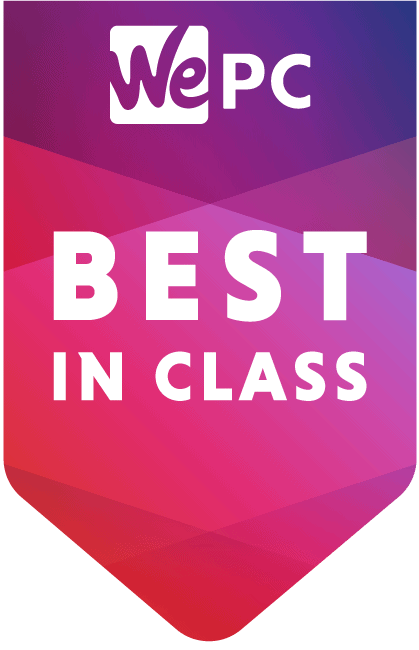 01
Best 24 Inch Monitor
ASUS ROG Swift PG259QN
PROS
Rapid 360Hz refresh rate
Low 1ms response time
IPS color accuracy and viewing angles
Complete G-Sync support
Our number one pick goes to the hugely popular ASUS ROG SWIFT PG259QN – an esports-tailored panel that outshines many of its rivals thanks to its high-end performance and excellent features.
Aesthetically, the ASUS PG259QN seems to tick all the right boxes. It comes equipped with a high-performance AU Optronics IPS panel that delivers excellent colors, viewing angles, and anti-glare capabilities right out the box. This monitor features all the aesthetic hallmarks of ASUS's ROG SWIFT range, including a stylish two-tone stand, ROG RGB on the rear, and a striking footprint that certainly screams premium.
With that being said, it's in the performance where this monitor really excels. ASUS has equipped this panel with all the bells and whistles you could want to take your gameplay to the next level. It features a powerful IPS panel that pushed a 360Hz refresh rate, low 1ms response time (GTG), and low input lag for a jitter-free gaming experience. The PG259QN also has full G-Sync capabilities thanks to its built-inG-Sync hardware module. Furthermore, with a 1080p max screen resolution, this monitor will allow you to reach the high frame rates needed to really take advantage of its power. We ran the PG259QN through a number of different performance tests when we reviewed it last summer – and it excelled in almost every area.
The only real downside of this display is the price tag. It's one of the priciest 24 inch 360Hz monitors you're likely to come across – and for good reason. If you're looking to take your gameplay to the next level, this is certainly right up there.
02
Another 360Hz 24 inch monitor
Acer Predator X25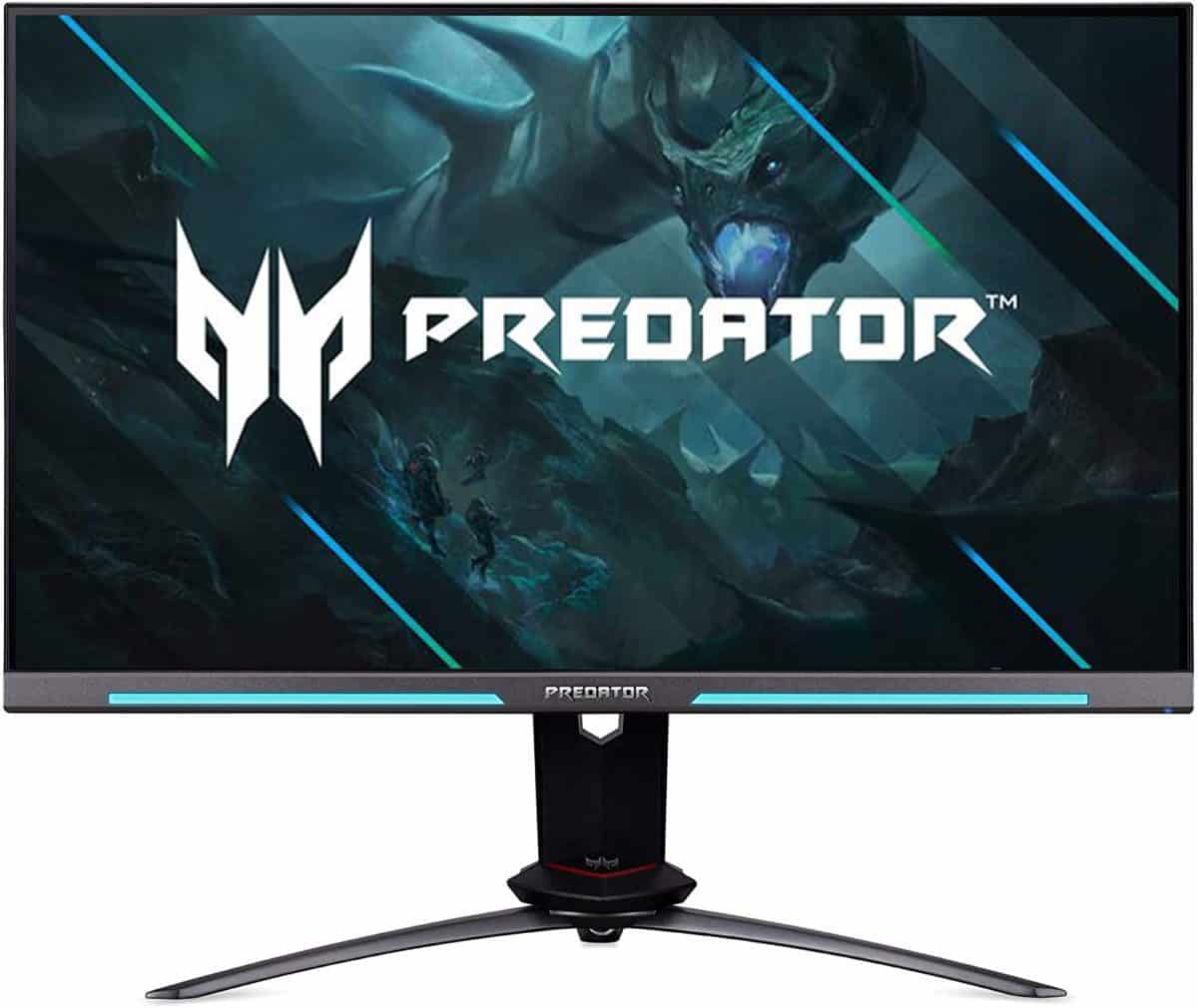 PROS
Rapid 360Hz refresh rate
IPS color accuracy and viewing angles
Low 1ms response time
Fully ergonomic stand
CONS
On the expensive side
Poor HDR performance
The Acer Predator X25 is another excellent 360Hz monitors, offering many of the same features and benefits that you'll find in the Predator X25. Alongside this monitor's superb 360Hz refresh rate, gamers can also expect a 24.5 inch display, 1920 x 1080 screen resolution, and 1ms GTG response time.
As you'd expect, the Predator X25 follows the trademark styling found across most of the Predator range. While the build quality isn't quite as good as the PG259QN, it still feels incredibly well made.
From a performance standpoint, the Acer Predator X25 is an incredibly responsive monitor that offers a near-perfect viewing experience thanks to the fast 360Hz refresh rate and low 1ms response time it features. It pairs a beautiful IPS panel with a 24.5″ screen size and 1080p screen resolution, resulting in the perfect balance of visual experience and performance. With a fully versatile stand, nice aesthetics, and a tonne of features geared towards the perfect user experience, it's incredibly hard to knock this monitor from a performance standpoint. Granted, it won't be for everyone – falling short in the visual clarity department. That said, if you prioritize rapid resp0nse and smooth gameplay, it's hard to find anything better than this.
03
Best 240Hz 24 inch monitor
BenQ ZOWIE XL2546K
Response time
0.5ms - minimum response time
PROS
Rapid 240Hz refresh rate
Excellent combination of size and performance for esports
Flappy panels for increased immersion
A tonne of premium features
CONS
Fairly basic design
Poor viewing angles for the most part
The ZOWIE XL2546K might be a little outdated now, however, it still offers superb performance to budding esports players on a budget.
As far as aesthetics go, BenQ has kept the XL2546K pretty simplistic – and that's OK. This monitor isn't meant to dazzle you with sleek aesthetics, it's an all-out gaming monitor. While the flappy panels are a little strange in both functionality and design, they still provide excellent immersion and focus when used properly.
Alongside the light-blocking flappy panels, the XL2546K comes equipped with a 240Hz refresh rate, 1ms response time, Black Equalizer feature, multiple display profiling, and G-Sync support. For many esports players, this is the perfect blend of features and specifications. Better still, with a low 1080p screen resolution, gamers have a real chance of maxing out the 240 frames per second required to enjoy the maximum potential of this panel. The black equalizer feature is something that can be adjusted using the display's control panel and helps reduce the dark areas of a game. A nice feature if you want to boost shadows and dark regions in certain gaming titles.
Check our complete TN vs IPS vs VA guide here.
04
Best 24 Inch Curved Monitor
AOC Curved C24G2
Maximum Resolution
1920x1080
PROS
Fantastic value for money
144Hz refresh rate
Decent color accuracy
Curved display
CONS
24" not ideal for curved panels
Limited stand ergonomics
The AOC C24G2 is a frameless curved gaming monitor that features everything you could want for a budget gaming monitor.
Our top curved selection comes in the form of this gaming monitor from AOC. The C24G2 features a rapid 1ms response time and 144Hz refresh rate to give competitive gamers a superb option at a reasonable price point. The gaming specs don't end there though, with this monitor also shipping with AMD's Freesync, VESA compatibility, and a three-year guarantee on zero dead pixels.
The VA display is 1080p and fully HD, giving off excellent colors and providing gamers with great viewing angles – making this more than just a gaming monitor.
Aesthetically speaking, the AOC monitor certainly features one of the nicest designs in this roundup and that is helped by the impressive-looking stand that is built to help you get the perfect height while playing. Its sleek design is characterized by frameless-looking bezels and a very thin profile.
If you're looking for a small curved display, this is our number one recommendation. Thanks to an abundance of quality features, which include; 144Hz refresh rate, 1ms response time, and decent viewing angles, this monitor sails past the competition.
The curvature of the display is 1500R, which is pretty decent for a small display. It adds plenty of immersion to both gaming and general usage – something we're big fans of. The stand is fairly functional, and the design is both attractive and sleek.
It comes with a modest control panel that allows users to choose through a selection of presets and adjust the picture to their liking.
05
A Great Value 1080p Monitor With Good Colors
Philips 246E9QDSB 24″ Frameless Monitor
Maximum Resolution
1920 x 1080
PROS
Extremely good value for money
Decent colours
FreeSync support
Finally, we have our budget, all-round pick, and it comes in the shape of the 246E9QDSB from Philips.
When we think of monitors, we don't usually think of Philips right off the bat. Having said that, this particular monitor showcases some of the best value for money on our guide. It's been equipped with a 75Hz refresh rate, a full HD IPS panel, FreeSync support, and a 129% sRGB color gamut.
For me, that's the perfect balance of specs for someone that likes to do some light gaming as a hobby, but also does more creative workflows as well. At a price tag that is currently under $100, you can't argue with the value either.
The aesthetics are pretty good with this one as well. Thin bezels mean you can easily adapt a dual-monitor setup here – with a metallic stand making the whole image sing.
Ultimately, our best budget 24 inch monitor!
Final Word
So, there you have it, our comprehensive breakdown of the best 24 inch monitors the market currently has to offer. Hopefully, this guide has made choosing your gaming monitor that little bit easier – shedding light on some of the more intricate sides of monitor technology.
If there's a monitor you thought we should have showcased, why not leave us a comment below.
---