BenQ EX2780Q Monitor Review
A closer look at BenQ's latest 1440p 144Hz IPS gaming monitor
Updated: Mar 15, 2022 2:07 pm
BenQ recently released a whole host of exciting new gaming monitors under the MOBIUZ lineup – all of which seek to offer great performance and stellar value for money, respectively. In this article, we'll be taking a look at the BenQ EX2780Q – the latest budget-tailored 1440p 144hz gaming monitor to come out of the series.
The EX2780Q is a 27″ 1440p IPS gaming monitor that, as we said above, boasts an impressive 144Hz refresh rate alongside an acceptable 3ms input lag. It comes equipped with some cool features which include HDR400 certifications, B.I+ (brightness intelligence), and 10-bit colors to boot. Unfortunately, the EX2780Q is a little slow in the response time category, only chalking up a 5ms GTG which, in today's market, is about as low as you'd want to go. That being said, the EX2780Q still offers up excellent value for money, especially when you consider the sub $400 price tag it comes equipped with.
We'll be putting the BenQ panel through its paces in a number of different scenarios that include build quality, color accuracy, picture quality, and overall gaming performance – comparing it against similarly priced alternatives as we go.
So, with plenty to get through, let's waste no further time and dive straight into it!
BenQ EX2780Q
Specifications
Tech Specs
Color Gamut
99% sRGB, 90% Adobe RGB, 95% DCI-P3
Backlight technology
W-LED
Panel Coating
Anti-Glare/Matte (3H)
Dimensions (WxHxD)
614 x 459 x 196mm with stand
Inputs
1 x USB 3.1 (Type-C), 2 x HDMI 2.0, 1 x DisplayPort 1.4, 1 x 3.5mm audio out
PROS
144Hz Refresh rate
Decent input lag
Fantastic speakers
Good build quality
Good viewing angles
CONS
Only HDR400 certified
Colors and lacking
Very limited stand adjustments
5ms response time
What's In The Box
The BenQ EX2780Q comes in a stylish white box that showcases the monitor and many of its features around the outside. Inside the box, the monitor comes with an assortment of accessories and is completely unassembled.
The stand comes in two pieces and requires a screwdriver to attach it to the monitor. Whilst this isn't a hard process, it definitely feels a little old when compared to many of the toolless offerings that currently reside in today's market.
Inside the EX2780Q box you will find the following:
BenQ EX2780Q Monitor
Kettle Plug
1 x DisplayPort 1.4
USB Type-C Cable
HDMI 2.0
User Manual
Warranty
BenQ EX2780Q
Refresh Rate 144Hz
Response time 5ms GTG
Screen size 27"
Resolution 2560 x 1440
Design And Features
With specifications out the way, let's take a closer look at the build quality, design, and mechanical features this monitor comes equipped with.
Design
Upon unboxing the BenQ EX2780Q, you'd have to say, it certainly leans more towards the home/office vibe. It doesn't really offer any of the flamboyance that you often find with a monitor geared towards gaming. That isn't necessarily a bad thing though – it certainly looks good in a subtle yet stylish kind of way.
BenQ has finished the EX2780Q with a bronze-coloring that certainly adds an element of premium to its aesthetic – albeit a little hit and miss with some individuals. The bezels are thin and the stand is fairly simple, yet quite robust. The bottom edge of the panel itself is where the speakers are housed, finished with a honeycomb styling that makes the entire bottom edge look like a mini soundbar.
The base of the stand doesn't really offer a great deal in terms of design functionality, but it is kinda cool looking. A thin bar creates a rectangular base where your remote can sit.
The rear of the monitor doesn't offer a great deal in terms of design features, only a small grill and a BenQ logo at the top.
Build Quality
Looking at build quality briefly, BenQ hasn't done a terrible job with this panel. Despite the majority of this monitor is comprised of a plastic material, the base of the stand (and its interior) is metal – giving the EX2780Q a solid and sturdy feel.
The back of the monitor also feels robust, as do the OSD buttons that are found on the rear in the bottom right-hand corner. One area that does feel a little rushed, however, is the volume control. The wheel feels a little flimsy and temperamental, to say the least. That being said, when all is considered, you'd have to say BenQ has done a pretty good job as far as build quality is concerned.
Panel Coating
The panel coating is like many of today's modern monitors, utilizing an anti-glare coating with a 3H hardness – in matte. The coating does a great job of mitigating light sources and any potential glare that may introduce itself when gaming during daylight hours.
On the downside, the monitor does pick up a tonne of fingerprints – easily noticeable when looking at the monitor from an angle.
Bezels
Touching upon bezels briefly, the EX2780Q doesn't offer the smallest I've ever seen. Whilst the top and side bezels offer a slim, dual-stage design that measures in at 8mm, the same can not be said for the bottom bezel. Housing the speakers and the light sensor (used for the B.I+ feature), the bottom bezel is 32mm – pretty chunky by today's standards.
Stand
There really isn't a great deal to say about the stand that hasn't already been mentioned. It has little to no functionality – apart from a handy cable management section and minimal tilt adjustability. The following are the full adjustments of the stand:
Forward Tilt – 5 degrees
Backward Tilt – 20 degrees
Fortunately, the monitor does have VESA support, allowing you to swap out the BenQ stand for something a little more functional. That being said, the stand is quite robust – offering good stability during usage.
BenQ EX2780Q
Inputs
Again, sticking with the 'basic' theme, the EX2780Q doesn't offer a great deal in terms of input connectivity. That being said, it is enough for the everyday user, so I wouldn't get overly concerned.
All inputs are found at the rear of the monitor and need to be installed in a vertical fashion – as you'd expect. Alongside a single USB Type-C connector, users will also have 2 x HDMI 2.0 ports, 1 x DisplayPort 1.4, and 1 x 3.5mm audio out to deal with.
OSD
Finally, we have the OSD – and thank god, we no longer have to deal with numerous buttons under the bottom bezel.
BenQ has chosen to use a 5-directional joystick for this monitor, making navigation a great deal easier. Once inside the OSD, users will have access to a number of different color and picture settings, including luminance, color presets, contrast, sharpness, HDR, and everything else you'd expect from an OSD menu.
You have full access to the 2.1 channel audio system within the OSD, allowing you to select premade EQ setups for extra bass or a tighter sound. Remember, you can use the TV-style remote or the buttons to navigate the OSD.
Color Accuracy & Picture Quality
The EX2780Q comes with a number of different color presets that allow you to create the perfect viewing experience – no matter what the scenario. In this section, we'll be taking a look at some of the more commonly used presets to see how they stack up in color accuracy and general viewing.
We'll be using a colorimeter to test color accuracy, picture quality, maximum luminance, and overall uniformity across the panel.
| Preset | White Point | Black Depth | Contrast Ratio | Average ΔE*00 | Gamma |
| --- | --- | --- | --- | --- | --- |
| IDEAL | 6500K | 0.00cd/m² | Infinite | 0.00 | 2.2 |
| Out The Box - Standard | 6667K | 0.2457 cd/m² | 1065.5:1 | 2.4 | 2.19 |
| Gamer3 | 6971K | 0.1192 cd/m² | 998:1 | 4.81 | 3.15 |
| Color Preset M-Book | 7123K | 0.1283 cd/m² | 945.2:1 | 3.44 | 2.44 |
| Color Preset Rec709 | 6642K | 0.1163 cd/m² | 1046.6:1 | 1.81 | 2.38 |
We started off by testing the EX2780Q in its factory settings. For this monitor, that would be the 'standard' profile, 'normal' color temperature, and HDR disabled. As you can see from the results above, this preset didn't perform to the highest of standards. White point was honest at 6667K (kelvins) whilst the black depth was o.245 cd/m2. Contrast ratio was slightly above the rated 1000:1 (1065:1) and gamma read 2.19. Less impressive, however, was the average deltaE of 2.4 – bordering on the 'noticeable by human eye' levels.
We ran the Gamer3 preset next – mainly because it offered the most natural color recreation when compared to the other 'gamer' presets. The colors looked harsh and oversaturated, as seen by the average deltaE of 4.81. Gamma came in at 3.15 whist white point and black depth were both reasonably acceptable.
We put the M-book preset to the test next. It fell short in almost every area – with average deltaE of 3.44 being the worst of the results. The Rec.709 preset offered the best colors out of the box, with a 1.81 average deltaE being the best we tested. Gamma level came in at 2.38, contrast ratio was 1046:1, and white point 66452 kelvins. This was by far the most accurate color preset we tested for the EX2780Q.
| Preset | White Point | Black Depth | Contrast Ratio | Average ΔE*00 | Maximum ΔE*00 | Gamma |
| --- | --- | --- | --- | --- | --- | --- |
| IDEAL | 6500K | 0.00cd/m² | Infinite | 0.00 | 0.00 | 2.2 |
| User Indepth | 6528K | 0.1127 cd/m² | 1070.6:1 | 2.9 | 5.41 | 2.2 |
| User Calibrated Profile | 6514K | 0.1179 cd/m² | 1008.7:1 | 0.18 | 0.79 | 2.2 |
We ran a more comprehensive color test using the most accurate color preset (Rec.709) alongside the 'User' color temperature. The results were a little hit and miss to say the least.
White point, black depth, and contrast ratio were pretty much what you'd expect. However, average and max. deltaE were fairly high (2.9 and 5.41). We reduced the brightness down to 120 candelas as the preset was set to over 250 nits of brightness – much higher than the recommended luminance.
After this test, we calibrated the monitor – first changing the RGB values to 96/96/99. After calibrating, the monitor showcased much better color recreation across the board. A near-perfect 6514 kelvin white point, low 0.11 black depth, and bang on 1008:1 were recorded when calibrated. The average deltaE dropped to 0.18 (one of the best scores we've recorded) and max. deltaE dropped to an impressive 0.79. Gamma stayed solid at 2.2.
Panel Uniformity
Panel uniformity is a test we run to check how uniform the luminance and color is across the entirety of the screen. During this test, the center square is used as the reference space. Every other square is then tested to see how far it differentiates from the reference.
In an ideal world, we want every square to be green, meaning it hasn't broken the differential threshold – something we can set at the start of the test.
Note: results will differ from panel to panel.
The luminance uniformity for this particular monitor was a little lacking. Whilst a lot of the panel resulted in a green score – lower than 4% deviation from the reference square – there were some offputting results that would be noticeable (by the human eye) in certain scenarios.
As you can see from the graph above, the bottom left-hand corner of the panel was almost 20% darker than the centre reference square. There were plenty of other squares that weren't up to scratch in this particular department, determined by the amber color result.
Viewing Angles
The BenQ EX2780Q is an IPS panel and, because of that, the viewing angles are very good. We viewed multiple content types from numerous angles and, for the most part, the results were fantastic. Playing co-op games, watching movies, and general browsing were very acceptable with this monitor.
BenQ EX2780Q
Color Gamut
As part of the calibration process, the DisplayCal will give an accurate measurement of the color gamut the monitor can provide. Below are the results of the color gamut test: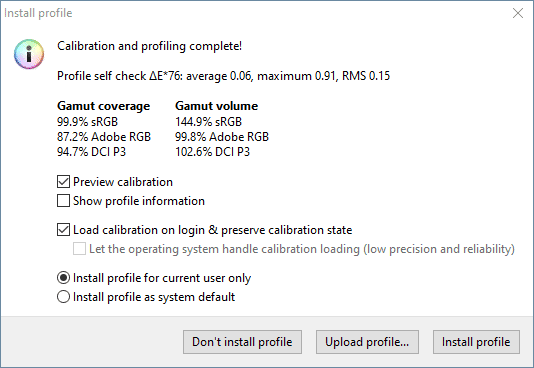 The BenQ EX2780Q is advertised as having 95% DCI-P3 color accuracy, and that's exactly what we got from our particular model. The tests came back very positive, with a DCI-P3 coverage and volume of 94.7% and 102.6%. That translates to 99.9% of the sRGB color space and 87.2% of the Adobe RGB space.
As you can see from the colored line above, the gamut volume of the EX2780Q far exceeded that of the sRGB (dotted line). Once calibrated, this is an extremely accurate monitor and would be great for any individual that works within the DCI-P3 or sRGB color spaces.
Maximum And Minimum Brightness
We ended the color accuracy and picture quality testing by checking the maximum brightness, minimum brightness, and 120 candelas points on this panel. The results are below:
| Brightness | Candelas |
| --- | --- |
| 100% Brightness | 360.29 cd/m² |
| 0% Brightness | 22.03cd/m² |
| 19 Brightness | 120 cd/m² |
Calibrated Profile
For those who want to use our calibrated color profile, you will find a link below where you can download the zip file.
BenQ EX2780Q: Gaming Performance
With color accuracy and picture clarity tested, we wasted not time and put the BenQ EX2780Q to the test in a number of different gaming titles. As this is primarily a gaming display, it'll be interesting to see how it stacks up in this particular department.
We started off by playing my go-to game when it comes to testing monitors for raw responsiveness – CS:GO. Whilst the frame rates kept up with the pace of the monitor's refresh rate, gaming with – or without – FreeSync was a very enjoyable experience indeed. Making the switch from a 60Hz monitor to a 144Hz, such as this, is like night and day. It will literally give you 2.4 times the information (per second) over a 60Hz alternative, a clear advantage when playing competitive titles. This translates to a smooth, well-rounded gaming experience that, thanks to a low input lag (when using AMA), is void of most screen artifacts like ghosting. That being the case, there were some noticeable trails in some scenarios when fast-moving images were transitioning through darker spaces – mainly down to the less-than-desirable 5ms GTG response time.
I fired up the HDR settings and played Shadow Of The Tomb Raider – a game that benefits heavily when ran through an HDR signal. The experience was pleasant but not breathtaking. The 1440p screen resolution really helps sharpen up the image, something the budget-oriented Ex2710 couldn't compete with. HDR wasn't spectacular, but it did make a slight difference in certain scenarios and gaming titles. Shadow Of The Tomb Raider, for example, offered a slight blue-ish hue that was fairly noticeable when gaming – especially in darker spots. The monitor has three HDR modes to choose from (Game HDRi, Cinema HDRi, and Display HDR), all of which offer their own unique color preferences. The BenQ EX2780Q is only VESA HDR 400 certified – meaning it resides in the lowest category of HDR standards and only offers a mild HDR experience.
We enabled FreeSync for the majority of the games we tested, with the monitor supporting a variable refresh rate between 48 – 144hz. Using FreeSync yielded similar results to that of all the FreeSync monitor we've tested before – with reduced screen tear being the best benefit on offer.
Overall, I'd have to say the gaming was OK for the most part – but lacking in some scenarios. If you're looking for an immersive experience that takes full advantage of an HDR signal, this monitor will probably leave you a little disappointed.
Final Thoughts
So, there you have it, our comprehensive review of the BenQ EX2780Q gaming monitor. The only thing left to discuss is whether or not we feel it's worth the cash. Well, looking at the market, comparing it alongside other 1440p 144hz monitors, you'd have to say, yes. Retailing at under $400 is actually pretty good value for money. That being said, as this monitor tries to suit all needs, it does fall a little short in some departments.
Looking at the positives, this monitor offers a decent gaming experience for competitive titles like Fornite, COD, and CS:GO. It also provides good viewing angles, a wide color gamut, and decent colors in the Rec. 709 preset. It offers a high refresh rate and low input lag which are great for the competitive titles listed above. It also offers a pair of very efficient speakers that outperform almost every other monitor we've tested.
However, for immersion seekers who enjoy single-player titles, the EX2780Q may leave them a little disappointed – especially if you're expecting a stunning HDR experience. Furthermore, precalibrated color presets (apart from Rec.709) do fall short of what you'd expect from a panel of this price point. Overall, the saving grace of this monitor is the price tag. If it was any higher than it currently is, you'd be hard-pressed to recommend it. However, seeing as though it undercuts many of the other 1440p 144Hz monitors on the market, it definitely adds itself to the list of contenders.
BenQ EX2780Q
---