Best FreeSync Monitor 2023 (4K, Console, and 240Hz)
An in-depth look at the best FreeSync monitors in today's market - including 144Hz, curved, and ultrawide displays
Updated: Apr 18, 2023 2:34 pm
01

Best FreeSync monitor

Editor's pick

Samsung Odyssey G7 (C27G75T)

02

Best high refresh rate FreeSync monitor

03

Best 4K FreeSync Monitor
Looking for the best FreeSync monitor can be easier said than done, especially if you're new display technology. Thanks to AMD's rise within the GPU hierarchy, the demand for FreeSync compatible monitors has increased exponentially. That's right, whether you're a PC gamer or an XBOX One owner, AMD's variable refresh rate technology is a must-have when searching for the best visual experience possible.
However, choosing the best FreeSync monitor for your needs can be a tricky little prospect – especially when you consider the amount of FreeSync compatible panels that now populate the display market. For that reason, we'll be reviewing (and recommending) the best FreeSync monitors available this 2021. Whether you're looking for a rapid 144Hz display or a larger 4K variant, there is a FreeSync compatible option for pretty much every scenario.
With that in mind, let's waste no further time and dive straight into it!
Best FreeSync Monitor in 2023: products at a glance

Samsung Odyssey G7 (C27G75T)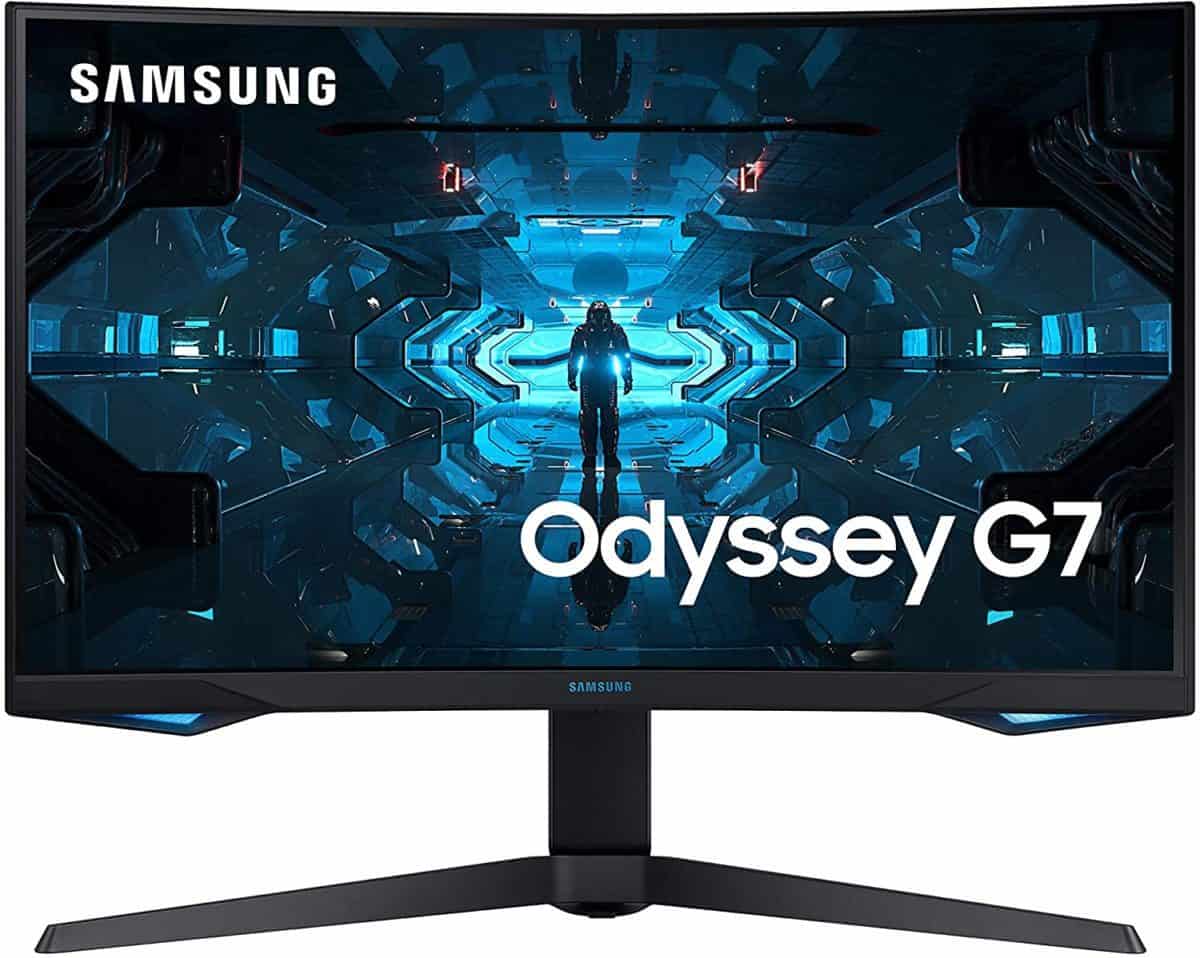 Alienware AW2521HF Gaming Monitor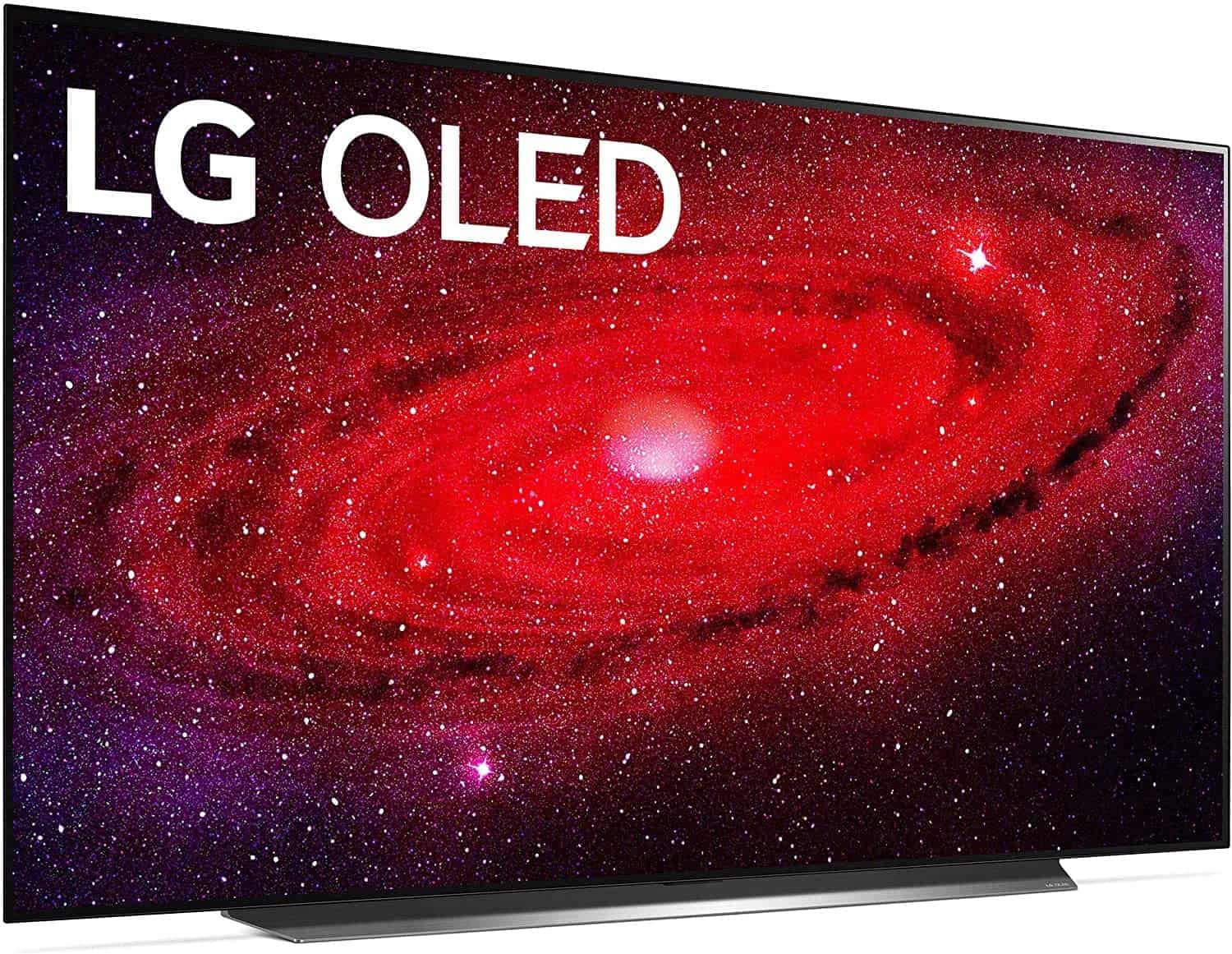 4K Ultra HD (3,840 x 2,160)
---
Best FreeSync Monitor in 2023: our top picks
01

Best FreeSync monitor

Editor's pick

Samsung Odyssey G7 (C27G75T)

02

Best high refresh rate FreeSync monitor

03

Best 4K FreeSync Monitor
---
Best FreeSync Monitor: Reviews

Samsung Odyssey G7 (C27G75T)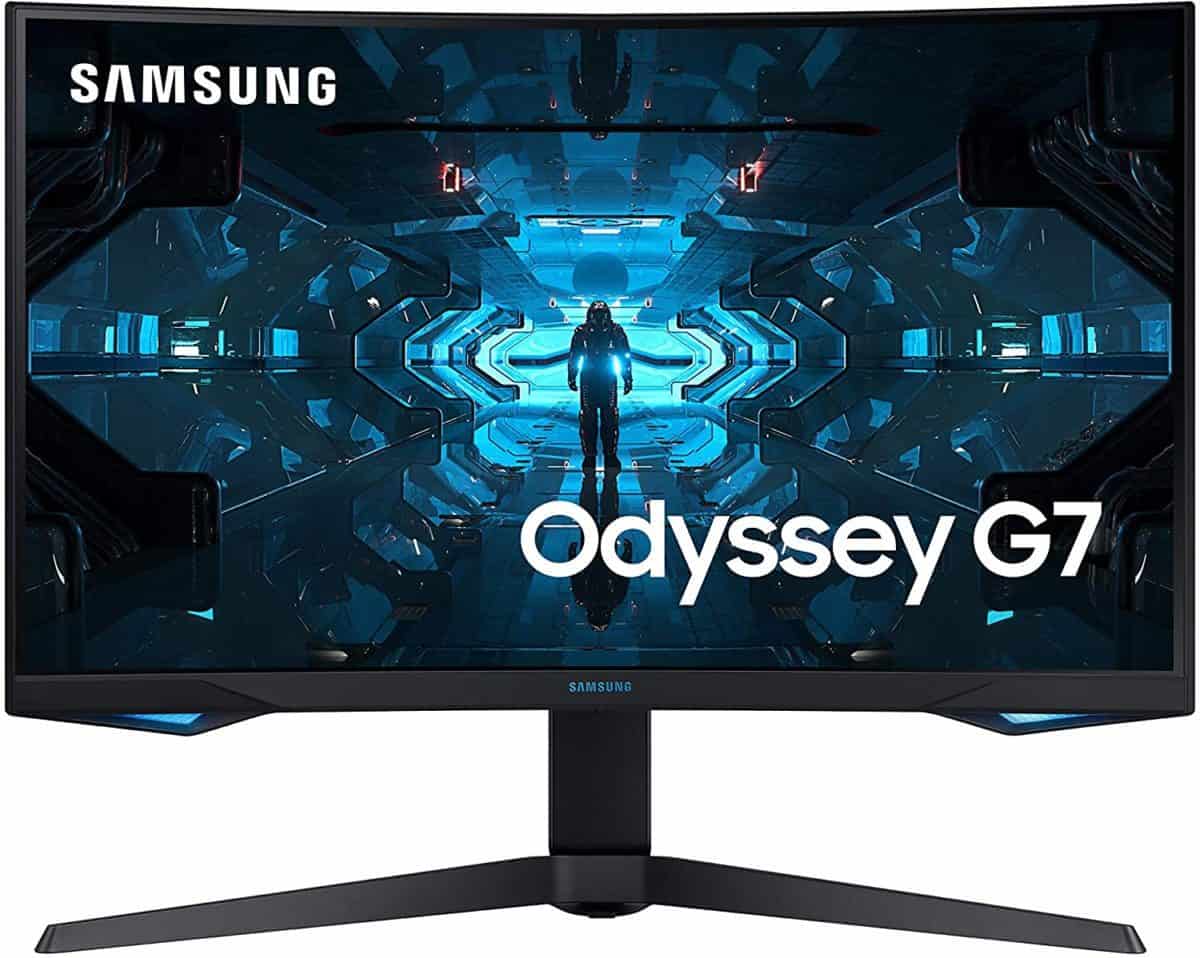 Fantastic response time

Supports G-Sync compatible as well as Native FreeSync support

A wide contrast ratio

Very efficient in darkroom scenarios
Peak brightness isn't ideal

Poor viewing angles

Can be prone to backlight bleed
We've given the best FreeSync monitor crown to the ever-popular Samsung Odyssey G7 – one of the best all-round gaming monitors on the market. This stellar gaming monitor really does tick all the right boxes if you're looking to take your gaming to the next level. However, you are going to require a fairly hefty PC build to push the higher end of the 240Hz variable refresh rate range.
Looking at aesthetics, this thing is stunning. The entire lineup of Odyssey monitors looks stunning, bringing a futuristic design to the table that is characterized by subtle curves and sharp edges. The back is where the majority of the focus lies, with a vortex-like RGB zone at the heart of the stand that reminds me of Iron Man's armor. The G7 comes in two variants; a 27-inch version and a 32-inch version. Whilst the choice between the two is up to you, we would recommend the 27-inch over the latter – offering a more rounded and balanced experience for both gaming and general use.
Design aside, the Samsung G7 really does excel in the performance department. It comes equipped with exceptional motion handling alongside a 240hz refresh rate that lands it slap-bang in the esports-grade category. With a Black Frame insertion feature, users will also be able to improve motion clarity as well. However, remember, you'll only be able to use this particular feature when FreeSync is active. The 1440p screen resolution also offers fantastic picture clarity and general immersion whilst gaming, but will drive up the demand on your PC's components – so just keep that in mind when considering this monitor.
With excellent contrast ratio and great black depth, the Samsung G7 also becomes a very efficient monitor for darkroom gaming. The only area this monitor really falls a little flat is in the viewing angles. With it being a VA panel, the viewing angles are less than desirable. However, the pros of this monitor far outweigh the cons.
Best high refresh rate FreeSync monitor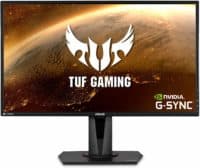 Very good response time

Gaming-grade refresh rate

Very low input lag

Excellent ergonomic design
Not great for darkroom gaming

Only offers a standard RGB color spectrum
The ASUS VG27AQ is a great little monitor that gets our runner up spot for good reason. Whilst it isn't as quick as the top pick, it still offers a very efficient 165Hz refresh rate and extremely low input lag. Alongside this, it also offers the picture clarity and screen real-estate that comes hand-in-hand with a 2k, 1440p screen resolution.
Aesthetically, the TUF Gaming VG27AQ is fairly uneventful. When put next to the G7, for example, it looks quite dull and doesn't offer nearly as many gaming design features. That being said, that's not necessarily a bad thing. Its understated design allows it to fit into office-type environments without looking utterly ludicrous. Furthermore, ASUS have clearly spent their time concentrating on performance-enhancing factors over design features – something I always respect.
That leads us nicely onto performance and, to be honest, this monitor is fantastic. The VG27AQ really is an impressive 27-inch monitor. As we just said, it sports a 1440p screen resolution, 165Hz refresh rate, and extremely low input lag. You pair that all with the color accuracy of the IPS panel at its heart and you have the perfect recipe for a very efficient monitor. Playing fast-paced shooters on this thing feels extremely lucid thanks to the quick response and high refresh rate. Pair this with the variable refresh rate for a tear-free experience that will immerse you for hours on end. The only downside to this monitor is its poor black depth and limited color gamut – only offering 99% of the sRGB color spectum.
Stunning 4K picture clarity

Very quick response time

Great viewing angles

Good peak brightness
Poor contrast ratio

Local dimming feature isn't great
Next up we have the LG 27GN950-B, a high-performance 4K gaming monitor with a 144Hz refresh rate to match. As you can imagine, that automatically puts this monitor into a league of its own as far as pricing is concerned. That said, you can't deny the performance this monitor brings to the table – easily out performing many other FreeSync alternatives.
Aesthetically, the 27-inch monitor from LG offers all the usual design traits you'd expect from one of their high-end offerings. That being said, it is a fairly understated design that doesn't really lean too much in gaming's favor. Again, we kinda like that here at WePC though. A versatile stand and excellent ergonomics also make this monitor great for multi-person viewing.
From a gaming standpoint, the 27GN950-B is a standout performer in the 4K resolution category – offering great input lag and a 144Hz refresh rate to match. That high-end combination of specs is extremely good for motion handling without compromising on picture clarity and resolution. The IPS panel at its heart offers great colors right out the box alongside excellent viewing angles as well. That being said, this monitor does come with a few downfalls, one being a poor contrast ratio that is characteristic of IPS panels. Furthermore, whilst the panel coating isn't great for mitigating reflections, it does get bright enough to overcome annoying glare.
Overall, the pros of this monitor far outweigh the cons. It's still very much one of the best gaming monitors out there, and one that tailors itself to both AMD and Nvidia owners.
Best esports FreeSync monitor
Alienware AW2521HF Gaming Monitor
Very crisp response time

Fantastic build quality

Great viewing angles

Fully ergonomic stand
Black depth isn't great

Lacks HDR support
Next up we have the Alienware AW2521HF – an esports tailored gaming monitor that compromises image quality for the highest levels of motion handling and response. This monitor is great if you take your gaming a little more seriously and prioritize response over general image quality.
Looking at aesthetics briefly, we really like the Alienware brand here at WePC, offering up a nicely-balanced mix of premium materials and a general gaming style. Unlike the AW2720HF that offers an all-white color scheme, DELL opted for all-black in this particular variant. The same RGB strip can be found at the rear alongside the alien head in the top right-hand corner – both contrasting nicely with the dark theme it offers.
Looks aside, performance is where the AW2521HF really comes alive. It comes equipped with a 240Hz refresh rate, low input lag, and great overall response times. Playing fast-paced games on this thing feels absolutely fantastic, with almost zero motion blur experienced during the most intensive gaming scenarios. Games like CS:GO benefit hugely from the speed of a panel like this, with gameplay feeling liquidy smooth at all times. Also, with a 1080p resolution, gamers will actually be able to push the higher end of the variable refresh rate range.
Obviously, this monitor comes with a few downfalls, one of which is general picture quality. You don't get excepetional clarity with a 1080p screen resolution, neither do you get a wide color gamut either. However, if these factors are low on your priority list, you'll be more than happy with what this monitor offers.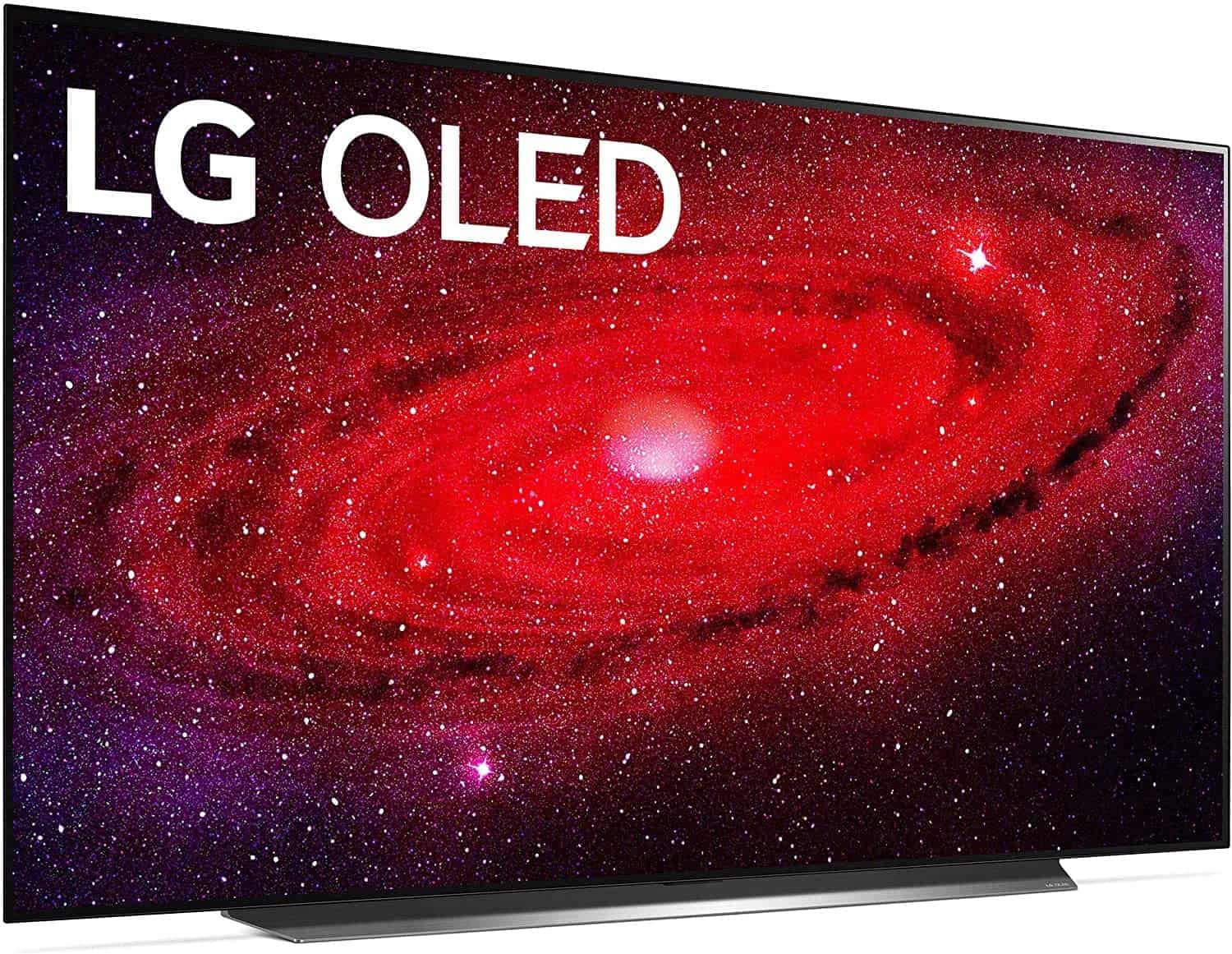 4K Ultra HD (3,840 x 2,160)
Utilizes OLED technology

FreeSync VRR support

Very quick response time

Wide viewing angles
Runs the risk of burn-in

Stand offers no adjustments
Whilst the LG 48CXPUB isn't strictly a gaming monitor, it does fall firmly in the next-gen console gaming category. With FreeSync support and a plethora of other gaming features, this OLED TV from LG really does tick all the right boxes for PlayStation 5 and Xbox One X owners.
Aesthetically, there isn't really that much going on with this LG TV. The back is very basic and the main panel is flat and fairly featureless. That said, it does offer an extremely thin profile that looks very elegant and premium.
Looking at this TV from a performance standpoint, you can't really knock it at all. Of course, it probably won't be your first choice if you're playing competitive esport titles, but it might be if you're a console gamer. With a 120hz refresh rate and an almost instantaneous response time, this OLED TV offers exceptional motion handling. Console gamers will also be happy to hear it offers an HDMI 2.1 input to enable them to take full advantage of this stellar 4K gaming at 120Hz. Furthermore, thanks to the OLED technology used in this TV, viewing angles and black levels are near perfect as well – making this panel great for multi-person and darkroom usage.
The only downside of this TV is the ongoing risk of burn-in from static objects – oh, and its steep price tag. However, we still consider this TV very good value for money, outshining many other OLED alternatives in today's market.
How We Test & Choose
Whether it's a best-of guide or a single product review, we ensure every monitor we recommend has been through a strict testing process. That's right, we don't just search Amazon for the top sellers, we hand-pick the market's best monitors and test each one with the same meticulous care and attention as the last. This not only ensures that we can recommend the best products the market has to offer, but it also helps us build reader confidence as well.
As part of the monitor review process, we like to test each for color accuracy, responsiveness, panel uniformity, build quality, and overall gaming performance. We use a number of specifically-designed tools to capture the data for each monitor, ensuring only the highest levels of accuracy are recorded during testing. This process allows us to hand-select the best monitors from both a performance and value standpoint, whilst also enabling us to compare the latest models with last season's best sellers.
Click here if you want to see our in-depth explanation of how we test each and every monitor.
Things To Consider When Shopping For A FreeSync Monitor
Like any product selection, buying a FreeSync monitor usually comes with a whole plethora of additional considerations. For that reason, we're going to outline some of the major considerations that should go into a FreeSync monitor purchase. We'll also be going over some of the realistic expectations that you can expect when purchasing a monitor with AMD's variable refresh rate technology.
What Classes As A FreeSync Monitor?
This is one of the most commonly asked questions we receive – and mainly because there is so much confusion surrounding variable refresh rate technology. Technically speaking, a FreeSync monitor is a panel that has been classified by AMD as FreeSync compatible. Each monitor that offers native FreeSync support goes through a strict certification process, ensuring smooth, tear-free gaming is experienced.
That being said, many of today's monitors have the ability to support both FreeSync and G-Sync – regardless of their native variable refresh rate support.
What Is FreeSync?
FreeSync is AMD's variable refresh rate technology. It allows the GPU and the monitor to communicate in order to reduce screen artifacts such as screen tear – an annoying defect that displays two frames at the same time. Screen tear can be extremely annoying and can literally put you at a disadvantage when playing competitive titles. Competitive games aside, FreeSync will boost the quality of any fast-moving image, improving the motion handling of your panel as well.
Check out our comprehensive guide on what is FreeSync here.
Realistic Expectations Of FreeSync Monitors
For those looking to purchase a FreeSync monitor, below are some useful expectations that come with most modern FreeSync displays:
Price: As you may have heard, FreeSync monitors are often cheaper than their G-Sync counterparts. This is because G-Sync monitors rely on a proprietary module which adds a premium to the cost of the monitor. Unlike FreeSync monitors that utilize a standard scaler board, G-Sync monitors have an advanced chip that helps drive features built into the monitor – including the OSD, variable refresh rate, backlight, and everything else your panel offers.
FreeSync Standards: Like G-Sync, FreeSync has a number of different standards to choose from. FreeSync compatible is considered the entry-level form, however, there are more advanced versions available – including FreeSync Premium and Premium Pro. Each iteration of FreeSync offers its own list of features and benefits – with more premium versions offering the best features. Remember though, whilst the premium versions may be able to showcase better resolutions and greater dynamic range, they will add an additional premium to the price of the display.
Response time: Despite response time having no impact on the benefits of FreeSync, it's definitely something you need to be aware of when buying a FreeSync monitor. Just because a monitor has FreeSync doesn't mean it's void of screen artifacts such as ghosting and stutter. Whenever purchasing a FreeSync monitor, remember that a good pixel response time is also very important. Anything below 2ms is considered good in the modern monitors – so aim for that.
Build Quality: Because FreeSync monitors are normally cheaper than G-Sync, you'll often find the build quality to be compromised as well. Whilst this isn't always the case, it is fairly common amongst older panels.
Hardware Requirements: If you're in the market for one of the latest FreeSync monitors, there are certain hardware requirements that you must have. Firstly, you must have an AMD GPU that offers FreeSync support. you can verify this by using the AMD website or checking your GPU specs. Secondly, you must buy a FreeSync compatible monitor. Luckily, every monitor in this guide is FreeSync compatible. Finally, you will need to use either an HDMI or DisplayPort connection to utilize this feature.
Final Word
So, there you have it, our comprehensive rundown of the best FreeSync monitors available this 2023. We hope this article has helped you understand what FreeSync is and how it can impact your gaming experience. For us, the Samsung Odyssey G7 takes the top spot, offering the greatest levels of performance when compared to the other options in this guide. Having said that, each of the monitors in this guide offers up their own unique set of pros and cons, tailoring them nicely towards unique scenarios.
If you have any questions regarding FreeSync or any of the monitors in this guide, feel free to drop us a comment in the section below. Better still, why not head on over to our Community hub where you can discuss everything monitor related with like-minded individuals?
---