The year was 2005; I'd finally saved up enough money to purchase my first gaming rig, God it was terrible. I immediately created my Steam account, so I could play the greatest game of all time, CS 1.6. My 15-year-old brain wanted to come up with a Steam account name which was cool and hip for the time. After some deliberation, I decided on a Steam account name. I was pleased, to say the least. Shoot forward 14 years. I'm still playing Counter-Strike and to this day, still, don't know what was going through my mind when creating that Steam name.
Fortunately for me, Steam allows you to change your profile name. Changing this is a really simple process and something that alters your in-game alias. Your Steam profile name is also the alias that your friends see on their friend's list as well.
There are a number of different reasons why you would want to change your Steam profile name; maybe you haven't used your Steam account in years, and you want to change it to something a little more mature, or maybe you're just bored of your current name. Whatever the reason, this simple guide will explain exactly how you can do it!
How to Change Steam Account Name: The Method
Log into Steam and select the Friends tab from the top of the menu bar
2. From the drop-down menu, select the "Edit profile name/Avatar.." tab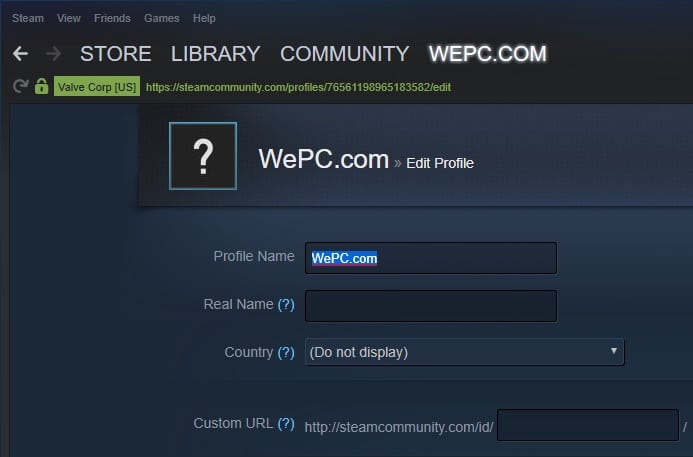 3. The following page allows you to change your current profile name. Simply delete the old one and type the new name in
4. Once you have chosen a new name, simply click OK and the process is complete
Closing Thoughts
And there you have it, changing your Steam profile name really is that simple. It literally only takes a few seconds. However, it's worth mentioning that some games don't make use of your profile name. Games like PubG make users create an alias on the first load of the game. This alias is separate from your Steam profile name, meaning, changing it will not change your PubG alias.
Most games do though so I wouldn't worry too much.
If you have any questions on this process, then feel free to drop us a comment in the section below.