According to recently revealed evidence and a listing from Gigabyte, the Athlon Pro 3000GE looks like it's getting a new member of the Picasso family.
AMD currently has a few desktop Picasso APUs on offer including the Ryzen 3 3200G and the Ryzen 5 3400G. However, there has only been one desktop Athlon APU in the Picasso family so far. That's the Athlon Pro 300GE. 
Gigabyte's new Athlon 3000G has joined the ranks of Picasso APUs. This means it's likely that it's been created with GlobalFoundries' 12nm manufacturing process, using AMD's Zen+ computing and Vega graphics microarchitecture.
The Specifications
While we don't know a whole lot about this new Athlon listing, we know that it reportedly operates at 3.5 GHz, which is a big 100 MHz boost from the previous Athlon Pro 300GE. 
The new Athlon 3000G will support two cores and four threads. It looks just like what we would expect from a budget range APU. Following on from existing Athlon APUs, the Athlon 3000G looks like it will also have 1MB of L2 cache and 4MB of L3 cache. 
The Gigabyte listing also puts the Athlon 3000G with an Integrated Graphics Processing Unit (iGPU), running at 1,100 MHz.
It will, however, use the same thermal design power design as the Athlon Pro 300GE – which is a 35W TDP.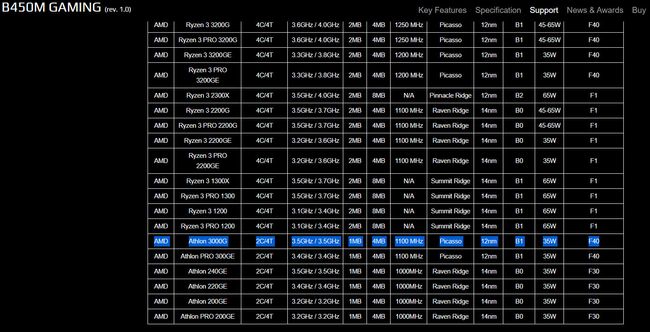 There has been reason to believe that AMD is working on developing a new Picasso APU. This news comes from back in June when ASRock listed some unreleased AMD APUs which included the Athlon 320GE and the Athlon 300GE. As AMD has announced the Athlon Pro 300GE, we would assume that they're looking to launch a non-pro version as well. 
Is This Really A Brand New Chip?
It's interesting to note that when looking at Gigabyte's and ASRock's listings, the Athlon 3000G looks almost identical to the Athlon 320FE. The listing shows what looks to be the exact same specifications and B1 revisions. 
This raises the important question of whether this is actually a brand new development, or if AMD is simply rebranding their Athlon 320GE. For those looking for a new release, you might end up disappointed. As always, if we hear more news about the Athlon 3000G APU, we will keep you posted. 
Final Word
What do you think? Does the Athlon 3000G look like a brand new chip to you? Or has AMD got our hopes up for what's nothing more than a rebrand?