We have heard no shortage of rumors surrounding Intel's next-generation Comet Lake processors recently. 
A new rumor has been started, though, sparked by an alleged leaked Intel document, which could show us a sneak peek at the performance of Intel's flagship CPU – the i9-10900K. 
What Does The Leaked Document Say?
The document was revealed by a Weibo.com forum member, which first drew the attention of Tom's Hardware. It looks like the document reveals up to a 30% boost in speed and performance for Intel's i9-10900K when compared to the 9900K predecessor.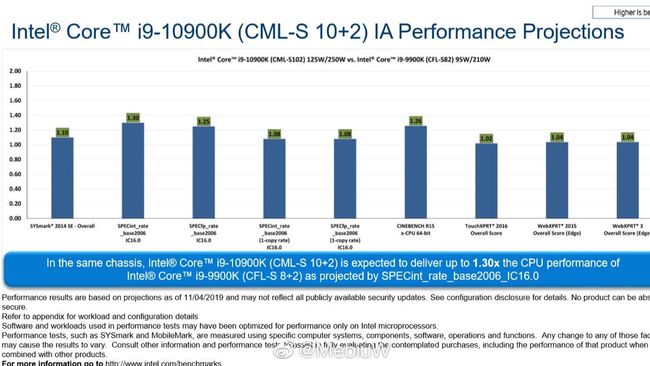 As you can see from the above image from Mebiu from Weibo.com, the performance projections feature comparisons from benchmarks from Cinebench, SYSmark, SPEC, and XPRT. SPEC results show the biggest performance increase (30% faster), whereas some of the other increases in speed are a bit more modest. Cinebench places an increase of 26%. 
However, as this is still a leak and a rumor, we have yet to receive any kind of confirmation from Intel that the above stats are correct. 
Clock Speed Boost
From what we've seen so far from Intel and through leaks like this, it looks like Intel is taking clock speeds further than ever before for Comet Lake. We recently heard that the 10900K will be able to hit a turbo clock speed of 5.1 GHz, which will be interesting to see if this turns out to be true. 
We will likely find out more about this later on in the year from Intel, probably during CES 2020. We will, of course, be sure to keep you updated on any more news and confirmations we hear in the meantime. 
Some have speculated that we could see the first releases of these new Intel chips as early as April this year. It will be good to see Intel get these chips out sooner rather than later, given that AMD is gearing up some serious competition with their Ryzen 3000 and 4000 processors.