Now that CES 2020 is in full swing, the WePC team is visiting all the best brands right here on the show floor and bringing you the latest and greatest updates all the way from Las Vegas.
One of the amazing products we got to test hands-on was the new LG G8X ThinQ Dual-Screen Phone. While it may have launched back in 2019, this was our first chance to get hands on with it – especially since we don't yet have it over in the UK. So, let's take a closer look.
LG G8X ThinQ Dual Screen Phone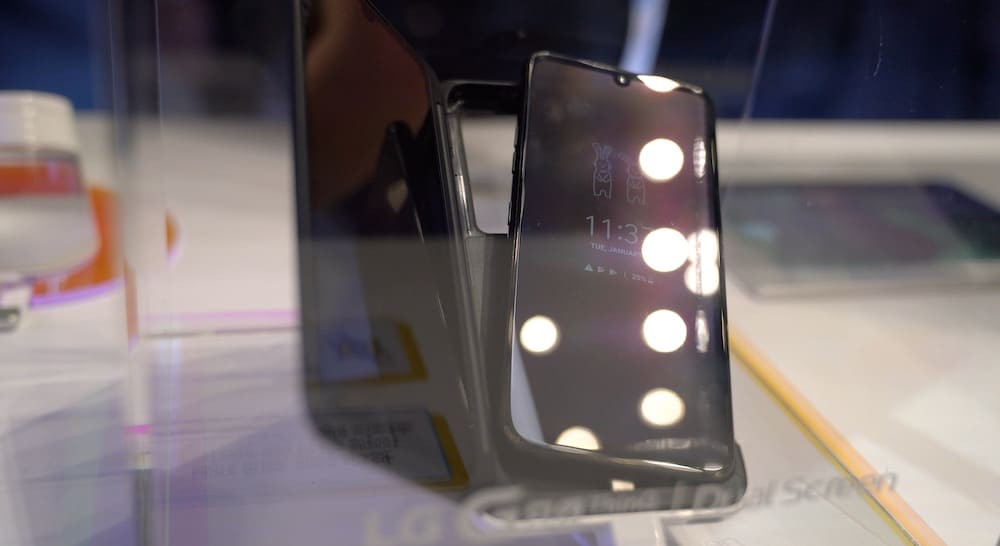 When it comes to gaming phones, I've always been somewhat on the fence. As a console gamer myself, I've never really bought into mobile gaming other than downloading some Final Fantasy games and Stardew Valley to help pass the time on long journeys. And, now that I have the Nintendo Switch, I don't even need to use my phone for that. But, I may be about to switch sides after seeing the new dual-screen phone from LG.
Phone Specs
LG G8X ThinQ Tech Specs
6.4" FHD + OLED 19.5:9 Display

Qualcomm Snapdragon 855 Octa-core chipset

128GB ROM (up to 102.8 GB usable) internal memory

Expandable up to 2TB with micro SD card

Rear Cameras: 12 MP Standard with 78° FOV, 13 MP Wide-Angle with 136° FOV

Front Camera: 32 MP with Pixel Binning, 78° FOV

32Bit Hi-Fi Quad DAC and DTS: X Virtual Surround Sound

Wi-Fi 802.11 a/b/g/n/ac

Bluetooth Version 5.0

NFC

Fast Charging QC 4.0 + Wireless charging

4,000 mAh Battery

Biometrics In-display fingerprint sensor
LG G8X For Gaming
While the phone hasn't been exclusively designed for gaming, it does have a lot of aspects that make it an awesome gaming phone. The dual-screen can be used as a gaming controller, and you can even custom build your own game pad to suit your gaming style. This makes it an ideal option for those who like to play competitive esports titles like Fortnite as it allows you to tailor-make your gaming experience on the go.
We had the chance to try this out ourselves on the show floor, and it doesn't even feel like you're gaming on a phone. In fact, it's more like a hand-held console than anything else. The display looks crisp and clear and there was no lag whatsoever.
The gamepad was very responsive and made it easy for us to enjoy the game. It also felt nice and comfortable in your hands, so I can't imagine it would feel uncomfortable if you were to play for extended periods of time, which often happens for me when I game on my phone.
They've made this phone in collaboration with NVIDIA as well, to ensure that the gaming experience is as smooth as possible.
Performance
Thanks to it's Qualcomm Snapdragon 655 processor and 6GB RAM, the phone runs surprisingly well. Both screens work in conjunction with each other and manage to run separate tasks at the same time without experiencing a dip in performance. In fact, if you really wanted to, you could be watching Game of Thrones on one screen, and The Witcher on the other – so you can really compare and see which one is best (*cough* Witcher *cough*).
It comes with 128GB of storage out of the box, which is comparable to most modern smartphones. But, what's impressive is the ability to expand this to 2TB with Micro SD. In terms of battery life, if you're using it as a standard smartphone, it will last the whole day. But, let's be honest, you're not buying a dual-screen phone like this just to scroll through Facebook. Since the dual screen runs off the same battery as the G8X, using both screens at once can drain battery power fairly quickly.
What Else Can It Do?
Of course, it's not just about the gaming (as much as we might like it to be). This phone has also been designed with some great UI aspects such as the three-finger swipe to bring one screen over to the other with surprisingly reliability. It's perfect for multi-tasking too. When we spoke to LG at their booth, they used the example of having Uber open on one screen and Lyft on the other to compare which provider would be able to pick you up faster. These little touches are what make this a highly usable phone for everyday use as well.
In terms of business use, having the dual screen means you can be video conferencing and keeping your emails or documents open on the other display. With so many people travelling for work or working from home nowadays, this helps to stay more connected with work wherever you are.
Our Verdict
From our first quick glimpse at the keynote speech right up until me writing this very sentence, we have been enamored with the LG G8X Dual Screen phone. It might not be the most powerful, but it manages to be a more adaptable version of the new foldable phones that packs some neat little features for gaming. Now, we just have to hope that they extend out to the UK so we can play with them in the office.