Best headset for PS5 2023
Let's find the best headset for PS5!
Updated: Feb 28, 2023 3:34 pm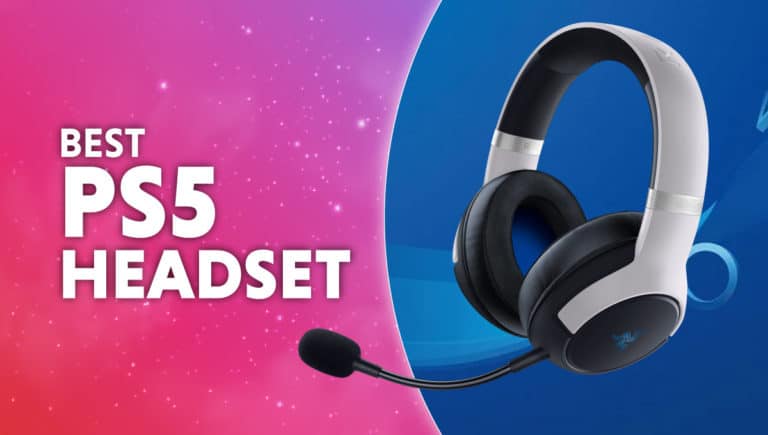 01
The best of the best
Razer Kaira Pro Haptic headset
03
Best budget PS5 headset
The PS5 is a fantastic console. Wickedly powerful, fast, and finally just about attainable for the majority of users. However, it's still hamstrung by the fact that most people just use the speakers built into their TV for the sound.
Well, dear friends, that changes today as we try to find the best headset for PS5, so you can fully enjoy the incredible gaming experiences that the PS5 is capable of producing. We'll also go into detail about what you need to think about when shopping for a new gaming headset, be it wireless, wired, or budget. Let's have a look at what's on offer for the PS5
---
Best headset for PS5: Our top picks
01
The best of the best
Razer Kaira Pro Haptic headset
03
Best budget PS5 headset
---
The best headsets for PS5 2022
So, now we know what to keep in mind when shopping, let's have a look at the very best Headsets for PS5.
Razer Kaira Pro Haptic headset
Up to 20 hours (with lighting/haptics, Up to 50 hours (without lighting/haptics)
PS5/PS4, PC, Devices with Bluetooth audio capacity
Superb haptic feedback

Gorgeous visual design

Great mic
Chances are the color scheme wont match your TV setup
When we first got ahold of the Razer Kaira Pro we were especially excited to try out the much-touted haptic drivers. This excitement was mixed with a healthy amount of skepticism as were also concerned that vibrating motors in the earcups would be more annoying than immersive. When we actually got our hands on them, however, we were pleasantly surprised that the haptics really did add to the experience, and never got annoying. In fact, the haptic drivers produce a feeling that's very similar to standing a little too close to a subwoofer at a live gig.
Aside from the great haptics, the headset offers some pretty impressive levels of comfort. This is due to the nicely plush ear cushions and light weight of just 0.80lbs/365g. The clamping force might be a little weak, but given the comfort, haptics, and overall sound quality, we'll give it a pass on that one. The Kaira Pro is also made of mostly plastic, but it feels premium enough that we aren't too worried.
The sound quality is very good, with a balanced soundscape, with a little extra oomph on the bass end of the spectrum which makes for a more impactful gameplay experience, especially for first-person shooters. Additionally, when you play with the haptics enabled, they vibrate with a strength that corresponds to the volume of the bass. This means you get a little extra physical feedback for gunshots, explosions, vehicle engines etc. This doesn't sound like a game-changer, but we promise you that it really is.
We got a lot more in-depth during our full hands-on with the Razer Kaira Pro, so hope over there if you want more details.
---
SteelSeries Arctis Nova Pro wireless gaming headset
USB, 2.4GHz, Bluetooth 5.0
PC, PS5, PS4, Nintendo Switch
Hot-swap battery system

Convenient DAC

Fully retractable mic
Very expensive, out of most people's price range.
We had to include the SteelSeries Arctis Nova Pro wireless in our round-up as it's the most feature-complete gaming headset we know of. Not only does it cover all the bases of being wireless, having good sound quality, and being built well, but it also has a few tricks up its sleeves.
Our favorite feature and probably the unique selling point of this headset is the hot-swap battery system. Essentially, it comes with two batteries, and while one powers the headset, the other charges in the base station, and once the first one runs dry, you swap it for the one that's fully charged. What makes this system even better is that the batteries charge in less time than it takes to drain one during use, this results in functionally infinite battery life. These batteries are charged via the included base station/DAC. Speaking of which:
The included DAC results in some of the most convenient controls we've seen on a gaming headset to date. It allows you to see the battery levels, EQ settings, control the volume, and switch between platforms thanks to its 'Multi-system connect' technology. Speaking of connection, it also has a Bluetooth receiver, so you can switch between 2.4GHz and Bluetooth connection on the fly, which is a fantastic feature if you need to take a phone call mid-game. We also like the Improved retractable microphone when compared to its predecessor, the Arctis Pro Wireless. This time, the mic completely retracts and becomes entirely flush with the earcup, making for a more comprehensive and smooth silhouette.
---
Corsair HS80 RGB wireless gaming headset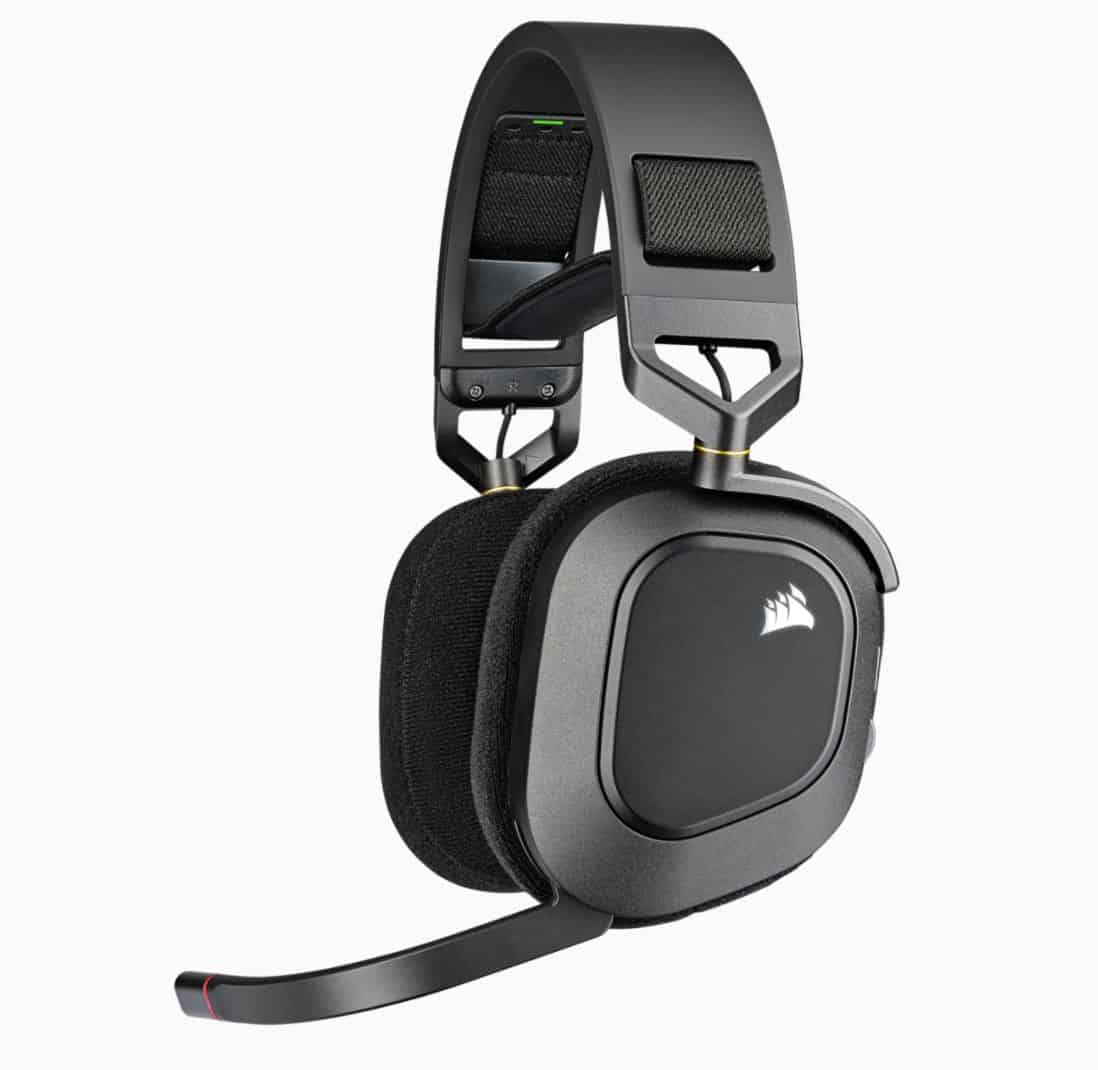 Headphone Frequency Response
Very comfortable

Fantastic out-of-the-box audio performance

Noise-free mic performance

Easy setup

PS4 & PS5 compatibility
Build quality of mic is substandard

Battery life is less than advertised
Way back when we reviewed the Corsair HS80 Wireless, we were absolutely stunned by how comfortable it was. It strikes the perfect balance between weight, clamping force, and padding. This results in effortless wear, even during the longest periods of use. A lot of this comfort is thanks to the excellent floating headband design. This means that the headband itself doesn't contact your head, instead, an elasticated band of fabric does, the tension of which keeps the main plastic headband 'floating' above you, preventing fatigue. It also eliminated the need to adjust it as you can't accidentally click it to a longer or shorter setting.
We've seen designs like this before, for example, during our SteelSeries Arctis 7 Wireless Gaming Headset Review, but Corsair has nailed the implementation, as the plastic is adjusted and secured on the underside of the headband, resulting in a more comfortable overall fit. All this comes together to create the most comfortable gaming headset we've ever tested. Happily, it happens to be compatible with PS5, permitting it a spot on this list.
It doesn't skimp on the audio either, with a decently balanced soundscape (we'd recommend amping up the bass a little in EQ to get the most out of it). Additionally, the aforementioned ear cushions result in decent passive cancelation and some nicely open-sounding audio as fabric always results in more natural sound.
You can read our full Corsair HS80 RGB wireless gaming headset review for more details and pretty pictures.
---
Best budget headset for PS5
Logitech G332 wired gaming headset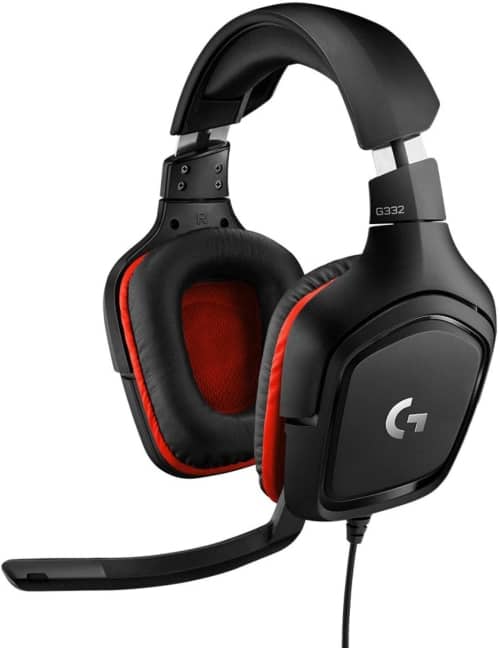 PC, Xbox One, Xbox Series X
S, PS5, PS4, Nintendo Switch
Affordable

Convenient flip-to-mute mic

Comfortable
Build quality is less solid than we'd like
Of course, not everyone has hundreds of dollars to throw at a PS5 headset, so we'd like to introduce you to the Logitech G332, which is possibly the most bang-for-buck gaming headset we've seen in a long time. It's cheap, good quality, reliable, and has a couple of features that would normally sit above its price point.
The specs of the G332 are nothing special, with all the tech internal stuff just about bang on average, and given the price point, we really don't mind. Budget headsets are about pure utilitarianism and the Logitech G332 performs very well in this regard. The earcups are large in circumference and generously padded, maximizing both fitment and comfort for long periods of use. Additionally, the headband can be adjusted to fit a wide range of users with ease.
The best feature, which is normally, only available on higher-end headsets has to be the flip-to-mute mic. You know instantly if you're audible, and it fully moves outside of your eye line. We love this style of mic here at WePC as it's convenient, easy to use, and helps prevent your teammates from hearing what you don't want them to.
---
How we test
We've got a few different methodologies for testing products here at WePC, but the broad strokes remain the same. Wherever possible, we try our hardest to get hands-on with a product, be it via the brand sending us a review sample, or via purchasing it ourselves. We then spend as much time as possible with the product in question so we can learn how it is to use on a daily basis, and uncover any issues that might not present until a few days or weeks into owning it. After this, we collate the experiences, tests, and technical stuff into a full review. The result and score of which inform the presence and placement of the product in a best-of list, where applicable.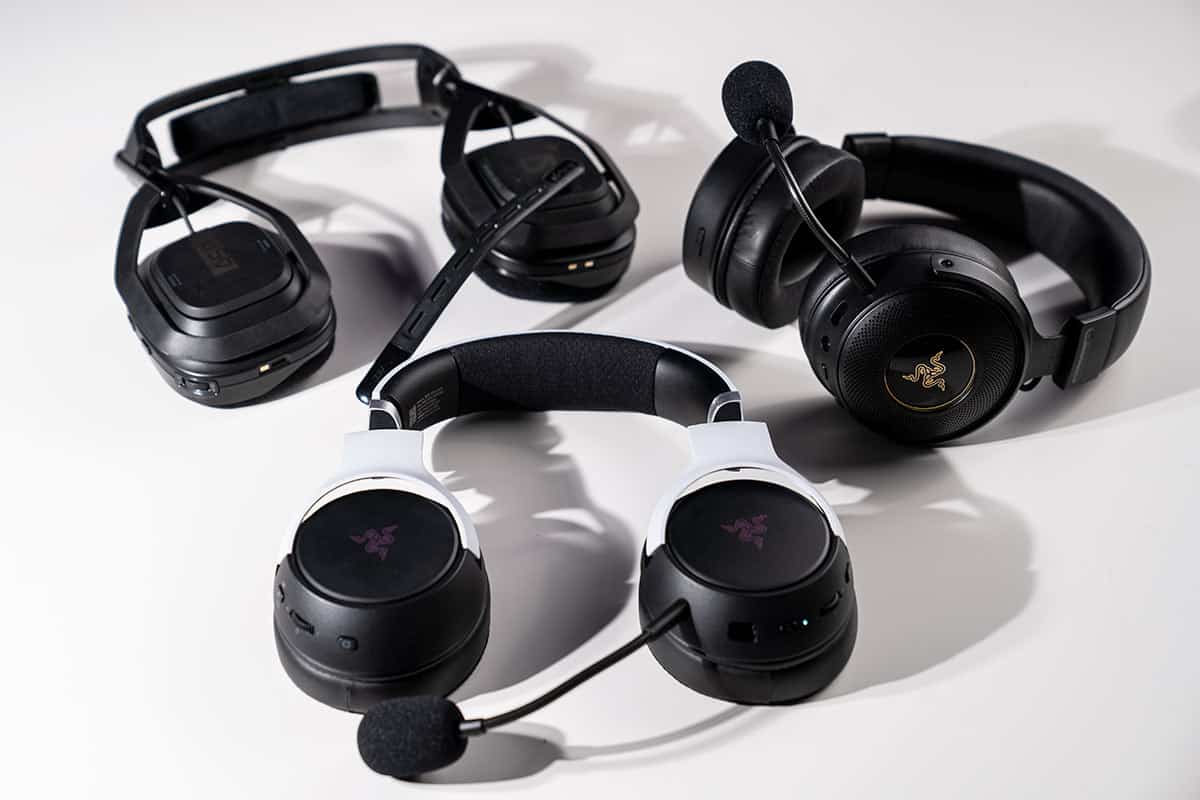 When it comes to headsets specifically, we use them all day at the office for music, gaming, and general content consumption. This allows us to see how it performs in the variety of different applications it'll be used for by consumers. We also frequently take them home and use them in our own personal setups. This allows us to see how they handle being used in different configurations, which then informs our opinion of their real-world performance. Any headset can perform well in controlled conditions like a lab or office, but you learn a lot when you integrate them into a normal, non-perfect setup.
Things to consider when buying a new PS5 headset
As with any tech purchase, be it a gaming monitor, or a wireless keyboard. It's worth taking a moment to think about the different aspects you should consider.
When it comes to headsets, we tend to consider price, comfort, audio quality, and longevity as the most important areas of consideration. You need to know that you're putting your money in the right place, and getting a good experience in return, AND, ensuring that your new headset stands the test of time without turning to dust within 45 minutes. It sounds hyperbolic, but there is some pure garbage out there that will actually disintegrate within hours. Trust us, we've been burned before.
Build quality
All of these considerations are important, but we consider this consideration to be the most important to consider. Given the accessibility to factories, materials, and cheap overseas labor, there are some headsets out there that will break very, very rapidly. What's worse, is that build quality doesn't always scale with price, so you have to be careful. If you're under tight budgetary constraints then you might have to settle for a couple of small foibles. However, you can rest assured that no weak rattly lemons will make their way into this list.
Audio quality
Gaming headsets will never compete with true audiophile headphones in terms of sound quality. They can't match the broad soundstage and the drivers are almost always less premium and never tuned quite as well. However, this is not to say that they can't sound good, it's just less common. Despite the name, these headsets can't just perform well with gaming, they've got to sound good in other applications too, for example listening to music or general content consumption.
This means they have to have a balanced soundscape, with no particular area of the audio spectrum overpowering another. Users of gaming headsets will be familiar with the overly-enthusiastic bass response which can muddle the mids and highs, especially at high volumes, this is something we keep in mind when reviewing headsets and assembling best of guides. Luckily, this out-of-the-box audio signature can be mitigated to an extent via the PS5's EQ settings. EQ settings are still limited by the drivers and how they're tuned from the factory, but if you put in a bit of time, you can usually get most headsets to sound good, and they almost always sound better than they did when you first got them.
Mic quality
As the presence of a mic is the thing that delineates a headset from a pair of headphones, it needs to be good. This means clear voice pickup, decent noise-cancellation to prevent errant background noises from being audible by your teammates, and a wide range of adjustability so it can be positioned correctly for optimal voice pickup.
Comfort
This is an obvious one, but it bears mentioning anyway. Given that the average gaming session lasts longer than the normal commute or music listening period, comfort is a very high priority. We've tested a lot of the worst and the best gaming headsets here at WePC, so we've noticed a few common denominators in terms of comfort that you should be looking out for.
First up is the weight. The lighter the headset is, the more likely it'll sit balanced on the user's head. Additionally, if the headset is lightweight, It can get away with less padding and cushioning and still retain comfort for long periods. Some of the more premium headsets have memory foam padding and ear cushions. This is the ideal material for heavier headsets as the density of memory foam has enough give to be comfortable, but enough resistance that it won't flatten out over time.
Adjustability is a big thing here, so we'd like to see a headband with enough adjustment distance to fit a variety of head sizes, additionally, the earcups need to have some swivel/pivot to them and human ears don't sit flat against the head, they are slightly forward-facing, earcup pivots allow for movement to compensate for this. If this movement isn't there the earcups can press on areas of the ear, instead of neatly ensconcing them.
Related headset pages
Not committed to the PS5? Check out our other gaming headset pages below.
Best headset for PS5: Final word
Luckily, Sony has kept their audio codecs fairly open, so you might have noticed a few more PC-centric and cross-compatible headsets on this list than normal. This is a good thing as when you buy a headset for PC, chances are that it'll work with PS5 too, and verse-vica. Overall, though, we had to go for the Razer Kaira Pro, as it has the best integration of haptics we've seen, great build quality, and long-lasting comfort. It's expensive, yes, but if you can afford it, it'll up your gameplay immersion like nothing else can.
---