Razer Nari Wireless Gaming Headset Review
We Weigh Up The Pros And Cons Of These Razer Headphones With Microphone
Updated: Mar 16, 2022 10:31 am
Razer is well known for its gaming peripherals, with some excellent keyboards and mice in their arsenal. While some may argue that they can often be a bit overpriced, the brand, at the very least, produces products to a decent standard, featuring great functionality for gaming.
Today we are looking at the middle child in the Nari family to see what this wireless gaming headset can offer against the similarly priced competition and unfortunately, the Razer Nari range is as interesting as it is disappointing. I'm yet to try out the Haptic technology in the more expensive Ultimate model, which sounds a little gimmicky, but these are pretty much similar in every other way.
The Razer Nari wireless gaming headset is one of Razer's premium offerings, with even the base model costing a pretty penny. The Nari's are bulky yet still feel light on the head but unfortunately, aren't the most stable when being worn.
Let's take a closer look at the Razer Nari gaming headset.
Razer Nari Wireless 7.1
Headphone Frequency Range
20 Hz – 20 kHz
Microphone Frequency Range
100 Hz - 6.5 kHz
Battery Life
8 hours with Razer Chroma lighting and HyperSense / 20 hours without
PROS
High quality build
Wireless 7.1 surround sound
Excellent sound quality
Comfortable plush memory foam and well-designed headband
Good app support and software has plenty to tweak
CONS
Expensive
Pretty bulky and heavy
Lacks stability - wobbles on head
Specifications
To Razer's credit, setup for these was straightforward, you simply plug the USB dongle in and let Windows work its magic. Oh, good luck finding the dongle if you know nothing about the headset though (hint: it sits within the right earcup). That's right it's got its own little memory card style slot for easy storage, which is a nice feature once you know it's there.
These are pretty much good to go but come with barely any charge, so you are going to want to get these hooked up with the included micro-USB immediately. I would also download Razer Synapse, Razer's software, to get the most out of these too, but you will have to register your details.
Inside the box, we see:
Razer Nari Wireless Gaming Headset
USB Reciever
Micro-USB Charging Cable
3.5mm Cable
| | |
| --- | --- |
| Headphone Frequency Response | 20 – 20000 Hz |
| Microphone Frequency Response | 100 – 6,500Hz |
| Wireless | Wireless |
| Battery Life | 20 Hours |
| Pick-up Pattern | Unidirectional |
| Weight | 431g |
| Cable Length | N/A |
Design
The first thing you will notice when unboxing these is the insane amount of bulk to these earcups. These are huge, some of the biggest I have ever tested actually, but it is a gaming headset so we can get over this. They look great though with mostly plastic construction. The perforated grille and metallic headband accent the matte black plastic well, with the Razer logo on the earcups looking as good as it always does.
The earcups are circular, like the Razer Krakens or Corsair Virtuosos, but they have plenty of room for the ears. The earcups flop around a bit though, which again, isn't going to be an issue, especially when you are wearing these, but it seems strange they don't lock into place like the HyperX Cloud Flight S headset.
It looks like they've pinched SteelSeries' old headband design from the Siberia V2's, with that pronged metal headband and a padded floating bit of sponge underneath that molds onto any head. These look quite good, but Razer products often do, so let's dive a little deeper into these.
Build Quality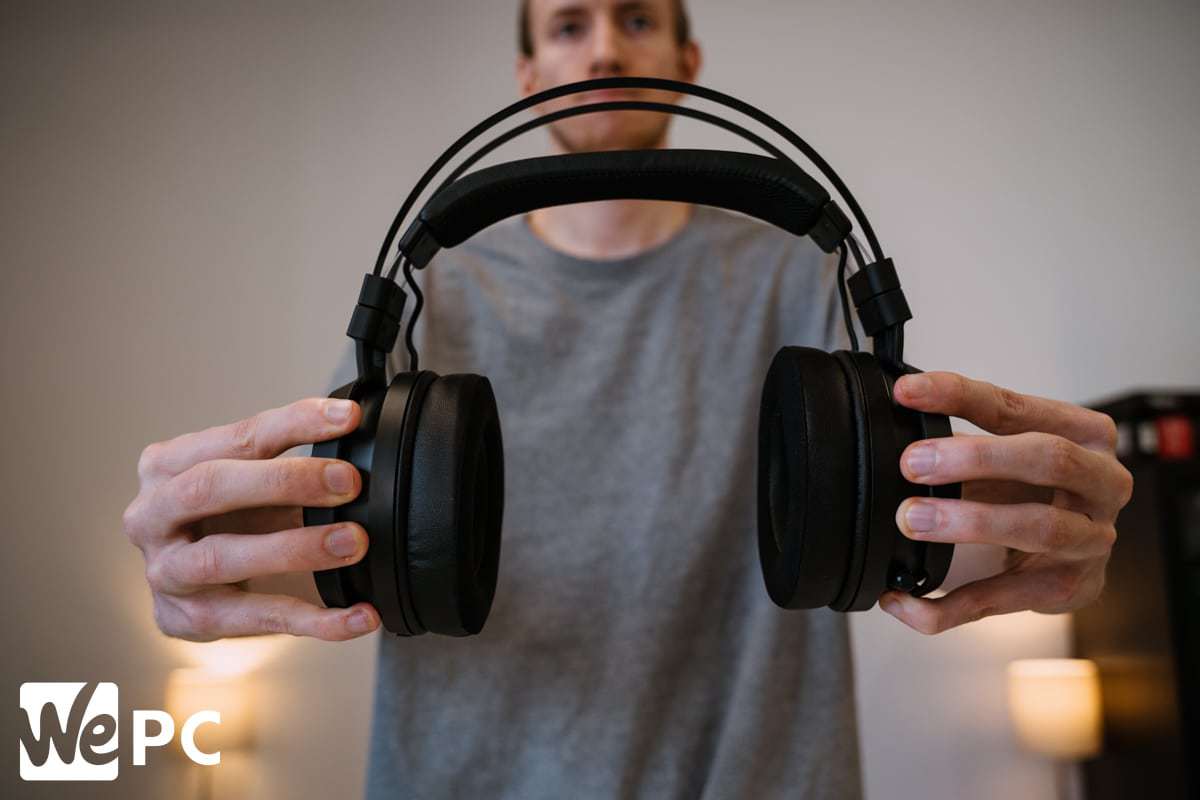 Overall, I have to say the Razer Nari is a well-built gaming headset. These feel solid and the dense plastic looks like it could take a bit of a beating. These beat the Man O'War gaming headset in this sense and for me offer a similar quality of build as the HyperX Cloud Flight S headset.
These are entirely plastic but that keeps the weight down a little and is something common amongst gaming headsets. The only metal is in the headband and it is needed with those heavy wrecking ball-like earcups dangling from each side freely. Regardless, these feel very durable but they aren't as flexible as other models out there, with quite a rigid feel.
The ear cushions are removable, meaning you can easily swap these out if they become damaged and this is always a great feature to see. The material on the outside of the ear cushion is a soft leatherette with the material that touches your skin being a fine weave fabric, giving these greater longevity than leatherette all over.
The microphone retracts into the left earcup like the Razer Krakens or SteelSeries Arctis 7's, with the business end being encased in a subtle hard plastic. The cable on the mic is a soft almost rubber-like plastic that is very malleable and easy to get into the right position. The microphone slides in and out very easily but when fully extending, the headset tends to move on your head, meaning you will have to readjust the headset quite often.
The Nari headset features a good amount of hardware controls on the earcups, which are all conveniently placed. On the right earcup, we see the volume control only. There isn't much to say about this wheel, it is pretty basic with some grip to it and it stops at minimum and maximum volume. Aside from controls, there is the memory card pop-slot for your USB receiver towards the bottom. Pressing this in like a button will release the USB dongle and vice versa, a decent little feature for gamers who transport their headset.
Over to the left earcup is where we see the rest of the headset's controls. You've got a mute mic button at the very top, that will light up the LED ring on your mic to indicate when activated. Beneath that sits the chat mix volume control, which isn't the best I've tested but it's very easy to use and there is a tactile notch in the middle so you can always get back to default. Below the chat mix is a small power LED and the power button itself. The power button is a bit small but I tend to turn these on before placing on my head so it didn't really matter. We then see the micro-USB and audio jack ports towards the bottom of the earcup.
Comfort
Despite their giant appearance and weighing in at 431 grams, these are actually quite comfy and that is largely down to the design of the head strap. The earcups have thick padding and the auto-adjusting headband works well.
These are by no means light, in fact, they are more than 100 grams heavier than the Cloud Flight S headset from HyperX. These even surpass the Sennheiser GSP 670s, yet are much comfier. Unfortunately, these are not stable on your head though, they will move and irritate you unless you sit still at your desk. The clamping force feels really good but they just won't sit still. Even when I extend the microphone I have to then readjust this headset: a big negative.
The earcups use a more durable fabric for the bit that touches your head, meaning you will sweat less but the overall earcups will become warm after time as they aren't as breathable as the Astro A50s. The inner wall has been covered with a thin layer of fabric but it doesn't feel great at all, not a big issue though, as my ears never got near the driver thanks to these memory foam cushions. There is some cooling gel infused in the cushions making them feel cool to the touch when you first put them on but you soon get used to it and it only really cools the skin it comes into contact with, not your ears.
The headband that makes contact with your head is mostly all cushioning with the branding etched into the top and it looks superb. There appears to be some wiring running through this padding and it self-adjusts as you place it on your head, regardless of if you've got a boulder or pea-sized noggin. The headband distributes the weight very effectively as these do not feel heavy on the head at all.
These fit quite snugly and overall are pretty comfy but I cannot forgive the stability, they need re-adjusting constantly and it becomes incredibly annoying.
Performance
Overall, these performed pretty poorly, with the only exception coming from electronic music. Other music wasn't particularly great but I was more concerned with how these performed while gaming. Even with EQ tweaks I just couldn't get these to a point where I could happily use them daily.
Don't get me wrong there were some good elements and the audio is clear enough for gaming but I'm factoring in the price and competitor models and with those in mind, I can't really see a place in the market for the Razer Nari headset.
Sound
Out of the box, the first thing I tried was playing some electronic music and it was quite good, with the EQ in the software only enhancing my listening experience. Little did I know my joy would end there and I was a little disappointed that the headset couldn't make up for its poor stability. Despite this, the seal was quite good and they passively block some noise from your surrounding environment, although not as much as the HyperX Cloud Flight S headset.
The bass was decent at times but the accuracy would vary depending on the audio. Again, for electronic music, it was spot on and the bass booster in the software worked well. I expected the lower end to perform well in games with distant grumbles and explosion thumps to follow suit but it was a bit underwhelming and if anything muddied out the other detailed sounds, ruining the immersion.
Mid-range bass was good, but again, I couldn't really hear the vocals in tracks as well as I'd like, and small instrumental breakdowns were cluttered at best, with everything sounding a bit weak.
The stereo imaging was actually pretty good, and rightly so, as these are a gaming-branded headset. Testing them out in CS:GO showed that there is some potential there, albeit overpriced. I could accurately hear where the enemy was walking or shooting at all times, so if I received these for free I would happily use them for competitive play.
The soundstage was OK for a pair of closed-back headphones but it isn't something to get excited about, these were average at best.
Microphone
The Unidirectional boom mic on the Razer Nari is adequate for gaming, but little else. My voice was always crystal clear and picked up by teammates without any issues during testing. You probably need to fiddle around in the software to get this a little better but stocks OK. There was no bass in my voice whatsoever, with everything sounding compressed and nasally.
The mic handles noisy environments well enough, it took away most of the sound of my keyboard without me having to alter the noise gate. That being said, you wouldn't want to take this to an event like a LAN as it isn't built to handle such noise.
Overall, the mic loses out to the competition like so many other areas of this headset. The SteelSeries Arctis 7's have a much better mic and even the Cloud Flight S is marginally better in areas. The mic quality on this reminds me of the budget Corsair HS70s I tested a while back, good but not great.
These lack the brilliance we hear from the Sennheiser's Game Ones or Corsair Virtusoso headsets but the mic is good enough for gaming.
Features
This headset may not feature the Hypersense technology we see in the Ultimate model but it still has a decent amount to keep you going. The best feature of the headset is actually the headband strap that helps this fit almost any head size. If they take this design over to a new headset that won't fall off when you sneeze, then Razer could be on to a winner. It is worth noting that this headset features RGB lighting in both earcups but you should probably keep that turned off for battery life; it does look really good though.
Connectivity/ Battery Life
This wireless pair operates via the 2.4GHz low latency connection, with an effective range of 12 meters. The connection remains strong at this range and I was unable to get this to drop out while moving around my flat and office. These can be used on multiple platforms but the dongle will only work with PC and PS4 unless you buy the Xbox specific model. You can use the 3.5mm jack to get these working with your Xbox One, Nintendo Switch, or, of course, mobile device.
This model boasts up to 20 hours of battery life when you turn the Chroma lighting off and only 14 if you leave those lights blaring. 14 hours isn't bad though and gives you a couple of days of usage before needing to charge them up. The headset also works well in wired mode, so you can continue to use them while they charge via the micro-USB cable.
Software
Despite having to register, which can be a bit annoying, the app support for the headset is actually superb. You can do all your usual lighting syncs, change the effects and colors but more importantly, there are some good options in there for actual audio. The graphical EQ is really easy to use with numbered steps so you can even out the range accurately. There are preset options you can take advantage of too if you don't have a preferred tweak you'd like to use.
You can also turn on the THX spatial awareness, although I always stick to stereo anyway. The surround sound was as good as expected, it's OK but doesn't really add anything to my gaming experience. Maybe I don't play the right cinematic games and it's always great to see extra features, but the 360-degree sound was wasted on me.
Our Verdict
Despite the size and weight of the Razer Nari wireless headset, they are surprisingly comfortable. The cushioning feels premium, accommodates for your ears nicely and prevents any chance of touching that inner driver wall. The headband design is intuitive and works well to make sure these are comfy for a range of head types, however, the lack of stability means these are always needing a slight re-adjustment whenever you move or even if you fully extend the microphone without care.
For the price, I was a little let down, I expected a lot more from the pair and when you consider how comfortable the closely priced SteelSeries Arctis 7's or HyperX Cloud Flight S models are, alarm bells start ringing. What makes things worse is I don't think the sound quality on these comes close to Arctis 7's and marginally sounds worse than the Cloud Flight's in-game.
If, for some reason, the competition models were uncomfortable to you and you are all out of options at this price point, then you could try these but I can't really recommend them otherwise. The only Razer Nari that could make sense is the $200 version with Haptic technology but that is very niche and has had plenty of mixed reviews too. I'd honestly avoid the Razer Nari headset altogether, with better options available.
Razer Nari Wireless 7.1
Headphone Frequency Range
20 Hz – 20 kHz
Microphone Frequency Range
100 Hz - 6.5 kHz
Battery Life
8 hours with Razer Chroma lighting and HyperSense / 20 hours without
---